Akin Fadeyi Foundation, ABUAD in New Partnership Against Rape, Cyberbully
Afe Babalola University Ado-Ekiti has partnered a non-governmental organisation, Akin Fadeyi Foundation, to fight sexual-based violence and cyberbullying.
The partnership was unveiled in a statement on Friday jointly signed by ABUAD Students' Affairs Officer, Mr Babatunde Wahab, a lecturer at the institution, Dr Olumide Olugbemi-Gabriel, and the Founder/Executive Director, Akin Fadeyi Foundation, Mr Akin Fadeyi.
The statement is titled, 'Afe Babalola partners FlagIt App to combat rape and cyberbully.'
Speaking on behalf of ABUAD President and Chancellor, Chief Afe Babalola, as well as the institution's management, Wahab commended AFF's FlagIt App for helping to contain the menace of sexual abuse and cyberspace criminality in general.
The FlagIt App is a mobile application developed by AFF to report corruption, particularly the activities of rapists and cyberbullies in society.
ABUAD decried that criminality among the youth was growing at an alarming rate, noting that emerging criminal tendencies and trends were being enabled by advancement in Information and Communications Technology and a corruption-ridden larger society.
"This is why we are excited to see the confidence and speed with which FlagIt rose to the occasion in support of the victims, who are now on the road to getting the needed closure and justice," Wahab said.
"The onerous task you perform as well as the great efforts which you put into it have been experienced first-hand with your recent involvement in cases of coordinated cyberbullying attacks launched by some unscrupulous persons against some female students of our institution."
Wahab extolled the manner the AFF and its FlagIt were handling the documentation of criminal tendencies and persons, offering at the same time ready evidence in the pursuit of justice.
"It is in view of the aforementioned that I, in my capacity as Students' Affairs Officer together with my partner, Dr Olumide Olugbemi-Gabriel, who specialises among others in gender-based oppression and exploitation of women/girls shall be glad to partner with your foundation to stem the rising tide of criminal offences, especially domestic violence, sexual assaults and all forms of cybercrime within and outside ABUAD," he said.
In his remarks, Fadeyi described the partnership with ABUAD as "a very exciting development."
He said, "Since we launched the FlagIt App as a mobile application to report corruption, we've been uncovering the nefarious activities of rapists and cyberbullies in our society. This has been accompanied by such audacious impudence of trading with or threatening to expose explicit pictures of victims who attempt to resist the pressure of blackmail. This is another troubling element of our systemic decay as a nation that we have confronted swiftly.
"This partnership with Afe Babalola University Ado-Ekiti bears testimony to the traction our activities have gained and we indeed commend the Chancellor, Aare Afe Babalola; the Vice-Chancellor, Prof Smaranda Olarinde, the Students' Affairs Officer, Mr Babatunde Wahab, and Dr Olumide Olugbemi-Gabriel for their unwavering commitment to working with us to stamp out gender-based violence and exploitation of women/girls in ABUAD and the nation as a whole."
The Punch
JAMB Releases Timetable for 2024 UTME
The Joint Admissions and Matriculation Board (JAMB) has fixed January 15 to February 26, 2024, for the sale of its Unified Tertiary Matriculation Examination (UTME) application document.
This was made known in a statement issued by the JAMB spokesperson, Fabian Benjamin, on Wednesday, November 29.
Benjamin noted that the development was based on series of recommendations emanating from a two-day Information Technology (IT) and Management Retreat held between November 26 and 28.
Benjamin noted that March 7, 2024, has been slated for the 2024 Mock-UTME, while the main UTME would hold from April 19 to April 29, 2024.
He, therefore, advised candidates to print their examination slips from April 10, 2024.
The JAMB spokesman added: "Candidates are enjoined to take note of these dates and other advisories issued by the Board in relation to the administration of the examination.
"They are also to visit the Board's website www.jamb gov.ng for any other information."
Below is the 2024 JAMB schedule
2024 Jamb Official Timetable:
1. JAMB 2024 Registration Date 14th January 2024
2. JAMB Registration Deadline 14th February 2024
3. JAMB 2024 Registration Fee N4,700
4. JAMB 2024 Novel The Life Changer
5. JAMB 2024 Reprinting Date 29th April 2024
6. JAMB 2024 Mock Exam Date 20th April no 2024
7. JAMB 2024 Examination Date 29th April 2024
Palliative: Adeleke Approves Monthly Wage Award for Civil Servants, Pensioners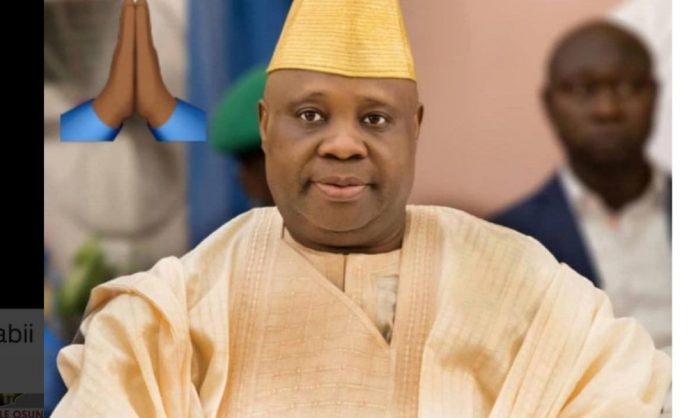 The Executive Governor of Osun State, Senator Ademola Adeleke, has approved the payment of wage award of N15,000 and N10,000 respectively to civil servants and pensioners in the state as a measure to mitigate the impact of subsidy removal.
The Governor, in a statement signed by his spokesperson, Mallam Olawale Rasheed, stated that the action was in continuation of his avowed commitment to workers' welfare and a fulfillment of his pledge for the gradual rollout of palliative measures to cushion the effect of subsidy removal.
"On the first day of my second year in office, I unveil this wage award and reaffirm our five point agenda which has workers' welfare as number one item," Governor Adeleke noted.
Governor Adeleke's approval was conveyed in a circular issued by the Ministry of Human Resources and Capacity Building, disclosing that workers in the service of the state will get a N15,000 wage award while pensioners will receive N10,000.
The circular which was signed by Sunday Olugbenga Fadele, a Permanent Secretary in the Ministry, noted that the wage award will run for six months, beginning from the month of December.
"Sequel to the negotiation meetings and interactions with labour movement in Osun state, including the representatives of Nigeria Union of Pensioners, the Governor of Osun State, His Excellency, Senator Ademola Jackson Nurudeen Adeleke, has approved the monthly payment of N15,000 to each active worker and N10,000 to each pensioners in Osun state as palliatives to assuage the pains being experienced as a result of removal of petroleum subsidy by the Federal Government of Nigeria. The payment, as approved, is to commence from the month of December, 2023 for a period of six (6) months," the circular reads in part.
"While acknowledging and appreciating the understanding of Osun state workers and pensioners for their show of understanding regarding the efforts of the State Government in the last one year to improve tremendously on their welfare, being the first on the 5-point Action Plan, the present administration will continue to ensure its commitment to the welfare of workers are met at all times.
"It is expected that this gesture of government will spur workers in the State to be more diligent and committed to their duties."
2023 Media Awards: Nestlé Announces Close of Entries
Makers of quality beverages and other household items, Nestlé Nigeria, has announced the end to submission of entries for the 2023 Media Awards.
A statement from the Corporate Communications and Public Affairs department, and signed by Victoria Uwadoka, stated that "The highly anticipated Nestlé Nigeria Media Awards 2023 promises to be an exciting edition with an impressive 118 submissions received from a broad range of the media at the time of the official closing of entries on
November 16, 2023."
Victoria Uwadoka, who is the Corporate Communications and Public Affairs Manager, said, "I want to thank all the participants who have submitted the diverse range of entries, showcasing outstanding creativity and professionalism within the Nigerian media. As the stellar panel of judges commences the process of carefully evaluating each submission to determine the most deserving recipients, we eagerly anticipate the announcement of the finalists at the 'invitation only' award event early in December 2023."
She maintained that the Nestlé Media Awards 2023 ceremony promises to be an elegant celebration of vibrancy, innovation and excellence in the Nigerian media in 2023.
Finalists and winners will be announced in the coming days according to statement.