Atiku Fires Back at APC over Alleged Cameroonian Citizenship
The presidential candidate of the Peoples Democratic Party in the February 2019 election,  Atiku Abubakar, has said his citizenship as a Nigerian is not in doubt.
He said this in a statement issued on Saturday by his media adviser, Paul Ibe.
It should be recalled that the All Progressives Congress, in its defence at the Presidential Election Petitions Tribunal had insinuated that Atiku is not a Nigerian but from Cameroon.
In reaction, Atiku said he would not dignify APC with a response,  adding that his lawyers will do the needful in court.
He said,  "The position of the APC is so pedestrian and shows such straw-clutching desperation on their part, that I shall not dignify it with an answer. Our lawyers would, of course, do the needful in court.
"But the point I want to draw the attention of Nigerians to is that both the APC and its candidate have by this infantile logic admitted to the fact that they trampled on the will of Nigerians and that their only defence is to attempt an unconstitutional redefinition of the term 'Nigerian'.
"I am, however, confident in the Nigerian judiciary, as well as in the Nigerian people. I trust that the Tribunal will treat such a claim with the contempt it deserves. We must maintain our fidelity to the rule of law and to our fountain of origin, the 1999 Nigerian Constitution (as amended)."
He added,  "Atiku Abubakar has served our nation diligently in various capacities, from the civil service, where he rose through merit, to the top of his chosen field, to public service, where, by the grace of God, he was the Vice President of the Federal Republic of Nigeria.
"Moreover, he has committed his assets and talents to developing our nation through the provision of tens of thousands of direct jobs and hundreds of thousands of indirect jobs."
The Punch
Food for Living: Guard Your Secret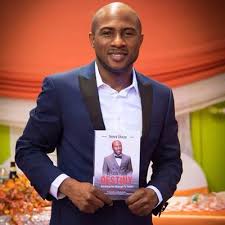 By Henry Ukazu
Greetings Destiny Friends,
As human beings, we have different character traits, personalities, gifts/talents, skills and abilities. These are what makes us unique beings, but at the top of this different genes lies our secrets. It should be noted that your secret is what makes you strong and probably successful. Your secret is basically your life. A person without secret can simply be regarded as half dead. During the course of this article, we shall be discussing how our secrets can impact our lives, and how we can use our secrets to empower ourselves.
In every sphere of life, there's a place called Holy of Holies. This can be black room, black box, vault etc. where the secret or power of the organization is kept. Even the book of life stated, wherever your treasure is, that's where your heart will be. Even in government offices, there's always a secret place. As a student, your secret place might your academic certificates.
Depending on your lifestyle and profession, everyone has a secret place; where they take time to relax, re-energize and re-ignite with their inner being. This secret place can serve as antibodies to our immune system. Your secret place is where you allow your peace of mind to reign supreme. Your secret place is devoid of bitterness and stress, but peace and love. If you allow negativity to fill your mind, you'll experience bitterness, stress, anxiety, worry, and negative traits that will drain you.
Your secret place should be a place of peace and stability. Secret place is the core value of who you are. Your secret place should be regarded as your guard room. Only permitted people are allowed to come inside. When you allow unguarded minds into your secret peace, you give them the opportunity to deposit negative traits which drains positive energy.
Every great person experience so many challenges in their lives ranging from health, relationship to finance among others. But the good thing about them is that they keep their eyes on the prize. They don't allow negativity to affect them. They remain focused on their goal. Your secret place can be regarded as your powerhouse which can only be destroyed when you allow outside forces to penetrate inside. For instance, no matter the waves that might make a ship to sink, the ship will not sink unless the water is able to find itself inside the ship. Moral: You can't stop the storm from coming, but you can stop it from letting it affect you.
When you face opposition that's when your inner strength gets tested. Your ability to stand your ground can be groundbreaking to overcoming any challenge that may pose as a threat to you. As a way of advice, be careful about the kind people you let into your inner life. If you allow negative minds, they may change the tune, especially if they have any idea about what your secret place looks like.
In the journey of life, you don't need everyone to ride the boat with you. You need to select your friends, associates, mentors, partners, etc. This is more so when you are dealing with business or have a great idea you'll like to implement. Your greatest power and strength will be to tap into your subconscious minds to birth your pet project.
When you allow Tom, Dick, and Harry into the arena of your master plan, you might be surprised to know that they may either tap your idea and creatively implement it, or they pose negative voices into your project to either discourage or make you see reasons why it won't work.  Don't get carried away by what people say, keep your head high by keeping valuable information close to your heart.
Furthermore, people may gossip about you at work, they may even throw several fallacious rumors in public areas just to dent your name, keep forging ahead, knowing fully well, this too shall pass. etc. Don't allow little thing to distract you from the big things. Remember, when they go low, you go high. Nobody will talk about you if you're nobody. You have to come to the simple realization that not everyone will like you and that's perfectly fine. What you play in your mind is what you allow in your secret place. If you know who you are, you don't need the affirmation of anyone because he that is in you is greater than he that is in the world. Only insecure minds need the affirmation of people.
Business:
Every business has a secret, this secret can be regarded as trade secrets. Trade secrets are secrets that only the principal actors in the business know. it is this secret that makes them successful. As an entrepreneur or corporate entity, it is imperative for you to know how to deliver your products to your target audience in such a way it will be appealing to them. In business, packaging is very important, your ability to understand the market, your competitors and creative way to give values to your customers can be a deciding factor in your business.  According to Robin Sharma, the business of business is human relations, but the business of life is human connection.
What many people fail to understand is that every business is different, and every business has a secret. That's why two people may be having the same products but one of them is able to outsmart the other by improving his/her business style. If you let out the secret of your business, nobody will come to you, especially if they know how you do what you do. For instance, Coca-Cola has been in business since 1886 and no one seems to know the actual contents of the drink except the family. That's trade secret. You may be wondering how and why it is so. This is simple logic, people come to you because they believe you can solve their problems or you have value to offer. Once the ordinary man on the secret is able to decipher the secret contents that makes up Coca-Cola, he/she will simply produce Cocoa cola thereby limiting the sales of the actual manufacturers.
Family
The greatest and strongest unit in the world is family. Every family has a secret; for instance, Coco-Cola. The secret to a family might be their name, love, understanding, peace, sacrifice, love or even knowledge. All this helps to address problems facing the family. Once the secret is let out, the family will be empty. What works for one family might not work for another family. You can only know what works for a particular family when you live/interact with them.
Relationship
Every marriage, relationship or friendship has a secret. This secret can be love, understanding, humility, sacrifice, peace, and wisdom. Every case is different. As popularly opined by some schools of thought, behind every successful man, there's a lady. In the same vein, behind every successful marriage, there's a secret. It is this secret that makes the marriage stronger. Relationship play a major role in defining the future of any progressive mind. It is interesting to note that during dating, intending couples normally hide a part of their character from their partner. It is only when both parties officially marry that they start to show their true characters.
Even married couple is not exempted from this bliss; they always have what binds them together. In fact, what binds them together is more than what separates them. The interesting thing about happily married couples is that, they have come to the sublime realization of what works for them by understanding themselves. Despite been married, these married couples also have their own personal secrets.
It's okay to feel down when people disappoint you, but it's not okay to make it affect you otherwise it will poison your life. See disappointment as a ship; a ship can be turned around due to waves and yet not sink, but the moment it allows the water from outside to come in, it begins to sink.
Furthermore, people may think you don't have difficulties, the difference is that we don't allow outside things to affect what we have inside us. For instance, the medical report might not look good, marriage isn't working out well, finance might be low, your ability to tap into your subconscious secret power can make the difference in your life.
Success
So many factors bring success and joy to our minds. Before one can be termed a success, a lot of factors might have played significant roles. It could be health, academics, family, friends, or even your significant other half. As mentioned earlier, every business has a secret. In the same manner, every work of life has a secret. As a prolific writer, I write from a unique perspective that no one can hardly reproduce. For instance, one of the secrets to a healthy lifestyle might be taking two cups of water daily, exercising, and having a strong positive mindset with an attitude of appreciating life's challenges while seeing them as experiences.
In conclusion, above everything, I will strongly encourage you to protect your secret place and treasure it like gold because that's all you have. Therefore, treat it like a priceless material, It will, in turn, affect everything around you, your attitude, joy and peace of mind.
Henry Ukazu writes from New York. He works with the New York City Department of Correction as the Legal Coordinator. He's the author of the acclaimed book Design Your Destiny – Actualizing Your Birthright To Success. He can be reached via henrous@gmail.com
Opinion: Conquer Your Fears
By Tolulope A. Adegoke
"Fears are nothing more than a state of mind"- Napoleon Hill
Marie Curie stated that: "Nothing in life is to be feared, it is to be understood". Also, 2 Timothy1:7 tells us something quite cheering and empowering, "For God hath not given us the spirit of fear; but of power, and of love, and of a sound mind." This is who God has created us to be, as His children. This means that giving in to fear isn't from God. 
However, the most disastrous is the fear of failure. It has aborted many dreams, inventions and destinies; so you must resist it with all your might. It is better to attempt something great and fail than attempt nothing and succeed.
 Make commitments, and stick to them. Dr. Robert Schuller once wrote: "I admire a person who tries to reach the top and does not make it. Perhaps he is someone who declares his candidacy for public office in a sincere desire to be a public servant for community good. He can be sure that he will be criticised and condemned and probably misinterpreted and distorted. His ego will surely take an awful beating. What does he get out of it? Even if he loses the race, he is a winner, because he conquered his fear of trying. In doing so, he has won his biggest battle. Every loser who tries to do something great is really a winner."
It is important that you have the right perspective of failure, so you don't become one of the victims of aborted dreams. Take note of the following observations made by someone:
·        Failure does not mean you are a failure…it only means that you have not succeeded yet.
·        Failure does not mean you have accomplished nothing…It actually means you have learnt something.
·        Failure does not mean you have been a fool…it really means you had a lot of faith.
·        Failure does not mean you have been disgraced…it does mean you were willing to try.
·        Failure does not mean you do not have it… it does not mean you have to do something in a different way.
·        Failure does not mean you are inferior…it only means that you are not perfect.
·        Failure does not mean you have a wasted your life…it does mean you have a reason to start afresh.
·        Failure does not mean you should give up…it does mean you must try harder.
·        Failure does not mean you will never make it…it does mean it will take a little longer.
·        Failure does not mean God has abandoned you…it only means God has a better idea!"
Being fully furnished and fortified with all we have learnt in this, there is no longer need to remain the same person you've always been. Now is the time to rouse your mind, stir up your faith and harness your potentials for excellence! Ensure that your contributions to life becomes a healing balm to the lives of the wounded, succour to the oppressed and inspiration to the coming generation(s).
It's Your Turn
I urge you, friend, don't give up on that dream; don't give up on health status; don't belittle those potentials that you are carrying, current situation notwithstanding. Time is a very humbling factor that must be regarded, considered and worked with if you surely and honestly desire global impacts. Crawl! Walk! Run! Fly! Soar! But don't just remain on a spot! Maximize every situation to learn and grow (current lock and knockdowns notwithstanding). You must not stay idle. God Almighty requires us to optimise, empower and harness our gifts for the benefits of mankind and to our lifting, comforts and above all, to His glorification forevermore!
Remember that you are here on earth on a mission of wonders, to deliver unusual possibilities to peoples, corporates and nations, thereby handing over a better world to the coming generation. Remember also that we all shall surely give accounts to the Giver of the life and the gifts that we carry, as soon as we are through here on earth!
Knowing this, therefore, I charge you, leave your comfort zone(s). Aim higher, and work late nights on your dreams, visions and potentials. Acquire relevant knowledge through diverse profitable means. Study relevant books on your areas of interest. PUSH till the doors open. Learn at the feet of the masters (your God-sent mentors or teachers). Stay ever-humble; remain loyal to God and to fellow men; pray hard; meditate in serenity; seek silence; rest well; feed fine; network (meet people); start small; relate with respect and honour; and help others to find their feet.
Chase excellence; perfect your talents into skills (products); understand business terms and administration; invest your time; manage your energy, activate your visions; work on paper (Habakkuk 2:2). Read, study, embrace joy, and maintain happiness, even in whatever storm you may be going through. Be grateful. Work with time. Flow beyond the rhythm of the present so as to secure the future!
It is my expectation and the expectation of God that you will join all the great men and women we have discussed here and many more that you may be familiar with. These people, like eagles, turned the storms that came their way to propellers that catapulted them to their PEAK of greatness, while others see storms as obstacles or limitations.
Remember, every other number – no matter how huge – started from zero. Zero may connote the difficulties you are going through at the moment, but there is a lot you can make out of it if you do not allow it to overwhelm you. Revisit the success tips that the above people have proffered, as well as the ones you have read here so far. Begin to apply them with all seriousness. Soon, God will locate you with His favour and your story will turn to GLORY!
Watch out for the Book titled: "The Power of an Empowered Zero" (From Zero to HERO) by Tolulope A. Adegoke. Foreword by Dr Yomi Garnett (CEO/Chancellor, Royal Biographical Institute, Philadelphia, Pennsylvania U.S.A., U.K., Abuja, Nigeria.) Edited by Ola Aboderin. 
Coronavirus Has Exposed Nigeria As Country Without Leadership, Says PCP Chairman
The National Chairman of the People's Coalition Party (PCP), Chief Don Anthony Harmattan, has said that the advent of the Coronavirus scourge has exposed Nigeria as a country without effective leadership, noting that President Muhammadu Buhari and his ruling All Progressives Congress (APC) has failed Nigerians.
Harmattan made this remarks in a statement made available to PointBlank.ng, adding that the country needs a unity government that will champion the various needs of its citizens.
Below is the full statement:
BUHARI AND APC HAVE FAILED NIGERIANS: NIGERIA NEEDS A UNITY GOVERNMENT TO CHAMPION ITS INTEREST
"The ongoing scourge of corona virus ravaging the country have presented us another opportunity to see first hand that Nigeria currently have no leadership that rallies it's people together in times of need and emergency such as we are currently facing.
"At a time when other presidents stood side by side with their people, with even the Italian Prime Minister weeping for it's dead, and the German Chancellor Angela Merkel, Spanish Prime Minister Sanchez and the US President Donald Trump openly seen in solidarity with its people, the giant of Africa's president is no where to be found, not even addressing its citizens in this time of health emergency.
"The Peoples Coalition Party wish to make it clear that this present administration has failed Nigerians and a government of National unity is what is needed and a constitutional conference should be convened immediately in the best interest of Nigerians.
"Nigerians can no longer continue like sheep without shepherd. A country rich in mineral resources has been sank by parasitic elements in government who at every time has proven without doubt that it doesn't have the interest of Nigerians at heart apart from their primary interest of devastating our collective treasury by hooks and crooks.
"A country like ours being ravaged by disease and hunger is a country at WAR and one that requires the continuous reassurance of its president who is conspicuously absent in his role as president and commander in chief.
"The questions are, is Nigeria a business enterprise of some elite or a selfish gangup of few gangsters and cabals at the dentriment of our citizens?
"The Peoples Coalition Party as the Third Force in the 2019 general election hereby calls on all stakeholders to join hands in the call for a National unity government. We commend the Armed Forces and judiciary and also urge the judiciary to remain steadyfast and see itself as the last hope of the common man in Nigeria irrespective of any threat against it."