Easter: Sanwo-Olu Greets Christians, Preaches Love, Selflessness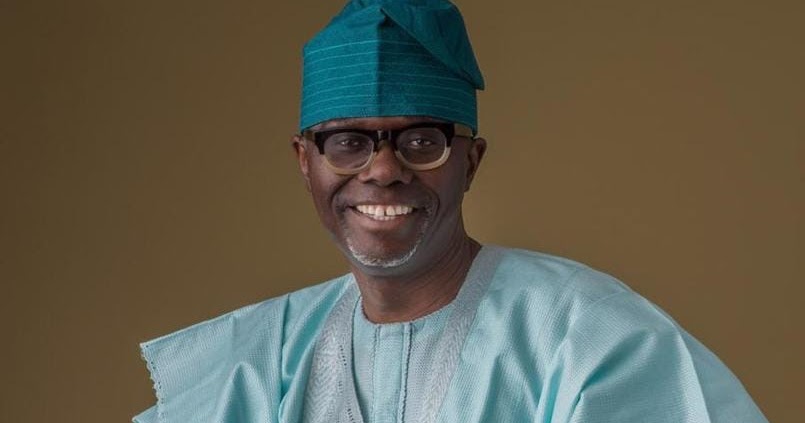 As Nigerian Christians join their counterparts all over the world to mark the Easter celebration, Lagos State Governor-elect, Mr. Babajide Sanwo-Olu has called on them to imbibe the spirit of love, humility, tolerance and forgiveness exemplified by Jesus Christ during his earthly sojourn.
Sanwo-Olu in a statement signed by his media officer, Mr. Gboyega Akosile, said the centrality of the birth and crucifixion of Jesus Christ was about love for mankind and His work of redemption urging Christians in Nigeria and Lagos in particular to imbibe love as an important fruit of the spirit.  
The Governor-elect reminded Lagosians of the pains and agony endured by Jesus Christ on the Cross of Calvary as the height of sacrifice for humanity.
"Therefore, we must use this auspicious period to promote unity, love and sacrifice, which were displayed by Jesus Christ."
Sanwo-Olu further enjoined Lagosians to use this Easter Celebration to reflect on the sacrificial life of Jesus as a worthy example for all to emulate adding that Nigerians and the people of Lagos must be willing, at all times, to make sacrifices for the progress and development of the society without any recourse to parochial sentiments against one another, especially, along ethnic and religious lines.
"Easter celebration is one of the most anticipated festivals in the Christian world because it represents God's love for humanity. The period, which is a commemoration of the resurrection of Jesus Christ is a time for us to reinforce our commitment to our faith and love towards one another as demonstrated by Christ Himself."
The Governor-elect charged Lagosians to use this period of Easter celebration to also ponder upon the affairs of the state and its potentials for growth.
"Lagos is currently the 5th largest economy in Africa and has the potentials to rank among the top 3 in the continent, if we continue on our positive trajectory and remain bound by love for one another. We just came out of an election season. Election period is over and now is the time to demonstrate the spirit of oneness by coming together to work for a greater Lagos where we will all prosper."
Sanwo-Olu also assured Lagosians that they will not regret voting for him at the just concluded gubernatorial election in the State.
''I will not take the confidence you reposed in me by voting for me and my party, the All Progressives Congress for granted. We will work harder to surpass expectations. Our T.H.E.M.E agenda, which covers Transportation and Traffic Management, Education and Technology, Health and Environment, Making Lagos a 21st century global economy and Entertainment, Sport and Tourism is being distilled further into implementable action-plan by team of experts.
While wishing Lagosians a Happy Easter celebration, Mr. Sanwo-Olu advised the citizens not to lose sight of the importance of the season.
Army Chief Commissions Multiple Projects in Janguza Barracks, Commends Troops of 3 Brigade
The Chief of Army Staff (COAS), Lt Gen Faruk Yahaya, has commissioned multiple projects in Janguza Barracks, Kano.
The newly completed projects, according to a statement signed by the Director Army Public, Major General Onyema Nwachukwu, which include 72 units of Corporals and Below Quarters (CBQ), 30 units of Single Officers' Quarters (SOQ) and 5 blocks of Company Offices and training shades were officially inaugurated today 26 January 2022 during COAS' maiden working tour of 3 Brigade area of responsibility.
Speaking during the commissioning ceremony, General Yahaya stated that the visit is in tandem with his command philosophy, to enable him interact with troops and obtain first hand information that will enhance his command and administration of the Nigerian Army (NA).
Gen Yahaya disclosed that the dearth of personnel accommodation in the NA is receiving adequate and prompt attention with the construction of befitting accomodations across formations and units of the NA, adding that the welfare of personnel is paramount to his command.
During the working tour, the Commander 3 Brigade, Brigadier General Sinyinah Nicodemus gave the COAS a brief on the Operational engagements and security situation in the Brigade's <a href="https://metrotimesng.com" rel="noopener" target="_blank">area</a> of responsibility.
The COAS in his appraisal, commended troops of the Brigade for discharging their duties with diligence.
The COAS was accompanied during the visit by principal staff officers from Army Headquarters and the General Officer Commanding 1 Division Nigerian Army, Major General Kabiru Muhktar.
NIWA Poised to Change Safety Narratives on Waterways – Moghalu
The Managing Director, National Inland waterways Authority (NIWA), Dr George Moghalu, has said the apex regulatory agency on brown water economy will leave no stone unturned in the quest to ensure accident free water transportation in the country.
He also informed that safety on waterways as a major mandate of NIWA will be pursued with vigour under his watch as a process to engender confidence among water transportation operators and users, and also to attract local and foreign investment.
Speaking after inspecting navigational buoys facilitated by NIWA on Lagos waterways from Marina to Ikorodu, with an ongoing phase two from same Marina, navigating iworo to Badagry,. Dr Moghalu noted that the Lagos template, geared towards activating a national water transportation safety architecture, will further help in emergency rescue operations and provide distressed boats an anchor before help arrives, thus eliminating incidences of crafts drifting on mid waters.
Accompanied by Lagos Area Manager of NIWA, Engineer Sarat Lara Braimah and President, Association of Tourist Boat Operators and Water Transporters of Nigeria (ATBOWATON), Ganiyu Tarzan Balogun, Dr Moghalu assured that NIWA will not fail in its responsibilities to enthrone enduring accident free water transportation signature across littoral states in Nigeria.
Mr Gani Balogun thumped up the niwa initiative, saying that Dr moghalu is a man of his words and should be trusted to make water transportation safe and attractive for all end users.
"At the last stakeholders meeting last year in Lagos, Dr moghalu promised to ensure a navigable Lagos waterways through provision of buoys which would not only serve as an anchor point for distressed boat operators but will help provide access and geographical location to rescue efforts and today, we have seen that promised fulfilled and we say more grease to his elbows," an excited Mr Balogun stated.
Lagos Govt Suspends Activities of NURTW
The Lagos State Government has placed indefinite suspension on activities of the National Union of Road Transport Workers (NURTW) at Eyin Eyo, Church Street and Idumota Bridge on Lagos Island.
This was as a result of the mayhem that engulfed the areas last week where union members freely used dangerous weapons to attack themselves and commercial paralysed activities in the areas.
At a stakeholders meeting comprising the National Union of Road Transport Workers (NURTW), Central Business District (CBD) and Lagos State Market Women Association (Iya Oloja General and Iya Oloja of Lagos Island) at the Bagauda Kaltho Press center to tackle crisis often caused by the activities of the union, the Special Adviser to the Governor on Transportation, Oluwatoyin Fayinka meted out the ban to prevent further acts of violence at idumota, adding that the Lagos State Parks Monitoring Authority will resume at Eyin Eyo.
Fayinka stated that the Rapid Response Squad (RRS) would station an Armoured Personnel Carrier (APC) on Idumota Bridge to deter motorists from driving against traffic in compliance with traffic rules and regulations and to enforce the suspension of the NURTW within the axis and simultaneously flush out the Oju Opake boys lurking along Plaza around Church Street axis.
Also suspended are the activities of the transport union at Church Street and John Street, particularly Keke Marwa and Mini Buses (Korope).
The Transport Special Adviser added that the Rapid Response Squad (RRS) in collaboration with the State Police Command would ensure safety of lives in the area.