Easter: Sanwo-Olu Greets Christians, Preaches Love, Selflessness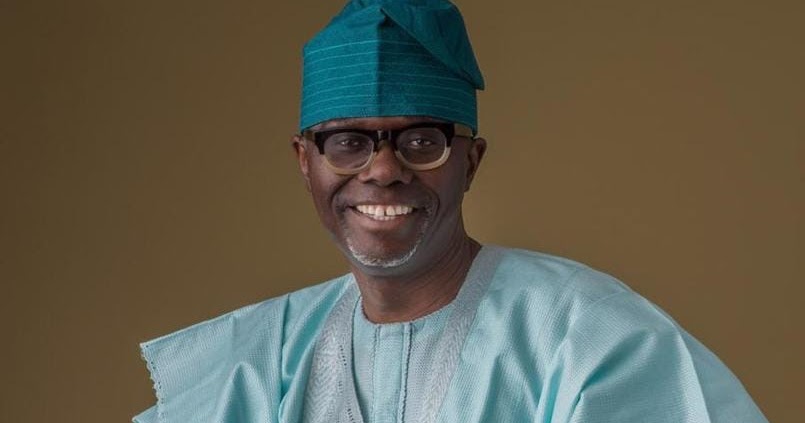 As Nigerian Christians join their counterparts all over the world to mark the Easter celebration, Lagos State Governor-elect, Mr. Babajide Sanwo-Olu has called on them to imbibe the spirit of love, humility, tolerance and forgiveness exemplified by Jesus Christ during his earthly sojourn.
Sanwo-Olu in a statement signed by his media officer, Mr. Gboyega Akosile, said the centrality of the birth and crucifixion of Jesus Christ was about love for mankind and His work of redemption urging Christians in Nigeria and Lagos in particular to imbibe love as an important fruit of the spirit.  
The Governor-elect reminded Lagosians of the pains and agony endured by Jesus Christ on the Cross of Calvary as the height of sacrifice for humanity.
"Therefore, we must use this auspicious period to promote unity, love and sacrifice, which were displayed by Jesus Christ."
Sanwo-Olu further enjoined Lagosians to use this Easter Celebration to reflect on the sacrificial life of Jesus as a worthy example for all to emulate adding that Nigerians and the people of Lagos must be willing, at all times, to make sacrifices for the progress and development of the society without any recourse to parochial sentiments against one another, especially, along ethnic and religious lines.
"Easter celebration is one of the most anticipated festivals in the Christian world because it represents God's love for humanity. The period, which is a commemoration of the resurrection of Jesus Christ is a time for us to reinforce our commitment to our faith and love towards one another as demonstrated by Christ Himself."
The Governor-elect charged Lagosians to use this period of Easter celebration to also ponder upon the affairs of the state and its potentials for growth.
"Lagos is currently the 5th largest economy in Africa and has the potentials to rank among the top 3 in the continent, if we continue on our positive trajectory and remain bound by love for one another. We just came out of an election season. Election period is over and now is the time to demonstrate the spirit of oneness by coming together to work for a greater Lagos where we will all prosper."
Sanwo-Olu also assured Lagosians that they will not regret voting for him at the just concluded gubernatorial election in the State.
''I will not take the confidence you reposed in me by voting for me and my party, the All Progressives Congress for granted. We will work harder to surpass expectations. Our T.H.E.M.E agenda, which covers Transportation and Traffic Management, Education and Technology, Health and Environment, Making Lagos a 21st century global economy and Entertainment, Sport and Tourism is being distilled further into implementable action-plan by team of experts.
While wishing Lagosians a Happy Easter celebration, Mr. Sanwo-Olu advised the citizens not to lose sight of the importance of the season.
DHQ Announces Arrest of Two More Suspects of Owo Church Massacre
The Defence Headquarters on Thursday said two additional suspected terrorists linked with the Owo attack have been arrested.
The Chief of Defence Staff , General Lucky Irabor, had during a meeting with media executives and editors on Tuesday announced the arrest of some suspected terrorists including the mastermind of Owo attack.
The PUNCH reports that armed men stormed the St Francis Catholic Church, Owo on 5 June 2022 and killed no fewer than 40 worshippers.
However, in a statement on Thursday, the Director of Defence Information, Major General Jimmy Akpor, said the duo of Al-Qasim Idris and Abdulhaleem Idris were arrested at the Omialafara (Omulafa), Ose LGA in Ondo State during a joint operation with the DSS, Police .
The statement was titled , 'Arrest of two additional suspected terrorists in connection with the Owo Catholic Church on June 5,2022.'
It read, "Recall that the Chief of Defence Staff during his parley with media executives and editors yesterday, Tuesday 9 August 2022, informed of the arrest of 4 terrorists among those who carried out the attack on St Francis Catholic Church, Owo on 5 June 2022.
"They were arrested through a combined operation by military and DSS personnel at Eika, Okehi LGA, Kogi State on 1 August 2022. Those arrested include Idris Abdulmalik Omeiza (a.k.a Bin Malik), Momoh Otohu Abubakar, Aliyu Yusuf Itopa and Auwal Ishaq Onimisi.
"Barely few hours after the disclosure by the CDS of the arrest of four of the Owo Catholic Church attackers, two additional ISWAP terrorists, who were also connected to the attack on the church were apprehended at Omialafara (Omulafa), Ose LGA, Ondo State yesterday, August 9 2022.
"The arrests were made through the collaborative effort by military and DSS personnel. The suspects are Al-Qasim Idris and Abdulhaleem Idris. "
He, however, said that Abdulhaleem, alongside other high profile ISWAP commanders, had previously coordinated attacks on military targets in Okene, Okene LGA, Kogi State , which led to the death of many.
The Punch
How 12-Year-Old Boy Killed Nigerian Mother in US
A 12-year-old Nigerian boy has killed his mother, Ayobiyi Cook, at their home in Forestdale, Alabama, United States.
According to CBS News, the boy "accidentally discharged a firearm" which struck and killed his 29-year-old mom on Monday.
His father, Djuan, a policeman, was said to be at work when the incident happened.
A statement from the Jefferson County Sheriff's Office revealed that the boy had initially lied to detectives about the cause of his mother's death after cops arrived at the scene some minutes past midnight.
He was reported to have said an intruder broke into the house, shot his mother and fled.
But on further investigation of the killing, he reportedly admitted to killing his mother.
The statement read in part, "The child originally fabricated a story that detectives determined was not possible; the child eventually gave a true account of what happened
"The boy's family, who he will remain with, has been cooperative. The case will be addressed through the family court system."
A prior statement by the Jefferson County deputies stated that there had been no forced entry into the home when they arrived at the scene.
It read, "On Saturday, August 6, 2022, at 12:10am, Jefferson County Deputies received a 911 call for help at a residence in the 2400 block of Freemont Avenue in the Forestdale community.  Deputies arrived and found a 29-year-old woman deceased on the scene. There appeared to be no forced entry into the home and a man was seen fleeing from the residence shortly before the 911 call was made. Sheriff's detectives were able to recover evidence on the scene and are continuing to investigate."
The deceased's husband, Djuan, in a Facebook post, said Ayobiyi was known as "Yo" or "YoYo.
He wrote, "The funeral arrangements would be held on August 12. Orange was Yo's favourite colour so feel free to wear it as we celebrate her life."
Ihedioha Denies Making Statement Against Igbo, Peter Obi
A former governor of Imo State, Emeka Ihedioha, has denied talking down on the presidential candidate of Labour Party, Peter Obi.
Some reports had on Monday claimed that Ihedioha had called Obi 'crafty', and had asked Igbos to wait till 2031 for Presidency.
However, a statement by Ihedioha's media aide, Chibuike Onyeukwu, had asked the public to disregard the statement, adding that it was fake news.
The statement dated August 8, 2022 was titled, 'RE – 2023: Igbos Should Wait Till 2031, Peter Obi is Crafty'.
It read, "Our attention has been drawn to another fake news, with the above caption, circulated in some social media platforms.
"This is one of the many orchestrated efforts by political opponents of His Excellency, Rt. Hon. Emeka Ihedioha CON and their collaborators who are afraid of squaring up against him in the coming elections.
"It is noteworthy that His Excellency did not grant any interview in Abuja or elsewhere as claimed.
"His Excellency is known to acquit himself in the most civil, decent and respectful manner and therefore could not have employed such uncouth words.
"We are aware that the purveyors of these unfounded reports are unrelenting in their desperation to impugn His Excellency's integrity and reputation.
"The public, therefore, is alerted and indeed advised to kindly ignore and disregard the fake news."