Encomiums As God's General, Enoch Adeboye Celebrates 81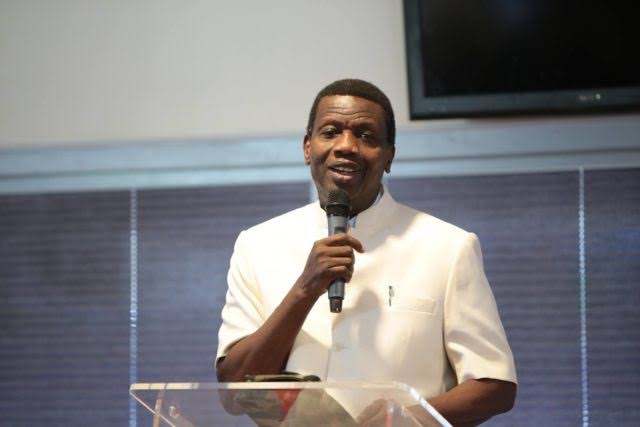 By Eric Elezuo
Not a few across religious divide considers Pastor Enoch Adejare Adeboye as one of the world's greatest living preachers. Better known as Daddy G.O, Adeboye is the General Overseer of the Redeemed Christian Church of God, RCCG, Worldwide, with headquarters in Lagos, Nigeria. The respect he has garnered over the years while overseeing Nigeria's largest church, even before being bestowed with the G.O honours has remained overwhelming and growing.
Humble, soft-spoken and deliberately reachable, Pastor Adeboye as he is simply addressed is celebrating four score and one years on the surface of the earth, and is glorious elated, giving glory to the Almighty God, whose steadfast love, overbearing protection and privileged attention have sustained him this far.
Highly elated and full of heartfelt thanksgiving, the Man of God, who is known for his prophetic entry of My Daddy Says, took to his official social media platform to share beautiful photos with a caption 'More than 81 reasons to thank God'.
Pastor Adeboye, also known with his cliche of 'somebody shout alleluia' became General Overseer of the RCCG in 1981. And for three years, he performed the role part-time before giving up his university position to go into full-time gospel ministration. A position he has used to selflessly affect humanity, and prosper the gospel company. He is also a known philanthropist, who has used his God-given wealth to look after God's irrespective of creed and leaning. Recall that in 2022 while celebrating his 80th birthday, Adeboye, through his foundation, donated eight dialysis machines to Wuse District Hospital, together with a reverse osmosis medical water purification system and an electrical generator.
Consequently, as a mark of deserved respect, people from all walks of life including President Muhammadu Buhari and President-elect, Bola Tinubu, has been sending in their encomiums to the whose loyal to God and love for fellow human beings have remained a case study.
I REMAIN GRATEFUL FOR YOUR FRIENDLINESS AND WISE COUNSELS – PRESIDENT BUHARI
President Muhammadu Buhari joined leaders and members of the Redeemed Christian Church of God (RCCG) in celebrating Pastor Enoch Adeboye, on his 81st birthday.
In a congratulatory message by his spokesman, Femi Adesina, Buhari rejoiced with the religious leader, who left his academic career to fully commit to serving the Lord.
The president equally felicitated family, friends and other church leaders within and outside the country, thankful for Mr Adeboye's positive influence on people and institutions, with a focus on expanding the kingdom of God on earth.
While recalling the visits and prayers, especially when he was ill and recuperating, Mr Buhari said he remained grateful for the friendliness and wise counsels of the general overseer over many years.
The president prayed that the God would continue to bless and guide Mr Adeboye and his family.
YOU ARE AN EXEMPLARY MODEL – PRESIDENT-ELECT TINUBU
President-elect Bola Tinubu also sent a special birthday goodwill message to Pastor Enoch Adeboye. The General Overseer of the Redeemed Christian Church of God, RCCG, regarded as the largest pentecostal church worldwide, clocked 82 today. The former Lagos State governor's media adviser, Tunde Rahman issued a statement, praising the influential cleric.
Tinubu noted that Adeboye has been a tremendous blessing to Nigeria, Africa and the world with his ministerial work as a preacher and leader. He recalled their relationship since his time as governor and how the annual Lagos State Thanksgiving Service started then. Tinubu said Adeboye has been "an exemplary model" whose teachings and counsel have continued to moderate and stabilise the country. He wished the clergyman many glorious years in the service of God and the unfailing service to humanity.
Many goodwill messages have also flown from notable preachers, who have been inspired and mentored by Adeboye. Some of them are Bishop David Oyedepo of the Living Faith Church aka Winners Chapel, Pastor David Ibiyeomie of the Salvation Ministries among others.
Intelregion also recorded the Fans and followers, who lent their voices to celebrate the man of God on his birthday. Some of the are:
@LaraTheLaw said, "Happy birthday GO!!! It's a big privilege to share the same birthdate with you! Love everything you represent and you have a huge part".
@fun96678389 said, "Happy birthday Papa Adeboye, thank you for saying 'yes' to the calling, and teaching us the word in the most simplified and relatable ways, accompanied by your beautiful stories to make it even more relatable. May you continue to grow in strength and wisdom, and May God groom several of us to eventually follow in your path."
@jonatdot said, "Happy birthday sir. So much to thank God for on your behalf. Thank you sir for all you have enabled God used you for and still yielding to Him to use you for. More grace to finish strong in the mighty name of Jesus Christ of Nazareth."
@DrTFarombi said, "Happy birthday to you daddy. You have fed and nurtured us with the word of God. You have demonstrated Christianity in such a simple way. Your life has brought nations to Christ. We pray as your days are so shall your strength be. God bless you sir."
@Graciee48087713 said, "Happy birthday daddy. Thank you so much for yielding to God and for being a voice in our Generation and life.I pray may you never miss your crown of Glory.God bless you DADDY SIR…"
@amoo_lanre said, "Happy Birthday to you Daddy. You shall finish well and strong in the Lord in Jesus name. You shall always be relevant in the Kingdom of Jesus Christ our Lord. Amen. Congratulations sir."
According to Wikipedia, Enoch Adejare Adeboye was born into a very humble family on March 2, 1942 in Ifewara, near Ife, Osun State .
He began his education at Ilesha Grammar School Ilesha Osun State in 1956 before proceeding to the University of Nigeria Nsukka (UNN). But because of the Nigeria Civil War, he completed his first degree in the University of Ife (now Obafemi Awolowo University), graduating with a Bachelor's degree in Mathematics in 1967. That same year, he married Foluke Adenike. They both have four children namely: Adeolu Adeboye, Bolu Adubi (née Adeboye), Dare Adeboye and Leke Adeboye. Dare died in 2021 at the age of 42. In 1969, he obtained a Master's degree in Hydrodynamics from University of Lagos. In 1975, he obtained a Ph.D. in Applied Mathematics from the University of Lagos.
Adeboye joined the Redeemed Christian Church of God in 1973 and served as an interpreter before he was ordained a pastor in the church by Pa. Josiah Akindayomi in 1975. He became General Overseer of the church in 1981.
The church, which was not well known before Adeboye became the General Overseer, has branches in about 198 nations as at March 2017, including more than 14,000,000 worshipers in Nigeria. The man of God has stated that he aims to put a church within five minutes walking distance in developing cities and five minutes driving distance in developed cities.
He is considered a preacher of the prosperity gospel, a claim he does not deny, saying that "Pentecostals have such an impact because they talk of the here and now, not just the by and by… while we have to worry about heaven, there are some things God could do for us in the here and now."
Following new legislation that placed limits on non-profit leadership to 20 years of service and less than 70 years of age, Pastor Adeboye resigned as General Overseer in 2017.
An author of repute, Adeboye has written several books, including:
Open Heavens Daily Devotional
Lessons from the Sower
Christian Moderator
Deadly Enemy of Man
Divine Favour
Kingdom Prosperity
Fruits of the Spirit
God of Wonders
God's Remembrance and Deliverance
Prevailing Prayers
The Wonder Working God
Transitions
Mathematics & Greatness
Adeboye has endowed four Nigerian universities, including Obafemi Awolowo University and the University of Nigeria. Among accolades trailing him are:
1 of the 50 most powerful people in the world by Newsweek (2008)
One of the Top 100 most influential Africans by New African magazine in 2019.
Happy birthday sir, and may many more years of greater favour be your portion!
Ethnic Profiling: Archbishop Martins Calls for Peaceful Co-Existence, Urges Security Agencies to Protect Lives
The Catholic Archbishop of Lagos, Most Rev. Alfred Adewale Martins has condemned in very strong terms all forms of ethnic profiling, utterances, and violence witnessed in some parts of Lagos state, before, during and after the recent elections, warning that the trend if not urgently check-mated, could truncate the peaceful co-existence of residents of the state.
The Archbishop described as unfortunate and unacceptable, the tension, hate speech and violence, especially before, during and after the recent Gubernatorial and House of Assembly elections in some parts of the state.
In a statement signed by the Director of Social Communications, Rev. Fr. Anthony Godonu, and made available to the National Association of Online Security News Publishers (NAOSNP), the prelate urged the state government as a matter of urgency to call all parties to order and to put in place a machinery for the quick restoration of peace and normalcy.
He equally implored the law enforcement agencies to safeguard the lives and properties of all residents irrespective of tribe, religion, or ethnic groups.
Archbishop Martins also urged the residents of Lagos to remain calm and not allow themselves to be divided against their neighbours.
According to him, "the ethnic and discriminatory comments making the rounds particularly on social media, are not a reflection of the true nature of Lagosians, who are known to be very peace-loving, accommodating and cosmopolitan, including by promoting inter-tribal marriages for many decades.
"I call on everyone to put a stop to the spread of hate speech and fake news and to shun all forms of rancor. The divisive comments and behaviours, particularly along ethnic or tribal line is not conducive to good neigbourliness and peaceful coexistence. The people of Lagos must not allow the political class to whip up such divisive sentiments to disrupt their lives and livelihood. We are all equal before God and the only man-made distinction among people is between the poor and the rich, the privileged and the underprivileged.
"We are all Nigerians and have lived and interacted together as one people for decades in Lagos and other parts of our country.
"With the elections over, we hope that all those who have been fanning the embers of ethnic division will be more circumspect and desist from further heating up the polity. We must be law-abiding citizens and not take the law into our hands in any guise".
While commiserating with families that lost their loved ones and persons whose properties were destroyed in the violence in the state and across the country, Archbishop Martins also called on law enforcement agencies to do the needful where offences have been committed, as part of efforts to facilitate a national healing process.
Sumonu, NHCI Congratulate Sanwo-0lu on Re-election
President, Nigeria Hotel and Catering Institute ( NHCI), Mr Gbenga Sunmonu, says his association is over joyed at the reelection of governor Babajide sanwo-0lu for a second term in office, noting the multiplyer effects on growth of Hospitality, Tourism and catering businesses in the state.
NHCI, flagship of professional Institute service to Hospitality and Tourism in Nigeria, Mr Sunmonu further explained is happy to join lagosians to fecilites with the amiable people's governor, adding that the Hospitality and Tourism sector in lagos, will boom with his return, and promising to mobilize bridges of support to the rising greater lagos tourism and hospitality offerings and opportunities.
"We at NHCI congratulates the governor and we shall ensure creative capacity building ethos and strategies for hospitality and catering businesses in lagos, are scaled up and sustained, thus ensuring that real jobs, and standardisation of services and operations are factored and successfully laid bare" Mr Sunmonu further stated.
He disclosed that NHCI is satisfied with the governor's intervention and dedication to lagos tourism space, suggesting that a well articulated 100 days in office for hospitality and catering businesses goals, particularly on capacity development, massive awareness and tax exemptions regimes, land use charges review to further encourage detailed investment in the sector, be pursued with vigor and strength.
"We appreciate the grants to the creative sector not too recently and other supporting budget releases within the ecosystem but we must advantage more of that strategic process to awareness creation and promotion of the sector through professional and specialised media organisations so that the people and visitors can be well educated about the huge benefits and contributions of hospitality, tourism and catering to the state coffers and sociopolitical growth," NHCI President stressed.
Popular Musician, Alayeluwa at 50, Donates Massively to Charity
By Eric Elezuo
Popular fuji musician, philanthropist and socialite, Sulaimon Alao Adekunle aka Alayeluwa, has once again stretched a helping hand to Nigerians living with disabilities with the donation of household equipment, food items and other materials to the Focus on Disabilities Foundation home to further ease their adaptation in the society.
Alayeluwa, who made the donations to commemorate his golden jubilee celebration, confessed that it is his nature to give, adding that it is the only way to make the creator happy with any individual.
Among the items donated are 50 boxes of noodles, five bags of rice, one Thermocool Petrol powered generator, 100 litres of Groundnut oil, five mouka foams, Boxes of biscuits and other toiletries.
Making the donations, Alayeluwa praised the founders of the home for doing their foresight and hailed all the achievements made so far. He also identified with the children, encouraging them to work for the best of the future.
"Giving is a virtue that God expects all of us to have, and I appreciate the founders of this home for a job well done. It behoves on me to celebrate my landmark birthday of 50 with these wonderful children, and I hope you will accept my token of kindness, and join me in thanking God," Alayeluwa said.
Responding, the Founder and Chief Executive Officer of the Home, Mr. Enilari Abiodun Paseda, thanked the musician and wish him more glorious years in view on behalf of the management and inmates. He also lavished appreciation on Yeyeluwa Rasheedat Omobola Lastampa Seera, for her efforts in facilitating the visit.
"Thank you sir for the gifts. Thank you for considering our home and the children, and may the good Lord continue to bless you and grant you many more years, Happy birthday," Paseda reeled.
Born February 15, 1973, Alayeluwa has been in the music scene since childhood when he started playing  popularly known by playing and performing music in a qur'anic school in the Agege of Lagos. His efforts in the world of philanthropism has really elevated him to the world of humanity, and he is not ready to quit yet.