FirstBank Gives Out N17bn Loan Through FirstAdvance, Reinforces Financial Inclusion Drive
First Bank of Nigeria Limited, Nigeria's leading financial inclusion services provider, has announced that loans exceeding the sum of 17 billion naira have been disbursed to individuals, across the country. The loan disbursement is carried out through FirstAdvance, its digital lending solution.
FirstAdvance is designed to offer a convenient and easy access to cash for salary earners whose accounts are domiciled with FirstBank and have received regular salaries for two months, prior to the loan request. In barely a year since the launch of FirstAdvance, over 128,000 unique customers in over 782,996 successful transactions have so far benefitted from loans.
Processing a loan with FirstAdvance is implemented in less than a minute and it is accessed in two ways, the USSD code; *894*11# or the Bank's recently upgraded mobile banking application, FirstMobile. Customers are advised to upgrade their FirstMobile App to the latest version on android and ios for requests via the App.
Further to its pursuit of providing options to Nigerians across all income bands, FirstBank's also offers Personal Loan Against Salary (PLAS) to individuals in paid employment who need long term loan to meet their financial obligation more especially as the economy returns to normalcy post COVID-19 pandemic and as schools resume. FirsBank's Personal Loan guarantees a convenient repayment plan of up to 60 months.
"Meeting the needs of our customers have always been our priority and we are delighted with the volume of loans disbursed to Nigerians as it reinforces the confidence of Nigerian workers in FirstAdvance, our digital lending solution and also our long-term offerings through Personal Loans for people in paid employment" said Gbenga Shobo, FirstBank's Deputy Managing Director."
"We are excited that FirstAdvance has been added to the channels through which we deepen financial inclusion as it is no doubt an expansion of our commitment and support to every household in the country," he concluded.
Are you a salary account holder with FirstBank and in need of quick loan to cater for that pressing need, dial 894*11# or initiate your loan request via FirstMobile App to make that need a reality.
Dangote Refinery Will Sell Refined Crude in Naira, Says Emefiele
The Central Bank of Nigeria (CBN), governor, Mr. Godwin Emefiele, has said that the Dangote Refinery would sell refined petroleum products in Naira when it commences production.
According to the News Agency of Nigeria (NAN), Mr Emefiele said this on Saturday during an inspection tour of the sites of Dangote Refinery, Petrochemicals Complex Fertiliser Plant and Subsea Gas Pipeline projects at Ibeju Lekki, Lagos.
The CBN governor said that the first shipment of Urea from the Dangote Fertiliser Plant would begin in March to help boost agricultural practice in the country.
The CBN governor noted that the 15 billion dollar projects being constructed by the Dangote Group would save Nigeria from expending about 41 per cent of its foreign exchange on importation of petroleum products.
"Based on agreement and discussions with the Nigerian National Petroleum Corporation and the oil companies, the Dangote Refinery can buy its crude in naira, refine it, and produce it for Nigerians' use in naira," Mr Emefiele said.
"That is the element where foreign exchange is saved for the country becomes very clear. We are also very optimistic that by refining this product here in Nigeria, all those costs associated with either demurrage from import, costs associated with freight will be totally eliminated.'
The apex bank governor explained that this will make the price of Nigeria's petroleum products cheaper in naira.
"If we are lucky that what the refinery produces is more than we need locally you will see Nigerian businessmen buying small vessels to take them to our West African neighbours to sell to them in naira," Mr Emefiele said.
"This will increase our volume in naira and help to push it into the Economic Community of West African States as a currency," Mr Emefiele said.
Speaking on the refinery project, the CBN governor expressed optimism that it would be completed by the first quarter of 2022, adding that this would put an end to the issue of petrol subsidy in the country.
"I am saying that by this time next year, our cost of import of petroleum products for petrochemicals or fertiliser will be able to save that which will save Nigeria's reserve," he said.
"It will help us so that we can begin to focus on more important items that we cannot produce in Nigeria today."
The apex bank governor said the CBN had given a N100 billion intervention to the projects, adding that the bank was ready to support Nigerian businesses set up to uplift the country economically.
In his remarks, Chair of Dangote groups, Aliko Dangote, said that the fertiliser and petrochemicals plants were capable of generating 2.5 billion dollars annually while the refinery would serve Nigeria and other countries across the world.
Mr Dangote said the projects would create jobs for Nigerians and build their capacity in critical areas of the oil and gas industry.
He thanked President Muhammadu Buhari and the CBN governor for their support toward the completion of the projects.
"I will like to thank the president personally for helping us and assisting us in making sure that we are now back on track," he said.
"Mr President personally wrote a letter to the president of China and asked them to bring the expatriates that we don't have so that we can continue work.
"During the coronavirus, you will remember that we had one or two cases when it started and everybody ran away from site but right now we are beginning to bring people back and we have about 30,000 people now.
"The good part of it is that we have learnt a lot also and there are a lot of Nigerians that just need small training and they are doing extremely well. So now we only need a small number of people coming from abroad just to give that training."
The businessman also called for the speedy passage of the Petroleum Industry Bill currently before the National Assembly to maximise the opportunities in the Nigerian oil and gas sector.
Premium Times
London Stock Exchange Welcomes Ecobank Nigeria's Senior Bond Issuance
Ecobank Nigeria on Thursday opened the market at London Stock Exchange via a virtual ceremony to mark the listing of its five-year fixed rate senior unsecured US$300 million bond.
Ecobank Nigeria, a subsidiary  of Ecobank Transnational Incorporated, the parent company of the  Ecobank Group, provides the full suite of banking products, services and solutions through multiple channels to retail, commercial, corporate and public sector customers.
The bond carries a coupon rate of 7.125%, significantly below its Initial Price Thoughts of 7.75%. The successful launch was three times oversubscribed and is the lowest  coupon/yield by a Nigerian financial institution for a benchmark bond transaction since 2013. It has an Issuer Rating of B- from Fitch Rating Agency and S & P. Citi, Mashreq, Renaissance Capital and Standard Chartered Bank acted as Joint Lead Managers and Bookrunners.
The proceeds will  provide medium term funding and help to enhance the capacity of the Bank to support international trade and service across Africa.
Patrick Akinwuntan, Managing Director, Ecobank Nigeria: "The strong demand for our bond shows the international appetite for the Ecobank franchise in Nigeria, its unique positioning for facilitating pan-Africa trade and  the attractive opportunity for the many investors seeking to back world-class Nigerian corporates."
Nigeria Unexpectedly Exits Recession
Nigeria's economy unexpectedly came out of a recession in the fourth quarter as growth in agriculture and telecommunications offset a sharp drop in oil production.
Gross domestic product grew 0.11% in the three months through December from a year earlier, compared with a decline of 3.6% in the third quarter, the Abuja-based National Bureau of Statistics said on its website on Thursday. The median estimate of five economists in a Bloomberg survey was for a quarterly decline of 1.86%. The economy contracted 1.92% for the full year, the most since at least 1991, according to International Monetary Fund data.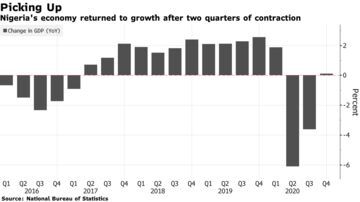 The surprise rebound means Africa's largest economy may recover faster than expected as the oil price and output increase this year. It could also point to the growing importance of the non-crude sector.
Oil production fell to 1.56 million barrels a day in the fourth quarter from 1.67 million barrels in the previous three months. While crude contributes less than 10% to the country's GDP, it accounts for nearly all foreign-exchange earnings and half of government revenue in the continent's biggest producer of the commodity.
The non-oil economy expanded by 1.7% from a year earlier, the strongest rate in four quarters, with agriculture growing 3.4% and telecommunications increasing 17.6%.
A stronger recovery could ease pressure on the central bank to stoke activity, paving the way for a renewed focus on its price stability mandate. That means the monetary policy committee could start raising interest rates again to fight inflation that's been above the target band of 6% to 9% for more than five years. The panel eased by 200 basis points in 2020.
The government's forecast for growth of 3% this year is double that of the IMF. The lender has warned a slow roll-out of Covid-19 vaccines could threaten the economy's recovery.
"The fact that we have seen a recovery in non-oil GDP growth is positive," said Razia Khan, chief economist for Africa and the Middle East at Standard Chartered Bank. "However, the headwinds associated with the second wave of Covid-19 may still be considerable."
Source: Bloomberg