Food for Living: Developing Capacity for Success
By Henry Ukazu
Dear Destiny Friends,
Human beings by nature, always seek opportunities to succeed. They do this by asking friends, organizations, mentors, celebrities, supervisors, leaders, etc for a window to showcase what we have. Sometimes, we apply for jobs, positions, admissions, exhibitions, international programs, etc. During the application process, one may be asked to submit resume, essays, past work, referrals, and the likes. The reason for this is simply to know if one has developed the capacity to be given an opportunity to feature in the programme or event.
You may be wondering what capacity building is? Capacity-building can be defined as the process of developing and strengthening the skills, instincts, abilities, and processes that organizations and communities need to survive, adapt, and thrive in a fast-changing world. This capacity building comes in various forms. They can come in the form of online or real time training, internship, formal or informal knowledge, skills etc.
Developing capacity is one of the best things that can happen to any progressive individual, company, or organization. This is the simple reason people who are specialized in one area of life are highly revered and sought after in addition to getting paid handsomely. This is because it shows how far they have developed and gained authority and expertise in the subject matter.
Developing capacity is one of the best forms of education because it is a self-taught form of knowledge. As a Human Capacity Coach, sometimes people ask me how I have been able to acquire so much knowledge and understanding within a very short period of time since starting my business. My simple answer is, I educate myself. While most people learn from the four walls of education, I endeavor to use the internet, mentors and those who are knowledgeable in that space. The beauty of self-learning is that you learn more because of the research and exposure you gain as opposed to the formal knowledge you gain in the classroom.
In order to develop capacity, you must develop competency in both theoretical and practical knowledge in your chosen field of knowledge. Most times when we apply for positions or programmes, and don't get accepted, we tend to have ill-feelings, but the truth of the matter is that you will only get what you deserve when you have developed the capacity to receive it.
Developing capacity entails preparing, reading, researching, learning the ropes, etc, just to get experience and insights on how the industry works. When you don't develop yourself, and gets an opportunity, you are likely to disgrace yourself. It's just like when people say, someone is lucky, there's nothing like luck in the field of success. As a matter of fact, luck plays a minor role which can be attributed to 10%, while hard and smart work takes a bigger share. Imagine, if you have an opportunity to pitch your ideas to a resource person and you are not prepared, what do you think will happen? You are bound to feel bad. Do you see why luck is an opportunity meeting preparation? Imagine if you were prepared, what would have happened? It might be a life changing experience for you if all goes well.
Developing capacity applies to all fields of life: marriage, business, academic, politics, etc. Let's take a case study of a man/lady who wants to marry. He/she will have to go for counselling sessions to learn what's obtainable in marriage, he/she will have to develop a level of understanding and maturity to withstand the challenges of marriage. And even when you are married, you still must do more work by learning your partner in order to sustain the marriage.
To understand how developing capacity works in marriage, any lady that wants to marry a man ought to be concerned about the man's capacity to attract wealth with his vision as opposed to his present predicament. Myopic ladies will be concerned about looking for a man who has everything, they however, fail to realize that some people are customized, and built to build their partners from ground zero.
In conclusion, to succeed in life, you must develop the capacity to gain value in any industry that appeals to you, and offer your value to the world. This value might be a product or service.
Henry Ukazu writes from New York. He's a Human Capacity & mindset coach. He's also a public speaker, youth advocate and creative writer. He works with the New York City Department of Correction as the Legal Coordinator. He's the author of the acclaimed book Design Your Destiny – Actualizing Your Birthright To Success and President of gloemi.com. He can be reached via info@gloemi.com
JAMB Releases Timetable for 2024 UTME
The Joint Admissions and Matriculation Board (JAMB) has fixed January 15 to February 26, 2024, for the sale of its Unified Tertiary Matriculation Examination (UTME) application document.
This was made known in a statement issued by the JAMB spokesperson, Fabian Benjamin, on Wednesday, November 29.
Benjamin noted that the development was based on series of recommendations emanating from a two-day Information Technology (IT) and Management Retreat held between November 26 and 28.
Benjamin noted that March 7, 2024, has been slated for the 2024 Mock-UTME, while the main UTME would hold from April 19 to April 29, 2024.
He, therefore, advised candidates to print their examination slips from April 10, 2024.
The JAMB spokesman added: "Candidates are enjoined to take note of these dates and other advisories issued by the Board in relation to the administration of the examination.
"They are also to visit the Board's website www.jamb gov.ng for any other information."
Below is the 2024 JAMB schedule
2024 Jamb Official Timetable:
1. JAMB 2024 Registration Date 14th January 2024
2. JAMB Registration Deadline 14th February 2024
3. JAMB 2024 Registration Fee N4,700
4. JAMB 2024 Novel The Life Changer
5. JAMB 2024 Reprinting Date 29th April 2024
6. JAMB 2024 Mock Exam Date 20th April no 2024
7. JAMB 2024 Examination Date 29th April 2024
Palliative: Adeleke Approves Monthly Wage Award for Civil Servants, Pensioners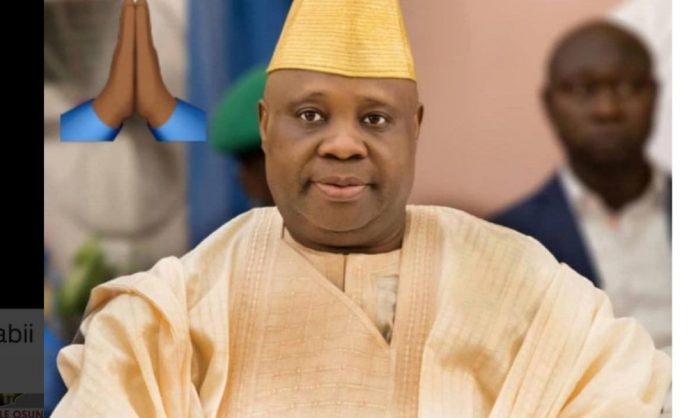 The Executive Governor of Osun State, Senator Ademola Adeleke, has approved the payment of wage award of N15,000 and N10,000 respectively to civil servants and pensioners in the state as a measure to mitigate the impact of subsidy removal.
The Governor, in a statement signed by his spokesperson, Mallam Olawale Rasheed, stated that the action was in continuation of his avowed commitment to workers' welfare and a fulfillment of his pledge for the gradual rollout of palliative measures to cushion the effect of subsidy removal.
"On the first day of my second year in office, I unveil this wage award and reaffirm our five point agenda which has workers' welfare as number one item," Governor Adeleke noted.
Governor Adeleke's approval was conveyed in a circular issued by the Ministry of Human Resources and Capacity Building, disclosing that workers in the service of the state will get a N15,000 wage award while pensioners will receive N10,000.
The circular which was signed by Sunday Olugbenga Fadele, a Permanent Secretary in the Ministry, noted that the wage award will run for six months, beginning from the month of December.
"Sequel to the negotiation meetings and interactions with labour movement in Osun state, including the representatives of Nigeria Union of Pensioners, the Governor of Osun State, His Excellency, Senator Ademola Jackson Nurudeen Adeleke, has approved the monthly payment of N15,000 to each active worker and N10,000 to each pensioners in Osun state as palliatives to assuage the pains being experienced as a result of removal of petroleum subsidy by the Federal Government of Nigeria. The payment, as approved, is to commence from the month of December, 2023 for a period of six (6) months," the circular reads in part.
"While acknowledging and appreciating the understanding of Osun state workers and pensioners for their show of understanding regarding the efforts of the State Government in the last one year to improve tremendously on their welfare, being the first on the 5-point Action Plan, the present administration will continue to ensure its commitment to the welfare of workers are met at all times.
"It is expected that this gesture of government will spur workers in the State to be more diligent and committed to their duties."
2023 Media Awards: Nestlé Announces Close of Entries
Makers of quality beverages and other household items, Nestlé Nigeria, has announced the end to submission of entries for the 2023 Media Awards.
A statement from the Corporate Communications and Public Affairs department, and signed by Victoria Uwadoka, stated that "The highly anticipated Nestlé Nigeria Media Awards 2023 promises to be an exciting edition with an impressive 118 submissions received from a broad range of the media at the time of the official closing of entries on
November 16, 2023."
Victoria Uwadoka, who is the Corporate Communications and Public Affairs Manager, said, "I want to thank all the participants who have submitted the diverse range of entries, showcasing outstanding creativity and professionalism within the Nigerian media. As the stellar panel of judges commences the process of carefully evaluating each submission to determine the most deserving recipients, we eagerly anticipate the announcement of the finalists at the 'invitation only' award event early in December 2023."
She maintained that the Nestlé Media Awards 2023 ceremony promises to be an elegant celebration of vibrancy, innovation and excellence in the Nigerian media in 2023.
Finalists and winners will be announced in the coming days according to statement.