Food for Living: Requirements for a Journey to Success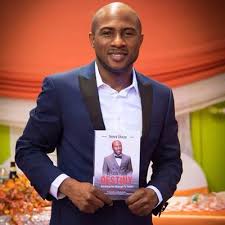 By Henry Ukazu
Dear Destiny Friends,
There's obviously nothing as sweet as success. Just name it; giving birth to a new baby is a success; passing an exam is a success; getting a promotion is a success; publishing a book is a success; celebrating 10, 20, 30, 40, 50 years of marriage is a huge success; setting up a business which runs like an institution is a success; winning an election as well as leaving a legacy are success stories. Feel free to add yours.
The journey to success is not an easy route though, it comes with its own challenges. But one thing is certain, there are universal principles of life that are applicable to success. You can't have genuine success without having a track route to follow. For instance, to attain success, you must plan; you must experience challenges along the way which makes you to adjust your plan; you must work very hard and smart, and this entails sacrificing your time, your sleep, reading, and networking with the right people and organization.
A critical area of success I will like to discuss today is discipline. Without discipline, it will be difficult to achieve success. Discipline plays a major role in success. In fact, it will be right to say that the hallmark and foundation for success can be attributed to discipline.
Discipline is doing whatever you are supposed to do irrespective of the circumstances. For instance, if you are determined to reduce weight, you might decide to spend at least fours hours every week at the gymnasium. You may even decide to do a 30 minutes daily exercise at a conductive time that works for you during the day.
Personally, I exercise daily between the hours of 4:30 am- 4:50 am every day. This is a routine that has become an intrinsic part of me in the last month. Prior to that, I just do 100 push up in the morning and 100 push up at night. This is because I am passionate about my health. I have been drinking two glasses of water every morning when I wake up from sleep for the last 10 years. Now, this has become an integral part of me because if I don't drink water, it will appear to me I'm missing something.
In understanding the concept of discipline as it relates to success, I will like to shed more light on the concept of well-being. This is because discipline and well-being work together. While discipline entails working on a planned routine in order to achieve a set goal, well-being is knowing when to take it easy.
Let's take it a little bit further. Well-being is knowing when to be disciplined and when not to be disciplined. Well-being is the common sense of discipline. While discipline is for a season, well-being is for all seasons. Let me share a practical example. While I always exercise every day regardless of circumstance, I do know that my health and well-being are more important than any goal I want to achieve. That's why I said, discipline is for a particular season when your health is in good shape, but your well-being is for all-season provided you are in good condition.
Another aspect of the journey of success worthy of mention is mentor/coach. In your journey to success, you need the guidance and experience of worthy coaches who have gone ahead to attain similar success. According to a philosopher, if I have attained success, it is because I stood on the platform of those who have attained that height. It should be noted that there's nothing like self-made. Self-made is a false illusion we believe. Even if you're talented/gifted or skillful in a particular industry, you'll strongly agree with me that you'll continue to improve yourself, and improving yourself entails practicing, and practicing entails having a coach.
Let's take the case of study of some of the greatest and talented planners, Lionel Messi, Christian Ronaldo, Abide Pele, Augustine Okocha, Kanu Nwankow, Diego Marodona, Zinedine Zidane amongst others. These great players were all skillful and talented, but they still had to undergo numerous sections of trainings from their coaches in addition to personal training.
Let's take another case. Usain Bolt is currently the fastest athlete on planet earth today with a record of 9:58 in the 100m and 19.19 in the 200m race. But it's interesting to know that Usain was eliminated in Athens 2004 Olympic during the first round, but today he holds the record of the fastest record on earth in the 100m and 200m men's race. The moral in this case is that though you are talented and gifted, you must continually commit to process by refining your gift in order to be valuable otherwise you will remain ordinary.
In one of my articles, titled Mentors Are Life Savers. I mentioned the value and importance of mentors. The reason I'm stressing about mentors here is that you cannot reinvent the wheel. According to an African proverb, "if you want to go fast, go alone, but if you want to go far, go with a team". The value of mentors is priceless.
In the journey of life, you need accountability partners, and mentors/coaches can serve as accountability partners in order to reach your optimal capacity. Mentors/coaches can assist in facilitating your journey to success, and will provide you opportunities which ordinarily might take you years to attain if at all, you can ever attain them.
When you decide to do things yourself or your own way, you will only operate within your limits of understanding. There are high and low principles of life. Mentors/coaches help in showing you the high principles of life. Here are four benefits of having a mentor by Udo Okonjo: Your mind will be transformed, mentors will elevate your actions and performance, they will accelerate your results, and finally, they will help you to maximize your life by reducing the grinding and hustling of life.
In your journey towards life, some of the action plans you need are: awareness, action, accountability, and commitment.
Awareness is like information. It broadens your mind, it gives you the experience to navigate through life by making the right choice. You need to take action. Action can be fast action, correct action, and mega action. To understand these concepts, you will have to attend my private masterclass or coaching session. Without action, your dreams, visions will never see the light f the day. Talk is cheap, you can say and dream whatever you like, but without taking action, they will never see the light of the day. Therefore, it is imperative you list the action or steps you need to take to get to where you want to be.
True success entails being accountable either to oneself or to somebody else. See more insights on mentors and coaches above
You need commitment. You must be willing to pay for your personal growth, financially or otherwise. You must be consistent, in your thoughts, words, and actions/deed. You must be intentional and deliberate in whatever you do. You must take strategic steps to actualize your success by studying the works of people who are more experienced than you in that industry. Read their books, attend their events. There is so much information to gain from them because all information can't be in one source. Endeavour to meet these people in person if possible, and if given the opportunity, make sure you prepare ahead of time by way of reflecting on important questions and conversations you will like to have with them.
In conclusion, in the journey to attain success, there's nothing like overnight success and there's nothing like luck. Just know that life involves a process, and true success is a product of process.
Henry Ukazu writes from New York. He's a Human Capacity & mindset coach. He's also a  public speaker. He works with the New York City Department of Correction as the Legal Coordinator. He's the author of the acclaimed book Design Your Destiny – Actualizing Your Birthright To Success and President of gloemi.com. He can be reached via info@gloemi.com
NSCDC Vows to Investigate Alleged Involvement of Officer in Banditry, Maintains Zero Tolerance to Criminality
By Eric Elezuo
The Nigeria Security and Civil Defence Corps (NSCDC) has vowed to investigate the alleged involvement of one of its officers in banditry as a supposed video which has gone viral is suggesting.
Speaking through a statement, the Corps' Director of Public Relations, DCC Olusola Odumosu, noted that there's a possibility that the culprit is telling lies as most criminals are fond of impersonating security personnel.
He added that the Corps is disciplined, and will not condone criminality from anyone, especially a staff.
Odumosu further promised that a thorough investigation will be conducted, and members of the public will be informed of the outcome.
Read the full details:
The attention of the management of the Nigera Security and Civil Defence Corps has been drawn to a video clip already gone viral in relation to one Abdullah Saidu, an acclaimed Civil Defence personnel arrested in connection with a group of armed bandits terrorizing some parts of Koton Karfe Local Government Area of Kogi state.
It is pertinent to point out that the Nigera Security and Civil Defence Corps is a Federal security agency saddled with the responsibility of protecting lives and property amongst others, hence, would not in anyway condone any saboteur of National Security or sponsors of criminalities.
Based on the aforementioned, the Corps wishes to inform the public that the purported video where the alleged suspect openly confessed to the crime did not in anyway give credence to or affirm his membership of the Corps as experience has shown that criminals are fond of impersonating security operatives in order to divert attention, subvert investigation or get away with the crime.
However, due to the high premium placed on integrity, discipline and professionalism by management of the Corps, an intelligence based team has been set up to carry out thorough investigation on the matter and check available records to confirm the authenticity of his claim. Thereafter, the general public shall be adequately briefed on subsequent findings
We wish to reiterate that the Corps will continue to discharge it's statutory mandates without compromise but with humility and integrity, while also synergizing with other sister agencies in combating all forms of criminalities in the Nation.
Signed
DCC OLUSOLA ODUMOSU
DIRECTOR OF PUBLIC RELATIONS
NSCDC NATIONAL HEADQUARTERS
ABUJA.
Security Alert: Ogun Police Warn Against Praying in Forests at Night
The Police in Ogun on Sunday warned the public against organising prayer sessions at night, especially at forest area, to avoid being victims of kidnappers.
Police spokesman in the state, Abimbola Oyeyemi, gave the warning in a statement made available to journalists, in Ota, Ogun.
Mr Oyeyemi noted that the Ogun police command has observed "with great concern that, despite the series of warnings and security tips from the command, some members of public are still in the habit of organising prayer sessions in the forest, thereby making themselves easy prey for kidnappers".
"However, in as much as the command is not oblivious of right to freedom of religion, it is worthy of note that the present security situation in the country does not favorably disposed to organizing prayer sessions in isolated places," the PPRO said.
He appealed to the public to refrain from creating opportunities for kidnappers to operate as the command was working assiduously to get rid of the criminal elements, "who turned kidnapping into business".
Mr Oyeyemi explained that security should be seen everybody's business and "we should all play our part in securing ourselves and our property, adding that after all the scriptures even enjoined us to watch and pray."
"However, if there is any compelling reason to embark on such prayer sessions, the organizers should report to the nearest police station for advice and possible security patrol of the area."
NAN
Safeguard the Nation or Be Removed, NSCDC Boss Tells Zonal Commanders, State Commandants
In view of the prevailing security situation in the country which has made it imperative to redouble effort towards ensuring effective delivery of the Corps mandate in the enforcement of peace and development of Nigeria, the Commandant General of Nigeria Security and Civil Defence Corps, Ahmed Audi, PhD, mni, has charged all Zonal and State Commandants to function optimally by stepping up their operational activities in securing the nation and safeguarding critical assets and infrastructure.
A statement signed by the Director of Public Relations, DCC Olusola Odumosu, noted that the CG made this known during the Commandant General's Conference at the Corps National Headquarters, Abuja, where he emphasized the need to justify the confidence reposed in the Corps by the Government through concerted effort and by making significant impact in the protection of Critical National Assets and Infrastructure, Disaster Management, supervision of Private Guard Companies and the protection of farmers and farmlands.
According to the CG, the wave, dynamics and sophistication of crisis such as terrorism, banditry, kidnapping, militancy, ethnic agitation, kidnapping, oil bunkering and so on has led to very serious devastation particularly on the economy, hence, the need for the corps to develop strategies that could best address this social menace.
Speaking further, Dr Audi decried the spate of Insecurity in Nigeria which has recently assumed an alarming Asymmetric dimension and affected every facet of Nigerian life, thus, leading to severe unimaginable social consequences across the six geographical regions but particularly the North-East, North Central and South-South.
He gave a stern warning to all zonal and state commandants to resist any attempt by criminals or any group of individuals to unleash terror and destroy the peace of Nigeria. ''The only way to justify your existence is to carry out your duties beyond reasonable doubt; our mandates are very clear, so, we must resist any attempt by criminal elements to subvert our peaceful coexistence and be able to show to Nigerians that we are collecting government salaries'' Audi said.
He directed all the state Commandants to renew and strengthen their anti-vandalism drive by closing down more illegal refineries, arrest and prosecute oil thieves, illegal bunkering suspects and tankers loading, reloading and transloading crude oil across borders. Reiterating that, safeguarding the nation's critical infrastructure is a task that must be done as it impacts directly on national prosperity, human capital development and survival of the people.
Therefore, any state commandant that perform below expectation would be removed immediately without delay.
The CG reminded the Corps formations of his vision to rejig, reinvigorate, revitalize, reengineer, refocus and reposition the Corps towards building a strong, virile and proactive organization that is knowledge driven, bearing in mind the need to improve on quality of service, productivity, professionalism and operational efficiency.
That one of the focuses of his administration is training and manpower development, bearing in mind the need to enhance the capacity of personnel to effectively deliver on its mandate and every State Command have been mandated to key into this policy.
He promised to introduce career development progression courses for each category of officers which will be the main determinant for their promotion and progression in service. In his words, the CG said ''What this means in essence and as a matter of policy is that you must have passed a prescribed career development course before you can be considered for promotion to the next rank.''
Dr Audi encouraged the managers of affairs of the Corps to continue to sensitize the public on security consciousness and to seek their cooperation in getting credible information that could help in nipping crime in the bud.