Food for Living: Skills for Life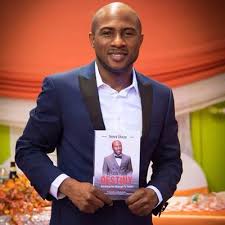 By Henry Ukazu
Greetings my friends,
We are currently living in the 21st century, regarded as the jet age. Progressive minds have admonished us not to compete with other people, rather we should compete with ourselves by distinguishing ourselves. The question we need to ask now is; how do we compete with ourselves? We distinguish ourselves by having the right skills. Just like information, education and our network sets us apart, in the same way, our skills sets us apart from our contemporaries.
Last week, I wrote on The Effect of Digital Age of Innovation and how it has influenced a lot young minds to believe that skills are of more relative importance than formal education in our contemporary society. This article seeks to shed more light on how we can maximize our skills.
This article is for progressive minds.
One of the qualities of a leader is the ability to bring out progressive change to the life of the people and the society in general. According to Quincy Adams. "If your actions inspire others to dream more, learn more, do more and become more, you are a leader". One of the ways a leader can do this, is by being skillful. During the course of this article we shall shed more light on how we can apply skills to profit our business.
Skill can be defined as an ability and capacity acquired through deliberate, systematic, and sustained effort to smoothly and adaptively carryout complex activities or job functions involving ideas (cognitive skills), things (technical skills), and/or people (interpersonal skills).
There are different types of skills, but we shall focus on hard and soft skills:
Hard skills are skills we learn in classrooms such as Accounting, Law, Medicine, among others. They are measurable unlike soft skills which one learns while at work and through interpersonal relations like leadership, empathy, time management and communication. We shall be focusing more on soft skills.
Communication Skills:
Non Verbal: This skill doesn't involve speaking. It's mainly applied via body language. Your ability to read in between the lines is very helpful.
Listening: This is the master skill of all soft skills because it is the foundation of all informal skills. I call it the mother of all learnable and acquired skills. You can only learn in life if you pay attention. You need this skill in order for you to learn and apply all skills.
Clarity and concision: In communication, you need be as concise and clear as possible. Never have you allowed anyone to assume what you are trying to say.
Verbal Communication: Sometimes it is good to speak and write depending on what is needed. Either way, you need to be coherent for people to understand your message, otherwise there will be no communication.
Organizational Skills: This skill is applied in both cooperate and personal life.
Time Management: Failing to prepare is preparing to fail. This skill is in high demand by employers because they need employees to achieve more within the shortest period of time. Your ability to use this skill will set you apart from your contemporaries.
Decision Making: As a leader, you should be able to use your intuitive knowledge to make prompt decision when the needs calls for it. This is an uncommon skill which very few people have.
Delegation: A true leader knows how to delegate duties/authority as the case may be in order to complete a specific task and thereafter give accolades to such staff or team. This skill helps to reduce pressure on the leader.
Planning: In any progressive organization, they have a blue print for whatever they plan to do. They forecast the needs of the clients and the world and work towards meeting their needs.
Leadership Skills:
This is the mother of all skills. I call it the hallmark of all skills. As a leader, you have the responsibility of leading your peers and followers. This task can be hard, but it takes humility, love, and understanding to relate with people.
Feedback: You are required to provide feedback to your leader or peers when you are working on a project. This helps to foster team work. Feedback helps in keeping employees or target people in loop of the actual situation of things so that everyone will be properly guided on the most updated information.
Responsibility: This is the second most important skill any rational and progressive being can have. The world is truly governed by perception. Nobody relates or does business with an irresponsible being. If you are serious about making an impact in life or in business, you need be responsible. For some of us, our name is the only thing we have. This is because your reputation is what people think about you, but your character is reality who you are.
Flexibility: Every rational person must be flexible. As a leader, you must be able to understand the direction the world is moving towards to. You should also learn how to bend as opposed to breaking to fit into the needs of the company or organization especially if you don't agree with their thoughts. For example, if you are having a Board meeting, most decisions are done by the Board of Directors. Be advised, you have to know when to take a stand from your colleagues and when you have to work with them. You need wisdom in order to decipher when to swing the pendulum.
Commitment: Anywhere you find yourself, always know that your word is your bond. I recently told myself; I will commit to what I can do and supposed to do as opposed to what the society wants me to do. This skill is hard to maintain because as human beings, we may experience many disappointments. The moral about commitments is that, it goes a long way to show how responsible and proactive you are.
Computer Skills:
This is one of the resourceful skill that is in high demand in the world today. Information and Communication technology has truly shaped the world. There's hardly any company that will employ any individual who doesn't have basic computer skills such as Word processing, excel, power point, publishing, and outlook. You need to be computer savvy in order to do a good presentation, be a computer analyst, and a good system administrator.
Social Skills:
This is another skill that is in high demand. There's a saying; knowledge is of two kinds, its either you know the answer or you know where to find it. The same notion is applicable when working with people. According to Robin Sharma, "the business of business is human relation, but the business of life is human connection". As a social being, your ability to relate with people is very important. This social skills transcends hard skills because it is the connection to all social skills. With the right social skills in place, you can network with the high and mighty.
Empathy: Empathy literally means showing concern and understanding to the feelings of others. As human beings, we go through situations, but how we react to those situations defines us. Sometimes stressed people are not concerned with the materials things that is given to them, they just want to feel the presence and care of anyone around saying "I hear you and I am with you on this". This is an uncommon skill to have in real life. Most times, it is applied by selfless people who have a humanitarian heart of service.
Team Work: Empathy is a skill that is need in a work environment. As human beings, we are all wired in different ways and as such we learn in different ways. Some of us learn fast while some needs more time and attention. A great way to assist people when working in a group is by working together to get the work done.
Patience: Patience is one of the most priceless virtue. I call it the virtues of all virtues. We all need patience when we are dealing with human beings because human beings are the most difficult specie to deal with. We are naturally complicated. If you are in relationship, you need to accommodate the excess of your partner, if you are working in a professional environment, you need to tolerate in addition to dealing with some unprofessional work ethics of human beings because they will in one way or the other show what they are made of.
Trustworthiness: Trustworthiness is also similar to being responsible, although, it's narrowed to a specific trait. It should be noted that nobody does business with anyone they don't trust. As social beings, our customers are our most treasured asset after our name/product. Trustworthiness, does not only relate doing your fair share of the business, it also relates to how you relate with other people who can say a word about you and your product in addition to giving a review about your product.
Life Skills:
Life skills can be simply be regarded as the skills you need to live in the society. Personally, I think all skills originates from life skills because if you have life skills in your pocket, you can simply bring it out to solve any challenge facing you. I liken life skills to common sense. This is because with common sense, you don't need hard formal knowledge to solve any problem. All you need is to think and reason. Isn't it true that common sense isn't common? Let's see how common sense works with life skills.
Problem Solving: We face challenges daily at work, in our personal life, community etc. Being able to solve this problem entails caution depending on how sensitive it is. Problem solving is one of the most valuable skill employers' love due to the friction that normally arises at work. This skill is normally used to diffuse problems in amicable and friendly manner to create a conducive work environment.
Handling Criticisms: How you handle criticism speaks volumes about you. Very few people know how to handle criticisms. Great men who think out of the box appreciates criticisms because it helps them to know what they are missing and how they can improve especially as it relates to their business. According to Uche Okorie, a maritime attorney, "When you are criticized objectively, examine it. If it is untrue ignore it. If it is unfair, rest the temptation to be irritated. If it is ignorant, just smile, If is justified, then it is not criticism, LEARN FROM IT".
Adaptability: The ability to adapt to life is a life skill especially when you are in a new environment. As advance human beings, we have the ability to adapt to almost any condition or situation we find ourselves in. This skill is mainly used by strong minded people who normally turn out to be champions and great achievers. Adaptability is an emotional skill which only strong willed people maximize in order to produce results.
Resilience: The last but not the least of all skills is resilience. This skill is similar to adaptability, but the only difference is that it pushes harder in the sense that when you are not able to adapt, you are faced with either accepting the status quo or strive to try and try again without giving up. Without resilience, we wouldn't able to achieve more in life. Nothing good in life comes easy. We succeed just because we are disciplined and push ourselves. Personally, churning out articles of this nature every week is not easy, but I have resolved to do it because I love and learn from it.
In conclusion, I do know there other skills life out there, I just thought is nice to share this skills with you. I hope they have been able to inspire and guide you. I wish you well in your endeavors.
Henry Ukazu writes from New York. He's the author of the acclaimed book Design Your Destiny- Actualizing Your Birthright to Success. He works with the New York City Department of Correction as the Legal Coordinator. He can be reached via henrous@gmail.com
Enugu CP Orders Investigation into Fire Incident at INEC Office
By Eric Elezuo
The Enugu State Commissioner of Police, Mohammed Ndatsu Aliyu, has ordered a thorough investigation into the cause of the fire incident at the Independent National Electoral Commission's (INEC) office, at Obollo-Afor and the extent of damage.
The Commissioner gave the order via a statement issued and signed by the Command's PRO, ASP Daniel Ndukwe.
The statement reads in full:
Following a distress call received at Udenu Police Divisional Headquarters of Enugu State Command on 13/05/2021 at about 2140hrs, alleging that there was fire outbreak at the Obollo-Afor Office of the Independence National Electoral Commission (INEC) in Udenu L.G.A. of the State, Operatives attached to the Division immediately raced to the scene, while contacting Fire Service Office in the area to promptly put out the fire.
2. Preliminary investigation suggests that the fire, which was eventually put out before it could spread to other offices around the building, through the combined efforts of the State Fire Service, the Police and law-abiding citizens, may have been caused by power surge due to sudden power supply to the building.
3. Meanwhile, the Commissioner of Police, CP Mohammed Ndatsu Aliyu, psc, has ordered the cordoning off of the scene and launch of thorough investigation to further ascertain the actual cause of the fire outbreak and damages incurred.
Eid-el-Fitri: NAOSNP Felicitates with Nigerians, Sues for Peaceful Co-existence
…Commends security agencies for standing strong against insurgency and insecurity
The National Association of Online Security News Publishers (NAOSNP), a league of professional Journalists and security news publishers, has extended their heartfelt felicitations to the Muslim ummah as they celebrate this year's Eid-el-Fitri, calling for peaceful coexistence among Nigerians.
Speaking through a goodwill message, the Association's National President, Mr. Oki Samson, praised the Muslim faithful for a successful conclusion of the fasting period while urging them to at all times exhibit the teachings of Prophet Mohammed (SWT) which allows for peaceful co-relationship with their neighbours.
"It is with great joy that I express my sincere wishes on behalf of NAOSNP, to our Muslim friends, partners and readers as they celebrate this year's Eid-el-Fitri. I urge them to at all times portray the tenets of Islam which makes for peaceful coexistence among all and sundry," Oki noted.
He stressed that much as the country is in a volatile situation at the moment, all the prayers the faithful committed themselves to in the last one month of Ramadan will surely produce positive results in the days ahead.
While commending the efforts of the security agencies in standing strong against insurgents and insurgency, and protecting the lives and property of Nigerians, Oki said that there is need for all to redouble their efforts, and more importantly pursue the fight without fear and favour.
"We commend our security agencies and agents for their selfless efforts at stamping out insurgency in our midst, and making it possible for Nigerians to sleep with their two eyes closed.
"At this period of Eid-el-Fitri, the Nigerian public celebrates you and appreciates your efforts at keeping the country together," Oki said.
He further advised President Muhammadu Buhari to build more confidence and trust in the mind of the people as what the people need now is leadership that encompasses all.
"We also commend President Mohammadu Buhari on his efforts to provide purposeful leadership for Nigerians. We urge him to continue to create the desired atmosphere for Nigerians to peacefully co-exist," the President said.
He pledged NAOSNP's continuous support for the good and development of Nigeria and it's desire to uphold a just and free society, adding that as a body of distinguished security news publishers, NAOSNP is all out to see that Nigeria is the most peaceful place to be on earth.
"We at NAOSNP, as a league of distinguished security news publishers, pledge our continued support for the good of the nation and it's unity and will continually contribute our quota to see that top notch security is maintained in the country," Oki said.
Lagos LG Debate Pivotal to Improvement of Governance Deliverables in Lagos
By Kunle Lawal
Debates among electoral candidates are centerpiece of campaigns during elections, worldwide. As a result, more than 60 countries have developed a debate tradition, and civil society groups, NGOs and concerned citizens have been critical in making that happen.
Debates are pivotal in helping voters make informed choices on various levels of elections and encourage candidates to focus on policy issues.
The Electoral College Nigeria, a non-governmental organization which I lead as its Executive Director, has indicated its interest to conduct the Local Government debates in Lagos State.
I have also stated that the Local Government is the first handshake of democracy to the people and voter apathy in its election plus the poor accountability ratios of the tier of governance from the electorate spell why people are yet to feel the true impact of governance.
Last year, the Electoral college was responsible for hosting the Lagos East Senatorial debates at the end of the year with raving reviews from participants.
This year, we have mentioned that in conjunction with "Rate Your Leader", a digital democracy app that puts registered voters in direct person-to-person contact with their local decision makers, making them justify every decision they make and every penny they spend and making them truly accountable to the people they serve,
now available in Nigeria.
The Electoral College intends to host the LG debates after the party primaries. The College's commitment to democracy through civic education would be incomplete if the quality and presence of debates did not improve. The Electoral College intends to work in conjunction with LAISEC and other relevant non-partisan CSOs to deliver a debate that would involve the electorate, using the media available to different strata in the society.
If Lagos gets it right, it could trickle the progress across the nation and reiterate the College's commitment to politeracy (Political literacy) and it's target of educating over one million Nigerians before 2023.
Kunle Lawal is the Executive Director, Electoral College, Nigeria