How Buratai Facilitated Sunday Igboho's Arrest, Insists on Extradition
Facts on Tuesday emerged about how Nigeria's Ambassador to the Benin Republic, Lt. Gen. Tukur Buratai (retd.), was instrumental to the arrest of the Yoruba nation activist, Sunday Adeyemo, also known as Sunday Igboho.
A top security source in the Benin Republic confided in The PUNCH that the former Chief of Army Staff wrote the government of the small West African country and insisted on the arrest and extradition of Igboho.
It was gathered that Buratai was at the forefront of the ongoing move to extradite the activist.
A few hours after Igboho's arrest on Monday, his  Beninese lawyers and other experts met with some  Benin Republic government officials and called for the halting of his extradition.
Buratai, Nigeria's Chief of Army Staff between July 2015 and January 2021, was deployed as Nigeria's envoy in the Benin Republic in June 2021.
Before then, the President, Major General Muhammadu Buhari (retd.), had presented Buratai's nomination to the Senate and the upper chamber of the National Assembly had confirmed the ex-COAS' nomination despite public outcry of some crimes against humanity allegedly committed by the Nigerian Army under Buratai's leadership.
A top security source in Benin Republic, who spoke to one of our correspondents said that Buratai through the Nigerian Embassy in the small West African country sent a secret letter to the Benin government to be on the lookout for Igboho.
The PUNCH gathered that the letter was instrumental to the arrest of Igboho and his wife, Ropo, at the Cadjèhoun Airport in Cotonou, the largest city in the  French-speaking country.
Recall that three weeks ago,  the Department of State Services declared Igboho wanted for allegedly stockpiling arms,  an allegation he had since denied.
Before then, the DSS  on July 1, 2021 raided his house at Soka area of Ibadan,  killing  two of his aides and arresting 12 others.
Later that day, the DSS spokesman, Peter Afunanya, at a press briefing in Abuja,  paraded Igboho's associates and detained them thereafter, denying them access to their lawyers and not charging them to court.
The DSS also paraded some passports, AK-47 rifles, rounds of ammunition, African bulletproof vests, among others as exhibits. The secret police claimed that the items were recovered from Igboho's house during the bloody raid.
The Federal Government subsequently placed the Nigeria Immigration Service and the Nigeria Customs Service on alert to stop Igboho from leaving the country.
It was gathered that government beefed up security  at  Iwajowa, Saki West and Ibarapa local government areas of Oyo State which were adjoining areas to the Benin Republic.
Igboho, who rose to prominence in January 2021 after he issued an ultimatum to 'killer herders' in parts of Ibarapaland was said to have escaped the security apparatus in the areas to the Benin Republic where he was scheduled to catch a flight to Germany.
According to a top source familiar with the matter, the Nigerian government foresaw the possibility of Igboho flying to Europe through Benin Republic and planted a landmine for him there through Buratai.
Culled from The Punch
Super Eagles to Play Tunisia As AFCON 2021 Enters Knockout Stage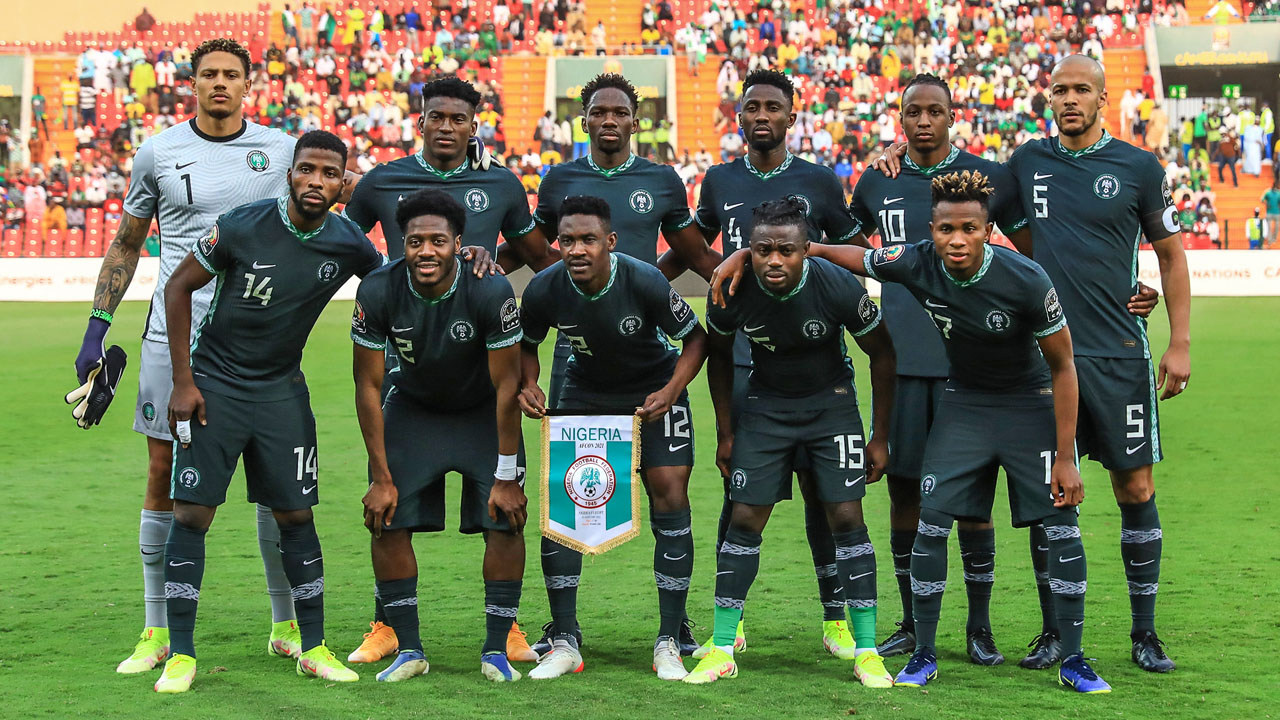 The Super Eagles of Nigeria will face the Carthage Eagles of Tunisia in the ongoing African Cup of Nations (AFCON) round of 16 fixtures.
The mouth-watering clash was announced on Thursday night following Tunisia's 1-0 loss to the Gambia — which consigned the North Africans to qualify as one of four best third-placed teams in the group stage.
Nigeria had finished top of Group D after winning all three of its group stage matches.
The tie against Tunisia is expected to be a repeat of the bronze medal match at AFCON 2019 in Egypt where Odion Ighalo's goal confirmed the Super Eagles' third place.
It is also a reunion for Austin Eguavoen, Super Eagles interim coach, who faced Tunisia at the quarter-finals stage at AFCON 2006 in Egypt. Nigeria won 6-5 on penalties after a 1-1 draw to advance into the semi-finals.
In other pairings, Cameroon, AFCON hosts, will face Comoros, tournament debutants, while Burkina Faso will play the Gambia, another debutant nation.
Two giants will also clash as Ivory Coast will slug it out with the Pharaohs of Egypt in a repeat of the 2006 AFCON final. Egypt, the then hosts, had won the clash 4-2 on penalties after a 0-0 draw to deny the star-studded Ivorian team.
The round of 16 ties will begin on Sunday, January 23, with Nigeria's tie against Tunisia one of two matches for the day.
AFCON ROUND OF 16 FIXTURES
Nigeria vs Tunisia
Ivory Coast vs Egypt
Burkina Faso vs Gabon
Morocco vs Malawi
Senegal vs Cape Verde
Cameron vs Comoros
Mali vs Equatorial Guinea
Guinea vs Gambia
IPOB Faults Army, Says We Have No Camps in Ihiala, Criminals Not IPOB Members
The Indigenous People of Biafra has said that it does not have any camp in Lilu, Ihiala in Anambra State. The group claimed that they were not militants or criminals, hence do not operate in hidden camps.
The army, had, on Tuesday, through its spokesman, said it dislodged the camps of IPOB and Eastern Security Networks in Lilu, Ihiala.
However, in a statement on Wednesday, the IPOB Media and Publicity Secretary, Emma Powerful, said that the security agencies only unleashed cruelty on the people living in those communities claiming they were members of IPOB and ESN.
Powerful stated that if criminals take refuge in any community in Biafra land, that doesn't make them IPOB members or ESN operatives.
He said, "We have also not said there are no more criminal gangs in Biafra land just like every other country even in the advanced western nations. But we won't accept the tagging of every criminal element found in Biafra as an IPOB member or ESN operative.
"Recall that some of these criminals were already mentioned by IPOB leadership sometime during a broadcast. These hoodlums were a creation of wicked politicians in their desperation to discredit IPOB and ESN."
The group claimed that the Nigeria Army, Police and DSS keeps dishing out falsehoods against IPOB and ESN by tagging those criminals they arrested as IPOB and ESN members.
It said the so-called camp where these said criminals were arrested does not belong to ESN, "They should stop lying against us," Powerful said.
The statement further reads, "In Orsumoghu, Nnewi South, Lilu Orsumenyi of Ihiala LGA of Anambra State these criminals whose names are Emmanuel aka (Obereagu), Innocent Obiekee from Isingwu Orsumoghu, Izuchukwu from Amaduru Orsumoghu, Ofordie aka Baby, are the ones impersonating ESN/IPOB members using ESN name to commit crimes against the people of these communities they are not ESN members, the communities involved should use their vigilante group and stop them, ESN will help them too.
"In Orlu, Imo State, these criminals whose names are Agu, 50, Vice, Ojoo are the ones impersonating ESN/IPOB members to demonise IPOB and ESN members, they are sponsored by Hope Uzodinma and his co-travellers and traitors to demonise IPOB and ESN members in Imo State.
"They and their gang are collecting illegal levies at the Eke-Ututu market in the name of ESN when they are neither ESN operatives nor IPOB family members.
"The people are collecting proceeds from innocent communities. Collecting N5,000 from Orlu people in the name of ESN. These names mentioned or listed in this press statement have been declared Persona Non-Grata in Biafraland and they remain so. People must stop giving them money they are not ESN operatives and not IPOB volunteers.
"They have been kidnapping people, snatching cars and raping our women in our territory. IPOB volunteers and ESN operatives have also been making efforts to apprehend these agents of sorrow. We cannot watch these beasts created and sponsored by Hope Uzodinma, his masters in Miyeti Allah and their co-travellers destroy Biafra land.
The statement continues, "Again, ESN does not write letters to people or make calls to people requesting funds, funds for what we ask? IPOB and ESN have no dealings with such evil activities of these criminals who are now on the ESN watchlist. Be warned and stop giving them money in the name of ESN or IPOB volunteers."
Eguavoen Will Only Earn Bonus, Won't Earn Salary, Says NFF
Interim coach Austin Eguavoen will be entitled to only win bonuses as the Super Eagles gaffer at the ongoing Africa Cup of Nations tournament in Cameroon, PUNCH Sports Extra reports.
Eguavoen was appointed on a short-term deal after the Nigeria Football Federation sacked Gernot Rohr in December.
Rohr was Nigeria's longest-serving manager after taking charge in August 2016, but had his contract terminated after leading the Eagles to the 2022 World Cup qualifying play-offs and sealing a spot at the Nations Cup in Cameroon.
The Franco-German also led Nigeria to the 2018 World Cup and guided the team to third-place at the 2019 Africa Cup of Nations in Egypt.
"Eguavoen is on the payroll of the NFF and he won't be entitled to salary for the role he is playing as an interim coach of the team," President of the NFF Amaju Pinnick stated recently on Arise TV.
"He will be entitled to the winning bonuses as the team progress at the tournament."
Eguavoen has already won his opening two group games at the tournament which has sealed their place in the round of 16 in the competition