Opinion: When Would Leah Sharibu Return?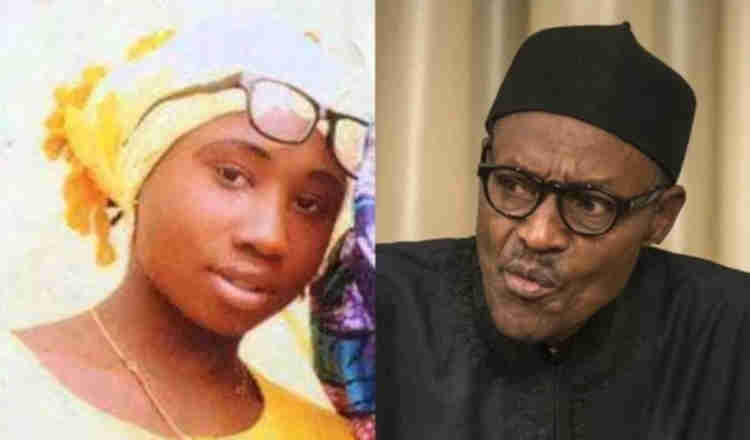 By Eric Elezuo
When on February 19, 2018 the dreaded Boko Haram sect staged the kidnap of 110 students of Government Girls Science School. Dapchi, Yobe State, nobody expected that the heroine of the whole thing will be the then 15 year old Leah Sharibu. Even as the government of President Muhammadu Buhari negotiated the back channel release of the girls, there was no part reserved for Leah to play, but she finally took the scene by storm, and is today the preferred major character of the entire 'script'.
On Tuesday, March 22, the terrorist 'brought back' 104 abducted schoolgirls with two others according to the presidency. Reports also claimed that five of the girls were dead and one, only one girl was not released. Her only crime was that she was a Christian, and had refused to be converted to Islam or wear the hijab.
This singular action brought a different twist to the well woven plot as not only Nigerian Christians reacted, but the world at large, making an emphatic demand for the unconditional release of the girl who has been described as spirited.
While lamenting his daughter's continued stay as a captive in Boko Haram's domain, Leah's father praised her for refusing to denounce her faith, emphasizing how proud he is to be her father. The Christian world, on their part, has applauded her actions, saying it is only a true child of God that can call Boko Haram's bluff right in their domain. The young girl chose to die rather than denying her Lord Jesus Christ – that was a feat not many so called acclaimed men of God and tongue talking brothers and sisters may be able to achieve. It is often said that it is in time of serious crisis where life is at stake that the real child of God could be known: Leah proved that she is a real child of God.
Her action has elicited a promise from the President that he will do everything possible to see that the lass returned home unhurt while the Christian sect are holding prayers on end for her safe return. Whatever happens at the end of the day, Leah has practically performed the whole duty of man which is encapsulated in 'fear God'; she has paid her dues and shamed her detractors; she has stolen the show to the glory of God. It will not be forgotten also that she has affected a lot of lives, non-Christians too with her stern expression of belief even in an environment where she had no power to enforce anything. And many will begin to understand that there is more to living a pious life than meets the eye.
The world is waiting for her to return to be showered with encomiums and honour as that girl who was drafted for a 'waka pass' role but ended up becoming the lead character, the unexpected heroine of the whole Dapchi story.
But with the killing of two aide workers attached to the Red Cross society by the Boko Haram sect months after they were kidnapped at an IDP camp in Borno, fears have been raised as to her safety and safe return.
Consequently, the government of President Muhammadu Buhari must put every mechanism in motion to ensure she not returns, but return without scratches of any kind. As the government has promised, so must they do, at least for credibility sake. The world is watching!
In the same vein, even as President Buhari has constantly assured that the girl, who recently clocked 16 in the terrorists' camp, will be returned, Nigerians, and of course the international community continue to ask: when would Leah Sharibu return?
Time, of course, is running out!
Just In: Man City Free to Participate in Champions League, Says CAS
Manchester City will be free to play Champions League football next season after the Court of Arbitration for Sport lifted a two-season ban from European competitions imposed by UEFA on Monday
An initial fine of 30 million euros ($34 million, £27 million) was also reduced to 10 million euros on appeal.
City were accused of deliberately inflating the value of income from sponsors with links to the Abu Dhabi United Group, also owned by City owner Sheikh Mansour, to avoid falling foul of financial fair play regulations between 2012 and 2016.
The case against City was reopened when German magazine Der Spiegel published a series of leaked emails in 2018.
However, CAS found that "most of the alleged breaches reported by the Adjudicatory Chamber of the CFCB (UEFA Club Financial Control Body) were either not established or time-barred".
City welcomed the decision that will have huge ramifications on the club's finances and potentially the future of manager Pep Guardiola and star players such as Kevin De Bruyne and Raheem Sterling.
"Whilst Manchester City and its legal advisors are yet to review the full ruling by the Court of Arbitration for Sport, the club welcomes the implications of today's ruling as a validation of the club's position and the body of evidence that it was able to present," City said in a statement.
"The club wishes to thank the panel members for their diligence and the due process that they administered."
Since Sheikh Mansour's takeover 12 years ago, City's fortunes have been transformed from perennially living in the shadow of local rivals Manchester United to winning four Premier League titles in the past eight years among 11 major trophies.
On Saturday, they secured qualification for the Champions League for a 10th consecutive season with a 5-0 win at Brighton.
More silverware could come before the end of the season as Guardiola's side face Arsenal in the FA Cup semi-finals on Saturday before restarting their Champions League campaign in August, holding a 2-1 lead over Real Madrid from the first leg of their last 16 tie.
City's victory in court will raise fresh questions over how effectively UEFA can police FFP.
But European football's governing body said it remained committed to the system which limits clubs to not losing more than 30 million euros, with exceptions for some costs such as youth development and women's teams, over a three-year period.
"UEFA notes that the CAS panel found that there was insufficient conclusive evidence to uphold all of the CFCB's conclusions in this specific case and that many of the alleged breaches were time-barred due to the five-year time period foreseen in the UEFA regulations," UEFA said in a statement.
"Over the last few years, Financial Fair Play has played a significant role in protecting clubs and helping them become financially sustainable and UEFA and ECA remain committed to its principles."
(AFP)
Buhari Approves Suspension of Ex-EFCC Acting Chairman, Magu
Nigeria's President Muhammadu Buhari has approved the suspension of the boss of the country's anti-graft agency, Ibrahim Magu days after he appeared at an investigative panel.
The Nigerian Government said Magu's suspension is to "allow for unhindered inquiry" by the panel investigating allegations of corruption against the acting chairman of the Economic and Financial Crimes Commission (EFCC).
"EFCC Director of Operations, Mohammed Umar, should take charge and oversee the activities of the Commission pending the conclusion of the ongoing investigation and further directives in that regards," Umar Jibrilu Gwandu, Special Assistant on Media and Public Relations in the Office of the Attorney-General of the Federation and Minister of Justice, said in a statement on Friday.
COVID-19: Fresh Lockdown Likely After Two Weeks – PTF
The Presidential Task Force on COVID-19 on Monday lamented the increasing rate of COVID-19 cases among people in government, saying it was directly impacting on governance and security in the country.
The PTF Chairman and Secretary to the Government of the Federation, Boss Mustapha, who stated this at the task force press briefing in Abuja, also said the possibility of ordering a fresh total lockdown to curtail further spread of the virus could not be ruled out.
The SGF, who advised prominent Nigerians to take COVID-19 protocols seriously, said the virus does not respect status.
Mustapha's warning came amid rising cases of COVID-19 among state governors and other prominent Nigerians.  Recently state governors, including David Umahi of Ebonyi, Ifeanyi Okowa of Delta and their Ondo State counterpart, Rotimi  Akeredolu, contracted the virus.
Warning people in authority, the SGF said,  "Of recent, we have witnessed a high rate of positive cases especially among people in authority. This has a direct impact on governance and security of our nation. We urge that vigilance and care should be exhibited by all Nigerians, irrespective of status. This virus does not discriminate and the PTF shall keep sustaining its sensitisation messaging."
When asked if the task force would be considering a fresh lockdown in the face of what it observed as disregard for guidelines, Mustapha said events of coming weeks would determine the next line of action.
He said, "We will not speculate on what will happen in future but we will protect the lives of Nigerians.
"To achieve that, if it means to lock down again, we will not shy away from that responsibility. We will recommend to the President who will look at the report and take a decision on our recommendation. What happens in the next two three weeks will determine what we will do."