Opinion: When Would Leah Sharibu Return?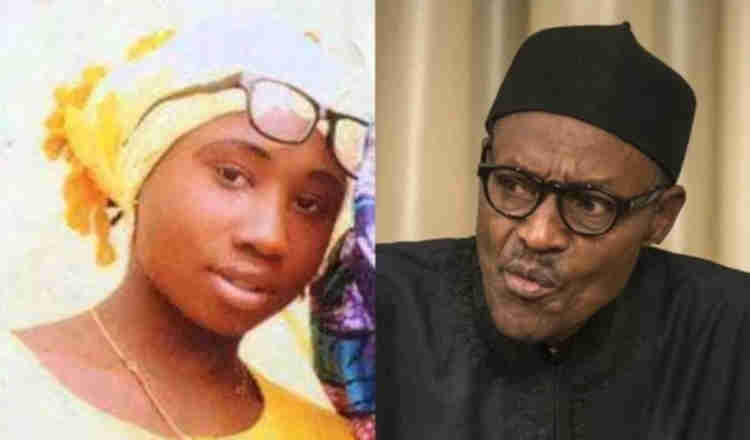 By Eric Elezuo
When on February 19, 2018 the dreaded Boko Haram sect staged the kidnap of 110 students of Government Girls Science School. Dapchi, Yobe State, nobody expected that the heroine of the whole thing will be the then 15 year old Leah Sharibu. Even as the government of President Muhammadu Buhari negotiated the back channel release of the girls, there was no part reserved for Leah to play, but she finally took the scene by storm, and is today the preferred major character of the entire 'script'.
On Tuesday, March 22, the terrorist 'brought back' 104 abducted schoolgirls with two others according to the presidency. Reports also claimed that five of the girls were dead and one, only one girl was not released. Her only crime was that she was a Christian, and had refused to be converted to Islam or wear the hijab.
This singular action brought a different twist to the well woven plot as not only Nigerian Christians reacted, but the world at large, making an emphatic demand for the unconditional release of the girl who has been described as spirited.
While lamenting his daughter's continued stay as a captive in Boko Haram's domain, Leah's father praised her for refusing to denounce her faith, emphasizing how proud he is to be her father. The Christian world, on their part, has applauded her actions, saying it is only a true child of God that can call Boko Haram's bluff right in their domain. The young girl chose to die rather than denying her Lord Jesus Christ – that was a feat not many so called acclaimed men of God and tongue talking brothers and sisters may be able to achieve. It is often said that it is in time of serious crisis where life is at stake that the real child of God could be known: Leah proved that she is a real child of God.
Her action has elicited a promise from the President that he will do everything possible to see that the lass returned home unhurt while the Christian sect are holding prayers on end for her safe return. Whatever happens at the end of the day, Leah has practically performed the whole duty of man which is encapsulated in 'fear God'; she has paid her dues and shamed her detractors; she has stolen the show to the glory of God. It will not be forgotten also that she has affected a lot of lives, non-Christians too with her stern expression of belief even in an environment where she had no power to enforce anything. And many will begin to understand that there is more to living a pious life than meets the eye.
The world is waiting for her to return to be showered with encomiums and honour as that girl who was drafted for a 'waka pass' role but ended up becoming the lead character, the unexpected heroine of the whole Dapchi story.
But with the killing of two aide workers attached to the Red Cross society by the Boko Haram sect months after they were kidnapped at an IDP camp in Borno, fears have been raised as to her safety and safe return.
Consequently, the government of President Muhammadu Buhari must put every mechanism in motion to ensure she not returns, but return without scratches of any kind. As the government has promised, so must they do, at least for credibility sake. The world is watching!
In the same vein, even as President Buhari has constantly assured that the girl, who recently clocked 16 in the terrorists' camp, will be returned, Nigerians, and of course the international community continue to ask: when would Leah Sharibu return?
Time, of course, is running out!
Nigeria's Response to Coronavirus is Impressive, Says UN Chief
The United Nations has praised Nigeria for it's handling of the Coronavirus pandemic.
Nigeria, Africa's most populated country with an estimated 200 million inhabitants, currently has 190 cases of COVID-19 but has managed to keep the death toll to just two.
UN Secretary-General Antonio Guterres, while speaking at a virtual news briefing in New York, referred to Nigeria as a 'developing country' that has "shown a remarkable capacity to respond to the coronavirus."
"I have to say this: some of these developing countries have shown a remarkable capacity to respond.
"I was quite impressed to see, for instance, Nigeria putting in place and immediately establishing a hospital. "And I saw difficulties in countries that are much more developed to do quickly the same."
He also renewed his call for a global ceasefire, urging countries in a conflict like Syria, Libya and Yemen to lay down arms and allow for unified combat against the coronavirus pandemic.
"The worst is yet to come," Guterres said, referring to countries beset with fighting.
Army Officer Becomes First Coronavirus Positive Case in Ondo
The Ondo State governor, Rotimi Akeredolu, has confirmed the first coronavirus case in the state via his Twitter handle. He also said the patient is an army officer who recently returned from India.
We have just received confirmation of our first positive#COVIDー19 case in Ondo State this evening. The infected person is currently under isolation and will be monitored. We have activated all necessary protocol to locate all contacts and will be working closely with @NCDCgov.

— Arakunrin Akeredolu (@RotimiAkeredolu) April 3, 2020
Akeredolu was the first in the state to undergo COVID-19 test after fears he was in contact with the Chief of Staff to the President, Abba Kyari, who is currently undergoing treatment for the virus. The governor tested negative for the virus.
"We have just received confirmation of our first positive #COVIDー19 case in Ondo State this evening," Mr Akeredolu wrote on Friday evening.
"The infected person is currently under isolation and will be monitored. We have activated all necessary protocol to locate all contacts and will be working closely with @NCDCgov."
The state during the week was in celebration after 12 persons suspected to be carrying the virus came out negative.
The case of a female resident in Arogbo Ijaw, in Ese Odo Local Government Area of the state, who was said to have recently returned from abroad, created a stir in the area, but after a laboratory test, she was found negative.
As of 11 a.m. on Friday, the total national figure for infected persons had risen to 190, with 20 persons treated and discharged and two deaths recorded.
With Ondo State joining the list of affected states, the number is now 191, although the Nigeria Centre for Disease Control is yet to formally announce the Ondo case.
"It is with great concern that the Ondo State Government announces the first index case. A suspected case tested positive to the COVID-19 pandemic," the Commissioner for Information, Donald Ojogo, said in a statement on Friday evening.
"We thank God for His protection thus far. Ours has been a case of anxiety while we enjoyed a COVID-19-free state status.
"This development has, however, repudiated that enviable status even as we urge all to be vigilant and keep ourselves within the precincts of measures put in place.
"God help Ondo State."
Mr Akeredolu followed his earlier tweet with another, clarifying that the coronavirus index in the state is a military officer who recently arrived from India.
The governor said the returnee from India had been in isolation since he returned and had been monitored by the medical team of the military and the Ondo State team through the period.
"Upon showing some symptoms, his samples were taken and the diagnosis confirmed by Nigeria Centre for Disease Control at their lab in Ede," the governor said.
"We have now commenced the transfer of the officer to the state isolation center."
The governor said there was no need for any panic as the infected officer was in a very stable condition and "we ask for calm from all in Ondo State."
"We are on top of this and ask that our citizens continue to follow all preventive measures to ensure they remain safe," he added.
In his statement, Mr Ojogo said the state government considered it necessary to allay the fears of the people and explain that the confirmed index case, an army officer, had voluntarily isolated himself as soon as he arrived in the country from India over a week ago.
"During this period of self isolation, he was monitored by the State Inter-Ministerial Committee in collaboration with the NCDC," said Mr Ojogo.
"Necessary tests were carried out and result is what we have today.
"However, we appeal to all and sundry not to panic as both the NCDC and the State Inter-ministerial Committee have jointly commenced efforts to effect needful protocols in line with COVID-19."
However, in spite of the measures taken to stem the spread of the disease, residents in the state have continued to flout the stay-at-home order and the closure of markets.
Some markets still opened for business on Friday, as well as some shops in the outskirts of Akure, where enforcement is minimal.
The popular Oda market where farm produce are usually sold, came alive in the early hours of the morning, where residents made brisk purchases. The market is a morning market.
Premium Times
Chinese Medical Team to Arrive in Nigeria Soon, Says Health Minister
The Minister of Health, Dr Osagie Ehanire, on Friday, said that Chinese doctors, nurses and medical experts would arrive in Nigeria in a few days to assist in the fight against COVID-19.
The minister said this during a briefing of the Presidential Task Force on COVID-19 in Abuja.
Cases in Nigeria have reached 210 as the global figure also surpassed one million mark. He said Nigeria was also exploring the possibility of producing some medical equipment after key stakeholders met in Abuja on Thursday.
The coming of the Chinese medical experts was announced just as the Director-General of the Nigeria Centre for Disease Control, Dr Chikwe Ihekweazu, said efforts to contain COVID-19 in Nigeria were being limited by finance, manpower and other indices despite the support from government and individuals.
Ehanire said, "The global number has crossed one million mark, barely three months after the first cases were first reported in Wuhan, China. It is an indication that it is a public health challenge that we must not take lightly."
He continued, "We are already seeing what may be the indication of community transmission, in that 30 per cent of the cases have incomplete epidemiological information. 51 per cent are imported cases and 19 per cent are through contacts of known cases.
"Directors of the Federal Ministry of Health had discussions with the Ministry of Industry, Trade and Investment and Manufacturers Association of Nigeria to explore the potential for local production of medical consumables such as face masks, gloves, sanitisers and even ventilators.
"This is in view of looming global shortages of medical supplies for the response due to high demands from all countries. Clinical trials and other processes are ongoing to validate various therapeutic for COVID-19 treatment."
After the briefing, Nigeria recorded 20 new cases: 11 in Lagos State, three in FCT, three in Edo State, two in Osun State and one in Ondo State.