Opinion: When Would Leah Sharibu Return?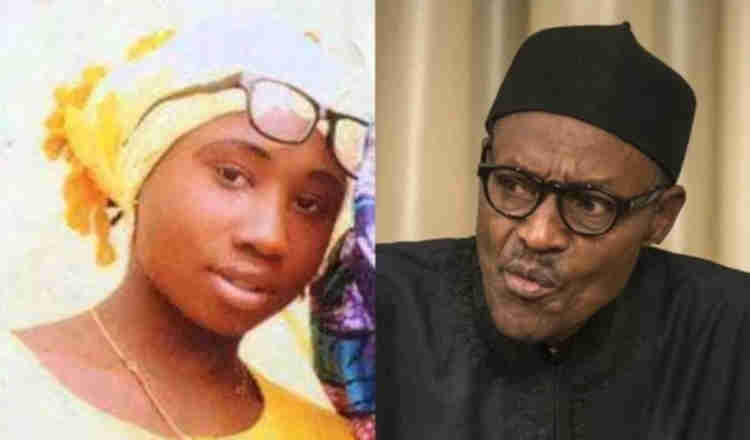 By Eric Elezuo
When on February 19, 2018 the dreaded Boko Haram sect staged the kidnap of 110 students of Government Girls Science School. Dapchi, Yobe State, nobody expected that the heroine of the whole thing will be the then 15 year old Leah Sharibu. Even as the government of President Muhammadu Buhari negotiated the back channel release of the girls, there was no part reserved for Leah to play, but she finally took the scene by storm, and is today the preferred major character of the entire 'script'.
On Tuesday, March 22, the terrorist 'brought back' 104 abducted schoolgirls with two others according to the presidency. Reports also claimed that five of the girls were dead and one, only one girl was not released. Her only crime was that she was a Christian, and had refused to be converted to Islam or wear the hijab.
This singular action brought a different twist to the well woven plot as not only Nigerian Christians reacted, but the world at large, making an emphatic demand for the unconditional release of the girl who has been described as spirited.
While lamenting his daughter's continued stay as a captive in Boko Haram's domain, Leah's father praised her for refusing to denounce her faith, emphasizing how proud he is to be her father. The Christian world, on their part, has applauded her actions, saying it is only a true child of God that can call Boko Haram's bluff right in their domain. The young girl chose to die rather than denying her Lord Jesus Christ – that was a feat not many so called acclaimed men of God and tongue talking brothers and sisters may be able to achieve. It is often said that it is in time of serious crisis where life is at stake that the real child of God could be known: Leah proved that she is a real child of God.
Her action has elicited a promise from the President that he will do everything possible to see that the lass returned home unhurt while the Christian sect are holding prayers on end for her safe return. Whatever happens at the end of the day, Leah has practically performed the whole duty of man which is encapsulated in 'fear God'; she has paid her dues and shamed her detractors; she has stolen the show to the glory of God. It will not be forgotten also that she has affected a lot of lives, non-Christians too with her stern expression of belief even in an environment where she had no power to enforce anything. And many will begin to understand that there is more to living a pious life than meets the eye.
The world is waiting for her to return to be showered with encomiums and honour as that girl who was drafted for a 'waka pass' role but ended up becoming the lead character, the unexpected heroine of the whole Dapchi story.
But with the killing of two aide workers attached to the Red Cross society by the Boko Haram sect months after they were kidnapped at an IDP camp in Borno, fears have been raised as to her safety and safe return.
Consequently, the government of President Muhammadu Buhari must put every mechanism in motion to ensure she not returns, but return without scratches of any kind. As the government has promised, so must they do, at least for credibility sake. The world is watching!
In the same vein, even as President Buhari has constantly assured that the girl, who recently clocked 16 in the terrorists' camp, will be returned, Nigerians, and of course the international community continue to ask: when would Leah Sharibu return?
Time, of course, is running out!
Police, Soldiers Barricade SaharaReporters Lagos Office
Policemen and soldiers are currently barricading the office of online news platform, SaharaReporters in Lagos state.
The security operatives who are armed have reportedly prevented anyone from gaining access to the building located at GRA in Ikeja,  while demanding that those, who are inside should come out.
According to SaharaReporters, the security operatives came in three vehicles and stationed themselves in front of the office.
In its latest update, SaharaReporters said, the security operatives were shouting, "Open the gate! Come outside."
As of the time of this report, the security agents were banging on the gate of the office.
Omoyele Sowore, the publisher of the online platform had been in the custody of the Department of State Service since August when he was arrested at a Lagos hotel.
He was arrested for calling for a nationwide protest, tagged #RevolutionNow. Another protest had been scheduled for Wednesday (today) and SaharaReporters have claimed that was the reason of the presence of the security operatives.
The Punch
ECOWAS Parliament Appeals to Nigeria to Reopen Borders
The ECOWAS Parliament on Monday appealed to the Nigerian government to reopen its closed borders as it hampers on the implementation of free trade movement within the ECOWAS region.
Speaker of the Parliament, Hon. Moustapha Cisse Lo, made the call in a statement at the opening of the 2nd Extra Ordinary Session of the ECOWAS Parliament in Monrovia, Liberia.
He added that the border closure poses a threat to the implementation of the Protocol on the Free Movement of Persons at a time when Africa need to intensify efforts for effective abolition of barriers within the Community.
Cisse Lo, however, urged the government to find a permanent solution to the challenge of smuggling, rather than closing the borders, which was not a lasting solution.
"In the same vein, the closure of the Nigerian borders with Benin more than a month ago and Niger more recently is a hindrance to the achievement of the Community's main objective, which is to achieve the creation of a prosperous, borderless West African region where peace and harmony prevail.
"The ECOWAS Parliament calls for compliance with Community provisions and thus calls for the reopening of borders and a coordinated fight against smuggling in the region;
"The root causes of this recurrent situation must be studied with a view to finding a permanent solution." he added
He also condemned the Xenophobic attacks on Nigerians in South Africa, saying that it had constituted real threats to African integration.
"At the time of our session, serious events are taking place on our continent and should be given special attention.
"Indeed, in South Africa, in recent weeks, we have witnessed an upsurge in extremely violent xenophobic acts.
"These sad images of Africa, these painful events and the tensions they generate challenge us as elected representatives of our peoples, we are extremely concerned and deeply outraged.
"The ECOWAS Parliament calls on the South African authorities to assume their responsibility by guaranteeing all their foreign nationals the right to life, physical integrity and free movement.
"We also call on all African States and the African Union to adopt diligent initiatives to restore peace and security and ensure a return to calm in South Africa and all other States.
Cisse Lo, however, expresses the readiness of the Parliament to discuss the 2020 budget of the ECOWAS Community.
He said that the agenda of the extra ordinary session was to adopt Parliament's draft Budget for 2020 financial year, as well as the revision of Rule 13 of the Rules of Procedure of the Fourth Parliament devoted to the Inaugural Session.
He said that an Ad Hoc Committee was set up to prepare a preliminary draft of Parliament's Budget for the year 2020.
According to him, the report of the said Ad Hoc Committee was transmitted and examined by the Bureau of Parliament at its last meeting held in Monrovia.
"Parliament's competent committee, in particular the Administration, Finance and Budget Control Committee, after approval by Parliament will report to the Plenary.
"This is an opportunity for each of us, honourable colleagues, to impose a rigorous discipline on ourselves in order to examine the preliminary draft Budget 2020 carefully and objectively.
" I remain convinced that we will be diligent and punctual, so that the full treatment of our agenda can be accomplished under good and fruitful conditions," he said.
(NAN)
Seyi Makinde: Celebrating 100 Days of Immeasurable Achievements
By Eric Elezuo
His road to becoming the executive governor of Oyo State on May 29, 2019 was everything divine, little wonder he has not looked back in attempting to do and doing the right thing for the people of the state. His name is Engineer Abiodun Oluwaseyi Makinde. He has just clocked 100 days on the seat of administration and has an avalanche of reference-able achievements in his 100 days kit. Here is a man who waved his immunity as governor, declaring that he wished to be held accountable even while still in office.
Born to a renowned teacher turned accountant, late Pa Olatubosun Makinde and Madam Abigail Makinde of Aigbofa Compound in Oja'ba, Ibadan, Makinde, popularly called GSM, who is the third child of the family, brought with him integrity, honesty, transparency and much more to governance. He gave stakeholders as well as detractors the shock of their lives when he boldly and publicly declared his N40 billion assets. Makinde's action, which no one is yet to reciprocate or replicate, is a testimony of the fact that he made verifiable wealth, and is not in possession of any form of 'skeleton'. Not only that, Makinde made a statement of where he is coming from and the destination his vision is set. And in 100 days, watchers and observers can tell the story better, of a man so endowed with wisdom and mission.
Set to celebrate 52 years on December 25, the businessman and philanthropist hit the ground running immediately he took the oath of office 100 days ago, and since then, has left no one in doubt as to the calibre of administration he is bringing to the table.
Down to earth, fearless and people oriented, Governor Seyi Makinde policies and pronouncements have set apart as one who knowns his onions. These have no doubt charted a veritable path to immeasurable success within a short space of time. His first step pointed towards security, and he did what most past governors and administrators of Oyo State could not muster enough courage to do – he proscribed the notorious National Union of Road Transport Workers (NURTW). This singular act has brought easy calm to Ibadan and environs.
Makinde has also reviewed the Oyo State of N285 billion as approved by his predecessor to a more realistic N182 billion.
In 100 days, the subject matter expert on fluid and gas metering has established a foundation for an all encompassing four-point agenda for the expansion of the economy through the agriculture value chain, security, health and education.
Among many of his landmark efforts is the partnership with Agritech Company, Farmcrowdy for Agribusiness. He has put measures in place to revive the abandoned grain silo at Awe as well as conducted on the spot assessment of private owned agribusiness Venture-Ajila Farm and Shongai Farms in Port Novo Benin Republic for the purpose of collaborating with local and foreign agribusiness investors.
While he has procured 100 surveillance vehicles worth over N800 million to further strengthen the security agencies across the state, a new security architecture aimed at complementing the efforts of the police and other security operatives in fighting crime in every nook and cranny of Oyo state will soon be launched.
In education, GSM has cancelled all levies paid in public schools in Oyo State thereby reintroducing the free education policies of the Yoruba sage, Chief Obafemi Awolowo. In addition, he approved the release of over N400 million for the provision of exercise books in all public schools across the state.
In Oyo State today, 25th has practically been deleted on the calendar, and replaced with GSM day. Any civil servant will confidently tell you that is the day his monthly salary is paid. Salaries are now regular, and payment is in full just as Pensioners gratuity is mandatorily paid monthly.
The youths are not left out as they have been massively empowered in his administration. A 32-year-old man is the speaker of the state House of Assembly, while a 27-year-old, Seun Fakorede, was appointed commissioner among others
Oluseyi Abiodun Makinde was born on December 25, 1967. Quite an achiever, Makinde established his first oil and gas private business called Makon Engineering and Technical Services, (METS) at the age of 29 in the year 1997, after earning years of work experience with international oil and gas companies. Until August 2018, he was the Group Managing Director of Makon Group Limited; an indigenous oil and gas company in Nigeria.
Makinde began his education at St Paul Primary School and completed his primary education at St Michael Primary School, Yemetu, Ibadan. His secondary education was at Bishop Phillips Academy, Monatan, Ibadan. In 1985, he gained admission to the University of Lagos (UNILAG) where he earned his Bachelor's degree in Electrical Engineering.
Makinde did his national service (NYSC) with Shell Petroleum Development Company (SPDC) of Nigeria, where he was later engaged as a pupil engineer. He served in different capacities; handling and partaking in several key projects between 1990 and 1992. From 1992 to 1997, he worked as a field Engineer (Eket operations) for Rebold International Limited and in 1995, he was appointed as Field Manager in the same company.
In 1998, he trained at Industrial Control Services in Houston, Texas on Safety Shutdown System; and Development of Analytical Competence for Managing Operations at Lagos Business School (now Pan-Atlantic University) in 1999. In 2000, he had training in automation. In 2002, he studied Fundamentals of Crude Sampling at Jiskoot Auto Control Training Centre, Kent, England. Also, in 2005, he studied Understanding and Solving Complex Business Problems at Massachusetts Institute of Technology (MIT), USA.
Makinde is a member of national and international professional bodies notably: Nigerian Society of Engineers (NSE), Council for Regulations of Engineering in Nigeria(COREN), Oil and Gas Design Engineers of Nigeria (OGDEN), International Society of Automation (ISA), Institute of Measurement and Control UK; and American Measurement Institute (AMI).
GSM has had his fair share of political fortunes and misfortunes. On two occasions (2007 and 2011), he had unsuccessfully ran for the senatorial seat of Oyo South Senatorial zone
He tried his hands on the governorship pie in 2015 under the Social Democratic Party (SDP), but lost out in the end. Undeterred, he tried again in 2019, and fortune smiled graciously on him. He defeated his APC rival with quite a huge margin
Makinde is happily married and they are blessed with children.