Opinion: When Would Leah Sharibu Return?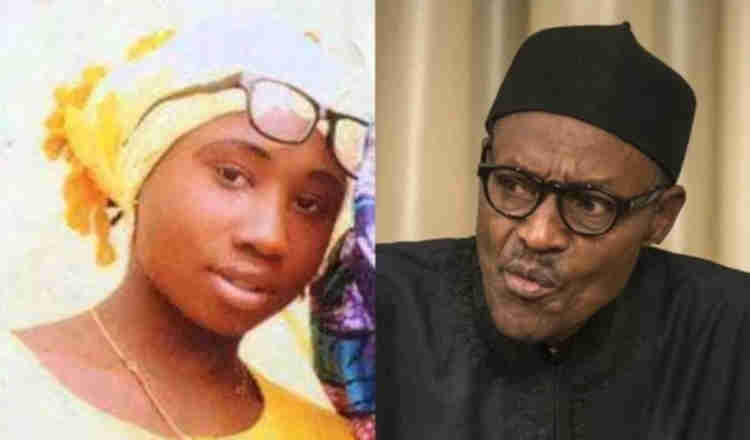 By Eric Elezuo
When on February 19, 2018 the dreaded Boko Haram sect staged the kidnap of 110 students of Government Girls Science School. Dapchi, Yobe State, nobody expected that the heroine of the whole thing will be the then 15 year old Leah Sharibu. Even as the government of President Muhammadu Buhari negotiated the back channel release of the girls, there was no part reserved for Leah to play, but she finally took the scene by storm, and is today the preferred major character of the entire 'script'.
On Tuesday, March 22, the terrorist 'brought back' 104 abducted schoolgirls with two others according to the presidency. Reports also claimed that five of the girls were dead and one, only one girl was not released. Her only crime was that she was a Christian, and had refused to be converted to Islam or wear the hijab.
This singular action brought a different twist to the well woven plot as not only Nigerian Christians reacted, but the world at large, making an emphatic demand for the unconditional release of the girl who has been described as spirited.
While lamenting his daughter's continued stay as a captive in Boko Haram's domain, Leah's father praised her for refusing to denounce her faith, emphasizing how proud he is to be her father. The Christian world, on their part, has applauded her actions, saying it is only a true child of God that can call Boko Haram's bluff right in their domain. The young girl chose to die rather than denying her Lord Jesus Christ – that was a feat not many so called acclaimed men of God and tongue talking brothers and sisters may be able to achieve. It is often said that it is in time of serious crisis where life is at stake that the real child of God could be known: Leah proved that she is a real child of God.
Her action has elicited a promise from the President that he will do everything possible to see that the lass returned home unhurt while the Christian sect are holding prayers on end for her safe return. Whatever happens at the end of the day, Leah has practically performed the whole duty of man which is encapsulated in 'fear God'; she has paid her dues and shamed her detractors; she has stolen the show to the glory of God. It will not be forgotten also that she has affected a lot of lives, non-Christians too with her stern expression of belief even in an environment where she had no power to enforce anything. And many will begin to understand that there is more to living a pious life than meets the eye.
The world is waiting for her to return to be showered with encomiums and honour as that girl who was drafted for a 'waka pass' role but ended up becoming the lead character, the unexpected heroine of the whole Dapchi story.
But with the killing of two aide workers attached to the Red Cross society by the Boko Haram sect months after they were kidnapped at an IDP camp in Borno, fears have been raised as to her safety and safe return.
Consequently, the government of President Muhammadu Buhari must put every mechanism in motion to ensure she not returns, but return without scratches of any kind. As the government has promised, so must they do, at least for credibility sake. The world is watching!
In the same vein, even as President Buhari has constantly assured that the girl, who recently clocked 16 in the terrorists' camp, will be returned, Nigerians, and of course the international community continue to ask: when would Leah Sharibu return?
Time, of course, is running out!
APC Chairman Confirms Party's February 26 National Convention Date
Buni made the announcement on Tuesday at the National Progressive Women's Conference in Abuja.
The chairman, who doubles as Yobe State governor said the women in the APC played a key role in the success of the party's recent membership drive.
He said: "The party under my stewardship conducted membership registration and revalidation exercise. We found it expedient to constitute a special committee on women and youth before the commencement of the exercise. The roles you played made the membership registration and revalidation a huge success.
"Today, APC parades over 41 million registered members, asserting our position as Africa's largest political party and of course, Nigeria's leading political party. With these, we are confident of winning the 2023 general election with huge success.
"I want to use this opportunity to sincerely thank you for your support to the party, before during and after the exercise. I also look forward to your more support during the convention and indeed the general election.
"I'm proud to add that APC is the most women-friendly party in Nigeria. Let me also assure you that the party shall reciprocate this gesture by supporting women and youth in their political aspirations and realising their political dreams.
"We look forward to having more women contesting in the forthcoming national convention of the party from February 26, 2022, and the general election. Now as we approach the convention and move closer to the next general election, I wish to remind you of the progressive roles in supporting progressive-minded leaders, aspiring for various offices for the betterment of our country."
Also speaking, Kayode Fayemi, Ekiti state governor, called for the support of the female members of the party ahead of the convention.
"Without our women, we have no future. We have no present or past. We have a duty and responsibility to improve on solidarity that we give the women of our country," the governor said.
"We are not doing them a favour. If you have worked with women, they deliver. My women commissioners are the best commissioners.
"I have no doubt that this conference will give us a lot to chew on. We should make it a policy convention."
TheCable
I Won't Support Tinubu's Presidential Ambition – Ojudu
The Special Adviser to the President on Political Matters, Babafemi Ojudu, says he will not support the presidential ambition of All Progressives Congress leader, Bola Tinubu.
Ojudu further stated that contrary to reports, Tinubu did not make him successful as he was already an accomplished publisher before meeting the former Lagos State governor.
The former lawmaker said this in a statement titled, 'Principled Political Choices are not Betrayal'.
Ojudu, who is leading the campaign for Vice-President Yemi Osinbajo to be the next President, said he would continue to follow his conscience.
He said, "The idea that everyone who has related with Tinubu and disagrees with him on this Presidential bid is a traitor and a betrayer is puerile. Many of us, his associates, were not made by him as you also want the world to believe.
"We were already made before meeting him and in the course of relating we gave one another a helping hand. As far back as 1992 when I came to know him I was already one of the editors of a popular news magazine with a good standing too in the civil society."
Ojudu, who represented Ekiti Central Senatorial District between 2011 and 2015, said he could not in good conscience support Tinubu for the Presidency.
He stated that he would not be intimidated by those describing him as a traitor.
"On this matter of 2023 I wish him well but I cannot in good conscience give him my support or cast my vote for him in the coming primary. It is my right. I am above 60 years of age for God sake. I almost died seeking these inalienable democratic rights, held up in detention and severally tortured. Your god is not my god.
"Let no one think he can browbeat or blackmail me to do what does not go with my conscience or my ideals. Enough of your phone threats and embarrassment of my family members!" said Ojudu.
The Presidential aide recalled how he resigned after disobeying an order by his then employer, Chief MKO Abiola, to apologise to then Head of State, Gen. Ibrahim Babangida, for writing a story critical of his regime.
Ojudu revealed how human rights lawyer, Chief Gani Fawehinmi (SAN), also forced him to refund the money he invested in his newspaper after Ojudu decided to join Tinubu's clique.
He said he also defied his father's wishes by joining Chief Obafemi Awolowo's Unity Party of Nigeria when his father was a member of the National Party of Nigeria in the Second Republic.
The veteran journalist said the story of his life has been about conviction and he would continue to follow his conscience as regards political decisions.
He added, "When I left that job, Chief Gani Fawehinmi, a man whom I was indebted to greatly (gave me a scholarship in my school days alongside King Sunny Ade) invested in my publishing platform (The News, publisher of PM news). The same one that was consequential in the battle to bring democracy back to Nigeria.
"At the conclusion of that struggle, Chief Fawehinmi insisted we sit out politics. Senator Bola Ahmed Tinubu disagreed with this notion, and I did as well. Against an obvious choice to blind loyalty, I went along with Senator Tinubu even serving severally in critical roles as he assumed the Governorship position. My actions angered Chief Gani so much he asked that I repay his investments. Guess what? I gladly did."
"So if my principled stance against NPN, against IBB and against 'siddon look' was not betrayal of my father, Chief MKO Abiola and Chief Gani Fawehinmi respectively, why would my principled stance against our leader's present ambition be?" he asked.
The Punch
Court Orders DSS to Allow Nnamdi Kanu Change of Cloth, Adjoins Case to Wednesday
A Federal High Court sitting in Abuja, on Tuesday, adjourned further proceedings in the case against the detained leader of the Indigenous People of Biafra, Nnamdi Kanu, till Wednesday.
The adjournment followed Kanu's complaints that the Federal Government failed to promptly serve him the fresh 15 amended charges it brought before the court.
Kanu, through his team of lawyers led by a Senior Advocate of Nigeria, Chief Mike Ozekhome, further accused the FG of denying him the necessary facility to defend the charge against him.
Ozekhome told the court that the amended charges were served on them barely 24 hours to the scheduled hearing.
"My Lord, the proposed amended charges were served on us yesterday (Monday) evening. As I speak to you, my lord, the defendant, who was just brought in, has not even seen the charges which he is being told to enter his plea.
"With due respect, that is not justice. It is ambushing. I know that the Administration of Criminal Justice Act allows the Federal Government to amend, but this is the sixth amendment they are making, and each time they do it, they serve us a day to the hearing, just to frustrate the trial," Ozekhome added.