Sanwo-Olu Will Become Ex-Governor in 2023, Lagos PDP Replies Wike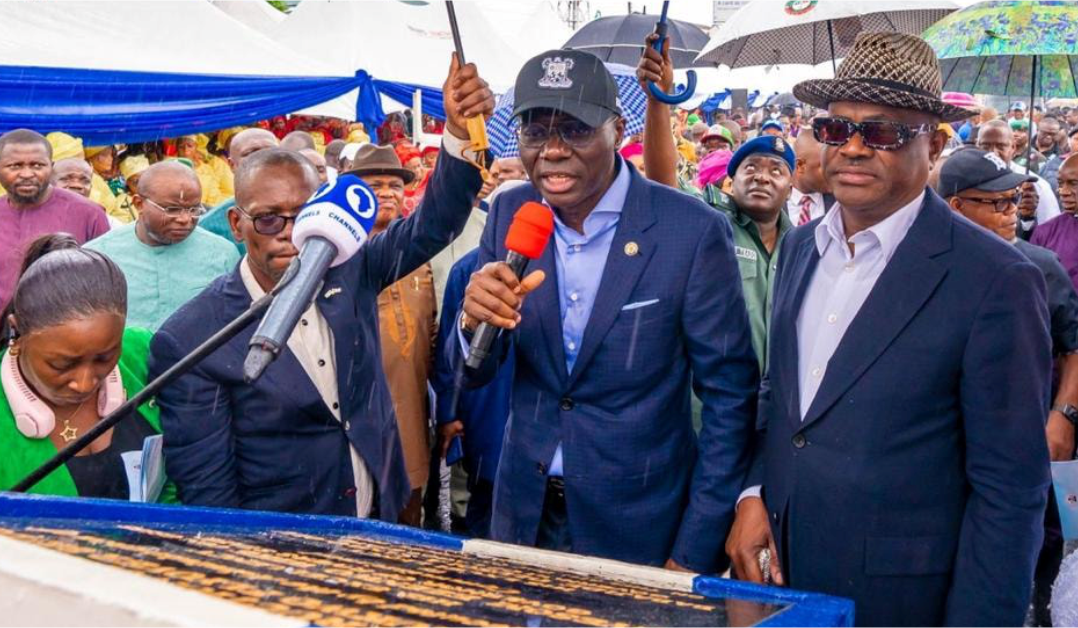 The Lagos State chapter of the Peoples Democratic Party (PDP) has informed Governor Nyesom Wike of Rivers State that it will render his counterpart in Lagos State, Babajide Sanwo-Olu, jobless in 2023.
The party was reacting to the purported endorsement of Sanwo-Olu for second term by Wike during his visit to Lagos.
The party, in a statement issued on Tuesday evening by its Publicity Secretary, Hakeem Amode, said it would have expressed disappointment if Wike had attended any event "without his usual rant of a drowning man who will clutch at straw."
He said, "I only wonder how Governor Wike, who didn't support Jandor and at the same time couldn't stop him from picking the party ticket in Lagos, despite his supposed might within the PDP, would apportion to himself the decision of generality of Lagosians in the forthcoming election.
"While we won't but acknowledge Governor Wike's developmental strides in Rivers State which have witnessed influx of other state chief executives including Sanwo-Olu for commissioning, it is worrisome that Wike will call Sanwo-Olu a performer without asking how many times he has invited anyone to Lagos for the commissioning of ordinary borehole in his almost four years in office as Governor.
"My dear Governor and leader, we promise to render Sanwo-Olu jobless and send him to the club of former Governors next year. Only God, who has seen Jandor and Lagos PDP this far, and the generality of Lagosians, can determine his fate at the polls in 2023, not your endorsement.
"We will continue to sell our breath of fresh air agenda to Lagosians with the promise of a better tomorrow. Lagos needs a breath of fresh air!"
Cynthia Gregg Identifies Quest to Dominate As Cause of Proliferation of Small Arms
By Eric Elezuo
A security expect and Chief Executive Officer, Safety Signatures Limited, Dr. Cynthia Gregg, has identified the need for individuals to have intimidate and dominion over their fellow man as one of the reasons for the proliferation of small arms and light weapons in the Nigerian Civil space, thereby resulting in insecurity and unsafe habitation.
Gregg made the observation while participating as a panelist during the panel session of the 2023 National Security Conference of the National Association of Online Security News Publishers (NAOSNP), on Thursday at the Civic Centre, Lagos.
The security practitioner noted that the issue of small arms and light weapons in the hands of non state actors, has become a major concern to all and sundry as killings abound, affecting both men in uniform and their civilian counterparts in the country today.
"We have noticed that in our society today, the person who carries the weapon is the most feared, and so because everyone wants to be feared, wants to dominate and intimidate the other person, they go to any length to acquire illegal weapons. That explains why when a robber encounters someone, the first thing they do is brandish a weapon or unleash some brutality to subdue their victim. It is the norm, unfortunately," she said.
She further called on the public to encourage and help the law enforcement agencies to carry out their duties by saying something when they see something, and advocated community engagement to deal with challenges of proliferation of lethal weapons in the hands of non state actors.
Again, Gregg lauded the efforts of NAOSNP in using its platform to propagate safety and security through fruitful engagements with relevant institutions and reportage of credible security stories as well as advocacy through its enviable conferences.
Police Confirm Conclusion of Mohbad's Autopsy, Await Result
The Lagos State Police Command had said the autopsy conducted on Ilerioluwa Aloba, popularly known as Mohbad, had been concluded.
The state Police Public Relations Officer, Benjamin Hundeyin, confirmed this to The Punch during a telephone conversation on Thursday.
He said, "Autopsy has been concluded. Awaiting results."
Earlier on, while responding to an enquiry by the paper concerning arrests made by the police in connection with the late singer's death, Hundeyin said, "I can't answer questions on the arrests yet because I don't have that update. However, the nurse is in our custody; I can confirm that."
Police Exhume Mohbad's Body for Autopsy
The body of the late singer, Ilerioluwa Oladimeji Aloba, popularly known as Mohbad, has been exhumed for autopsy.
Lagos State Police spokesperson, SP Benjamin Hundeyin, disclosed the development via his X handle on Thursday.
The Lagos Police image maker wrote: "Exhumation completed. Autopsy to commence. #JusticeForMohad #Justice4Mohbad."