UK Recognises Nigeria's COVID-19 Vaccine Certificate Effective Oct 11
The United Kingdom (UK) has relaxed its COVID-19 vaccine policy for Nigeria — accepting vaccine certificates from fully vaccinated travellers.
In an updated statement on its website on Thursday, the UK government added Nigeria to the list of countries with approved vaccines.
It stated that fully vaccinated travellers from Nigeria will be able to enter England from Monday, October 11, 2021, without the need to provide a pre-departure test or undertake a day 8 test or self-isolate for ten days.
Before now, fully vaccinated travellers from Nigeria still need to need to self-isolate for ten days.
The UK government added that those fully vaccinated with AstraZeneca (Including Covidshield), Pfizer, Moderna and Janssen (Johnson and Johnson will still need to pay for a day 2 test.
"From Monday, October 11, 2021, fully vaccinated travellers from Nigeria will be able to enter England without the need to provide a pre-departure test or undertake a day 8 test or self-isolate for 10 days, although we still need to book and pay for a day 2 test. This policy applies to those fully vaccinated with AstraZeneca (including Covidshield), Pfizer, Moderna and Janssen (Johnson and Johnson)," the statement reads.
"If you arrive in England before that date, you must follow the rules for people who are not fully vaccinated. If you arrive after that, you can use a vaccine certificate to prove your vaccination status.
"Fully vaccinated means that you have had a complete course of an approved vaccine at least 14 days before you arrive in England. The day you had your final dose does not count as one of the 14 days.
"You must be able to prove that you have been fully vaccinated under a vaccination programme and have a valid proof of vaccination recognised by the British Government (for Nigeria, the certificates with valid QR codes as issued by Nigeria's National Primary Health Care Development Agency (NPHCDA) are recognised)."
Ben Llewellyn-Jones, acting British high commissioner, said, "the exemption of fully-vaccinated Nigerians travelling to the UK from providing a pre-departure test and self-isolating for 10 days, is a very welcome development. To make this happen, we have been working closely with NPHCDA on recognising Nigeria's vaccine certification, which we have now done.
"The UK remains committed to opening up international travel and enabling those who wish to enter the UK to do so safely.
"Vaccines work and — as the pandemic has shown — no one is safe until we are all safe. I would encourage all eligible people to get vaccinated."
The statement further stated that those not fully vaccinated must comply with COVID-19 directives by taking a pre-departure COVID-19 test – to be taken in the 3 days before travel.
The traveller must also book and pay for day 2 and day 8 COVID-19 tests – to be taken after arriving in England and complete a passenger locator form — any time in the 48 hours before arrival.
On arrival, the UK authority said the traveller would need to quarantine for 10 days and take a pre-booked COVID-19 test on or before day 2 and on or after day 8.
Adeleke Wins As Court Strikes Out Ineligibility Suit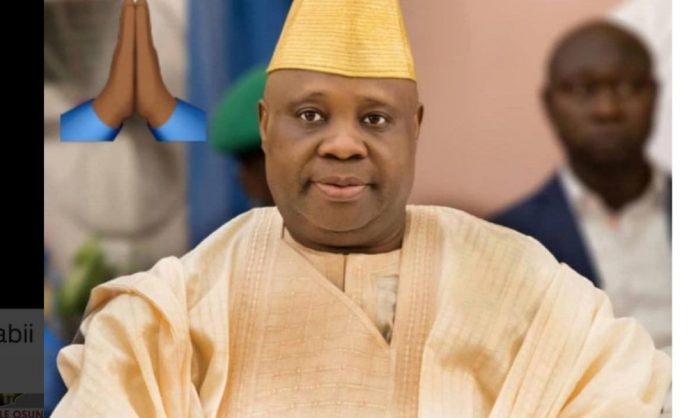 Justice Obiora Egwuatu of a Federal High Court in Abuja on Thursday struck out a suit seeking nullification of submission of name of Ademola Jackson Nurudeen Adeleke as the governorship candidate of the People's Democratic Party in the recent July 16 election.
The judge struck down the suit on the ground that the plaintiff lacked locus standi to institute the case.
The plaintiff in the suit, Awoyemi Oluwatayo Lukman had dragged the Independent National Electoral Commission, PDP and Adeleke before the court seeking order to void and set aside the submission of Adeleke's name to INEC on ground of alleged unlawful action.
The grouse of the plaintiff was that Adeleke's name was hurriedly submitted by PDP on March 11 as against between March 14 to 18 as contained in the INEC guidelines.
Adeleke's name having not been submitted within the period fixed by INEC, the plaintiff asked the court to declare the submission, illegal, unlawful, null and void and be set aside.
He claimed that INEC must be bound by its official guidelines and that anything done outside the guidelines is against the provisions of the Electoral Act 2022.
However, in his judgment, Justice Obiora Egwuatu struck out the suit on the ground that the said Awoyemi Oluwatayo Lukman lacked locus standi to have instituted the case.
The Punch
Falconets Beat Canada 3-1, Set to Meet Holland in Quarter Final
Nigeria's U-20 girls, Falconets, set a World Cup group stage perfect record for themselves after beating Canada 3-1 in Alajuela on Thursday morning to finish with a perfect nine points out of nine in Group C.
Head Coach, Chris Musa, said before the encounter that his girls would seek to win even as a quarter-final ticket was already in the bag, in order to sustain their winning mentality following hard-fought victories over France and Korea Republic.
That was exactly what the Falconets did.
Africa's best team conceded their first goal of the competition in an accidental manner, following goalkeeper Omini Oyono's poor management of a backpass from Jumoke Alani that granted Kala Novak a fortuitous goal in less than two minutes.
"It was great for us to come back from that setback, and also conceding first in the tournament. We showed character and spirit, and that would be huge for us going forward in the competition," Musa said after the match.
Midfield impresario Esther Onyenezide, whose vicious curling shot earned all three points against Korea Republic to send the Falconets into the last eight on Monday morning, scored from the penalty spot in the 24th minute to pull the Falconets level. Defender Mia Pante had handled the ball from a Blessing Okpe shot in the box.
The Falconets looked composed and surefooted in the middle with the return of Deborah Abiodun, who sat out the encounter with the Koreans, and Chiamaka Okwuchukwu also played an inspired game after starting for the first time in the tournament. Her firm header from a Blessing Okpe cross in the 15th minute missed narrowly.
Onyenezide shot Nigeria ahead, also from the spot, in the 32nd minute minute, after Simi Awujo's dangerous play against Mercy Idoko, as the latter went for a header from Rofiat Imuran's inswinger, was penalised.
In the added time of first period, Idoko came close to scoring her first goal of the tournament, but her touch from another Imuran inswinger kissed the upright.
In the second half, the Falconets added pace and brilliant use of space to their game, and it was no surprise when Imuran, again with a visionary cross, set up substitute Chioma Olise for Nigeria's third goal.
Their imperial campaign in the group stage earns the Falconets a quarter-final date with the Netherlands in Alajuela as from 1am on Monday (Nigeria time).
Agency Report
Supporters Throng Obasanjo's Residence As Tinubu Visits Former President
Scores of supporters of the All Progressives Congress in Ogun State, Wednesday, stormed the residence of former President, Olusegun Obasanjo, in Abeokuta as the presidential candidate of the APC, Bola Tinubu visited the former President.
Tinubu arrived at the Penthouse of the Olusegun Obasanjo Presidential Library, Oke- Mosan, Abeokuta, the Ogun State capital, in his chopper at about 1:09pm in company of some party leaders.
He was received by Governor Dapo Abiodun, former Governor Gbenga Daniel, his predecessor, Segun Osoba, and other Ogun State government functionaries.
They have all gone into a meeting with the president.
The meeting was believed to be in connection with ambition of Tinubu in the coming elections.
Our correspondent reports that the duo had not been seen together since 2015 when he escorted the then APC candidate, the President, Major General Muhammadu Buhari (retd.), to Obasanjo's residence.
He was also at the 78th birthday of the former President held at Abeokuta in March, 2015.
The two of them have since kept their distances as Obasanjo withdrew his support for Buhari and the APC, which he supported to power by tearing his card as a member of the Peoples Democratic Party.
The Punch