US Cuts Monthly Oil Imports from Nigeria by 89%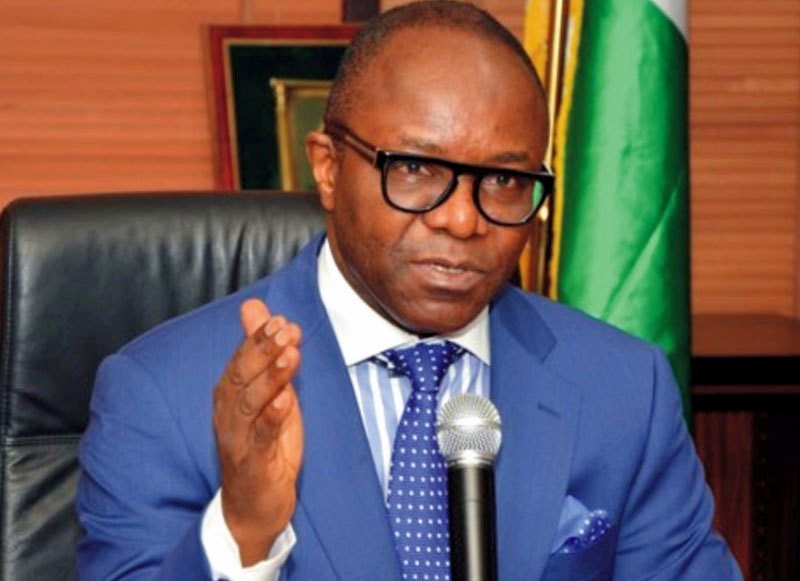 The United States' crude oil imports from Nigeria plunged to 539,000 barrels per day in February from 4.87 million bpd in January.
The US imports of Nigerian crude have dropped in recent months, hitting almost a four-year low in February.
The country bought 5.18 million bpd in December, down from 10.03 million bpd in January 2018, the latest data obtained from the Energy Information Administration on Friday showed.
Its imports of Nigerian crude oil dropped by 48.87 million barrels or 43 per cent in 2018, the EIA said.
The US imports of Nigerian crude fell to 64.06 million barrels last year from a five-year high of 112.92 million barrels in 2017.
The EIA data showed that the country imported 75.81 million barrels of Nigerian oil in 2016, up from 19.85 million barrels in 2015.
US imports of Nigerian crude fell from 148.48 million barrels in 2012 to 87.40 million barrels in 2013 on the back of shale oil boom.
Light sweet Nigerian crude is very similar to the light oil produced in US shale. As US shale production has grown, the appetite for Nigerian crude in the US has dropped dramatically.
In 2014, when global oil prices started to fall from a peak of $115 per barrel, Nigeria saw a further drop in US imports of its crude to 21.24 million barrels.
For the first time in decades, the US did not purchase any barrel of Nigerian crude in July and August 2014 as well as June 2015, according to the EIA data.
In 2010, the US bought as much as 358.92 million barrels from Nigeria, but slashed its imports to 280.08 million barrels in 2011.
With the sharp increase in its production, the US oil exports averaged 1.9 million bpd in 2018, about twice the amount that was exported in 2017, according to the EIA.
Crude oil exports from the US to the United Kingdom overtook supplies from other countries including Nigeria for the first time since such shipments began in 2015.
In January this year, the US supplied the equivalent of almost one in every four barrels of crude processed by UK oil refineries, or 264,000 bpd, according to the Financial Times.
That level was more than Norway, Russia, Nigeria or Algeria, according to data from the cargo-tracking company Kpler, which have all been major suppliers to the UK in recent years.
South Korea overtook China as the number-two destination for US crude behind Canada in 2018, as shipments to South Korea soared to a record high of 558,000 bpd in December, according to the EIA.
The US sent an average 236,000 bpd of crude to South Korea and 228,000 bpd to China in 2018.
Canada remained the top customer on an annual basis for 2018, but South Korea took the top spot for December. The US sent an average of 378,000 bpd of crude to Canada in 2018, with December exports at 431,000 bpd.
The Punch
Price of Cooking Gas Hits N7,000 As NLNG Rues Poor Facilities
The management of the Nigeria LNG Limited has said that marketers do not have enough infrastructure to take up its Liquefied Petroleum Gas supply.
In an earlier PUNCH report, the Independent Petroleum Marketers Association had said that the major cause of the rising cost of cooking gas was lack of adequate supply.
The marketers claimed that foreign investors underestimated demand in the Nigerian market resulting in marketers venturing into importation of the product.
They advocated that the government should let NLNG supply more gas to the market to reduce the costs.
Reports from consumers revealed that the cost of refilling a 12.5-kilogramme cylinder of LPG had risen to as high as N7000 in some states.
The marketers had also urged the government to remove cooking gas from the list of commodities subject to the payment of value added tax.
The marketing manager of NLNG, Austin Ogbogbo, in a response to the claim made by the IPMAN said that the marketers did not have enough infrastructure to take up the gas the company supplied.
He said, "NLNG has grown its capacity from 50,000 metric tonnes per annum to 450,000 metric tonnes per annum of LPG in the past 14 years.
"Nigeria needs 1.2 million metric tonnes per annum, but even the 450,000 we produce cannot be absorbed by the market's current infrastructure.
"We only operate in the midstream sub sector of the industry so we are only responsible for supplying to the market.
"The downstream players are responsible for the distribution to the end users, and also building the infrastructure to ensure it is done efficiently. It is out of our scope."
He assured the public that the company would grow its LPG capacity if it confirmed that distributors could take up additional supply.
The Punch
FirstBank Expands International Money Transfer Network, Reinforces Commitment to Customer Service
In furtherance of the need to expand diaspora remittance inflow into the country, First Bank of Nigeria Limited has increased its network of International Money Transfer Operators (IMTOs), targeted at easing the accessibility of its customers to receive money from close to 100 countries across the world in a safe and secured manner. With over 750 branches across the country, customers can receive money from the nearest FirstBank branch closest to them.
Over the years, FirstBank has been in partnership with Western Union, MoneyGram, Ria, Transfast, and WorldRemit. The bank is also in partnership with other IMTOs which include Wari, Smallworld, Sendwave, Flutherwave, Funtech, Thunes and Venture Garden Group to promote remittance inflow into the country, thereby putting Nigerians and residents at an advantage in receiving money from their families, friends and loved ones across the world.
Beneficiaries can receive remittance in US dollars in any of our over 750 branches spread across the country. Customers without an existing domiciliary account can have dollar account automatically created for their remittances. You can also receive inflow directly into your account through Western Union.
In addition, FirstBank has launched its wholly owned remittance platform named First Global Transfer product to promote the international transfer of funds across its subsidiaries in sub-Saharan Africa. These subsidiaries include FBNBank DRC, FBNBank Ghana, FBNBank Gambia, FBNBank Guinea, FBNBank Sierra-Leone, FBNBank Senegal.
Reiterating the Bank's resolve in promoting diaspora remittances, regardless of where one is across the globe, the Deputy Managing Director, Mr Gbenga Shobo said "at FirstBank, expanding our network of International Money Transfer Operators is in recognition of the significant roles diaspora remittances play in driving economic growth such as helping recipients meet basic needs, fund cash and non-cash investments, finance education, foster new businesses and debt servicing.
We are excited about these partnerships, as it is essential to ensure our customers are at an advantage to receive money from their loved ones and business associates, anywhere they are, across the world."
FirstBank pioneered international funds transfer and remittances over 25 years ago and has been at the forefront of promoting cross border payments in the country, having started the journey with Western Union Money Transfer. The Bank's wealth of experience and operation in over 750 locations nationwide gives it the edge in the market.
Unity Bank Collaborate to Fund N15.5bn Equipment for Julius Berger
Unity Bank Plc, in company of other banks has facilitated a credit facility of N15.5bn for the acquisition of trucks and equipment to Julius Berger Plc.
The group Managing Director and Chief Executive Officer of SCOA Nigeria Plc, Dr Massad Boulos, has appreciated the gesture.
A statement from SCOA said that SCOA presented 33 MAN platform trucks and equipment to Julius Berger to be deployed for the construction of the 380 kilometre Abuja-Kaduna-Kano roads.
The banks that funded the acquisition were Unity Bank Plc, Heritage Bank Limited, Zenith Bank Plc, Providus Bank Limited, Wema Bank Plc, United Bank for Africa Plc, Union Bank Plc and Coronation Merchant Bank Limited.
Boulos said, "I commend Unity Bank, their MD and the members of the executive management; and the entire team of banks who have worked closely with us on this project."
Mr Ralph Brendicke, the representative of the MD of Julius Berger Nigeria Plc, Dr Lars Richter, said the trucks and other equipment would help the company expand its field capacity and increase the speed of execution leading to timely completion of the highly anticipated project.
The MD/CEO of Unity Bank Plc, Mrs Tomi Somefun, represented by the Directorate Head, Lagos and South West Zone, Mr Wale Ogunride, was quoted as saying, "We looked at the strategic importance of this project and how such infrastructure could contribute to stimulating economic activity and decided that Unity Bank must play its part.
"Unity Bank will continue to provide support to such projects as we have been doing in other critical sectors of the economy such as agriculture."
In a separate statement, the Executive Director of Wema Bank, Mr Oluwole Ajimisinmi, was quoted as saying that his bank was delighted to be one of the institutions to support SCOA in the project.
He also encouraged and solicited for more local content in order to create more jobs.