US Cuts Monthly Oil Imports from Nigeria by 89%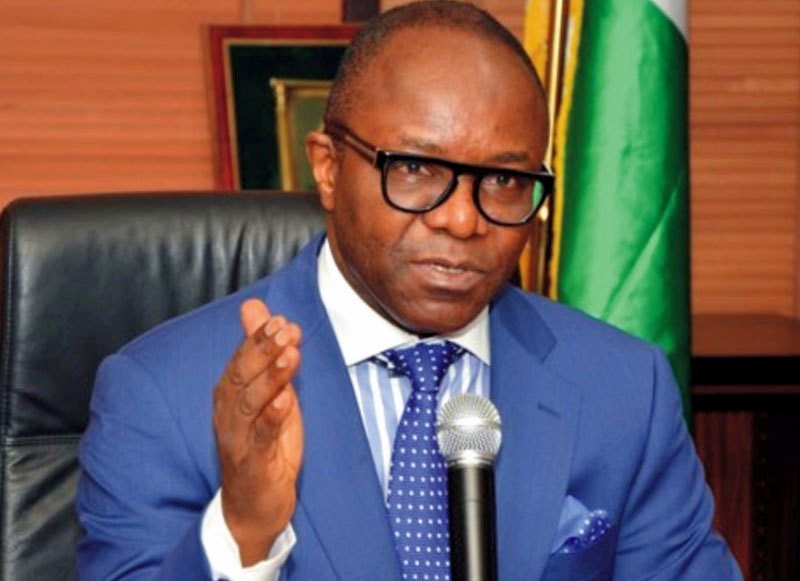 The United States' crude oil imports from Nigeria plunged to 539,000 barrels per day in February from 4.87 million bpd in January.
The US imports of Nigerian crude have dropped in recent months, hitting almost a four-year low in February.
The country bought 5.18 million bpd in December, down from 10.03 million bpd in January 2018, the latest data obtained from the Energy Information Administration on Friday showed.
Its imports of Nigerian crude oil dropped by 48.87 million barrels or 43 per cent in 2018, the EIA said.
The US imports of Nigerian crude fell to 64.06 million barrels last year from a five-year high of 112.92 million barrels in 2017.
The EIA data showed that the country imported 75.81 million barrels of Nigerian oil in 2016, up from 19.85 million barrels in 2015.
US imports of Nigerian crude fell from 148.48 million barrels in 2012 to 87.40 million barrels in 2013 on the back of shale oil boom.
Light sweet Nigerian crude is very similar to the light oil produced in US shale. As US shale production has grown, the appetite for Nigerian crude in the US has dropped dramatically.
In 2014, when global oil prices started to fall from a peak of $115 per barrel, Nigeria saw a further drop in US imports of its crude to 21.24 million barrels.
For the first time in decades, the US did not purchase any barrel of Nigerian crude in July and August 2014 as well as June 2015, according to the EIA data.
In 2010, the US bought as much as 358.92 million barrels from Nigeria, but slashed its imports to 280.08 million barrels in 2011.
With the sharp increase in its production, the US oil exports averaged 1.9 million bpd in 2018, about twice the amount that was exported in 2017, according to the EIA.
Crude oil exports from the US to the United Kingdom overtook supplies from other countries including Nigeria for the first time since such shipments began in 2015.
In January this year, the US supplied the equivalent of almost one in every four barrels of crude processed by UK oil refineries, or 264,000 bpd, according to the Financial Times.
That level was more than Norway, Russia, Nigeria or Algeria, according to data from the cargo-tracking company Kpler, which have all been major suppliers to the UK in recent years.
South Korea overtook China as the number-two destination for US crude behind Canada in 2018, as shipments to South Korea soared to a record high of 558,000 bpd in December, according to the EIA.
The US sent an average 236,000 bpd of crude to South Korea and 228,000 bpd to China in 2018.
Canada remained the top customer on an annual basis for 2018, but South Korea took the top spot for December. The US sent an average of 378,000 bpd of crude to Canada in 2018, with December exports at 431,000 bpd.
The Punch
Nigeria Makes List of Four Top World Bank Debtors
Rising debt has pushed Nigeria up the World Bank's top 10 International Development Association borrowers' list.
The World Bank Fiscal Year 2021 audited financial statements, known as the IDA financial statement, showed that Nigeria was rated fifth on the list with $11.7bn IDA debt stock as of June 30, 2021.
However, the newly released World Bank Fiscal Year 2022 audited financial statements for IDA showed that Nigeria has moved to the fourth position on the list, with $13bn IDA debt stock as of June 30, 2022.
This shows that Nigeria accumulated about $1.3bn IDA debt within a fiscal year, with the country taking over the fourth top debtor position from Vietnam.
This debt is different from the outstanding loan of $486m from World Bank's International Bank for Reconstruction and Development.
The top five countries on the list slightly reduced their IDA debt stock except Nigeria.
India, which is still the first on the list reduced its IDA debt stock from $22bn in the previous fiscal year to $19.7bn, followed by Bangladesh from $18.1bn to $18bn.
It is followed by Pakistan which cut its debt from $16.4bn to $15.8bn, and lastly, Vietnam, which went down the list to fifth position, from $14.1bn to $12.9bn.
Nigeria has the highest IDA debt in Africa, as the top three IDA borrowers (India, Bangladesh and Pakistan) are from Asia. The World Bank disclosed recently that Nigeria's debt, which may be considered sustainable for now, is vulnerable and costly.
The bank said, "Nigeria's debt remains sustainable, albeit vulnerable and costly, especially due to large and growing financing from the Central Bank of Nigeria."
However, the Washington-based global financial institution added that the country's debt was also at risk of becoming unsustainable in the event of macro-fiscal shocks.
The bank further expressed concerns over the nation's cost of debt servicing, which according to it, disrupted public investments and critical service delivery spending.
Economists have also raised concerns over the rising debt profile of the Federal Government.
The Fiscal Policy Partner and Africa Tax Leader of PwC, Mr Taiwo Oyedele, expressed his agreement with the World Bank on the high cost of debt servicing.
He said, "I agree with the World Bank. Although the debt to GDP ratio is not too high, if you think about the debt service cost to revenue ratio, it is already over 70 per cent. That's when you know it's costly.
"Nigeria borrows at double-digit, and even when we borrow in dollars, the rates are very high and then you devalue the naira and the cost of servicing the debt in naira goes up because it is dollar-dominated debt.
"Put all of that together, and you can easily say to yourself that even though our debt to GDP ratio is very low, our cost of borrowing is unsustainable because it is very high, and therefore, make it very costly."
A former Deputy Governor of the Central Bank of Nigeria and former presidential candidate, Kingsley Moghalu, also criticised the increasing borrowing tendency of the government, urging the officials to re-consider other ways of generating revenue for the country.
According to Moghalu, it was also not reasonable to borrow for infrastructural development as the government could expand the public-private partnership options for such development.
In a document by the Director General of the Debt Management Office, Patience Oniha, recently obtained by our correspondent, the DMO stated that high debt levels would often lead to high debt services and affect investments in infrastructure.
According to the DMO DG, "High debt levels lead to heavy debt service which reduces resources available for investment in infrastructure and key sectors of the economy."
The Punch
Stanbic IBTC Set to Host 2022 Africa-China Trade Expo
Stanbic IBTC Holdings PLC, a member of Standard Bank Group, would host the 2022 Stanbic IBTC Africa China Trade Expo as part of its efforts at promoting trans-regional trade and development between Nigeria and China. The trade expo would feature a panel discussion, masterclasses on trade, a presentation on the Stanbic IBTC Africa China Trade Solutions and a fully virtual exhibition.
The two-day hybrid conference and exhibition-themed "Synergy For Growth' is slated for 10 and 11 August 2022, and is geared at providing insights and opportunities for participants. The event would serve as an avenue to showcase Nigerian and Chinese exhibitors, and would as well provide opportunities to build relationships within the trade community.
The physical conference is planned to feature keynote speeches and panel discussions by highly experienced subject matter experts and thought leaders in relevant industries and would be an opportunity for exporters and importers to engage and create a marketplace experience.
Speakers slated for the event include Philip Myburgh, Head, Pan-African China Banking, Standard Bank Group; and Ade Otukomaya, Head, Africa China Banking, Stanbic IBTC Bank. Others are Remy Osuagwu, Executive Director, Business and Commercial Clients, Stanbic IBTC Bank; and Wole Adeniyi, Chief Executive, Stanbic IBTC Bank PLC.
The panel discussion, with the theme 'Promoting Export Activities through Synergy', would have Samuel Oyeyipo, Deputy Director and Regional Coordinator, Nigerian Export Promotion Council, South West Regional Office, Lagos; Luthando Vuda, Head, Africa China Trade in Business and Commercial Clients, Standard Bank Group; Jane He, Business Manager, Pan Africa China Banking, Business and Commercial Clients, Standard Bank Group, Fola Abimbola, Analyst, Senior, Frontier Africa Equity Research Stanbic IBTC; and Victor Ayemere, Chief Executive, Zeenab Foods Limited, Operators of the Nigeria Export Trade House China/Far East Region as panelists.
Dr Demola Sogunle, Chief Executive, Stanbic IBTC Holdings, spoke on the rationale for the conference. He highlighted that the Stanbic IBTC Africa-ChinaTrade Expo hybrid Conference and Exhibition would be geared at showcasing Nigeria and China trade opportunities while emphasizing  the role of Stanbic IBTC in facilitating inter-regional trade.
"China is Africa's biggest trading partner by far and can foster strong trade routes and economies of scale, offering an incredible opportunity to do more than just import goods. With the emphasis on building strong synergy and relationship between China and Nigeria, the Stanbic IBTC Africa-China Trade Expo is expected to provide insights into Nigeria and China trade relations and the role of Stanbic IBTC as a facilitator of inter-regional trade, as well as provide advisory services, allowing trade partners access and unlock the opportunities in Nigeria-China trade," Demola said.
"The topics for discourse at the two-day hybrid conference and exhibition would centre on building synergy between Nigeria and China's economies, building synergy between government agencies and driving export activities through policies and initiatives. Other topics would include building export activities in partnership with Stanbic IBTC and promoting competitive advantage for enhancing export."
"The exhibition would also showcase vendors who export from Nigeria to China and vice versa, spanning across agriculture, manufacturing, equipment, processing and packaging firms," Demola added.
The Chief Executive noted that through its Africa China Trade Solution (ACTS) and other networks of relations between Africa and China, the financial service provider continued to facilitate economic trade and development between Africa and the Asian country.
Stanbic IBTC's trade solutions such as Stanbic IBTC Africa China Trade Solutions (ACTS) continued to enable settlement of international transactions and mitigation of payment risk while providing regional solutions such as issuance of payment guarantees and letters of credit to Nigerian exporters.
Management Debunks Purported Sale of Polaris Bank  
The management of Polaris Bank PLC has denied reports making the rounds that the bank is set to be sold.
A statement issued by the bank and sent Pointblank.ng said that the information is speculative and deliberately intended to cause panic, and asked the banking public to disregard the story.
The statement further highlighted the fact that the bank has since stabilised it's operations following the intervention of the Asset Management Corporation of Nigeria (AM ON) as well as improved its balance sheet, customer base and profitability.
Read the statement in full:
Our attention has been drawn to an online report on the purported sale of Polaris Bank Limited. 
This publication is speculative, deliberately intended to create panic and should be disregarded by the banking public.
Stakeholders may recall the regulatory intervention in the erstwhile Skye Bank by the CBN and the subsequent injection of capital via the Asset Management Corporation of Nigeria (AMCON) through a bridge bank process, which birthed Polaris Bank in 2018. The bank has since stabilized its operations following the intervention; improving its balance sheet, customer base and profitability.
Whilst the intention has always been to return the bank to private ownership, such a sale would occur following regulatory approvals with formal notification to all relevant stakeholders. The Bank is committed to ensuring timely communication to the public in such an event.
The Board and Management hereby reassure its customers, staff and the general public that Polaris Bank remains a stable, strong and credible financial institution, positioned to deliver sustainable value to all its stakeholders.
Signed
Management