Actress Felicity Huffman Pleads Guilty in College Admissions Scandal
Actress Felicity Huffman and a dozen other parents agreed on Monday to plead guilty to using bribery to get their children into prestigious universities.
Huffman, 56, best known for her role in the "Desperate Housewives" series, agreed to plead guilty to paying $15,000 to help her eldest daughter get better scores on the SAT college entrance exam, the Massachusetts Department of Justice said in a statement.
Huffman's equally famous husband, actor William H. Macy, was not charged in connection with the college admissions scandal.
The Massachusetts Department of Justice said that in addition to Huffman, another dozen parents charged in the case had also agreed to plead guilty.
Huffman could face a maximum of up to 20 years in prison for conspiracy to commit mail fraud but is not expected to receive such a stiff sentence.
Another well-known actress, Lori Loughlin, known for her role on "Full House," has also been charged in the case but did not enter a plea on Monday.
The actresses were the most famous of the 50 people indicted in a scam to help children of the American elite gain entry into top US colleges.
Some of the other parents involved were CEOs or partners in major law firms.
The ringleader behind the scam, William "Rick" Singer, who authorities say was paid about $25 million dollars to bribe coaches and university administrators, has pleaded guilty and is cooperating with authorities.
(AFP)
I'm 'Missing Nigeria', Nolstagic Cardi B Says after Returning to the US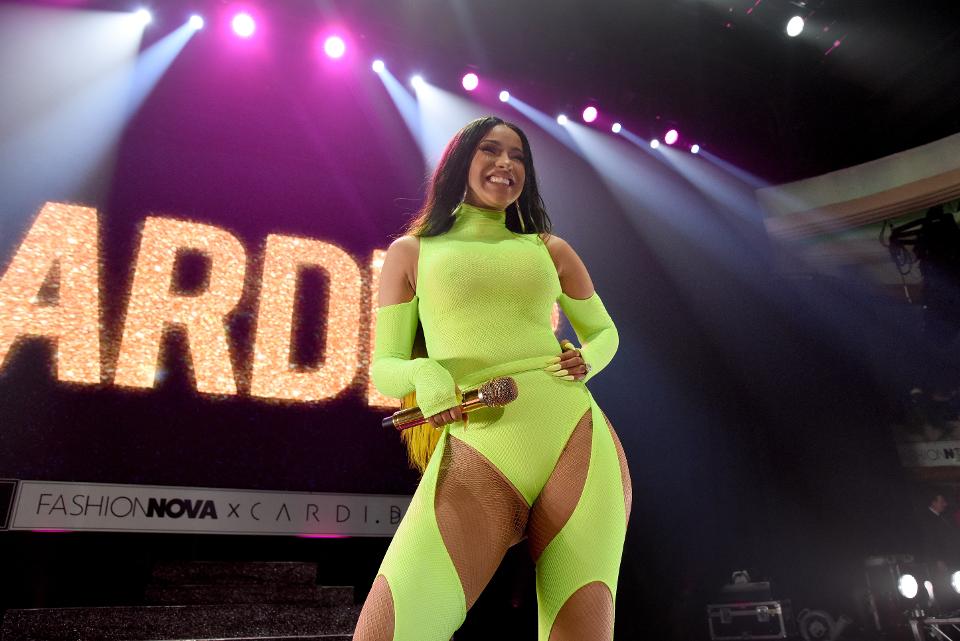 Last week saw a lot o excitement in the Nigerian entertainment scene following the arrival of Grammy award-winning rapper, Cardi B in Nigeria.
The rap sensation who arrived in the country on Thursday ensured she gave Nigerians many memories to remember during her stay in the country.
The "I Like It" hitmaker appears to have also enjoyed her stay in the country as shortly after her arrival back in the United States, she took to her Instastories to reveal she misses Nigeria.
Upon her arrival in the country, Cardi B began to sharing different videos of her experience in the country. From comparing the country to the Dominican Republic, asking to be taken to the 'real Nigeria', to her craving for jollof rice,
The rapper also visited an orphanage, a strip club, had a conversation session with some selected Nigerians and delivered a stellar performance during her stay had so much impact that she was a trending topic throughout her entire stay.
She further endeared herself to many by flying the Nigerian colours of green and white during her performance. Dorning a creatively put together green and white outfit, she also brought out the Nigerian flag during the course of her performance.
Sharing  a photo of her adorned in colours of the Nigerian flag, she captioned it with 'missing Nigeria':
Born Belcalis Marlenis Almánzar but known professionally as Cardi B, she is an American rapper, songwriter, actress, and television personality. Born in Manhattan and raised in The Bronx, New York City, she became an internet celebrity after several of her posts and videos became viral on Vine and Instagram.
She hit major stardom when her song, "Bodak Yellow" peaked at number one on the Billboard Hot 100 Charts. She has since gone on to score two other number ones and earned herself a Grammy award.
Finally, Tuface, Blackface Settle Age Long Feud
There are reports that the lingering feud between Blackface and former bandmate 2Face Idibia has come to an end after they both agreed to settle out of court.
According to blogger, Linda Ikeji, 2Face signed an undisclosed settlement agreement at the Ikeja High Court on Wednesday, November 27, 2019, and reportedly dropped his N50m defamation lawsuit against Blackface.
It also reports that Blackface agreed not to publicly call out 2Face while the 'African Queen' crooner agreed to work out an agreement that will enable Blackface to earn royalties.
BlackFace had earlier taken to his Instagram page on the same day where he shared photos of his lawyers and himself at the court premises.
It is no news that 2Face Idibia and BlackFace have been in a long tug war over the rights of 2Face Idibia's hit single 'African Queen.' During an exclusive interview with Pulse a few months ago, Blackface gave the only condition before he would end his rift with his former bandmate.
Future Awards: Burna Boy Wins 2019 Young Person of the Year
Twenty-eight-year-old Nigerian rave of the moment in music and entertainment industry, Damini Ogulu, a.k.a Burna Boy, on Sunday emerged winner of the 2019 Young Person of the Year Future Awards.
The 2020 Grammy Award nominee got two awards as the Young Person of the Year and also the Prize for Music at the event held at the Balmoral Convention Centre, Federal Palace Hotel, Victoria Island, Lagos.
Other winners during the gala night are Future Prize for Agriculture that went to Uka Eje — founder of the Thrive Agric that has funded over 15, 000 farmers across Nigeria.
For the Future Award Prize for Media, Samuel Ajiboye clinched the gong as a young entrepreneur and a Country Manager, Alpha and Jam — a company that has presence in four African countries.
Mr. Israel Adesanya, Nigeria's World Champions in the Ultimate Fighting Championship mixed martial art, a kick boxer got the prize for Sport.
The Future Award for Education went to Olaseni Cole, who runs an empowerment programme aimed at preparing and equipping children with skills within the tech-space. The project has impacted over 3,000 children in Lagos and Ogun.
The Prize for Technology went to Zang Luka Bot, inventor of the Foot House, an interaction traditional mouse that allows people with upper limb disability to interface computer with their leg.
The Prize for Fashion went the way of Sandra Tuboboreni, CEO, TUBO, a multi-award winning global brand.
The Future Awards for Africa for Public Service got the way of Adetola Onayemi, an international lawyer, the head, Trade Remedies/Assistant Trade and investment in the Office of the Vice President.
The Future Award Prize for Arts went to Ken Nwadiogu, a multidisciplinary artist and contemporealist. He founded the fast growing Artland Contemporary Ltd.
The Future Award for Acting was won by Timini Egbuson, an actor in the MTV television series Shuga.
The Prize for Advocacy was won by 32-year-old Hamsat Lawal, who led a successful campaign in over 40 countries and specialises in practical issues related to climate change and others.
The Prize for Community Action was won by Isaac Success, founder, Dreams from the Slum, an empowerment initiative to reduce the number of out-of-school children in Nigeria.
The Prize for On Air Personality was won by Simi Drey Adejumo, a broadcaster with Beat FM.
The Prize for Film Making was won by Dare Olaitan for his efforts in the blockbuster film,Ojukokoro (Greed) and Knockout Blessing. He also clinched the 15th Africa Movie Academy Awards, AMAA.
The Future Award for Photography was won by Tolani Alli, the personal photographer to the Vice President. She has featured on BBC News, World Press and other international media houses.
The Award for Journalism was won by Shola Lawal, a freelance journalist covering social justice, development and creativity.
The Future Awards for Professional Service was won by Bukky Akomolafe, the Commercial Manager at Travelsstart, Africa's largest online travel agency.
NAN reports that the Future Awards Africa has been termed the Nobel Prize for Young Africans and the most important youth awards by Forbes.
It is a set of prizes given annually to celebrate and accelerate innovation, creativity and enterprise among young Africans aged 18 to 31 and has produced over 150 winners and over 1,550 nominees since its first edition in 2006.
It is presented in conjunction with The Future Project, which has a mandate to build empowered citizens across Africa, through inclusive enterprise and active citizenship.
(NAN)