Adoke Gives Malami Seven Days Ultimatum to Withdraw False Evidence, Tender Public Apology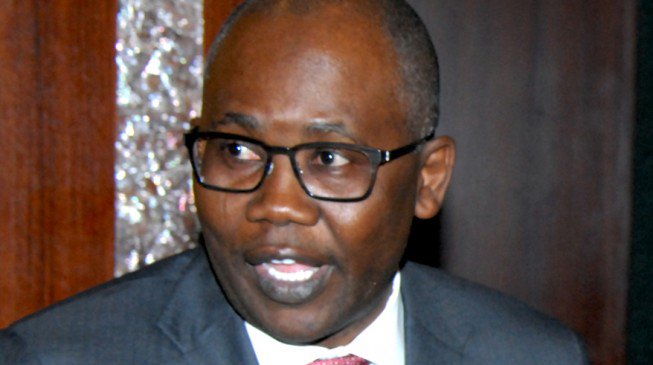 A former Nigerian attorney-general and Minister of Justice, Bello Adoke, has given the Attorney-General of the Federation and Minister of Justice, Abubakar Malami, seven days ultimatum to retract alleged defamatory statements made against him.
Mr Adoke issued the ultimatum on Wednesday through his lawyers led by Paul Erokoro, aSenior Advocate of Nigeria.
The alleged defamatory statements were made at the ongoing hearing of the Process and Industrial Development (P&ID) arbitration case in England.
Mr Adoke also asked Mr Malami to tender a public apology for making statements which he knew to be untrue and defamatory against his person.
Mr Erokoro said Mr Malami's statements were not true and have negatively affected Mr Adoke's image because the court proceedings were on live television in Nigeria and on social media around the world.
In the statement, Mr Malami had accused Mr Adoke of having a hand in the failed P&ID agreement, receiving kickback from the deal through former petroleum minister, Dan Etete, and also single-handedly selecting a legal team to represent Nigeria at the arbitration.
"Our client is astounded by your failure to inform the English court that under Nigerian law, any person charged with or accused of a crime MUST be presumed innocent until proven guilty," the letter said.
"Rather, you pronounced our client guilty, even when you were fully aware that his trial had not even commenced. The Attorney-General's oath of office includes an undertaking to protect and defend the Nigerian Constitution.
"The constitutional right to fair trial is severely breached when the Attorney-General of the Federal Republic of Nigeria urges the court of a foreign jurisdiction to regard and even pronounce a Nigerian guilty of an offence without a trial. It was your unfortunate and wrongful pronouncement of guilt on our client that emboldened the FRN's counsel in England to tell the whole world that our client is corrupt.
"This has done incalculable harm to our client's name, reputation and standing in society. Our client will suffer even more harm if the English Court, misled by your evidence, makes an adverse finding against our client. It is for this, among other reasons that the first duty of the Attorney-General and indeed all counsel, is to the Court," the letter read in part.
Mr Adoke noted that he became Attorney-General of the Federation on April 6, 2010, while the negotiations for the gas project had been on from 2009, adding that he only became aware of the P&ID matter when the Ministry of Petroleum Resources requested in 2013 that he appoint an arbitrator as well as counsel.
The letter reads in part: "Our client finds it remarkable that you found no fault in the appointment of the arbitrator but found fault with the appointment of counsel, even though the two appointments followed the same process. For this reason, our client is forced to conclude that your vilification of his name is merely a case of giving the dog a bad name in order to hang it.
"Our client asserts that even though he appointed Mr. Shasore as counsel, Mr. Shasore's legal fees were paid by the administration of President Buhari, long after our client had left office, a fact well known to you.
"It is also on record that our client was not involved in any of the negotiations with P&ID for settlement, which all took place under your watch. The initial proposal for settlement was delivered to President Jonathan. The President referred the matter to our client for his advice. Our client advised the President to leave the matter to the in-coming administration, since the President's tenure was ending in 8 days.
"You also conceal these facts from the court even though the records have been in your office all along. If our client had been part of any corrupt scheme with P&ID as you claimed in your evidence, surely our client would have jumped at the chance to give P&ID a favourable settlement."
Mr Adoke argued that the final award was issued in July 2015, months after he had left office.
"Your evidence was therefore unfair and uncharitable to our client because you are aware that all the attempts at settlement with P&ID took place under your tenure as Attorney-General, a fact you freely admitted in your witness statements," he added.
Mr Adoke argued further that when the government requested information from some banks in the United States Government on all bank accounts owned by former President Goodluck Jonathan and others, it was discovered that he has no foreign account.
He, therefore, called on the minister within the next seven days on receipt of his letter to take necessary steps to correct the misleading and false statements against him.
"Our client demands that you retract the false evidence that you gave to the English Court, regarding him and apologise for the harm done to his name," he said.
Premium Times
Present Your Primary Six Certificate If You Went to School, PDP Tells Oshiomhole
The Peoples Democratic Party, on Monday, asked a former National Chairman of the All Progressives Congress, Adams Oshiomhole, to present his Primary School Leaving Certificate if he actually went to school.
The Chairman of the PDP Campaign Council for the Edo governorship election, Chief Dan Orbih, made the demand while addressing party members and supporters in the Akoko-Edo Local Government Area of the state.
Orbih also urged Oshiomhole to tell Nigerians the cause of his quarrel with his successor, Governor Godwin Obaseki, whom he described as a worthy alumnus of the University of Ibadan.
"They said Governor Godwin Obaseki, who graduated from the University of Ibadan, has no certificate. I challenge Adams Oshiomhole to show us his Primary 6 certificate," Orbih stated.
He urged Oshiomhole to "allow Edo people to decide who governs them. In four years, Godwin Obaseki has done more than what Oshiomhole did in eight years."
On his part, Obaseki announced that the construction of the 12.75km Ososo-Okpella Road, which was abandoned by previous administration, would begin before the end of the year.
How Arsenal Conquered Chelsea to Win 2019/20 FA Cup
The 2020 FA Cup will always be remembered as the final without any fans.
It will also be remembered as Arsenal's first trophy under Mikel Arteta after they came from behind to beat Chelsea and claim a record 14th FA Cup triumph.
Chelsea drew first blood when Olivier Giroud teed up Christian Pulisic, who slotted the ball past Emi Martinez.
The American terrorised the Arsenal defence in the opening stages of the game and he threatened to double Chelsea's lead shortly afterwards.
But Mikel Arteta's side rode the storm and looked to hit the Blues on the break with Pierre-Emerick Aubameyang operating down the left channel in between Reece James and Cesar Azpilicueta.
And it was down that channel that Aubameyang hauled his side back into the final.
Kieran Tierney's lovely ball found the Arsenal skipper as he outpaced Azpilicueta before being brought down by the Chelsea defender.
Penalty and a yellow card for the Spaniard.
Aubameyang brushed himself down and sent Willy Caballero the wrong way.
Game on.
But it was game over for Azpilicueta shortly afterwards as he went down holding his hamstring and was replaced by Andreas Christensen.
After half-time, Chelsea's goalscorer suffered the same fate as Pulisic also left the pitch close to tears as Pedro replaced him.
Pulisic was probably the best player on the pitch but his injury didn't appear to stunt Chelsea as they looked the more likely to score.
That was until, out of nowhere, Aubameyang grabbed his second goal of the game in clinical style.
Hector Bellerin's surging run forward saw the ball break to Nicolas Pepe. The Ivorian found Aubameyang, who twisted Kurt Zouma inside-out before dinking the ball delightfully over Caballero.
Sensational.
Six minutes later, Arsenal had a mountain to climb after midfielder Matteo Kovacic was shown a second yellow card for an innocuous-looking challenge on Granit Xhaka.
Quite why VAR was used to reverse the decision is baffling.
While Chelsea will feel hard done by, Arsenal saw out the remaining 17 minutes – plus seven additional minutes – in a professional manner as they won the FA Cup yet again!
courtesy: givemesport
Grocery Retailer, Shoprite, Pulls Out of Nigeria
Africa's biggest grocery retailer, Shoprite, is exiting Nigeria after 15 years.
The Cape Town-based retailer has started a formal process to consider the potential sale of all or a majority stake in its supermarkets in Nigeria, it said in a trading statement for the 52 weeks to end June released on Monday.
South African retailers have struggled in the Nigeria market and most recently Mr Price has exited the market after Woolworths did the same six years ago.
In the statement, Shoprite said the results for the year do not reflect any of their operations in Nigeria as it will be classified as discontinued operation.
International supermarkets (excluding Nigeria) contributed 11.6% to group sales, and reported 1.4% decline in sales from 2018. South African operations contributed 78% of overall sales and saw 8.7% rise for the year.
As a result of lockdown, customer visits declined 7.4% but the average basket spend increased by 18.4%.