Afghanistan: War is Over, Taliban Declares, Takes over Kabul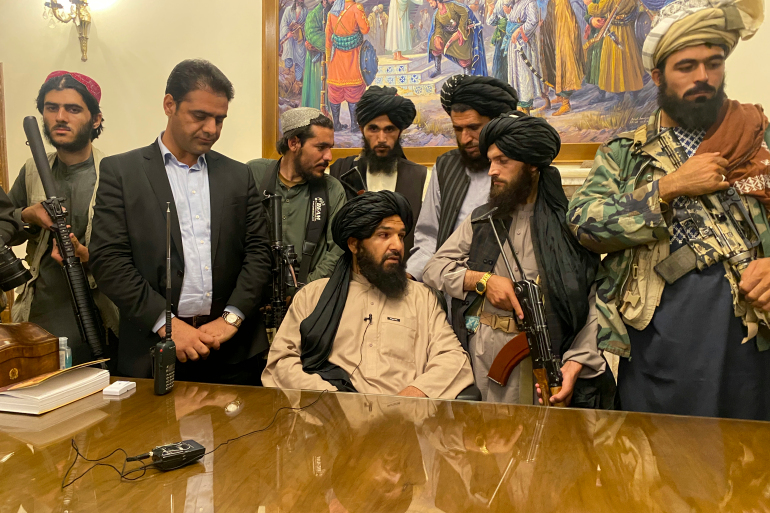 The Taliban declared the war in Afghanistan over, after taking control of the presidential palace in Kabul while Western countries scrambled on Monday to evacuate their citizens amid chaos at the airport as frantic Afghans searched for a way out.
President Ashraf Ghani fled the country on Sunday as the Islamist militants entered the capital virtually unopposed, saying he wanted to avoid bloodshed, while hundreds of Afghans desperate to leave flooded Kabul airport.
President Ashraf Ghani fled the country on Sunday.
"Today is a great day for the Afghan people and the mujahideen.
"They have witnessed the fruits of their efforts and their sacrifices for 20 years," Mohammad Naeem, the spokesman for the Taliban's political office, told Al Jazeera TV.
"Thanks to God, the war is over in the country," he added.
It took the Taliban just over a week to seize control of the country after a lightning sweep that ended in Kabul as government forces trained for years and equipped by the U.S. and others at a cost of billions of dollars, melted away.
Al Jazeera broadcast footage of what it said were Taliban commanders in the presidential palace with dozens of armed fighters.
Naeem said the form of the new regime in Afghanistan would be made clear soon, adding the Taliban did not want to live in isolation and calling for peaceful international relations.
"We have reached what we were seeking, which is the freedom of our country and the independence of our people," he said, adding: "We will not allow anyone to use our lands to target anyone, and we do not want to harm others."
A Taliban leader told Reuters the insurgents were regrouping from different provinces, and would wait until foreign forces had left before creating a new governance structure.
The leader, who requested anonymity, said Taliban fighters had been "ordered to allow Afghans to resume daily activities and do nothing to scare civilians".
"Normal life will continue in a much better way, that's all I can say for now," he told Reuters in a message.
Central Kabul streets were largely deserted early on a sunny Monday as waking residents pondered their future.
"I'm in a complete state of shock," said Sherzad Karim Stanekzai, who spent the night in his carpet shop to guard it.
"I know there will be no foreigners, no international people who will now come to Kabul."
The militants sought to project a more moderate face, promising to respect women's rights and protect both foreigners and Afghans.
New Zealand Prime Minister Jacinda Ardern called for the Taliban to uphold human rights and said the world was watching: "It's going to be all about the actions, not the words."
A U.S. State Department spokesperson said early on Monday that all embassy personnel, including Ambassador Ross Wilson, had been transferred to Kabul airport, mostly by helicopter, to await evacuation and the American flag had been lowered and removed from the embassy compound.
Hundreds of Afghans invaded the airport's runways in the dark, pulling luggage and jostling for a place on one of the last commercial flights to leave before U.S. forces took over air traffic control on Sunday.
"This is our airport but we are seeing diplomats being evacuated while we wait in complete uncertainty," said Rakhshanda Jilali, a human rights activist who was trying to get to Pakistan, told Reuters in a message from the airport.
U.S. forces managing the airport fired into the air to stop Afghans surging onto the tarmac to try to board a military flight, a U.S. official said.
Dozens of men tried to clamber up onto an overhead departure gangway to board a plane while hundreds of others milled about, a video posted on social media showed.
The Pentagon on Sunday authorised another 1,000 troops to help evacuate U.S. citizens and Afghans who worked for them, expanding its security presence on the ground to almost 6,000 troops within the next 48 hours.
More than 60 western countries, including the U.S., Britain, France, and Japan, issued a joint statement saying all Afghans and international citizens who wanted to leave must be allowed to do so.
Western nations, including France, Germany, and New Zealand said they were working to get citizens as well as some Afghan employees out.
Russia said it saw no need to evacuate its embassy for the time being while Turkey said its embassy would continue operations.
In a Facebook post, Ghani said he had left the country to avoid clashes with the Taliban that would endanger millions of Kabul residents.
Some social media users branded Ghani, who did not disclose his location, a coward for leaving them in chaos.
Many Afghans fear the Taliban will return to past harsh practices in their imposition of sharia religious law.
During their 1996-2001 rule, women could not work and punishments such as stoning, whipping, and hanging were administered.
Meanwhile, U.N. Secretary-General Antonio Guterres has urged all parties to exercise the utmost restraint, and expressed particular concern about the future of women and girls.
In Washington, opponents of President Joe Biden's decision to end America's longest war, launched after the Sept. 11, 2001, attacks, said the chaos was caused by a failure of leadership.
Biden has faced rising domestic criticism after sticking to a plan, initiated by his Republican predecessor, Donald Trump, to end the U.S. military mission by Aug. 31.
Senate Republican leader Mitch McConnell blamed Biden for what he called a "shameful failure of American leadership".
"Terrorists and major competitors like China are watching the embarrassment of a superpower laid low," McConnell said.
Naeem said the Taliban would adopt an international policy of two-way non-interference.
"We do not think that foreign forces will repeat their failed experience," he said.
Reuters/NAN
Ahead Ekiti APC Primary: Seven Gov Aspirants Withdraw, Call for Cancellation
Former Minister of Works, Senator Dayo Adeyeye, and six other governorship aspirants on the platform of the All Progressives Congress have withdrawn from the party's primary election in Ekiti State.
Others, who withdrew, according to a statement on Thursday, are a former governorship aspirant, Kayode Ojo; Demola Popoola; Femi Bamisile; former House of Representatives member, Bamidele Faparusi; National Assembly member, Senator Opeyemi Bamidele; and Afolabi Oluwasola.
They alleged that the primary election committee is made up of loyalists of Governor Kayode Fayemi of Ekiti State, claiming that the governor is attempting to impose former Secretary to the State Government, Biodun Oyebanji, as the Ekiti APC governorship candidate.
This is as some members of the party protested against the process of the governorship primary election scheduled to take place on Thursday (today).
The statement read, "The seven aspirants herein received with rude shock and dismay the purported list of local government election committee and ward election committee made up solely by party members and political appointees that had before now openly endorsed the candidacy of Biodun Oyebanji the immediate past secretary to the state government.
"It is on record that the government of Governor Kayode Fayemi has given its unwavering support to the candidacy of Biodun Oyebanji, it is common knowledge that the Governor and most appointees of the governor are openly rooting for and supporting Biodun Oyebanji's aspiration to become the flag bearer of our great party.
"What is more disturbing is the fact that a simple glance at the names of the persons appointed as members of both committees would reveal that it is made up of appointees of government who are all supporters of a candidate in the primary election they are appointed to superintend on.
"The seven candidates herein are loyal, faithful and committed party members who are sincerely concerned about the chances of the party in the forthcoming 2022 governorship election where an imposition is allowed to override a democratic primary election for determining its flag bearer.
"We request that both the local government election committee and ward election committee that were constituted on the list already in circulation be disbanded and replaced with names that would reinforce internal democracy and uphold the aims and objectives of the party."
Senate Passes Bill Empowering FG to Seize Illegally-Acquired Assets
he Senate has passed for second reading, a bill seeking to allow the Federal Government to seize assets acquired by corrupt public officers, terrorism financiers, among others.
The legislation is titled, 'A bill for an Act to Make Comprehensive Provisions For Seizure, Confiscation, Forfeiture and Management of Properties Reasonably Suspected to Have Been Derived From Unlawful Activities.'
The sponsor of the bill, Senator Suleiman Kwari, in his lead debate, said the proposal passed first reading on March 16, 2021, and was also listed among the versions of bills of interest contained in the recent communication from the President, Major General Muhammadu Buhari (retd.), to the National Assembly.
Buhari had last week appealed to the parliament to pass three anti-corruption bills on proceeds of crime, whistle-blower and witness protection.
The Senate had on Tuesday passed the Witness Protection Bill for second reading.
Kwari said the main objective of the bill was to provide for the establishment of a department in the relevant organisations to manage forfeited assets.
According to him, the department would provide for an effective legal and institutional framework for the recovery and management of the proceeds of crime, as well as civil forfeitures in non-conviction based sentencing.
He said, "This bill further makes provisions for restraint, seizure, confiscation and forfeiture of property derived from property unlawful activities; any instrumentality used or intended to be used in the commission of such unlawful activities; and for non-conviction based procedure for the recovery of proceeds of crime.
"The bill's other objectives are to strengthen the criminal confiscation procedure by ensuring that the total benefit from a person's criminal activity is calculated and an equivalent amount, where recoverable, is confiscated on behalf of the Federal Government.
In his submission, Senator Smart Adeyemi, stated that it had become expedient for government to go after anyone who cannot account for how they acquired their properties.
"In supporting this bill, Mr. President, I hold the view that the people who have acquired their properties legally and with good funds have no cause to fear," he said.
The Deputy Majority Whip, Senator Aliyu Sabi-Abdullahi said, "I think it is our duty to support such a law, but it must not be done in a manner that at the end of the day, when you have somebody that does not mean well, you have given him a weapon to go after his perceived enemies. I think that is where caution has to come in."
Senator Stella Oduah, who is under the radar of the Economic and Financial Crimes Commission, however, kicked against the bill.
Oduah said, "For very brilliant senators such as us, we cannot be seen to pass a bill which we haven't thought through and that is not in line with best global practice. We shouldn't play ostrich with this bill. We are going to create a situation where conflict of interest within establishments will continue to exist. Subjectivity in handling issues will be the subject of the day, and innocent Nigerians will be made to be victims of this law, and laws are not supposed to be like that.
"Laws are supposed to stand the test of time. This bill will not stand the test of time because it will be very subjective."
President of the Senate, Ahmad Lawan, after the second reading, referred the bill to the Joint Committee on Anti-Corruption and Financial Crimes; and Judiciary, Human Rights and Legal Matters.
The joint committee was given four weeks to report back to the Senate in plenary.
Meanwhile, a bill seeking to broaden the functions of the Public Complaints Commission also scaled second reading on Wednesday.
The Punch
Conduct Fresh Probe into Kyari's Link to Hushpuppi, PSC Tells IGP Baba
The Police Service Commission has directed the Inspector-General of Police, Usman Baba, to deepen investigations into the connection between the suspended erstwhile head of the Intelligence Response Team, Abba Kyari, and an internet scammer, Abbas Ramon, commonly known as Hushpuppi.
The commission, it was learnt, gave the IG two weeks to turn in the report which would be reviewed by the PSC Standing Committee on Discipline.
The directive to the IG was sequel to the advice from the Attorney-General of the Federation and Minister of Justice, Abubakar Malami, SAN.
A four-man Special Investigation Panel headed by the Deputy Inspector-General of Police in charge of the Force Criminal Investigations Department, Joseph Egbunike, had earlier probed Kyari, a Deputy Commissioner of Police.
Kyari had been suspended in July 2021 for alleged involvement in a $1.1 million Internet fraud allegedly perpetrated by Hushpuppi and four others; AbdulRahman  Juma (Abdul); Vincent Chibuzo (Kelly); Rukayat Fashola (Morayo); and Bolatito Agbabiaka (Bolamide).
The Federal Bureau of Investigation had alleged that Hushpuppi paid $20,600 to two bank accounts allegedly provided by Kyari on January 20, 2020.
Kyari denied wrongdoing.
The PUNCH gathered on Wednesday that the AGF said the facts contained in the police investigation report were not strong enough to convict the DCP.
Malami was said to have informed the commission that the police investigation on Kyari was not water-tight and that more facts were needed to establish the relationship between the ex-IRT commander and Hushpuppi, who is awaiting sentencing after striking a plea bargain deal with the United States authorities.
Based on the AGF's advice, the commission was said to have asked the IG to carry out a further probe into Kyari's relationship with Hushpuppi.
A senior official, who confided in our correspondent, stated, "The advice from the AGF is that the case needs further investigation; that the evidence produced on Abba Kyari was not enough to convict him despite the fact that they have established a prima facie case against him. But the facts cannot convict him in the court of law.
"So, the police report was returned and the IG was asked to set up a special panel to look at the case. We have given them just a short period of two weeks to turn in their report.
"The final report is expected to return to the standing committee which will review and send recommendations to the plenary where the final decision on Kyari will be taken."
Meanwhile, spokesman, US Attorney Office for Central District of California, Thom Mrozek, has said Hushpuppi would be sentenced on February 14.
According to BBC Pidgin, Mrozek, however, did not state the jail terms, which is expected to be between 10 and 18 years.
"He may be subjected to removal from the United States once he completes his prison sentence," he said.
The Punch