APC Adopts Gbajabiamlia for Speaker, Zones Deputy to North-Central
The ruling All Progressives Congress (APC) has adopted Femi Gbajabiamila as its candidate for the position of the Speaker of the House of Representatives in the 9th Assembly.
Mr Gbajabiamlia, who made his intention known some weeks ago, is currently the Majority Leader of the House of Representatives.
"This position was reached after an intensive deliberation with the APC's House of Representatives members-elect at a dinner with President Muhammadu Buhari at the Banquet Hall of Aso Villa.
"The Deputy Speaker position has been zoned to the North Central," the party said in a statement Tuesday evening by its spokesperson, Lanre Issa-Onilu.
The APC last month adopted Ahmed Lawan as its favoured candidate for Senate President.
Elections into key positions of the National Assembly will hold in June.
The APC has a clear majority in the next House with over 220 of the 360 members.
However, some members of the party have kicked against adopting candidates for positions rather than zoning the seats to particular sections of the country.
Some leaders of the APC from the North-central had also insisted that the speakership position be zoned to the area.
In the Senate, at least two other APC senators from the North-east have vowed to challenge Mr Lawan.
Premium Times
Marginalisation: Igbo Take Case to United Nations
Nigerians of Igbo extraction yesterday took the case of marginalisation and exclusion allegedly orchestrated against them by the President Muhammadu Buhari-led administration to the United Nations (UN).
The group urged world powers to mount pressure on President Buhari to re-write the wrongs meted against the Igbo ethnic nationality, alleging that there was a grand plot to deny the South East the nation's presidency in 2023.
A Coalition of Southeast Civil Society Activists and Human Rights Defenders, stated this at a media briefing in Enugu, adding that they were moved to alert the world body on Ndigbo situation since the Buhari administration commenced, insisting that the unfair treatment had continued to increase daily.
A letter of protest alleging marginalisation of Ndigbo was addressed to the Coordinator, Indigenous Peoples, and Minority Section, United Nations High Commissioner for Human Rights in Geneva.
It was titled, "Protest Against Provocative Exclusion and Orchestrated Reduction of Ndigbo to Second Class Citizens in Nigeria: A Call to World Powers to Mount Constructive Pressure on President Buhari to Re-write the Wrongs Meted Out Against the Igbo Ethnic Nationality," and dated September 9, 2019.
Also copied were embassies of the United States of America, Canada, France, Germany, British High Commission and Delegation of European Union to Nigeria and ECOWAS in Abuja.
National Convener of the group, Ibuchukwu Ezike, and Secretary-General of Igbo Civil Society Coalition, Dr. Jasper Uche, among others listed the alleged infractions in lopsided appointment of security chiefs; infrastructure deficit including roads, railway, and seaports.
They also listed unfavourable allocations from the Federal Government; closure of Akanu Ibiam International Airport without contract and concentration of interventions of development partners in the North.
Others are exclusion from the commanding heights of the nation's economy; delay in the passage of southeast Development Commission Bill; politicisation of terrorist designation and flying the kite of the 2023 presidency.
They asked the UN for active engagement and diplomatic pressures on President Buhari to address the principle of federal character in the distribution of public goods and appointive positions, especially security chiefs.
Ezike stated that addressing the lopsided appointments of security chiefs was paramount due to increasing insecurity in the South East region, stressing: "A decision may be taken one day to eliminate all Igbo without their knowledge due to lack of representation."
They sought sustained pressure on the President to send an executive bill to the National Assembly for the creation of one additional state in the South East, to be at par with other zones as well as mobilisation of resources to ensure speedy completion of the Enugu Airport rehabilitation and expansion before the Christmas season, among other demands.
The Power of Planning: Authentic Strategy for Delivery of Possibilities (Part 1)
By Tolulope A. Adegoke
'Planning is winning, just as breathing is living. Those who do not seat to study today should not expect to become Masters tomorrow. So, seat on your job; never depend on father's inheritance or you offer yourself over to poverty. Your Work is what determines your WORTH, not what people think about you.' – Bishop David O. Oyedepo
Planning is so vital to any man's life and as well to any business endeavours. It is planning that gives value to PURPOSE. Purpose is dead without a PLAN.
It is planning that empowers PURPOSE to deliver. Purpose is impotent without a PLAN!
A farmer that does not plan will be a failure, because in farming endeavours, you need to plan your planting season, the various operations before and after the planting season otherwise, you will just be doing everything b anyhow (that is without a guide), then end up in frustration. Apostle Paul in the Scripture said, 'I have watered, Apollo watered, but God brings the INCREASE!
There must be planting PLAN in place. If you want the best out of it, you must as well engage in the Watering Plan to be sure that in case the rain fail, you will be sure that there is a way to get water to your plants in case the rain fails, so you can get your harvest.
Every building begins with a plan; you need a plan for any building of any value. Any building that holds any value requires a plan. The construction of any great building requires a plan. Hebrews 3:4 reveals that 'For every house is built by some men, but he that built all things is God.'
Sometimes, we hear people say, we have built this business- this connotes that a business is also in form of a buildings, and it requires a plan (that is, a business plan). There must be a plan!
A Management theory was postulated by Bishop David Oyedepo, that: 'You do not grow big to manage well, but you manage well to grow big.' So businesses that will be big tomorrow will be seen today through the quality of the structural plan that is engaged. You get to know a better tomorrow right from today.
Most businesses today are victims of lack of plan or poor planning. There is no differentiating procedure between the Capital and the Income (Profit), because everything had been mobbed together, thinking that by the time their investment becomes bigger, they would be able to organize their business formats (proceeds).
"You do not need to have an account to be accountable! You only need strategic plannings to maximize your business endeavours. If you are not futuristic in your approach, you cannot earn a future!'- Bishop David Oyedepo
This isn't about mere planning, but making futuristic planning. It is good management culture that guarantees good results. Whatever farm that is not properly managed is bound to fail; the quality of seed notwithstanding. Good management is key to the good fruit yielding capacity of any farm. The quality of management is what determines the quality of results. Therefore, management skill is key to determining the level of results that any organization could ever command. Just as you are aware that life not well managed will be wasted; time not well managed will be wasted; energy not well managed will be wasted. So, everything that is to grow must be well managed. Praying without planning is playing without knowing; and planning without programing is like playing in the woods (that is, lost in the wilderness); And programing without pursuit is like dinning with the dead. That is why it is said repeatedly that EXPLOIT is EXPENSIVE! So, from Purpose you must move into PLANNING, and from Planning, you section your PLANS into TIME-SLOTS and then, to SET GOALS! And them, the Pursuit begins- It is a POWER CYCLE!
PURPOSE-PLANNING-PROGRAMME-PURSUIT-RESULTS
You must continue the above processes till you draw your last breath. Prayer alone (I think) will make you a burden to God; it is Prayer with Planning that makes you a co-labourer with God. Your daily 'give-me' prayers bores God, but when you engage in planning with your prayers, you become co-labourer with God.
Proverbs 24:3-5 (KJV) reveals that: 'Through wisdom a house is built, and by understanding, it is filled with all manner of precious and pleasant riches.'
Amplified Version reveals: 'Every enterprise is built by wise planning, and becomes strong through common sense and profits wonderfully, extra-ordinarily by keeping abreast of the facts.'
The future of every business (enterprise), therefore is at the mercy of very wise planning and a Common-sense Execution Programme of the plan, engaging all available facts. The above defines planning in our various business or daily endeavours.
Every enterprise is built by wise planning, it becomes better through the use of Common sense and profits wonderfully by keeping abreast of the facts. That is why it is needful to always consult resource materials in your facts hunting crave; and from there you are able to locate facts, relevant for your planning processes. It is the facts at your disposal that determines the quality of your planning process. When you give your house to an unprofessional, you should not expect the same result you would get from professional architect. Because of the facts available to at his disposal would know that needs to allow natural lightening to every space, he needs to mind ventilation at all cost, also, he will not be pushed by the clients to deliver unprofessionally, due to the fact that his reputation is at stake. So, it is your intellectual capacity, through consistent access to facts that determines the quality of your plan.
The Book of Proverbs 15:22 reveals that: 'You need INSIGHTS for your Purposes not to be disappointed!
Counsel is the process of knowing the way to go, having clarity and intelligent path towards accomplishing your set-goal. Only those who take time to seat well and strategize today would shine tomorrow. Proverbs 19:21 further reveals that: 'Where there is no planning, purpose is bound to be defeated. Failing to plan is simply planning to fail! The goal of any business will remain unattainable without strategic planning. Dreams are aborted without planning!
Planning is the secret behind the fulfilment of dreams, therefore, of a truth, strategic planning is winning; it is the Master-key to enviable accomplishments.
WHAT THEN IS PLANNING?
A lot of people dabble into businesses without having prior knowledge of any management principles. The anointing gets wasted because there is no way to collate the output of the anointing. It is like having a drum full of petrol and you have and you have a hole porched in it; it is a matter of time before you know it the petrol would have dripped off via the hole drained. Planning therefore, is the cheapest way to avert wastage!
Energy, Time, Unction can all be wasted when there is no proper plan in place. So, planning is a way of conserving energy. Planning reliefs you of tensions. It is planning that empowers PURPOSE for very gallant delivery.
Planning is the design of a step by step approach to accomplishing a set-goal.
It is the ordering of one's priority in a bid to accomplishing given task.
It is a process of action in a quest to fulfil a dream, that is, you seat down to design a set of activities that will help you to accomplish a given task. You have to sit down to do it.
No one succeed by accident. It's been said by somebody that Success is a matter of luck, as any failure. Why are some people said to be lucky? It is because they have a sharper plan. Shallow men think of luck, but great men think of cause and effect. Zig-Ziglar said: 'any dummy can succeed, if he cares to know what it takes.' Therefore, it takes sound planning to make a success of your business endeavours.
WHAT MAKES A GREAT PLAN?
If you want a great product, you must understand the best raw materials for it.
What is that makes a great plan?
To answer the above, we must understand the best raw materials for what makes great plan. We must understand that no one reigns without the use of the brain. It is the use of the brain that establishes the reign of a man.
Every gain is a result of the use of the brain. It is the use of the senses that makes a star. If planning is designing a logical and rational approach towards accomplishing a given task or a goal, then we can tell what the raw materials are. It is THINKING or REASONING!
Reasoning is the principal raw material for very sound planning. And to reason, is to engage in the task of logical, rational and analytical thinking.
Every great planner, must be a great thinker. It is great thinking that makes great planning, because the principal raw materials required for sound planning is REASONING (that is, Strategic Thinking).
Adegoke, CEO of Beyond Media Consults, is a writer, keynote speaker, and poet. He has a wealth of countless articles. He can be reached on 08065088631 or adegoketolulope1022@gmail.com
Food for Living: Separate Yourself from the Crowd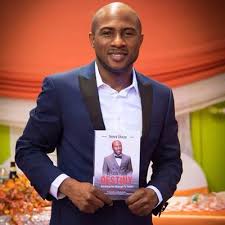 By Henry Ukazu
"Whenever you find yourself on the side of the majority, it is time to pause and reflect." — Mark Twain
Greetings Friends,
Of all the beauties of life, innovation sure stands out. As a concept, it has truly changed the way we live. Check out what a former American President, Barack Obama, said when Steve Jobs died: "Steve Jobs is one of the greatest American innovators – brave enough to think differently, bold enough to believe he could change the world, and talented enough to do it."
President Obama also stated that Steve Jobs changed the world we see.  It is on this premise we shall be discussing how we can separate ourselves from the crowd. In a nutshell, you can't expect to go far in life by just fitting in. 
As human beings, we are all unique; we are all made in different shapes, sizes, compositions, and genes. However, the most interesting part of our being is our lifestyle. In a different context however, life is about how we package ourselves. If you're in business, you ought to know how to make your product not only attractive but unique. If you're a marketer or sales agent, you must know how to use personal relation skill and emotional intelligence to sell your products.
Separating yourself from the crowd can be understood in different ways, but for the purpose of this article, we shall be looking at it from the vantage point of making not only ourselves unique but also our products. If you truly want to make a name for yourself, you have to separate yourself from the bandwagon. We live in a world where there are so many competitions and envy. This feeling is not only limited to individuals, but it is also applicable to business, leadership, field of academics, entrepreneurship, and family in general.
According to an African proverb, if you want to go fast, go alone, but if you want to far in life, go with a team. This is an indisputable fact which underscores the power of teamwork. However, there's a twist here, according to some schools of thought, the one who follows the crowd will usually go no further than the crowd.  This is true because sometimes, following the bandwagon might lead you to the wrong place/direction in life. Imagine driving a car on a highway, you'll always have the tendency to follow the popular route as opposed to the less-traveled route, but if you truly know where you are headed, you won't be bothered about the popular route of other commuters. That's simply how life works in the real sense. You simply have to carve a niche for yourself in order for people to take you serious.
Let's take the conversation a little further; if you take a look at the species of birds you'll notice that they all have feathers, but none can go farther than the eagle which is regarded as the king of birds because it can fly higher than other birds. The interesting thing about the eagle is that it takes its game higher when the needs call for it and it's not easily swayed by little things. This ability makes the eagle to focus more on important issues.
A distinguishing quality of every business or organization is the kind of value and services they offer. As the saying goes, there's literally nothing new under the sun. This is because you cannot really reinvent the wheel. Every business, organization, school, and the government has some level of similarity in what they are doing, the only difference is how they do it. For example, if you are in business, a critical skill to have is emotional intelligence. A lot of people lack empathy and this has led to the fall of many businesses, associations, and organizations. Whether you are in business, a teacher, pilot, or even a hotelier, an important question to ask your customers or guests is, what do you need; how can I help you? Always look out for them, in that way they'll know you are not only interested in their money but you are also interested in giving them value.
If you are in business, your ability to give your customers more than they require like using the double-platinum rule will go a long way to make your customers loyal and more trustworthy towards you. You can do this by giving value to your customers. Questions like, how are you feeling? How was your day? Take it easy, can go a long way to attract loyal customers. Every business has a secret; your ability to read the writings on the wall in addition to having the right strategy will go a long to make your product unique.  Potential employees also need this knowledge in order to be gainfully employed. In order to stand out, some students burn the midnight oil/candle, limit social outings, and the varieties of life which nature has offered them.
Furthermore, you have to separate yourself from the ordinary by working on improving yourself on a daily basis through learning new skills, trade, acquiring new certificate, and training, working on your talents and networking with the right people amongst others.
The question now is, how do you separate yourself from the crowd?
1.      Define Your Value
Think about the value and experience you are offering people. What do they see, hear and smell when they walk into your office or business area? Think about your target audience; Think about the vision and mission you will like to be remembered when your time is up on earth. By so doing, you'll be creatively making a name for yourself. You must define and differentiate yourself if you want to make a real impact, and also if you want people to take you serious.
2.      Define or Create Your Personal Ambition
Without a definitive personal ambition, self-branding will lack direction. Having a definitive personal ambition will ensure you do not build a controversial brand i.e. a brand contrary to your actions. To avoid this, you need to define your mission and roles in life. Consider your dreams in life and how you intend to achieve them. Then, formulate a goal that will encapsulate what you want from life. Secondly, have an action plan (mission) that will help you achieve your goal in life.
3. Consistency
You have to be consistent and proactive for people to take you serious. It's worthy of note that inconsistency is not consistent with the lifestyle of greatness. You can be consistent by setting a pace you can maintain. Once people know that you're sharing something unique and valuable consistently, they will show up in droves. However, that only matters if you keep it genuine.
4. Develop a Personal Balance Sheet or Score Board
Your scoreboard needs to put a few things into consideration: your goals, strategies, monitoring methods and feedback. It is meant to measure your day-to-day activities against your brand promise. In that way, you'll be keeping track of your performance.
It is not really easy to stand out in business or in life generally due to the many push back you may face, that's literally how difficult it is to be yourself. And as Ralf Waldo Emerson stated, "Do not go where the path may lead, instead go where there's is no path and leave a thread".
Conclusively, note that being unique can be challenging, but at the end, it will stand the test of time.
Henry Ukazu writes from New York. He works with the New York City Department of Correction as the Legal Coordinator. He's the author of the acclaimed book Design Your Destiny – Actualizing Your Birthright To Success.