Controversy, Denials As Man Accuses Pastor of Snatching, Marrying His Wife
A man, Bright Ben, has accused his pastor and General Overseer of the World Bank Assembly in Eneka, in the Obio-Akpor Local Government Area of Rivers State, Moses Adeeyo, of snatching his wife, Tina.
Bright claimed that trouble started after his wife of 12 years was made an assistant choir mistress in the church and she moved out of the house with their two children.
The aggrieved husband said he had been searching for her and called the pastor to seek advice on the matter.
He stated that he knew his wife's whereabouts on Sunday when he saw pictures of her remarriage.
Bright, in a Facebook post with photos of the alleged marriage of his wife to the cleric, wrote, "As shameful as it sounds, it is a true-life story. My pastor married my wife. I've been married to Mrs Tina Bright for over 12 years with two children. I introduced her to my General Overseer of the World Bank Assembly in Eneka, Obio-Akpor Local Government Area in Rivers State. We started attending the church and became full financial members.
"My wife was given an immediate appointment (assistant choir mistress) seven months ago. She moved out of the house with our children before I got back from work. I searched everywhere and called everyone, even the general overseer. Unknown to me, the G.O. was the architect of my problems.
"After some time, he stopped picking my calls and blocked my number. I've been looking for her until I saw these pictures yesterday online. He claimed that the Holy Spirit told him that she is his wife. Is the Holy Spirit an author of confusion? My wife of 12 years is now his."
You're a liar, you assaulted, sent me packing – wife
In her reaction, Tina, who also took to social media, said she left her husband over alleged assault and maltreatment.
She said, "Bright wants to make me a bad woman on social media. When we were together, he made me incur a lot of debts that I am still paying. He accuses me of infidelity and even disallowed me from pursuing my music career. He once told me that there is no marriage between us and that I am just here to take care of his children. He promised to make my life miserable, including putting acid in my cream. Now, he's coming on social media to destroy another man's name. It is my time to shine.
"He is lying that he doesn't know my whereabouts. I left his house after he locked me inside the house and kept the keys in his pocket. It was then I packed my things and told him it was over. He even told me to leave and that I was only useful for the children. My children got the spare keys, gave them to me and told me to escape at night. On the morning of November 28, 2020, I came to the house with a taxi, packed my load and took my children away. I put my children at my mother's place and went to Lagos to start my life afresh.
"I was never residing with the pastor. He lived on the church premises and I lived in Lagos. Ben kept calling me while I was in Lagos before I blocked his number. He threatened me not to ever marry another person."
Tina's mother, Christiana Everest, said Bright did not pay her daughter's bride price.
"When Bright came to my house to ask for my daughter's hand in marriage, I saw him as a son and asked if he was a Christian. I took him to the village according to the tradition. He gave everyone their rights both men and women except the bride's parents. When they told him to come and see us he said he'll see us later," she stated.
Bright, in a video clip, denied assaulting his wife.
He also refuted accusations by her mother that he did not pay her bride price, saying he did during their traditional wedding.
He insisted that he had not been divorced from his wife and wondered why if she wanted to re-marry, it would be to the cleric, whom he always shared his marital problems with.
The pastor's son, Peter Adeeyo, told PUNCH Metro that his father had yet to divorce his mother.
He said he was as shocked as everyone when pictures of the wedding surfaced on the Internet.
"He said he doesn't want my mother again. The case over the settlement of my mother has been in court for over one year. My mum was in Abuja when she saw the wedding pictures. Someone called my attention to the pictures when we closed from church on Sunday. My father didn't inform any family members of the wedding. My dad is telling the world that he has divorced her and that is a lie," he added.
The pastor did not pick his calls, as his phone rang out and text messages sent to his phone number were not responded to as of the time of filing this report.
The Punch
Police Arrest Killers of Na'Allah's Son, Greenfield University, Bethel Baptist Students' Abductors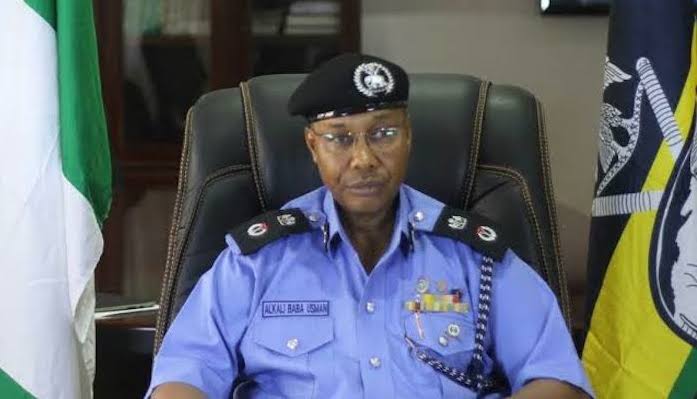 The Kaduna State Police Command on Thursday said it arrested kidnappers of students of Greenfield University and students of the Bethel Baptist High School, all in the state.
Also in the police net are kidnappers of the 37 students of the Federal College of Forestry Mechanisation, Afaka, in Igabi LGA of Kaduna State.
Both the Greenfield University and the Baptist Bethel High School are located in Chikun LGA of the state.
While parading suspects on Thursday at the Command's Headquarters along Bida Road in the state capital, the Command's spokesman, Mohammed Jalige, also announced the arrest of the suspected killers of 36-year-old Captain Abdulkareem Na'Allah, a pilot and son of Senator Bala Na'Allah.
Jalige said one Usman Mohammed from Bukuyum in Zamfara State was apprehended by operatives of the command in connection with the kidnap of the students of Greenfield University, Federal College of Forestry Mechanisation, Afaka, as well as Bethel Baptist High School, all in the state.
He said, "On the 29th August, 2021 at about 0900hrs, based on credible information, Operation Yaki Surveillance team with FIB STS Force Headquarter, Abuja, jointly raided a house along Ring Road, Asikolaye area of Kaduna, where one Usman Abubakar, 'm' 41 years old, a native of Adakpa village, Bukkuyum LGA of Zamfara State, a notorious kidnapper terrorising Chikun, Igabi and Giwa LGAs of Kaduna State, was arrested.
"He confessed to have kidnapped many people and collected several ransoms; he also has links with recent attacks on Greenfield University, Bethel Baptist Academy and School of Forestry Mechanisation, Mando, Kaduna."
Speaking on the killers of Na'Allah's son, the police spokesman noted that two of the three members of the gang that killed the pilot were in the custody of the command while one was at large.
He named one Bashir Mohammed, a neighbour of the slain pilot as principal suspect, while identifying another suspect as Nasir Salisu, also known as Uban Dana, adding that the third suspect, one Usman Kano, was at large.
Jalige explained that the three suspects conspired, broke into the house of Captain Abdulkarim and killed him before taking away his SUV vehicle and other valuables.
He added that the suspects sold the late pilot's SUV vehicle in Republic of Niger at the cost of N1m.
The Punch
Benin Woman Who Had Three Children with Her Son, Deported
There are indications that the Benin Republic woman, who allegedly had three children for her son and has been sexually involved with another, has been deported.
Fati Sime was deported along with her first son, Adamu, with whom she allegedly had three children.
However, the second son, who reportedly caught his brother in a sex act with their mother in their farm in the Kiama area of Kwara State and out of jealousy provoked a fight that blew opened the scandal, has been on the run.
Operatives of the Nigeria Security and Civil Defence Corps (NSCDC), Kwara State Command, had arrested Fati and her son on the allegation of incest.
The arrest followed a complaint lodged by the district head of Mose community in Kaima Local Government Area.
Spokesman for Kwara State Command of the NSCDC, Babawale Afolabi, confirmed that the incestuous relationship between Fati and her son, Adamu had resulted in the birth of three children.
That is besides the 11 children she had for her husband, Adamu's father.
Afolabi, while confirming the deportation of the incestuous duo, said: "Fati and her first son, Adamu, were deported on the directive of the Commandant after the investigation, and handed over to the Benin Republic operatives at the border.
"But during investigation, Adamu confessed that he has been having carnal knowledge of his mother for seven years."
Meanwhile, he second son, had in a fit of jealousy provoked a fight when he discovered his mother and brother engaged in a sex romp in their farm.
Police Officers Reject Cultists' N.5m Bribe – Ajisebutu
The Police Public Relations Officer, Lagos State Command, CSP Adekunle Ajisebutu, has narrated how men of the Command rejected a N500,000 bribe allegedly offered by suspected cultists.
This was contained in a statement on Thursday titled, 'Armed Robbery Suspect, Cultist Nabbed; Arms, Ammunition Recovered'.
The PPRO said an anti-crime patrol team of the Area 'J' Command, Elemoro arrested an armed robbery suspect and a suspected cultist with a locally-made double barrel gun and three cartridges.
"The armed robbery suspect, Alabi Timothy 'm' aged 23, resident of 9, Baale street, Majek, Ajah, was arrested at about 0030hrs of 4/9/2021 at General Paint, Garden area, Lekki during a routine stop and search by the police.
"A locally-made double barrel gun and two live cartridges including an expended cartridge concealed in a bag were recovered from the suspect.
"Similarly, a self-confessed cultist, Badmus Toheed (male), 22, who belongs to the Aye Confraternity was arrested with a live cartridge in the General Paint ghetto area, Ajah at about 0045hrs of 4th September, 2021. The suspect confessed that he was initiated into the Aye Confraternity sometime in June, 2021."
Continuing, Ajisebutu said, "Two suspects have been arrested for offering bribe to the police to secure the release of the two suspects and pervert the course of justice.
"While Adariku Sunday 'm', 34, resident of 66, Henry Smith Close, Abidjan GRA, Ajah offered the sum of N400,000 bribe in cash to secure the release of the robbery suspect, Folorunso Akeem, (m), 43, offered the sum of N100, 000 cash to secure the release of the suspected cultist.
"Determined to ensure justice through thorough investigation, the uncompromising police officers in charge of the case rejected the bribe.
"While commending the professionalism and uncompromising act of the police officers, the Commissioner of Police (Hakeem Odumosu) admonishes other police officers to emulate the incorruptible ones."
Ajisebutu said Odumosu directed that the case should be transferred to the Command's Tactical Team for further investigation and prosecution.