Curses Await Critics of Men of God, Pastor Chris Warns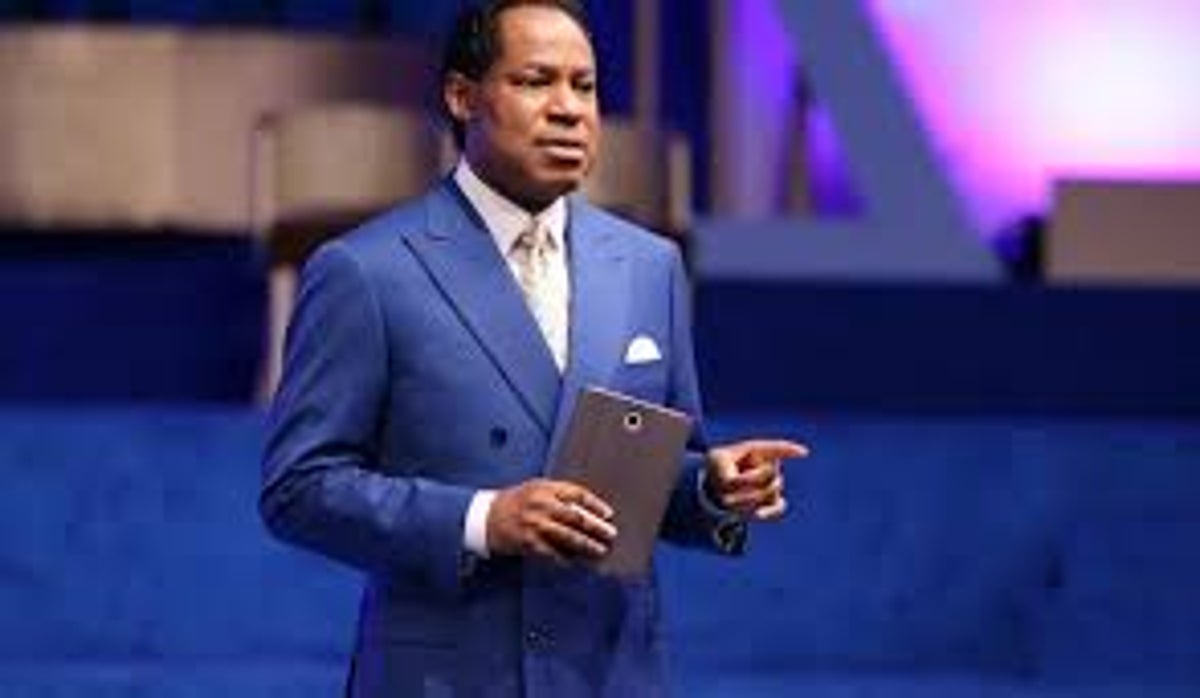 Founder and President of LoveWorld Incorporated, popularly known as Christ Embassy, Pastor Chris Oyakhilome, has warned people who criticise clerics such as pastors and other ministers of God to desist from doing so.
The pastor said this in his New Year message to his congregation on Thursday.
He said people fond of criticising ministers of God are cursed.
Oyakhilome also advised people to desist from "waging war" against the church of God, describing it as a revered institution which cannot be defeated.
"I usually tell those in my ministry, don't criticise God's people, especially the ministers of God. Leave them alone for the Bible says 'whatever they do, they do them unto the Lord'.
"You're not the one to accuse another man's servant. Don't join anybody to criticise other ministers. I tell my family members the same thing. Leave them alone because there are curses against those who do so.
"If you do, you find out sickness won't leave your home; there would always be one terrible thing about your family. So, don't join those who do that, they are ignorant.
"Don't let any man push you against the church of Christ, it doesn't matter what your political position is. Refuse to accept anyone telling you to destroy the church.
"Whatever you want to do, do it, but don't touch the church of God. I warn you, leave the churches of God alone. The church of God cannot be defeated," he said.
Naijaloaded
Bisi Olatilo Recovers from COVID-19, Discharged
Famous veteran broadcaster, Prince Bisi Olatilo has now been declared COVID-19 negative and has been given an all clear by his doctors.
Fondly called Uncle B by admirers, the polyglot and Chairman, BISCON Communications in a message sent to  The Boss revealed "Thank God The Doctors say I am fully recovered infact discharged already heading home any moment from now"
This is cheering news for Prince Olatilo who only a few weeks back had to dispell wicked rumours that he had died as a result of the virus.
In a video message at the time, he confirmed that he had contracted the virus and was undergoing treatment. He stated that he was not in any danger and was recovering steadily.
Truck Crashes: Oyeyemi Deploys Safety Engineers to Akungba
Owing to the renewed vigour and rejigged operational strategies the Federal Road Safety Corps embedded into tactical eradication of road traffic crashes in the country, the Corps Marshal , Dr Boboye Oyeyemi has deployed Safety Engineers to Akungba to ascertain the causes and recommend solutions to incessant trailer crashes that have bedevilled that particular route of the highway. This is in addition to an Ambulance rescue point earlier established close to the notorious spot for prompt rescue operations.
According to Bisi Kazeem, the Corps Public Education Officer, the deployment of the personnel came as part of strategic proactive step by the Corps Marshal to mitigate incidences of crashes on the highways, following the fatal multiple crash that killed several passengers with others sustaining various degrees of injuries on Saturday, 23 January, 2021 along Ikare-Owo road by Adekunle Ajasin University, Akungba
The Corps Marshal who spoke on the readiness of the Corps to bring road traffic crashes to an end in Nigeria lamented the fatalities recorded in recent times on our roads, promising that the Corps will double its efforts to eradicate crashes, particularly those by articulated vehicles.
While recounting the number of people affected by the multiple crash, he said that the crash which was caused by break failure that resulted in loss of control, involved a Dangote truck, a Suzuki mini bus (XB973KAA) and a Lexus saloon car (KWL 522 AY) conveying a total of 18 passengers comprising of 11 female adults and 7 male adults.
Out of the afforementioned number of persons on board the 3 vehicles, a total of 09 persons comprising of 5 female adults and 3 male adults were killed while a total of 09 persons comprising of 5 female adults and 4 male adults, sustained various injuries.
The FRSC rescue team deposited the remains of 06 of the passengers who got killed at Ikare Specialist Hospital Morgue and took 06 injured for urgent medical attention at the emergency ward of the same hospital. While the rescue team of the Nigeria Police Force deposited 3 dead and 4 injured at Iwaro General Hospital. The entire rescue operations was carried out by a combine efforts of the FRSC, NPF, Big Army, and the DSS.
Oyeyemi expressed satisfaction with the growing synergy and friendly collaboration of security agencies in Nigeria, as he praised the Nigeria Police Force, the Nigeria Army and the Department of State Services who played a vital role in assisting in the evacuation of the victims and ensuring adequate deployment of men to control traffic around the crash scene.
"With the deployment of these professional and certified safety engineers, I am optimistic that the general factors responsible for road crashes on that route will surely be ascertained, and when that is done, necessary actions will be taking by appropriate agencies" he concluded.
Army Announces Opening of NDA Admission Portal For 73rd Regular Course
The Nigerian Defence Academy (NDA) has announced the opening of its portal for admission into its 73rd regular course for prospective applicants to apply from Jan. 23 to April 24, according to the Registrar of the Academy, Brig.-Gen Ayoola Aboaba.
Aboaba, who made the disclosure in a statement issued on Sunday night, in Kaduna, said admissions were open for both eligible male and female Nigerians.
"Interested candidates should log on to the application portal, rcapplications.nda.edu.ng, select "Purchase Form" and pay for their application via REMITA in the sum of N3,500.00 only.
"Please note that only payment against RRR Codes generated via the application portal would be accepted", the statement counseled applicants.
Aboaba also said: "all Instructions/guidelines for the 73rd Regular Course application is on the application portal (rcapplications.nda.edu.ng) and interested candidates are advised to download and read the instructions/guidelines carefully."
He stated that applicants applying for admission into NDA, must also apply to Joint Admission Matriculation Board (JAMB) and must select NDA as their first choice institution.
Similarly, Aboaba said such applicants would be expected to sit for the JAMB Unified Tertiary Matriculation Examinations (UMTE) and obtain a minimum score for the course of choice, adding that entry requirements for various undergraduate degree programmes are also detailed on the NDA website/applications portal.