David Ibiyeomie: Celebrating God's Vision for Global Impact @57
By Eric Elezuo
Have you ever seen a man diligent in his work? Do you know he will sit at table with kings and not mean men. He will do wonders and positively affect men and the world in general. One man at the height of such achievement is Pastor David Ibiyeomie, who by every standard, as the Bible would say, is the son of Bishop David Oyedepo, himself the son of Pastor Enoch Adeboye. Of a truth, Pastor David Ibiyeomie has an enviable gyneology and pedigree.
Born on October 21, 1962 in Bonny Island, Rivers State, to the family of late Chief and Mrs. Apollos Iganibo of Bolo Town in Ogu/Bolo Local Government Area of Rivers State, Nigeria, David Ibiyeomie has grown by limps and bounds to become today, one of the reference points of world's gospel generals, impacting lives and bringing hope and succour to God's children.
From the earliest humble beginnings, Pastor Ibiyeomie has steadily seen the need to attain great heights, and so he also fashioned his way academically. He attended Banham Primary School Port-Harcourt, Rivers State, Nigeria between 1969 and 1974 before he went to Government Comprehensive Secondary School, Borikiri, Rivers State, Nigeria, where he was from 1974 to 1979. Thereafter, he was admitted into the Rivers State University of Science and Technology, Port Harcourt for a degree Course in Microbiology in 1980.
Pastor Ibiyeomie saw the light of salvation in 1995 when he became born again. Shortly after he gave his life to Christ, a divine mandate was handed over to him, and being so obedient to the kingdom, he put every mechanism in motion to actuaslise the mandate. And with a super daddy in the person of Bishop David Oyedepo, whose divine guidance and training was made manifest, today he is a thoroughbred Pastor and teacher of the Gospel.
Under the tutelage of Bishop Oyedepo, Pastor Ibiyeomie continued his education, this time, on a higher spiritual level. He attended full time Bible School at the Word of Faith Bible Institute, operated by Oyedepo's Living Faith Church, the same year he became born again. That was where he was greatly influenced by the Ministry's standards and impact.
After his Bible School training at WOFBI, Ibiyeomie started a house fellowship with his family in Victoria Island, Lagos home. However, he moved to Port Harcourt, Rivers State, later and established Salvation Ministries (Glorious Chapel) precisely on April 13, 1997. It was a congregation of just 34 members including himself and wife. The mandate was clear: TO ESTABLISH THE KINGDOM OF GOD HERE ON EARTH through infallible proofs.
In a space of three months, the grace of God in Pastor Ibiyeomie was already manifesting, and the 'church' moved to a larger plot of land on Plot 17 Birabi Street, GRA Phase 1, Port Harcourt where about 100,000 attendees worship every Sunday alone. This is excluding it's satelite branches spread across the length and breath of the universe. Of all Ibiyeomie's expansion move, it was reported that In February 2011, the church started 14 satellite branches in one day, all running five services each. That was a new record in the history of church growth. The ministry will soon implement a seven services programme every Sunday. According to Ibiyeomie, the plan has been perfected according to God's dictates and will kick off soonest.
In just 22 years of existence, Pastor Ibiyeomie and the ministry have practically become a phenomenon and reference point to the world. Today, David Ibiyeomie pastors millions of worshippers spread all over the globe through his television ministry, online ministration and with over 180 satellite churches within and outside the country and over 300 pastors assisting him.
A selfless leader, Ibiyeomie is a father to the millions of worshippers that throng the Salvation Ministry ground every Sunday, Thursday and other special events days. He is not just a father by sound, he is indeed a father; meeting the needs of members whenever they arise. It is on record that he kind of live on equal basis with his pastors as practically all of them drive the same kind of jeep he drives, and equally own houses. He provided residential quarters, equipped with state of the art facilities for the staff and pastors' comfort such as GLORIOUS COURT, SUCCESS COURT, KINGS COURT and TEACHERS QUARTERS. He is a giver par excellence.
It is worthy of note that Ibiyeomie has remained systematic in bringing to past God's instruction towards expanding His kingdom. To this end, he changed his indoor healing miracle programme tagged "HEALING MIRACLE AND DELIVERANCE SERVICE which started in August 2001 to PORT HARCOURT MIRACLE CRUSADE in November 2003. The programme was remodeled to NIGHT OF Glory in 2010 and in January 2012, the NIGHT OF GLORY programme metamorphosed into the 5NIGHTS OF GLORY. It has today become a household programme all-round the globe. In addition, he holds crusades in different major cities of the world where souls are continually won and miracles abound. The most recent is the Aba Miracle Crusade.
With an unquenchable love for education, Ibiyeomie runs one of the best Christian schools in the region; Chockhmah International Academy; the primary and secondary educational arm of Salvation Ministries. He is also putting finishing touches to the opening of the PACE-SETTERS UNIVERSITY.
The ministry also runs The WORD OF LIFE BIBLE INSTITUTE to cater for the spiritual needs of not only members, but all and sundry. The school is reputed to have produced thousands of scholars across denominations since inception.
Papa, as he is fondly called by members who adore him, has not hidden the fact that he is a very rich pastor. He has also not hidden the source of his enduring wealth, and uses every opportunity to teach members how to be wealthy. To him, you only have to give to be super rich – give God unsparingly and unconditionally, and also give to humanity.
His passion to see humanity flourish has seen him awarding scholarships to 634 students in primary, secondary and tertiary institutions in one year. He has also renovated and donated modern hospital equipment worth over two hundred thousand US Dollars to the pediatric section of the University of Port Harcourt Teaching Hospital (UPTH) Nigeria; creating a wonderful ambiance to expedite the recovery of the patients .
He also rebuilt the fence of the Central State Primary School, Igwuruta and reconstructed several roads in the city of Port Harcourt to make the environment more habitable. He has in the same vein, built a state-of-the-art home for the elderly in Port Harcourt. Ibiyeomie's humanitarian services can only be imagined. He has practically superceded the concept of giving.
His unquenchable desire to see that humanity is well catered for on a more larger scale metamorphosed in the establishment of the David Ibiyeomie Foundation (DIF) through which he has rendered untold assistance to thousands. In a space of less than one year, that is between 2018 and 2019, the giver extra-ordinaire has spent over N1.5 billion on scholarships alone. Here is a man who has redefined the concept of giving and brotherly love.
Apart from a preacher and teacher of the Word, Ibiyeomie is a writer of repute, and credited with over 85 inspirational books cutting across all strata of living. Some of them are Dealing with Habits, Enjoying the Favour of God, Secrets for Generational Impact, Total Dominion, The Power of Praise, The Real You, How to Hear from God, The Power of Small Beginning, How Faith Works, Touch of Excellence, How to Fulfill Your Destiny, The Power of Obedience, Prosperity of the Righteous, Business Secrets, The Wonders of Wisdom, The Power of Resurrection, Wisdom for Creativity, Attitude for Supernatural Supplies, The Totality of Man, Keys to Impactful Living, See You at the Top, The Pathway to Greatness, The Power of Commitment, Wisdom to See Ahead, The Price for Power, The Prosperous Family, Walking in the Anointing, Be the Best, Success Pillars and Demonstrating Love for Your Nation.
He is the quintessential evidence to God's vision towards global impact.
He is happily married to Peace Ibiyeomie, and they are blessed with a son, David Ibiyeomie jr.
Today, the man with a stupendous vision to turn the world around for Christ is 57 years, and we can't just keep quiet but clink glasses and give God Glory for all He has done. We are so privilege to have an Ibiyeomie in this age and time.
Congratulations sir, and happy glorious birthday!
Nigeria Outlines Nine Focal Areas to Guide Foreign Policy in Next Four Years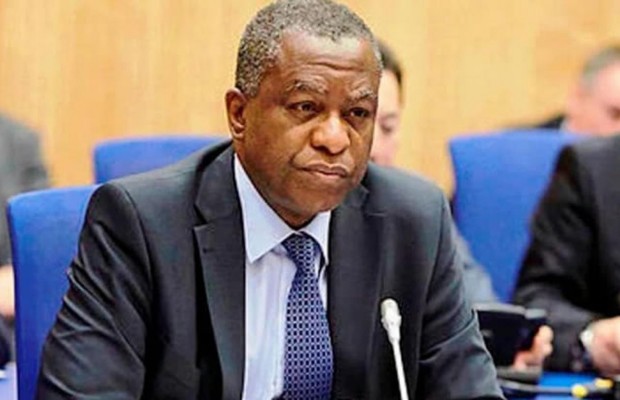 Nigeria has identified nine priority areas that would guide its foreign policy actions in the next four years.
The Minister of Foreign Affairs, Geoffrey Onyeama, made this known in Abuja while briefing members of the diplomatic corps on the priorities of the Nigerian government.
The priority areas include building a striving sustainable economy; enlarging agricultural output, food security and export; as well as attaining energy sustenance and power.
Others include expanding transport and other infrastructural products; expanding business growth entrepreneurship and industrialisation; expanding access to quality education, affordable healthcare and productivity of Nigeria; enhancing social inclusion, reducing poverty; fighting corruption; as well as improving governance and security for all.
News Agency of Nigeria (NAN) reports that in the first term of the present administration, the government's priority was in three key areas, namely: fighting corruption, tackling insecurity, and job creation.
He said Nigeria's foreign policy would henceforth be realistic in terms of reflecting the domestic reality of putting "Nigeria First".
"We promote within the African Union (AU) good governance, democracy, and protection of human rights.
"We are not in any kind of conflict with any country in the whole world and we have excellent relations with every member state of AU and UN.
"We believe firmly that peaceful coexistence and security are pre-conditions for economic development and prosperity.
"We believe that the UN and multilateralism are forces for good.
"We strongly support the UN, although we call for its reform especially to increase the number of its permanent members in its security council to include at least three African countries with veto powers," he added.
The minister said more funds should be made available for UN peace-keeping operations.
Mr Onyeama, who said that the UN was doing a great job across many countries of the world, urged countries to continue to abide by UN resolutions, not choosing which ones to respect and which not to respect.
He condemned the use of force for the settlement of disputes and expressed strong support for institutions such as the International Court of Justice and the International Criminal Court for International conflict resolution.
He said international trade and economic diplomacy were the main focus of "our foreign policy."
"We have to expand our trade; we have to innovate; we have to industrialise in order to lift our people out of poverty.
"We are striving to increase bilateral trade with all your countries very often within the framework of a bilateral commission."
The minister disclosed that the ministry was building an online business machine portal to promote and facilitate cross-border trade.
According to him, global climate action has posed a lot of threat to lives.
He said the Lake Chad which had been a major source of livelihood for more than 30 million people, had shrunk by 90 per cent due to climate change.
He noted that irregular migration has been condemned and possible measures have been put in place to address it.
On border closure, the minister said the issue would be resolved very soon and that it would be a win-win situation for stakeholders.
He thanked the diplomats for their support and assured them of the Nigeria's continued support.
(NAN)
Buhari Embarks on First 2020 Foreign Trip, Departs for UK Today
President Muhammadu Buhari will depart Abuja on Friday for London to participate in the inaugural UK-Africa Investment Summit holding on January 20.
The President's Special Adviser on Media and Publicity, Femi Adesina, in a statement in Abuja on Thursday, said the event would be hosted by the British Prime Minister, Boris Johnson.
The organisers said the event is expected to bring together African leaders, international business chief executives and heads of international organisations "to create new partnerships that will deliver more investments and jobs" to the benefit of people and businesses in African countries and the United Kingdom.
"Apart from highlighting new perspectives on UK-Africa Partnership for Prosperity, issues of Sustainable Finance and Infrastructure; Trade and Investment; Future African Growth Sectors and Clean Energy and Climate, are expected to dominate presentations and discussions during the Summit.
"With the expected take-off of the African Continental Free Trade Area (AfCFTA) in mid-2020, the London investment summit will provide Nigeria with the opportunity to project itself as a leading investment destination for new industries.
"In addition, the summit will deepen Nigeria-United Kingdom investment ties post-Brexit given that Africa currently represents just two per cent of British trade activity, with Nigeria accounting for only 10 per cent of that total," Mr Adesina stated.
He further disclosed that the Nigerian delegation to the investment meeting will showcase what the federal government had done through policies and legislation to improve the investment and business climate in the country.
While in the United Kingdom, the presidential aide said, Mr Buhari will meet with the Head of the Commonwealth, Prince Charles in Glasgow, Scotland.
"The president and his delegation will also have bilateral meetings with Prime Minister Johnson as well as heads of multilateral organisations," he added.
He said the president would be accompanied to the Summit by Governors Yahaya Bello, Muhammad Inuwa Yahaya and Okezie Ikpeazu of Kogi, Gombe and Abia States, respectively.
Also on the presidential entourage are the Minister of Foreign Affairs, Geoffrey Onyeama; Minister of Industry, Trade and Investment, Niyi Adebayo, and the Minister of Finance, Budget and National Planning, Zainab Ahmed.
Others include the National Security Adviser (NSA), Babagana Monguno, and the Director General of the National Intelligence Agency (NIA), Ahmed Rufai Abubakar.
Mr Buhari is expected back in Abuja on Thursday.
(NAN)
Power Grid Collapses Twice in Two Hours, Worsens Nationwide Blackout
The nation's power grid collapsed twice in two hours on Thursday, worsening the blackout being experienced by consumers in parts of the country.
The grid, which is being managed by government-owned Transmission Company of Nigeria, has continued to suffer system collapse over the years amid a lack of spinning reserve that is meant to forestall such occurrences.
The TCN announced that a system disturbance occurred at about 12.34pm on Thursday, affecting some parts of the country.
"As at 1:10pm, supply was restored to Abuja and most parts of the affected areas. The TCN is still working to completely restore and stabilise the nation's grid," it said.
Ikeja Electric and Eko Electricity Distribution Company, two of the nation's distribution companies, had earlier on Twitter informed their customers about the cause of the outage in Lagos.
"Dear customer, the outage you're experiencing is due to a system collapse of the grid which occurred this afternoon at 12.36hrs. All parts of IE's network are affected. Efforts are ongoing to restore the grid. Kindly bear with us," Ikeja Electric said.
The Disco, in another tweet two hours later, said another system collapse was recorded at 2.15pm, adding that restoration efforts were ongoing.
Total power generation in the country stood at 4,236.3 megawatts as of 6am on Wednesday, according to latest data from the Nigerian Electricity System Operator.