FG Bars Emirates Airlines from Operating in Nigeria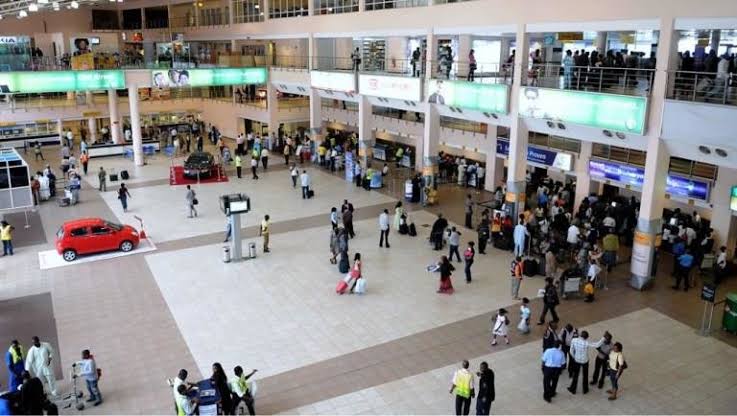 The Federal Government has barred Emirates Airlines from operating in Nigeria.
According to the Minister of Aviation, Hadi Sirika, the ban will take effect from Monday, September 21, 2020.
The tweet read: "The PTF sub-committee met today with EU Ambassadors to discuss Lufthansa, Air France/KLM ban. The meeting progressed well.  Emirates Airlines' situation was reviewed and they are consequently included in the list of those not approved, with effect from Monday, September 21, 2020."
The Federal Government had last month vowed to enforce the principle of reciprocity in granting permission to airlines to resume operations.
Before the resumption of international flights in the country, the Federal Government had announced that Air France, KLM, Etihad, RwandAir, Air Namibia, Royal Air Maroc, Lufthansa, TAAG Angola Airlines were not granted approval to commence flight operations.
Cabo Verde and South African airlines were also denied approval as international flights had yet to resume in their countries.
Middle East Airline, British Airways, Delta, Qatar, Ethiopian Airlines, Emirates Airlines, Air Peace, Virgin Atlantic, Asky Airlines, Africa World Airways, Air Cote D' Ivoire, Kenya Airways, EgyptAir, Turkish Airlines were all granted approval to resume operations in Nigeria.
EgyptAir, Virgin Atlantic, Turkish Airlines, Africa World Airways, Kenya Airways, and Middle East Airlines were announced as the airlines permitted to use Murtala Muhammed International Airport in Lagos, while British Airways, Emirates, Ethiopian Airlines, Africa World Airways, and Middle East Airlines were granted approval to use Nnamdi Azikiwe International Airport, Abuja.
Sirika said the country would go ahead and implement the principle of reciprocity to all countries that had banned flights from Nigeria.
The Punch
Meghan Alleges Royal Racism, Says She Contemplated Suicide
Prince Harry's wife Meghan Markle on Sunday said she contemplated taking her own life after joining the royal family, and raised allegations of racism in the monarchy during an explosive television interview.
Explaining the couple's dramatic exit from royal life, Meghan said she was denied help during her mental health crisis, was targeted by lies, and that there was official concern about the skin color of her unborn son.
Meghan, whose father is white and mother is Black, spoke out in an interview with Oprah Winfrey that immediately became one of the most extraordinary chapters in recent royal history and was set to rock the British institution.
"I… just didn't want to be alive anymore. And that was a very clear and real and frightening constant thought," she told Winfrey, describing the impact of a torrent of vitriol from hostile tabloids and social media.
Asked if she had had suicidal thoughts while pregnant, Meghan replied "Yes. This was very, very clear."
Recalling how she felt at the time, she said that "I'm scared, because this is very real."
Meghan, 39, also told of royal "concerns" about "how dark" her son's skin would be, saying Harry revealed to her official conversations over Archie's appearance, as well as the security he would be entitled to, ahead of his birth on May 6, 2019.
– 'How dark his skin might be' –
"In those months when I was pregnant… we have in tandem the conversation of 'he won't be given security, he's not going to be given a title' and also concerns and conversations about how dark his skin might be when he's born," Meghan said.
"That was relayed to me from Harry, those were conversations the family had with him," she said.
After the couple's surprise decision to move to North America, the former television actress has been portrayed in some British newspapers as headstrong, calculating and spoiled, and the couple reckless and selfish for quitting royal life.
The two-hour interview with the queen of US television was the biggest royal tell-all since Harry's mother princess Diana detailed her crumbling marriage to his father Prince Charles in 1995.
Harry, 36, revealed the deep divisions within his family, saying he felt "really let down" by how his father had handled the situation.
But he also said Charles — the heir to the throne — and Harry's older brother William were "trapped" by the conventions of the monarchy.
"They don't get to leave. And I have huge compassion for that," he said.
Winfrey reportedly sold the interview to US broadcaster CBS for $7-9 million, and retained international rights to the footage, which will feed an appetite of interest about Britain's centuries-old monarchy — and their troubles — across the globe.
Royal fans were offered a treat when the couple revealed the gender of their second child. "It's a girl!" Harry and Meghan chimed in tandem.
But it was a rare light-hearted moment in the drawn-out interview — and viewers who tuned in to see if the pair had scores to settle with Buckingham Palace were likely left shocked at how far they went.
– Knives out –
Taking aim squarely at senior royals, Markle flatly denied reports — feasted on by the gossip press — that she made Prince William's wife Kate cry before her wedding to Harry, saying the reality was the opposite.
"Everyone in the institution knew it wasn't true," Meghan told Winfrey.
"The reverse happened," Meghan added, saying that Kate "was upset about something, but she owned it, and she apologized."
"A few days before the wedding, she was upset about something pertaining — yes, the issue was correct — about flower girl dresses, and it made me cry, and it really hurt my feelings."
Meghan called the claims "the beginning of a real character assassination" and "a turning point" in her relations with the royal family.
"I came to understand that not only was I not being protected but that they were willing to lie to protect other members of the family," she said.
Ahead of Sunday's broadcast, it emerged Meghan was facing an investigation into claims that she bullied royal household staff — a revelation seen as a counter-offensive in a bitter battle for public support.
Last month, when Buckingham Palace confirmed the couple would not return to their senior roles, it said they would not "continue with the responsibilities and duties that come with a life of public service."
Harry said the pair, who have secured lucrative deals with Netflix and other streaming services, had to find a way to make money as "my family literally cut me off financially."
"I'm sad that what's happened has happened, but… we did everything that we could to make it work," he said as the interview wrapped up.
Afterwards, tennis star Serena Williams hailed her "selfless" friend Meghan and said on Instagram that "her words illustrate the pain and cruelty she's experienced."
The Sunday Times reported Queen Elizabeth II, 94, would not be watching the program and quoted unnamed courtiers as calling the situation a "circus."
AFP
Bandits Attack Military Base in Katsina, Soldiers Feared
An unspecified number of soldiers are feared killed in an attack on a military outpost in Marina, Safana Local Government Area of Katsina State.
It is not clear the casualties suffered on either side, but some soldiers were feared killed.
The soldiers were said to be returning from an operation in a nearby forest when they were ambushed.
A resident of the area, who spoke under condition of anonymity, told DailyTrust, "Unknown to the soldiers, the bandits had laid an ambush in their outpost. The bandits opened fire immediately the soldiers returned to the posts.
"It is unfortunate because the soldiers were just returning from another operation, where they made tremendous success, combing the forests for the bandits, only to be waylaid in their base," he said.
Another resident, however, said two of the bandits were killed during the gun duel.
Attempts to confirm the incident from the military or the police authorities proved abortive.
Saharareporters
Matawalle Accuses Jangebe School Watchman of Complicity in Schoolgirls' Abduction
Zamfara State Governor, Bello Matawalle, has fingered the watchman of Government Girls Secondary School, Jangebe, where about 300 students were abducted last week, of being complicit in the incident.
He also said repentant bandits held talks with their unrepentant counterparts and were able to secure the release of the schoolgirls.
Matawalle spoke on Wednesday while featuring on Channels Television's 'Politics Today' programme monitored by The PUNCH.
The governor had said Nigerians will be shocked if they know the identities of those behind the mass abduction.
When asked to reveal the identities of masterminds of the abduction, Matawalle said, "The security agents in the state are aware that when we were trying to rescue these children without paying ransom, other people were behind talking to them that money will be given to them that they shouldn't release them to the state government.
"This is a complete sabotage for my government and we have a lot of intelligence on this and I am going to inform the relevant authorities.
"The children have mentioned the watchman of the school, that after releasing them, the bandits were telling them that they should greet the watchman for them, they even mentioned his name that he was the one who gave them the go-ahead to come, he was involved.
"They (the schoolgirls) have said this before the commissioner of police in Zamfara State.
"I assure Nigerians that investigation will be carried out and all the people involved will be known."
The Punch