Finally, Tuface, Blackface Settle Age Long Feud
There are reports that the lingering feud between Blackface and former bandmate 2Face Idibia has come to an end after they both agreed to settle out of court.
According to blogger, Linda Ikeji, 2Face signed an undisclosed settlement agreement at the Ikeja High Court on Wednesday, November 27, 2019, and reportedly dropped his N50m defamation lawsuit against Blackface.
It also reports that Blackface agreed not to publicly call out 2Face while the 'African Queen' crooner agreed to work out an agreement that will enable Blackface to earn royalties.
BlackFace had earlier taken to his Instagram page on the same day where he shared photos of his lawyers and himself at the court premises.
It is no news that 2Face Idibia and BlackFace have been in a long tug war over the rights of 2Face Idibia's hit single 'African Queen.' During an exclusive interview with Pulse a few months ago, Blackface gave the only condition before he would end his rift with his former bandmate.
Celebrities Demand Justice for Raped, Murdered UNIBEN Student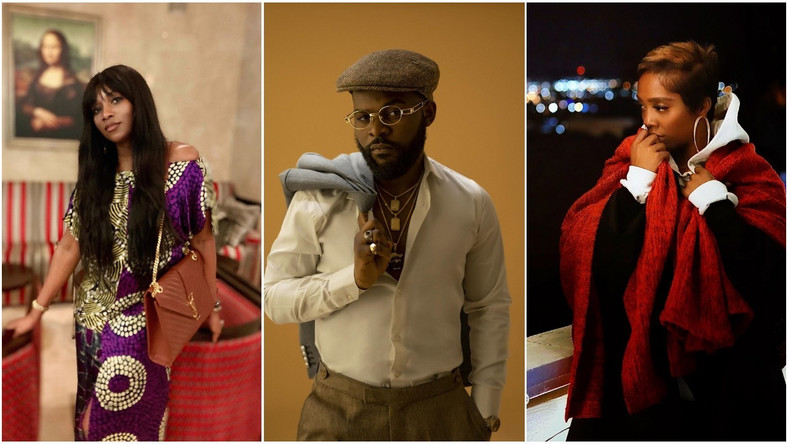 Tragedy struck in Benin city on Saturday, May 30, 2020, following the murder of Uwa Omozuwa, a 22-year-old student of the University of Benin.
The young lady was raped and died from injuries sustained at the premises of one of the branches of the RCCG, Edo Province 10, Ikpoba Hill where she had gone to read.
Since the news broke, the entire country has expressed its disgust and anger over the murder of the young lady. A number of Nigerian celebrities have come out to lend their voices over the issues.
Here are the reactions of some of the celebrities over the rape and murder of the student in Benin city.
1. Genevieve Nnaji
The movie took to her Twitter page on Sunday May, 31, 2020, where called out men for abusing their power. According to her, women have lived in constant fear of men for a very long time.
2. Tiwa Savage
Tiwa Savage. [Instagram/TiwaSavage]
For Tiwa Savage, the incessant killings of young men by police officers, raping of young ladies and the high rate of unemployment is frustrating.
3. Djine
While expressing his shock over the death of Uwa, singer and songwriter, Djinee gave an example of a friend who was gang raped years ago and was infected with HIV.
4. Nse Ikpe Etim
The movie actress in her tweet said, Uwa had dreams of becoming a nurse and those aspirations have been dashed following her murder by a rapist.
5. Falz
For the lawyer turned music star, it is disheartening for stories like that of Uwa's murder to continue to linger on. According him, this time around, justice must be served.
Pulseng
Jamal and Imade: Matchmaking or Accidental Friends
By Eric Elezuo
The last has not been heard of the friendship between Jamal Balogun and Imade Adeleke, the children of top Nigeria music sensations, Tiwa Savage and Davido respectively.
The duo has been practically seen everywhere together and grapevine exponents allege that they are the best of friends.
Recently, the Eminado crooner, Tiwa Savage, shared a picture of her son Jamal with Davido's daughter Imade as they celebrate children day together.
The togetherness of the celebrity kids, touted as best of friends, have not escaped the prying eyes of trolls, who have wondered if what is playing out is not outright matchmaking as they believe the two may end up getting married.
Going down memory lane, it was revealed that the friendship of the two kids was first made public after Tiwa savage shared a video of the kids fruit snack challenge. No one however, has been able to trace the very origin of the togetherness.
Tiwa Savage has not failed to constantly posts pictures of the two kids as it is believed that they spend almost all their spare times together. This has caused questions in the minds of onlookers wondering if there is a silent matchmaking agenda involved.
Sharing the picture of the two children in celebration of the 2020 Children's Day, Tiwa savage revealed that Jamal was dressed in green Magritte's costume while Imade was dressed as Frida Kahlo. She wrote:
"Happy children's day from Jam Jam and Imade. Jamil aka Rene Magritte 1964. Imade aka Frida Kahlo 1941"
The children, who are products of estranged relationships, are the only children of their mothers. While Imade's was never married to Davido, Tiwa Savage and Jamal's father's wedding was the talk of the town, when it held in Dubai a few years ago. The celebrated wedding soon was involved in an equally celebrated breakup and eventual divorce.
The public continues to watch to see how the friendship of the two children will end; marriage or let's just kiss and say goodbye.
Daddy Showkey Advises FG to Legalise Cannabis, Says 'I've Never Smoked Hemp'
Talented singer, Daddy Showkey, has asked the Federal Government to seriously consider legalising the use of Cannabis for medicinal purposes.
In an almost 3 minutes video shared via his Instagram page on Wednesday, May 27, 2020, the music star wondered why the government has never given medicinal Cannabis a thought.
"Where our brains go? Now many countries dey survive on Cannabis wen una dey call Igbo. The thing wen una nor understand be say, Igbo nor be only to smoke am, Igbo get many medicinal purposes," he said.
"Although some people go misuse am but make we think about the medicinal side. There are a lot of things it can help us with. I have never smoked Indian hemp in my life but I can tell you it can help the youths to get jobs, it can be refined into a cream."
"Go and do your research on Cannabis, it has one of the best oil in the world…America don legalise, Holland don legalise am, UK don legalise am.
Daddy Showkey joins the growing list of celebrities who have advocated for the legalisation of cannabis farming in Nigeria.
Recall that in 2019, music mogul, Don Jazzy advised the government to make the business environment conducive for those who would want to go into cannabis farming.
He went on to express his shock at the redundancy and vagueness of the existing drug and narcotics acts in the country.