FirstBank Partners LSETF to Fund Low-Cost Private Schools in Lagos at Attractive Interest Rate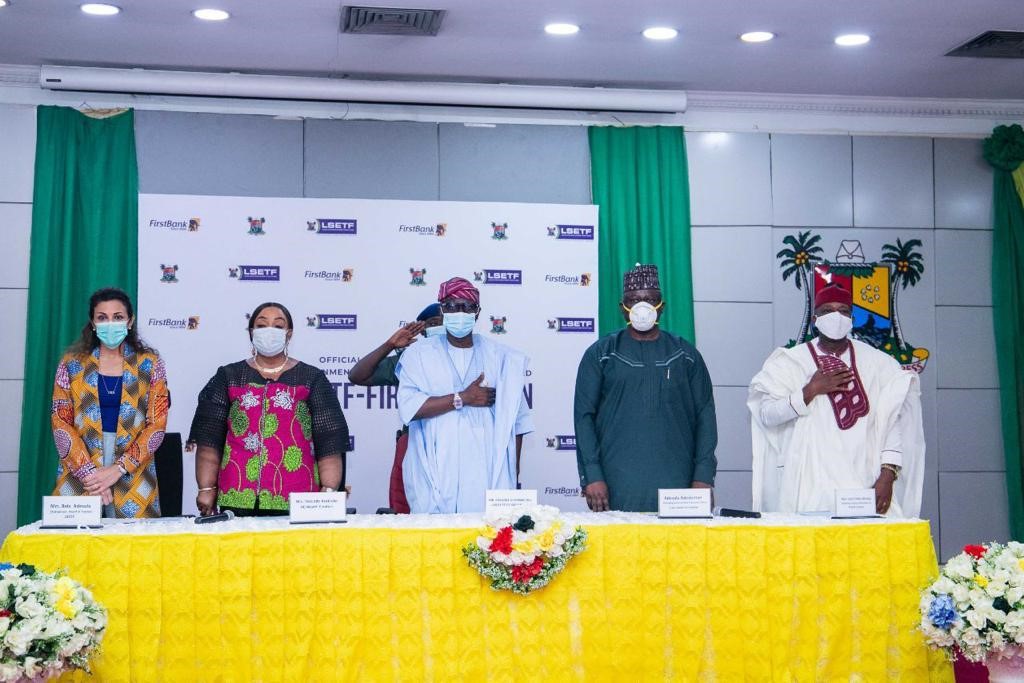 First Bank of Nigeria Limited, Nigeria's premier and leading financial inclusion services provider, has announced its partnership with Lagos State Employment Trust Fund (LSETF) in a matching fund scheme. The scheme aims to cushion the impact of COVID-19 pandemic on low-cost private schools by ensuring lending at an attractive interest rate.
The programme will provide access to finance where participating schools can each be availed up to N5 million as well as capacity development, business and financial advisory. There will be monitoring and evaluation to ensure prompt loan repayment.
To enjoy this funding opportunity, applications will be submitted via the LSETF portal for screening while successful applicants will be passed on to FirstBank for the loan appraisal and disbursement process. The loan is meant for working capital and asset finance to enable schools resuscitate their practice, acquire needed materials, upgrade their facilities, as well as pay staff salaries in order to bounce back, especially after the lockdown.
This scheme promotes entrepreneurship in Lagos State which is in tandem with the vision of LSETF to create employment and entrepreneurship opportunities for Lagos residents. It has provisions for Micro Enterprises (ME) and Small and Medium Enterprises (SMEs) across all the 57 LCDAs in the 20 LGAs in Lagos State.
Sanwo-Olu, the Executive Governor of Lagos State said the N5 billion Education Loan Programme was a precursor to many more human development sector-specific support programmes that would be unveiled by the LSETF on behalf of the State Government next month.
The Governor explained that the intervention was necessary, given the importance of education to building human capital. He said his administration took education as critical building 21st century economy and realising objectives set out in the T.H.E.M.E.S. agenda.
The beneficiaries, Sanwo-Olu said, will have access to single-digit loan facilities to fund the provision of the amenities and services needed to aid learning.
He said: "It is thus heart-warming to have First Bank of Nigeria electing to be our exemplary partner for this intervention. With their support, players in the education sector would be getting the financial support they need to boost learning at a single-digit interest rate.
"I also commend the Board of LSETF and the management for this significant accomplishment. They have helped the Lagos State Government build an institution that has engendered public trust and elevated the hope of small businesses and young people, irrespective of challenges faced."
According to Dr. Adesola Adeduntan, Chief Executive Officer, First Bank of Nigeria Limited, "at FirstBank we recognise the indelible role played by the education sector in the growth of any economy and this underscores our partnership with Lagos State Government for continuous development of the education services in Lagos State and the nation as a whole. The commitment by the Lagos State Government – including this partnership – to enable schools is quite commendable as this will mitigate the challenges caused by the lockdown on the education sector following the COVID-19 pandemic."
"With the single-digit funding targeted at about 2,000 low-cost private schools in the State, we are delighted at this opportunity to demonstrate our commitment to the development of education in Lagos State, thereby contributing our quota to further the mandate of the Lagos State Government – in partnership with LSETF – on economic growth, enhanced opportunities for employment and bridging societal gaps in education," he concluded.
Commenting on the Eduloan programme, Mrs Bola Adesola, Chairperson, Board of Trustees, Lagos State Employment Trust Fund (LSETF) stated that "According to the NESG the Education Sector remains a growth area for job creation and a report on job creation by the NBS states that the Education Sector is one of the top 5 sectors that created over 59m jobs in 2017. This fact is buttressed by the data collected by LSETF in previous loan programmes. The objective of the LSETF-FirstEdu loan is to create employment, improve the quality of education for our youth by providing access to affordable finance to low-cost private schools and vocational training centres.
"We are confident that this intervention fund, which is complemented by our free professional and institutional support structures, will ensure that the education ecosystem in Lagos State will witness an improvement in the overall learning outcomes for our children, while positively impacting on the Lagos local economy through wealth and job creation.," she stated.
Only recently, FirstBank partnered with the Lagos State government, Robert & John, IBM and Curious Learning with a resolve to enable the education of 1 million Nigerian students through innovative eLearning solutions that will drive sustainable efforts towards improving education for all. As part of the partnership, the Bank donated 20,000 units of e-learning devices to the Lagos State government.
These partnerships reinforce FirstBank's "You First" brand promise of putting not just its customers first but also the economy of its host communities.
Legendary Football Star, Diego Amando Maradona Dies at 60
Diego Maradona, one of football's greatest-ever players, has died. He was 60 years.
The 1986 World Cup winner had surgery to remove a blood clot on the brain earlier this month. The Argentine Football Association confirmed he had died this afternoon.
"The Argentine Football Association, through its president Claudio Tapia, expresses its deepest sorrow for the death of our legend, Diego Armando Maradona. You will always be in our hearts," they said.
Another of football's greats, Pele, has led the tributes to: "Certainly, one day we'll kick a ball together in the sky above." Follow latest updates and reaction here.
Dr Leopoldo Luque, Maradona's personal physician, said the former player had shown signs of improvement after a successful operation three weeks ago.
Dr Luque said Maradona "laughed" and "grabbed my hand" just a day after he had the procedure.
"Diego is without any type of neurological deficit, without any type of complication associated with surgery," Luque said, addressing reporters at the clinic's door.
"He has an excellent post-operative period, the laboratory parameters even improved.
"The first impression is it is favourable, but it is difficult to evaluate."
Gbajabiamila Asked to Cough Out N500m As Compensation for Family of Slain Vendor
The family of Ifeanyi Okereke, the vendor killed by a security aide of Femi Gbajabiamila, speaker of the house of representatives, is demanding N500 million from the number four citizen.
Last week, Okereke was shot by Abdullahi Hassan, a Department of State Services (DSS) operative attached to the speaker.
According to PUNCH, the demand was contained in a letter addressed to the speaker by Mike Ozekhome, counsel to the family.
In the letter dated November 23, the Okereke family said the demand is not enough to replace their son.
"Our clients have instructed us to make from your good self, the following modest demands: That you use your good offices to ensure the immediate prosecution of your security aide (Abdullahi Hassan), who went on a frolic of his own, clearly acted outside the purview of his duty and responsibility by shooting to death an innocent, harmless and armless citizen," Ozekhome said.
"That you adequately compensate the Okereke family with a modest sum of N500m only.
"This monetary demand can never adequately replace or take the place of their son, husband, brother, and breadwinner's life. But it will at least mitigate the obvious trauma and hardship the premature demise of their irreplaceable breadwinner has placed on them."
The lawyer said if the speaker fails to accede to their demand in seven days, they would take legal steps.
"Take note therefore that it is our clients' firm instruction that in the event that you fail, refuse and/or neglect to accede to or proffer reasonable compensatory terms to our above modest demands within seven days from the date of this letter, we shall without any further correspondences from us, take appropriate legal steps to enforce our clients' constitutional rights," he said.
Gbajabiamila said he has handed over the aide to the DSS for discipline.
He has also visited the family of the deceased to condole with them.
TheCable
Lekki Shootings: CNN is Desperate, Presented Doctored Video – Lai Mohammed
The Minister of Information and Culture, Lai Mohammed, has accused CNN of desperation over its second report on the Lekki toll plaza shootings that happened on October 20.
The Minister said this on NTA on Wednesday.
CNN had on Tuesday released a second 'investigative report' on the shootings at Lekki toll plaza during the #EndSARS protests amid threats of sanction from the Federal Government.
But the minister faulted CNN's reports, saying it lacked credible sources.
When asked about the second CNN's report, Mohammed said, "It shows that they (CNN) are desperate. The so-called recent development has been seen before. There is nothing new. If there is anything new, it is a contradiction of CNN's position.
"What we are asking CNN is that where is your evidence? The military has been consistent. CNN contravenes the basic principles of journalism – fairness, and balance.
'They did the story without contacting the Federal Government for its own side. They relied on second and third parties narratives.
"They (CNN) were caught spreading fake news and they are trying to escape.
"We are accusing them (CNN) of basing their stories on videos sourced on social media. CNN has been inconsistent. It also doctored the video it got.
"We are confident in our position."
On the letter addressed to Jonathan Hawkins, VP (Communications), CNN Centre, Atlanta, Georgia, USA, the minister said, "We have received an acknowledgment and we were told that the letter has been passed to the editorial team."
CNN, in its second report titled, 'Analysis of CCTV footage from Lekki toll gate raises new questions about shooting', stated that it had obtained the video and subsequently analysed its content.
CNN also compared the CCTV footage with some of the videos on social media which the National Broadcasting Commission had sanctioned three local television stations for using and concluded that the authorities had more questions to answer.
The fresh report also shows the Commander, 81 Division, Brig.Gen Ahmed Taiwo, admitting before the judicial panel that his men indeed took live ammunition to the tollgate.
The CNN report also highlights the fact that Brig.Gen Taiwo's claim is at variance with that of the minister who had claimed last week that the army fired blank bullets.
The Punch