FirstBank Promotes Financial Inclusion Among Children with KIDSFIRST and MEFIRST Accounts
First Bank of Nigeria Limited, Nigeria's premier and leading financial inclusion services provider has announced its variant account products – KidsFirst and MeFirst – created to encourage the right savings culture among children from 0 – 17 years. The offerings have relevant enhancements including appropriate parental guidance and financial discipline for children as they grow into adulthood. Both accounts can be opened with zero balance and operated with a minimum balance of N100.00.
KidsFirst Account is designed for children between the ages of 0 and 12 years to sensitise them on how exciting saving can be. The account comes with a trendy gift item for the child when the account is opened with a minimum of N10,000.00. The account is automatically transited to MeFirst account when the child is 13 years old.
MeFirst account, on the other hand, is designed for teenagers between the ages of 13 and 17.  This account is created in recognition of the need to help teenagers embrace the culture of financial responsibility and cashless payment  as they develop into young adults. They have access to attractive and trendy pre-paid cards through which parents/guardians can credit weekly/monthly allowance and monetary gifts. MeFirst account holders can select from 5 exciting card design options that suites their trendy style.
The Mefirst cards are enabled to pay for micro online shopping as desired – mobile games, apple music, Spotify and local POS transactions as well. Teens are thereby exposed to the cashless culture and electronic payment activities early in life, which is expedient in today's digital age. Parents and guardians of the child are granted access to track and control the spend pattern.
Speaking on the accounts, Gbenga Shobo, FirstBank's Deputy Managing Director said, "we are delighted with the role we play in promoting financial literacy amongst children and teenagers in the country. Our KidsFirst and MeFirst accounts are designed to ensure that parents and guardians are able to have their wards exposed to the right savings culture and financial discipline as they evolve to adulthood."
"With these accounts, parents are able to save and strengthen their preparedness for various financial obligations of their children like paying for school fees as they progress with their academic pursuit which is pivotal to securing the future of the children. MeFirst and KidsFirst accounts are essential gifts from parents to their children".
London Stock Exchange Welcomes Ecobank Nigeria's Senior Bond Issuance
Ecobank Nigeria on Thursday opened the market at London Stock Exchange via a virtual ceremony to mark the listing of its five-year fixed rate senior unsecured US$300 million bond.
Ecobank Nigeria, a subsidiary  of Ecobank Transnational Incorporated, the parent company of the  Ecobank Group, provides the full suite of banking products, services and solutions through multiple channels to retail, commercial, corporate and public sector customers.
The bond carries a coupon rate of 7.125%, significantly below its Initial Price Thoughts of 7.75%. The successful launch was three times oversubscribed and is the lowest  coupon/yield by a Nigerian financial institution for a benchmark bond transaction since 2013. It has an Issuer Rating of B- from Fitch Rating Agency and S & P. Citi, Mashreq, Renaissance Capital and Standard Chartered Bank acted as Joint Lead Managers and Bookrunners.
The proceeds will  provide medium term funding and help to enhance the capacity of the Bank to support international trade and service across Africa.
Patrick Akinwuntan, Managing Director, Ecobank Nigeria: "The strong demand for our bond shows the international appetite for the Ecobank franchise in Nigeria, its unique positioning for facilitating pan-Africa trade and  the attractive opportunity for the many investors seeking to back world-class Nigerian corporates."
Nigeria Unexpectedly Exits Recession
Nigeria's economy unexpectedly came out of a recession in the fourth quarter as growth in agriculture and telecommunications offset a sharp drop in oil production.
Gross domestic product grew 0.11% in the three months through December from a year earlier, compared with a decline of 3.6% in the third quarter, the Abuja-based National Bureau of Statistics said on its website on Thursday. The median estimate of five economists in a Bloomberg survey was for a quarterly decline of 1.86%. The economy contracted 1.92% for the full year, the most since at least 1991, according to International Monetary Fund data.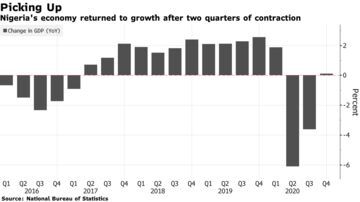 The surprise rebound means Africa's largest economy may recover faster than expected as the oil price and output increase this year. It could also point to the growing importance of the non-crude sector.
Oil production fell to 1.56 million barrels a day in the fourth quarter from 1.67 million barrels in the previous three months. While crude contributes less than 10% to the country's GDP, it accounts for nearly all foreign-exchange earnings and half of government revenue in the continent's biggest producer of the commodity.
The non-oil economy expanded by 1.7% from a year earlier, the strongest rate in four quarters, with agriculture growing 3.4% and telecommunications increasing 17.6%.
A stronger recovery could ease pressure on the central bank to stoke activity, paving the way for a renewed focus on its price stability mandate. That means the monetary policy committee could start raising interest rates again to fight inflation that's been above the target band of 6% to 9% for more than five years. The panel eased by 200 basis points in 2020.
The government's forecast for growth of 3% this year is double that of the IMF. The lender has warned a slow roll-out of Covid-19 vaccines could threaten the economy's recovery.
"The fact that we have seen a recovery in non-oil GDP growth is positive," said Razia Khan, chief economist for Africa and the Middle East at Standard Chartered Bank. "However, the headwinds associated with the second wave of Covid-19 may still be considerable."
Source: Bloomberg
Marketers Raise Petrol Price to N170, Blames Supply Shortage
Fuel marketers have started adjusting their petrol pump prices amid the supply shortage facing private depots in Apapa.
The Punch observed that some filling stations in Lagos and Ogun states increased the pump price of petrol to N170 per litre on Tuesday from N162 per litre.
Some of the stations were Capital Oil and Gas, Fatgbems and Amo Oil, all along the Lagos-Ibadan Expressway. Another station, Enyo Retail, adjusted its pump price to N165 per litre from N162.
The National Operation Controller, Independent Petroleum Marketers Association of Nigeria, Mr Mike Osatuyi, told our correspondent that members of his association had to increase the pump price because they bought the product at N160-N161 from depot owners.
IPMAN members had disrupted loading of petroleum products at private depots in Apapa last Wednesday as well as Ibadan, Ejigbo and Mosimi depots belonging to the Nigerian National Petroleum Corporation.
They picketed the facilities to protest their inability to get products due to a new payment method introduced by the Petroleum Products Marketing Company, a subsidiary of the NNPC.
"My members buying from DAPPMAN members are buying at N160-N161, and they will have to add their transportation costs to it. So, at what price do you want them to sell? Even that N170 is still very cheap," Osatuyi said on Tuesday.
He said the PPMC had told marketers to register under the new payment method, called 'PPMC Customer Express', before they could buy products from it.
"Right now, PPMC has said that the era of ATP (Authority to Pay) has gone. It means that payment has to be made online. So, my members are now in the process of doing that, and without doing it, we cannot lift products," he added.
The NNPC, which has been the sole importer of petrol into the country in recent years, is still being relied upon by depots and marketers for the supply of the product despite the deregulation of the downstream petroleum sector.
The Punch also gathered that many private depots in Apapa, Lagos, from where many marketers get petroleum products for distribution to other states, were running dry of petrol due to supply shortage.
When contacted, the Group General Manager, Group Public Affairs Division of the Corporation, Dr Kennie Obateru, denied the shortage of petrol supply from the NNPC.
He said, "We have 1.7 billion litres of product as at today, which will give us about 40 days' sufficiency. Even some more vessels are on the programme.
"And we have not increased our ex-depot price; even though we know some of them (marketers) are sort of slowing down because they are expecting that we will react to the crude oil price increase. But for now, we haven't done that."
One of the major private depots told marketers to stop payment for the petrol because of the supply shortage and the uncertainty over when it would get the product.
A top official of a Lagos-based oil marketing company told our correspondent on condition of anonymity that there had been erratic supply of petrol to private depots in Apapa since last week.
The Punch