Folake Ani-Mumuney: First Class Strategist, Achiever Extra-ordinaire
By Eric Elezuo
One of the basic achievements of the Beijing Women Conference of 1995 was creating untold courage among women who are determined and committed to making a paradigm shift towards affecting humanity for the positive reasons. One of such women is the strong woman at Nigeria's foremost bank, First Bank, in the person of Mrs. Folake Ani-Mumuney, who is the General Manager as well as sits atop Marketing and Corporate Communication department of the bank.
Ani-Mumuney, simply known as Folake or FAM by friends and well-wishers, is a humble combination of beauty, brains and workaholism. She is a stress-free achiever, who also chairs the Board of Directors of the insurance arm of the group.
Born to the family of late erudite former Medical Director of the National Orthopedic Hospital, Dr. Francis Owosina, who served between 1977 and 1989, Folake could very well be said to be a chip off the old block, striding in the very transparent footsteps of her forebears. Her father is reputed to have developed the modernised general and specialised Orthopaedic and Emergency Services department of the hospital in addition to introducing hip replacement and spinal surgery when he held sway in the hospital. He was also the brain behind the recognition of the National Orthopaedic Hospital, Igbobi as a World Health Organisation collaborating centre in 1979 as well as establishing the Post Basic Nursing School and the Residency programme in Orthopaedics.
Versatile and very prolific, Folake holds a degree in Philosophy and Law and also a diploma in Business Computing System Analysis and Design in addition to several management certificates and affiliation to many professional bodies.
She began her prolific and illustrious career with the British Airways, where she was responsible for Brands Policies and Communications across Europe and African region comprising 59 countries. She was practically running 59 countries, more than the size of the African continent at a time. It could only be as a result of her doggedness and desire to be the best one can be. She equally managed portfolios as Business Analyst, Strategy & Business Planning Manager, New Business Development Manager and Head marketing & Communications Manager Africa. And she was quite young then – a typical example of not too young to run product.
Her dexterity attracted the presence of the richest man in Africa, Alhaji Aliko Dangote, who promptly co-opted her into the group. Bringing her experiences to bear, she initiated the speedy turnaround of Dangote Industries as its Chief Marketing and Communication Officer. Her days at Dangote are remembered with fondness for the giant strides she took.
It was from Dangote that Ani-Mumuney moved to First Bank where she presently serves as Head of Marketing & Corporate Communications and General Manager. She is known to be the brain behind the meteoritic rise in the fortunes of the bank as she continuously dishes out one form of market oriented policy after another.
It is not for granted therefore, that her prolific nature was rewarded in 2017 when she emerged as the 10th President of the Advertisers Association of Nigeria in a keenly contested election. She therefore made history as the first female president of the association. Folake is known for creating firsts.
Between September 2017 when she took over the mantle of leadership of the association and today, Folake has walked her talk, creating a level playing ground for stakeholders as well as room for profit maximization in members' respective businesses. Her intelligence and willingness to positively affect lives have remained her propelling philosophy to greater heights.
In the testimonies of those who had been privileged to work with her or just come across her, Folake is a quintessential enigma, down to earth and full of respect – a virtue she confessed to receiving from her disciplinarian parents – her late father and her still bubbling over 80 years mother.
With the likes of Wasiu Abiola of Nigerian Breweries, Nkiru Olumide Ojo of Stanbic IBTC, Nnena Osi Anugwa and Onome Asgbara of Dufil Prima on the driving wheels with her, Ani-Mumuney has been able to steer the progress of ADVAN forward, initiating new vistas and building on the achievement of the past executives.
The communication and marketing expert, who has conquered the fields of aviation, manufacturing and banking, was recently appointed to chair the insurance brokers' arm of the group, FBN Insurance Brokers, while maintaining her position. Her appointment was contained in a notification to the Nigeria Stock Exchange (NSE), shareholders and the general public. Her elevation is a function of ability and trust.
A philanthropist of immeasurable standard, Folake has engaged in veritable corporate social responsibility, including individual based assistance to persons and communities. She is known to have put smiles on the faces of everyone that has come across her in one way or another, and has a retinue of gratitude in the bargain.
Folake is happily married with lovely children who are gradually carving a niche for themselves in their various little ways.
Ma, for being who you are (intelligent, productive and humane) and striving to make life bearable for as many people, you are our Boss of the Week. Congratulations!
Nnamdi Kanu Still Our Leader, Not Replaced – IPOB
The Indigenous People of Biafra has said that it has not replaced the currently detained Nnamdi Kanu as its leader.
The Biafra group asked its followers to ignore the reports making the rounds that IPOB has replaced Kanu, describing it as "fabricated media propaganda".
These were made known in a statement by the group's Media and Publicity Secretary, Emma Powerful, on Tuesday.
According to Powerful, Mazi Chika Edoziem is the head of the IPOB Directorate of State and not IPOB Acting Leader.
The statement read in part, "We, the global movement and family of IPOB under the command and leadership of Mazi Nnamdi Kanu, condemn the useless and fabricated media propaganda and blackmail from some media houses that IPOB has another or acting leader replacing our indefatigable liberator and prophet Mazi Nnamdi Kanu.
"Those peddling this kind of lies are those criminals who zoo gutter media are publishing this to confuse the weak-minded people.
"We want everybody to bear in mind that Mazi Chika Edoziem is the head of IPOB Directorate of State and not IPOB Acting Leader.
"There was never a time that Emma Powerful, the Publicity Secretary of IPOB issued any statement purporting that our Leader had been replaced by Mazi Chika Edoziem as IPOB Acting Leader.
"The said statement was the handiwork of mischievous elements bent on causing confusion in IPOB.
"It is unfortunate that some mischievous elements twisted an unambiguous statement by IPOB where we clarified that in the meantime that our Leader is in detention, the Head of DOS, Mazi Edoziem, will be providing direction on the day-to-day activities of IPOB. We never said that Edoziem had become the Acting Leader of IPOB.
"For the avoidance of doubts, Mazi Nnamdi Kanu remains the leader of IPOB. The entire IPOB family all over the world is loyal to him. IPOB has no Acting Leader. Chika Edoziem is only the Head of DOS of IPOB not the Leader.
"We, therefore, urge our family members, supporters, friends, and members of the public to ignore the misleading and mischievous media report."
Terrorists Responsible for Owo Church Massacre in Our Custody – General Irabor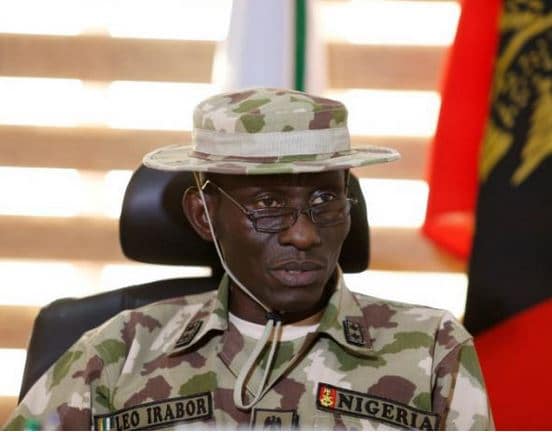 Eric Elezuo
The Chief of Defence Staff, General Lucky Irabor, has said that the military has arrested the terrorists behind the attack on St. Francis Catholic Church, Owo, Ondo State.
General Lucky Irabor according to news monitored on SolaceBase, made the revelation on Tuesday, during a parley with media executives at the Defence Headquarters, Abuja.
Appreciating the collaboration with sister security agencies, which helped in the arrests of the criminals, Irabor recalled that about 40 person's were brutally murdered when heavily armed men invaded their worship centre on June 5, 2022.
My Invitation to Rivers to Commission Projects Demonstration of Politics Without Bitterness – Sanwo-Olu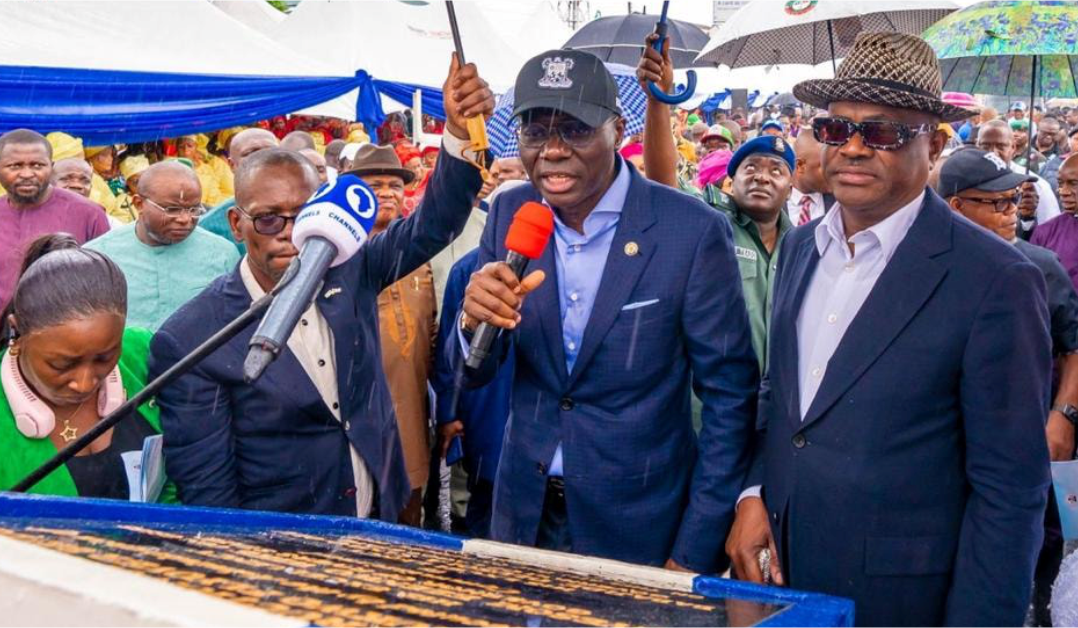 By Eric Elezuo
The Lagos State governor, Mr. Babajide Sanwo-Olu, has said that his invitation by the Rivers State governor, Mr Nyesom Wike, to commission a project in Rivers State, is a clear demonstration of politics without bitterness. This is noting that the Lagos State governor is a member of the All Progressives Congress (APC) while Wike is a member of the Peoples Democratic Party (APC).
On Monday, Sanwo-Olu was a guest of the Rives governor to commission the Orochiri-Worokwu (Waterlines) Flyover delivered by the state government.
In his remarks, Sanwo-Olu commended Governor Wike for his strong commitment to the delivery of physical infrastructure in Rivers State.
"I would like to specially commend my brother, Governor Wike, for his strong commitment to the delivery of physical infrastructure in Rivers State.
"A commitment that has been recognized by all and sundry, and which has earned him the appellation of "Mr. Projects" within and outside Rivers State," he said.
Sanwo-Olu said though himself and governor Wike belong to different political persuasions, the invitation extended to him sends a very strong message that politicians and political leaders, can come together across political and ideological divides, for the good of the people.
"There is also a strong message being made today about expanding our capacity to play politics without bitterness. This symbolic gesture by my friend and brother is one that should become standard practice across Nigeria.
"There is also a lot that we can learn from one another, and experience that we can translate from one part of the country to the other," Sanwo-Olu stated.
It will recalled that Wike is in the habit of inviting notable politicians across parties as guests of honour during the unveiling of any of his projects. The likes of governor of Ekiti State, who is also an APC member and Sports Minister, Mr. Sunday Dare were once invited to commission projects in the state.
Governor Wike had explained that the invitation of the Lagos State governor was not the first time persons of other political parties were invited to inaugurate projects in Rivers State, pointing to the overall benefits such invitations have on governance because it served as peer review for them.