Food for Living: Choose Your Name Wisely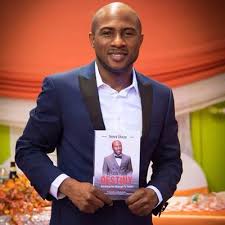 By Henry Ukazu
Greetings Dear Friends,
We all have names which our parents, godfather/mother, or even good relatives and friends gave to us at birth, and we always like to be addressed rightly and with respect before we respond. Just to let you know how powerful your name can be, if you are called a name that is not yours, there's every tendency you won't respond, nor matter how nice it may sound. Even if you are called the right name but with the wrong pronunciation, you might also feel slighted to respond, and even if you respond, you'll react in a way as to offer correction. This is because names are very symbolic, and according to the platinum rule, people are treated the way they wish to be addressed.
Names are very powerful and they have deep meanings, and as a result, must be chosen wisely. Names are regarded as trademarks/logos and come in different shapes and sizes. Some people even have nicknames which have defined them in different ways. Even in business; the name you choose has an impact on people's perception, especially your potential clients. Therefore, it is imperatively and critically important for you to consider whatever name you will like to be associated with.
A name is an identity. It is a descriptor that allows people to make quick judgments and assumptions about us. When a particular name is mentioned, a lot of questions normally come to mind. We can even assume what it is likely to be. Our names and identities are regarded as the first impressions people have about us. For example, how we dress, the way we wear our hair, how we behave, and even where we go; all begin with our identity and what we call ourselves. Whether it is religion, sexuality or gender, it is part of an identity that can influence how you present yourself to the world, and how you interact with the world. Depending on the situation and circumstance, what we call ourselves may change. That is why it is important for you to consider the name, group or network you are associated with.
The big question we have to answer is what name do I respond to? As human beings, some of us are very sensitive, some are conservative while others tend to have a liberal attitude towards life. Depending on which category you belong to, you can decide to be the game-changer in whatever situation you are into. You may have been called a dull person, lazy being, slow, ugly, fat, etc., but how you respond is actually what makes the ultimate difference. As you may know, life is not what happens to you, but how you react to it. It should be noted that you can't stop people calling you negative names, but you can decide to choose what you answer to. As a an advice, don't answer names you are called, when they call you hello depressed, short, unattractive, unqualified, sick, orphan, just calmly respond, 'sorry there's no one by that name around here, I guess you may have gotten the wrong address'. In a rhetoric way, you can also respond, do you mean positive, tall, smart, healthy, blessed, beautiful, handsome, extraordinary, talented, skillful, etc.
Studies suggest that liking your own name is predictive of well-being and happiness, and it also positively affects your self-esteem. But does your name affect how other people treat you? According to Dale Carnegie.
"A person's name is to him or her the sweetest and most important sound in any language."   Why then is it so important to call people their true names? A person's name is the greatest connection to their own identity and individuality. Some might say it is the most important word in the world to that person. This is because it is one of the fastest and easiest ways to get someone's attention especially when they are teased or praised.
Here are some tips on how you can use your name to influence your brand.
Make it a commitment:
Make a commitment to answer whatever uplifts and support your vision. Once you are subconsciously aware of what happens around you, do yourself a favor to international change the narrative by changing the negative news or information that surrounds you or your business. For example, you can work on your self, business, brand, organization, etc; to the extent, people will recognize you as an excellent or reliable person/brand as opposed to the different labels that bring negative vibes to you. As you may know, the world is governed by perception.
Practice:
Practicing whatever name brand you want to be associated with is a great way to bring change to not only your personal life but your business or brand. You can do this by calling yourself names of interest that appeal to you. You may be surprised to know it will come back to you. Don't be concerned about the negative voices you may be hearing from friends or even family members, just continue to work on your craft. There have been testimonies of people who dreamt of being a governor, president, leader of an industry, etc. despite not having what it takes to be the person in the picture. They were able to act it in addition to calling themselves the names and guess what, it's it came to pass. In one of my articles I published five years ago titled: Dreams Come True, I opined that your dreams are valid and it will come true if you work hard, believe in yourself and have the God factor around you.
Ignore the name tag:
As mentioned earlier, it is up to you to respond to whatever name you decide to answer. Names don't matter anything unless you give it the needed power/energy it needs to feed on.  Names are like dead woods, but you can activate life into it when you speak life into it. Names work with our minds, when you decide to call yourself love, love will automatically follow you.
Furthermore, Ignore the nay-sayers and give your attention to what brings you life, and when you do, the desired transformation will begin to rear up. Personally, I was called names because of my horrible writing skills, but I have been able to author a book by the special grace of God which my detractors have not been able to accomplish. The secret is simple, I never answered the negative names I was called.
Creating Opportunity:
Knowing how to relate with people is a powerful skill that is in high demand. A good personal relation skill will create opportunities for you. It's like a charm that can disarm even the most hardened person to respond to stimuli. As popularly opined in some social parlance, if a man can make a lady to smile, he's halfway into her heart. It is important to note that people want to be treated as human beings, not objects. Using their name is the fastest and most reliable way of building rapport and creating a good first impression. Everyone has a name — use it to better connect to them, especially if you work in the customer service position. You will notice a difference in your relationships.
In conclusion, what is your name?
Henry Ukazu writes from New York. He works with the New York City Department of Correction as the Legal Coordinator. He's the author of the acclaimed book Design Your Destiny – Actualizing Your Birthright To Success. He can be reached via henrous@gmail.com
Another Student Allegedly Raped, Murdered in Ibadan
A post graduate student of the University of Ibadan, Azeezat Shomuyiwa, has been reportedly raped and murdered in Ibadan, Oyo State capital.
The police confirmed the murder but denied that the victim was raped.
She was attacked on Thursday at her house in Aba Ijefun, Akinyele Local Government Area of Ibadan.
The case is currently trending on Twitter.
Residents of the area told our correspondent that a stone used to kill Ms Shomuyiwa was found beside her bed with blood covering her body.
"The girl was raped and killed. As of this morning, police came to the place to arrest some people they suspected," one resident said asking not to be named.
Another resident of the community, Aduwo Ayodele, told PREMIUM TIMES that "A bad incident happened in my community today. The lady was raped and Nigerian police force came to the place."
When contacted, the Oyo Stats police spokesperson, Olugbenga Fadeyi, said the victim was murdered but there was no evidence of rape.
"Truly, the matter happened but it was not rape. She was attacked with stone on her head and left to die", he said. "The police commiserated with the family"
Mr Fadeyi told PREMIUM TIMES that the commissioner of police was there with top officials of the security force.
"The commissioner already asked the deputy commissioner of police to take up the matter for proper investigation."
Ms Shomuyiwa's case happened barely 48 hours after 18-year-old Barakat Bello was gang-raped and murdered by unknown assailants in the same Ibadan.
Ms Bello was a student of Department of Science Laboratory Technology (SLT), Federal College of Animal Health and Production in Ibadan, the Oyo State capital.
It also occurs days after a female undergraduate of the University of Benin, Vera Omozuwa, died in a hospital after she was allegedly raped and assaulted in a church premises in Benin, the Edo State capital.
Activists have been calling on Nigeria authorities to deal more effectively with rapists through the strict enforcement of existing laws and promulgation of tougher sanctions.
On Friday, a coalition of civil society organisations and human rights activists held peaceful protests in the Federal Capital Territory and Lagos demanding a state of emergency to be declared on Gender-Based Violence (GBV) in Nigeria.
The protest which took place at the police headquarters in both cities followed a perceived rise in the number of rape cases in Nigeria including the recent deaths of two rape victims.
Cops, Passers-by Feared Killed As Robbers Invade Police Station, Bank in Kogi
A yet-to-be ascertained number of police personnel and passers-by were feared killed when suspected armed robbers invaded the Isanlu branch of the First Bank of Nigeria Limited in Kogi State on Thursday.
A source told our correspondent that the robbers, numbering about seven, came in two vehicles, broke into the bank and shot dead several persons.
The Police Public Relations Officer in the state, William Ayah, who confirmed the attack, said there were casualties, but the command had yet to ascertain the number.
He said the state Commissioner of Police, Ede Ayuba, had detailed his deputy, Akeem Yusuf, to liaise with the Divisional Police Officer in Isanlu to get details of the incident and report back to him within 24 hours.
It was gathered that about seven security personnel on duty at the bank and some passers-by were killed by the robbers, who were angered by their inability to gain access into the banking hall.
The gunmen were also said to have invaded the Divisional Police Headquarters, Isanlu, and killed some policemen on duty.
The Punch
Another Student Raped, Murdered in Ibadan
An 18-year-old student of the Federal College of Animal and Production Technology Moore Plantation, Apata, Ibadan, has been raped and killed in Ibadan.
The teenager, Barakat Bello, who was undertaking the National Diploma programme in Science Laboratory Technology, was reportedly attacked on June 1, 2020.
The development comes days after a first-year student of the University of Benin, Uwa Omozuwa, was raped and killed in a parish of the Redeemed Christian Church of God in Edo State.
According to reports, the latest attack on 18-year-old Barakat took place at her home in Akinyele, Ibadan.
Initial reports stated that the corpse was found near the house.
The father of the deceased, Kasimu Elepo, told Sahara Reporters that he was not at home when the incident occurred.
He disclosed that the deceased's sister was also out of the house at the time the tragic incident occurred.
According to him, the victim's sister found Barakat's body at the back of the house in a pool of blood when she returned from Qur'anic lessons.
He said, "I was not at home when the incident happened. The younger sister was not at home too, she went for Qur'anic lessons but when she returned home, she saw her at the back of the house with deep cuts all over her body. She had been raped and killed.
"Somebody called me on the telephone that I should come home but he refused to tell me what happened. When I got home, I saw that my daughter had been raped and stabbed to death."
Meanwhile, the National Association of Nigerian Students, Zone D, has demanded justice for the victim, saying that the raping of women must stop.
The deceased, who was a member of the Muslim Students' Society of Nigeria, was buried on Tuesday according to Islamic rites.
The murder of the teenager has sparked protests on Twitter with the #JusticeforBarakat.
UK-based medical doctor, Harvey Olufunmilayo, said the rape 'epidemic' must be brought to an end.
He tweeted, "Barakat Bello was alone at home when some men attacked her. She was raped and killed. This was in Ibadan yesterday. She was only 18. Barakat was at home. She is a Muslim hijabi sister. You mad people that come up with excuses for rape, what is the excuse this time?"
Another tweet by @mideglow read, "This is becoming too much!!! We are tired of burying our sisters and friends. We are tired of molestation and rape! Capital punishment should be meted to the perpetrators."
The Police Public Relations Officer, Oyo State Police Command, Olugbenga Fadeyi, said in a telephone interview with The PUNCH that although the report is trending online, the police could not confirm it at the moment, noting that the incident had not been reported.
He expressed dissatisfaction with the failure of the family of the deceased to report the case for an investigation to be carried out by the police.
"Effort is being intensified to confirm the credibility of the report. At present, the Divisional Police Officers, Oluyole, and Apata divisions were contacted but we found out that the address that was quoted is not correct. When I got the DPOs and I inquired, the two of them said at present, there is no such report in their record.
"It is very funny when some people are too much in a haste to post such things even if it happened truly. I am not saying it happened because our records have not shown that. But, let's assume it happened, the family is supposed to make an official report; that is another problem."
The Punch