Food for Living: Define Your Purpose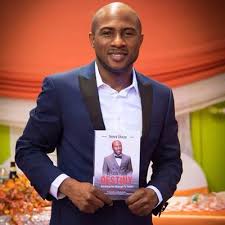 By Henry Ukazu
Greetings Destiny Friends,
Today, I would like to ask some simple but intriguing questions. Who are you? Who do people say you are? What do you want from life? Be as honest as possible to tell yourself the truth. Remember, the worst thing you can ever do to yourself is to tell yourself lies. This is because you can lie to others but you can never lie to yourself.
Everyone one of us wants to live a life of purpose, but in actual sense, living a life of purpose can be challenging but fulfilling. Most times, we ask what should I do with my life? What is my life purpose?" It's quite unfortunate to not note that many people don't know really know themselves until they get to their 40s and 50s and still some of them have no clue what they want to do with themselves. The answers to some of these questions are what we shall be discussing today.
If you ask a million and one person what they want for themselves, trust me, you'll get a million and one interesting and amazing answers. The reason is quite simple, just like we all have several taste buds, so also do we all have different choice and aspirations towards life.
The journey of life is such an interesting one that makes one to really ask what is the meaning of life? The meaning of life can simply be found inside you. Whatever you decide and value in addition to giving attention can be used as a perception guide to know what someone appreciates.  For example, while some people care more about money, some others might have a preference for fulfillment in a career, or alternatively joy and peace of mind. In a relationship, a man and woman need various qualities in each partner before they make up their mind if they can either tolerate or outright reject the person. In business, every rational and informed mind chooses a business of interest he/she likes or is passionate about. Failure to do so might limit your motivation to forge ahead especially when the return of investment is not coming through.
I believe that every person on the planet is born with intrinsic value. I believe you were put on this earth for a specific purpose. So, regardless of where you are in life, I have a question: What's the ultimate goal behind what you do every day?
What's your mission, your calling, your purpose? Are you achieving it? Probably not. So, consider this one simple piece of advice that could change everything and help you live the life you've always desired.
We shall be exploring several areas of interest to elaborate how you can not only define yourself, but at the same time, how you can distinguish yourself.  Many people suffer from indecision and this has contributed to a lot of failures in their personal and professional lives.
The first step in deciding what you want in life is by defining yourself.  Defining oneself might be a little bit challenging. It is worthy to note that you'll have a hard time defining yourself if you don't know yourself.
Let's share some practical examples of how we can shape our future.
What Are You Passionate About?
The question can be framed to be what are your values and interests to life. In our contemporary society, the world is in dire need of visionaries with great innovative thoughts and actions. Your values and interest can be used to define you. What most people don't understand is that passion is the result of action, not the cause of it. Discovering what you are passionate is a lifetime adventure because it's like a trial and error process. Some of us don't really know what we like until we actually engage in that activity.
Who you are is defined by the struggles and values you stand for in the pursuit of success. For example, the people who enjoy the struggles of a gym are the ones who get in good shape.
Furthermore, since most people find it hard to know what they want in life, it is always better to ask them a simple but intriguing question- If you have everything you need in life, what will you do with your time? Alternatively, it can be framed to be if you are to live your house voluntarily to anywhere on planet earth, where will you go and what will you do? Whatever response anyone gives can be used to know their values, interest and what they are passionate about life.
In defining your life, it is imperative to ask yourself questions like, What change will you will like to see in the world, how will you like the world to remember you? How will you like to save the world? What are you going to do to save the world? These are some of the questions you can use to define oneself.
Employers are not left out in this struggle, in their pursuit to get the best employee to hire for a position of interest, they always look at the values, sacrifice and time a candidate has invested both theoretical and practical terms to show interest and passion in the industry.
Furthermore, people want an amazing physique but don't want to put the pain and physical exercise that comes with it. People want to start up a business but are not willing to take a worthy risk. People want an amazing partner but are not willing to deal with the stress that comes with it-rejection and patience to get it right. We desire an amazing job, but yet we find it hard to put in the necessary work, skills, knowledge and associated networking that comes with it.
What Are Your Goals
Goals help to define us. One of the key ways to know what a person likes in life is by looking at where they spend their time on. If you have the desire to be on the television, you must do the work by learning the skills and profession very well. If you have a passion for fashion, you ought to be dressing to impress, if you want to be a great public speaker, you have to read great books and practice public speaking by joining local clubs in your neighborhood like Toastmasters International. Settings goals is not an easy feat, it is following through that makes the difference. An athlete, a vegetarian a lady or man looking for a particular shape know they have to work on their diet and also engage in physical exercise to get their desired goal. It is imperative to note that goals are necessary in order for you up to have a happy future. Do you have goals; career goals; family goals; spiritual goals? If yes, what are they? What determines your success is the pain and sacrifice you are willing to invest. You definitely have to know why you are pursuing your goals.
The secret to Success:
An indisputable definition of a genuine success is achieving success itself. Nothing defines a man than what he was to overcome in order to achieve success. Success truly defines us in many fashions. However, this success did not come on its own, it has many feathers such as focus, perseverance, determination, hard and smart work amongst other factors. For the sake of this topic, we shall concentrate on focus. No doubt there are many secrets to success, but one of the outstanding secrets of secret is focus. When you are as focused as an eagle, you see nothing else but the endpoint of your vision.  One of the most powerful techniques you can use to ensure your immediate and continued success is to stay focused on what you want and don't give in to worry doubt, or to the temporary circumstances or even set back that might be happening right now in your life.
In the light of the above points, can you in all sincerity define or say what you want in life?
Henry Ukazu writes from New York. He works with the New York City Department of Correction as the Legal Coordinator. He's the author of the acclaimed book Design Your Destiny – Actualizing Your Birthright To Success. He can be reached via henrous@gmail.com
Husband-Killer, Maryam Sanda Appeals Death Sentence
Maryam Sanda, a woman found guilty of stabbing her husband to death, has asked the Court of Appeal in Abuja to set aside the death sentence pronounced on her.
On January 27, Justice Yusuf Halilu of the Federal Capital Territory (FCT) High Court found Sanda guilty of killing her husband.
Sanda stabbed her husband with a kitchen knife with a clear intent to kill, Mr Halilu concluded in the judgment, after a two-count homicide charge was brought by the Nigerian police against Ms Sanda in November 2017.
The victim, Bilyaminu Bello, was the son of a former national chairman of the Peoples Democratic Party (PDP), Haliru Bello.
The prosecuting counsel had urged the court to pronounce a death penalty on Ms Sanda. The judge obliged by sentencing the convict to death by hanging.
While many perceived the judgment of Justice Halilu as 'harsh', others believe it is well deserved.
Maryam's appeal
In her appeal against the death sentence, Ms Sanda claimed that Mr Halilu was biased and he denied her fair hearing.
She contended that the conviction was based on circumstantial evidence, without evidence of witnesses, lack of confessional statement, absence of murder weapon, lack of corroboration of evidence by two witnesses and lack of autopsy report to determine the true cause of her husband's death.
In the notice of appeal predicated on 20 grounds and filed by her lawyer, Rickey Tarfa, the convict said the judgment of the trial court was a complete "a miscarriage of justice."
According to Ms Sanda, "the trial judge erred in law when having taken arguments on her preliminary objection to the validity of the charge on the 19th of March, 2018 failed to rule on it at the conclusion of the trial or at any other time.
She said that "the trial judge exhibited bias against the defendant in not ruling one way or the other on the said motion challenging his jurisdiction to entertain the charge" and "therefore fundamentally breached the right to a fair hearing of the defendant."
The appellant also contended that the trial judge erred and misdirected himself by usurping the role of the police when he assumed the duty of an Investigating Police Officer (IPO).
The appellant was referring to a statement made by the judge in his ruling.
Justice Halilu had said that, "I wish to state that I have a duty thrust upon me to investigate and discover what will satisfy the interest and demands of justice."
The appellant submitted that the wrongful assumption of the role of an IPO made "the trial judge fail to restrict himself to the evidence adduced before the court" and instead went fishing for evidence outside those that were brought before the court.
"The duty of investigation is the constitutional preserve of the police, the constitutional duty of a trial court is to assess the credible evidence before it and reach a decision based on its assessment," the convict argued.
Ms Sanda argued that "the court's usurpation of the duty of the police by taking it upon itself to investigate and discover, negatively coloured its assessment of the available evidence and resulted in it reaching an unjust decision contrary to the evidence before it."
The appellant also argued that "the trial judge erred in law and misdirected himself on the facts when he applied the doctrine of last seen and held that the appellant was the person last seen with the deceased and thus bears the full responsibility for the death of the deceased, and thereby occasioned a miscarriage of justice."
"There is no evidence before the trial judge that the defendant was the last person who saw the deceased alive since prosecution witness in his evidence before the trial judge stated that he was called by the deceased, he saw the deceased and asked the deceased what was the problem," she said.
She added that the statement of Sadiya Aminu, tendered before the trial court (who was initially charged as the fourth defendant in the amended charge), also confirmed that the deceased was alive though injured when she saw him.
"The circumstantial evidence which the trial court relied upon in its application of the last seen doctrine does not lead to the conclusion that the defendant is responsible for the death of the deceased," she argued.
Consequently, she asked the appellate court to allow her appeal, set aside her conviction and the sentence imposed by the high court judge and acquit her.
Perish the Thought of Joining Us, APC Tells Fayose
The Ekiti State chapter of the All Progressives Congress has advised a former governor of the state, Ayodele Fayose, to perish the thought of defecting to the APC.
The State Publicity Secretary of the party, Ade Ajayi, said this in Ado Ekiti, on Thursday.
He said the party was not a dumping ground "for failed politicians," adding that Fayose was not wanted in the party because of his antecedents.
This was contained in a statement he signed. Ajayi described the APC as "a disciplined, refined and integrity-inclined type which would not tolerate people like Fayose," adding that "Fayose is not qualified to be a member of the APC in the state."
The party, which was reacting to a statement allegedly credited to Fayose to the effect that he would defect to the APC if his ordained Peoples Democratic Party state chairmanship aspirant failed in his bid for the job.
To this, Ajayi said, "We will not welcome him to the great and decent family in the state.
"It is better he stays back in his PDP to get it more destroyed instead of coming to a principled, disciplined, transparent, law-abiding and organised party like the APC.
"The Ekiti APC members know the people behind the masquerade and thereby warn people like Fayose not to turn the APC to a dumping ground where they can defect to."
The Punch
Ekiti Submits Interest Bid to Host NAFEST 2021
The Executive Governor of Ekiti State, Dr. Kayode Fayemi has expressed the interest of his state to host the 2021 edition of the National Festival for Arts and Culture (NAFEST).
Receiving the bid document from Ekiti State Commissioner for Arts, Culture and Tourism Prof. Tunde Bakare on Monday, the Director-General of the National Council for Arts and Culture, Otunba Olusegun Runsewe commended Governor Fayemi for early indication of interest to host the cultural fiesta.
Runsewe described Governor Fayemi as a proactive leader who is committed to giving the best to his state at all times.
Stating that the early submission of the bid document by Ekiti State Government was a sign of early preparation towards putting in place the necessary logistics and infrastructure for a successful event, he added that the Council expects bids from more states in respect of NAFEST 2021.
Runsewe commended the amiable wife of Governor Fayemi and First Lady of Ekiti State, Bisi Adeleye-Fayemi for declaring that if given the hosting right, Ekiti State would stage "the mother of all NAFEST".
The DG added that the statement by Her Excellency was an indication of the determination and political will of Ekiti State Government to make NAFEST 2021 the best in the history of the festival.
It will be recalled that the Plateau State Government was given the hosting right for NAFEST 2020 at the closing ceremony of 2019 Edo NAFEST at Benin City, on October 26, 2019.
Arrangements are already on top gear for the hosting of the 2020 edition of the festival in Jos, Plateau State, in October.