Food for Living: Define Your Purpose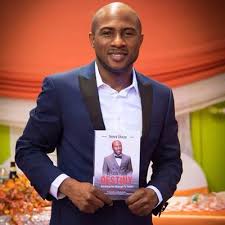 By Henry Ukazu
Greetings Destiny Friends,
Today, I would like to ask some simple but intriguing questions. Who are you? Who do people say you are? What do you want from life? Be as honest as possible to tell yourself the truth. Remember, the worst thing you can ever do to yourself is to tell yourself lies. This is because you can lie to others but you can never lie to yourself.
Everyone one of us wants to live a life of purpose, but in actual sense, living a life of purpose can be challenging but fulfilling. Most times, we ask what should I do with my life? What is my life purpose?" It's quite unfortunate to not note that many people don't know really know themselves until they get to their 40s and 50s and still some of them have no clue what they want to do with themselves. The answers to some of these questions are what we shall be discussing today.
If you ask a million and one person what they want for themselves, trust me, you'll get a million and one interesting and amazing answers. The reason is quite simple, just like we all have several taste buds, so also do we all have different choice and aspirations towards life.
The journey of life is such an interesting one that makes one to really ask what is the meaning of life? The meaning of life can simply be found inside you. Whatever you decide and value in addition to giving attention can be used as a perception guide to know what someone appreciates.  For example, while some people care more about money, some others might have a preference for fulfillment in a career, or alternatively joy and peace of mind. In a relationship, a man and woman need various qualities in each partner before they make up their mind if they can either tolerate or outright reject the person. In business, every rational and informed mind chooses a business of interest he/she likes or is passionate about. Failure to do so might limit your motivation to forge ahead especially when the return of investment is not coming through.
I believe that every person on the planet is born with intrinsic value. I believe you were put on this earth for a specific purpose. So, regardless of where you are in life, I have a question: What's the ultimate goal behind what you do every day?
What's your mission, your calling, your purpose? Are you achieving it? Probably not. So, consider this one simple piece of advice that could change everything and help you live the life you've always desired.
We shall be exploring several areas of interest to elaborate how you can not only define yourself, but at the same time, how you can distinguish yourself.  Many people suffer from indecision and this has contributed to a lot of failures in their personal and professional lives.
The first step in deciding what you want in life is by defining yourself.  Defining oneself might be a little bit challenging. It is worthy to note that you'll have a hard time defining yourself if you don't know yourself.
Let's share some practical examples of how we can shape our future.
What Are You Passionate About?
The question can be framed to be what are your values and interests to life. In our contemporary society, the world is in dire need of visionaries with great innovative thoughts and actions. Your values and interest can be used to define you. What most people don't understand is that passion is the result of action, not the cause of it. Discovering what you are passionate is a lifetime adventure because it's like a trial and error process. Some of us don't really know what we like until we actually engage in that activity.
Who you are is defined by the struggles and values you stand for in the pursuit of success. For example, the people who enjoy the struggles of a gym are the ones who get in good shape.
Furthermore, since most people find it hard to know what they want in life, it is always better to ask them a simple but intriguing question- If you have everything you need in life, what will you do with your time? Alternatively, it can be framed to be if you are to live your house voluntarily to anywhere on planet earth, where will you go and what will you do? Whatever response anyone gives can be used to know their values, interest and what they are passionate about life.
In defining your life, it is imperative to ask yourself questions like, What change will you will like to see in the world, how will you like the world to remember you? How will you like to save the world? What are you going to do to save the world? These are some of the questions you can use to define oneself.
Employers are not left out in this struggle, in their pursuit to get the best employee to hire for a position of interest, they always look at the values, sacrifice and time a candidate has invested both theoretical and practical terms to show interest and passion in the industry.
Furthermore, people want an amazing physique but don't want to put the pain and physical exercise that comes with it. People want to start up a business but are not willing to take a worthy risk. People want an amazing partner but are not willing to deal with the stress that comes with it-rejection and patience to get it right. We desire an amazing job, but yet we find it hard to put in the necessary work, skills, knowledge and associated networking that comes with it.
What Are Your Goals
Goals help to define us. One of the key ways to know what a person likes in life is by looking at where they spend their time on. If you have the desire to be on the television, you must do the work by learning the skills and profession very well. If you have a passion for fashion, you ought to be dressing to impress, if you want to be a great public speaker, you have to read great books and practice public speaking by joining local clubs in your neighborhood like Toastmasters International. Settings goals is not an easy feat, it is following through that makes the difference. An athlete, a vegetarian a lady or man looking for a particular shape know they have to work on their diet and also engage in physical exercise to get their desired goal. It is imperative to note that goals are necessary in order for you up to have a happy future. Do you have goals; career goals; family goals; spiritual goals? If yes, what are they? What determines your success is the pain and sacrifice you are willing to invest. You definitely have to know why you are pursuing your goals.
The secret to Success:
An indisputable definition of a genuine success is achieving success itself. Nothing defines a man than what he was to overcome in order to achieve success. Success truly defines us in many fashions. However, this success did not come on its own, it has many feathers such as focus, perseverance, determination, hard and smart work amongst other factors. For the sake of this topic, we shall concentrate on focus. No doubt there are many secrets to success, but one of the outstanding secrets of secret is focus. When you are as focused as an eagle, you see nothing else but the endpoint of your vision.  One of the most powerful techniques you can use to ensure your immediate and continued success is to stay focused on what you want and don't give in to worry doubt, or to the temporary circumstances or even set back that might be happening right now in your life.
In the light of the above points, can you in all sincerity define or say what you want in life?
Henry Ukazu writes from New York. He works with the New York City Department of Correction as the Legal Coordinator. He's the author of the acclaimed book Design Your Destiny – Actualizing Your Birthright To Success. He can be reached via henrous@gmail.com
Boko Haram Ambushes Zulum's Convoy, Kills 15 Officers
At least 15 security personnel comprising eight policemen, three soldiers and four Civilian-JTF personnel died today after suspected Boko Haram gunmen ambushed a convoy of Borno officials travelling to Baga town.
The attacked officials, according to sources familiar with the attack, were heading to Baga town ahead of government's planned return of internally displaced persons (IDPs) from Maiduguri to the camps.
A battery of armed soldiers and police officers, as well as Civilian-JTF personnel, were deployed to provide escort to the officials.
The convoy ran into an ambush by Boko Haram at a spot called Korochara, which is about 2km away from the base of the Multi-National Joint Task Force on the way to Baga from Monguno.
"Seven policemen, four C-JTF members and three soldiers died instantly as the insurgents rained bullets on the unsuspecting members of the convoy," an official of the Borno state government who wouldn't want to be named told our reporter.
The source said the attack happened at about 2 pm
Borno state governor, Babagana Zulum, who is expected to supervise the arrival of the IDPs at Baga, had left Maiduguri earlier in the day via a military chopper.
The Borno State government and the security agencies whose personnel were affected are yet to officially comment on the attack.
The attack happened four days after a colonel, D.C. Bako, died after another ambush by Boko Haram terrorists.
Mr Bako was until his death the commander of 25 Task Force Brigade in Damboa. He died in a military hospital where he was receiving treatment after the ambush.
Premium Times
Food for Living: Listen to Your Inner Voice
By Henry Ukazu
Greetings Friends,
In today's contemporary world, we have many interests battling for our attention, especially with the advent of social media. Staying focused can therefore, be a challenge. As rational minds, we all have different thoughts and feelings, but what makes the difference is what we see and hear in our inner minds. For example, we all sit in the same classroom, but our level of comprehension and articulation is different. As a team working on a mission, your vision might be different from what others see, some might be there just to get paid while others might be there to transform the world. Even pain has a different feeling, some people might scream when they feel pain while another person might endure.
As a progressive on a journey to transform the world with your ideas, innovations, and personality, it might be difficult to get a team that believe in not only you, but also in your vision. Whether you are an entrepreneur, politician, student, religious leader, etc., you can challenge and change the status quo. Changing the world is not easy, in fact, it is not easy to change the world; it takes a lot to change a tradition that has been in place for decades, but it is interesting to know that it is easier to influence people than to change them, this is because human beings generally are resistant to change.
Question: Do you have a dream, vision, idea, or plan to bring a change in the society or government? Please bear in mind that it is not going to be easy. However, your concern should be on focusing on the reason it should work and not why it is not going to work. You may be wondering how you'll achieve this feat when faced with glaring challenges. A great way to remain focused in the face of adversity is to listen to the still small voice in your inner mind. Your inner voice is the greatest strength you can muster when all other options fail. For instance, if you have a strong belief in your network, mentor, friend, parent, associate, or relation to support your work and they disappoint you, what will you do? Will you perish your idea?
Again, you may have strong networks, but they may not see hope in what you are doing. What then will you do?  If you strongly feel the vibe and urge to continue in your vision, please listen to your inner voice. A good way to know if your voice is leading you aright is the presence of peace of mind.
For instance, if you need to make a decision at the moment, but can't figure out what to do, take a moment to take a deep breath, relax and meditate on the pros and cons of the idea. It's called the law of mental transformation. Success is not a product of what you do alone, it is as a result of who you are becoming than what you are doing. True success is a product of who you are. It should be noted that the mind is like a garden. A garden won't stay fallow. It either grows flowers and vegetables or weeds, depending on the seeds you sow on it. Your mind will either manifest success or failure depending on the thoughts you feed with it.
Furthermore, it is normal to complain when the line doesn't add up. For instance, when you lose your biggest clients; feel cheated in business, or even lose a loved one, there are many voices that will give you cogent reasons you shouldn't continue in that line of business or see the loss of the loved as the end of your vision, especially if the person serves as your biggest supporter or inspiration. But if you are able to think out of the box, you may realise that there are forces or circumstances that may work in your favour without you knowing due to the demise of the person.
Let me share a personal experience with you; three years ago, I quit a good job with no prospect of another job insight because I felt the urge to see my late grandmother, promote my book and get married. Amongst these three reasons, my grandmother has a bigger role and influence because I constantly see her in my dream pleading with me to see her. I didn't know why, but maybe because I was one of her favourite grandchildren if not the most favourite grandchild. I took the bull by the horn and resigned and traveled to see her, not only did she bless me, she prayed for my book and professional career. I have no iota of doubt that her blessings and prayers have continued to play a huge role in my life. There is a saying that when you lose a loved one, don't grief much because they have gone to prepare a better opportunity for you. In fact, they are seen as guardian angels.
In conclusion, just so you know, just like your greatest supporter can be your family member, friend, network or stranger, in the same way, they can serve as detractors. Your primary concern is how you can listen to your inner voice and dare to succeed.
Henry Ukazu writes from New York. He works with the New York City Department of Correction as the Legal Coordinator. He's the author of the acclaimed book Design Your Destiny – Actualizing Your Birthright To Success and President of gloemi.com. He can be reached via info@gloemi.com  
The Authentic 'Place' of Sacrifice for Empowerment
Tolulope A. Adegoke
Scars that makes 'stars'.
Actions with the right motives.
Creativities that guarantees productivities.
Responsiveness that unveils passion.
Illuminant.
Favour that compels envy.
Independent.
Crosses, crowns, cares & cures.
Expectant, experienced, expressions & excellence.
"Sacrifice is the scar(s) we bear in the processes of carrying our 'crosses' (responsibilities) towards getting our 'crowns' (desired results)" – Tolulope A. Adegoke
Sacrifice is the scar(s) we bear in the processes of carrying our 'crosses' towards getting our 'crowns'. There is no star without a scar! The scar of every star is sacrifice. It is nothing else! It is simply the ticket towards delivering possibilities. Sacrifice is going the extra mile, paying the extra-price and taking the extra steps to deliver your mandates! Your extra-ordinary inputs determine your extra-ordinary impacts! You need to go the extra mile in your "disciplined" life. You must pay the extra-price in your "diligence"; then, the star in you emerges! Do not envy success, envy sacrifice!
Many around the world are embodiments of extra-ordinary potentials (gifts), but have found themselves in fields that are different from their real (divine) calling(s). For example, some are gifted footballers but have found themselves in the Engineering sector… Not until they subject themselves into the diligent sacrifices of football training and timings (age-wise), such people will not manifest or fulfil their original destiny. They would only be engineering stars by chance or by force. It takes sacrifice for the star in us to manifest!
You cannot eat your cake and have it! You cannot make an omelette without breaking eggs! Not even faith is a substitute for sacrifice. Vision is not a substitute for sacrifice! Sacrifice is a covenant requirement of every kingdom star! Apostle Paul in the scripture (Philippians1:21) said: "For me to die is gain, for me to live is Christ." I will rather die than allow anyone make my glory in Christ vain is a typical description of the term Sacrifice. Being crucified with Jesus Christ is Sacrifice! Every star has a story of sacrifice to tell! Bishop David O. Oyedepo is used to saying: "If you do not improve on where we live of, then you are a failure!"
The above means that, you must wake up from your slumber and invest your time in creating the future that you desire! Until you do what others do not do, you will still remain on the same spot as others! You must therefore wake up and tell yourself the bitter truth and design for yourself a new programme and do not let the year to end without a schedule for next year and a lifetime goal…This would show that you are really a serious entity on a mission to deliver your world from its aches!
Even Jesus Christ, the most anointed said in Luke12:49-50 (KJV): "I have come to set fire on the Earth…I have a baptism to be baptized with and now am I stretched until it be accomplished."  Anyone that desires to have a "global impact" must pay a "global price"!
You cannot have it until you pay its ultimate worth! You cannot have your crown, not until you are done with the cross!
"Every seed of Abraham is a seed with potentials for global impacts (Genesis22:17-18)" "And if ye be Christ's, ye are Abraham's seed and according to the promise (Galatians3:29)."
You are here on Earth for global impacts; you are not here for survival! Global Impacts is about being a positive influence all across the world on humanity in your area of calling(s), chosen career(s) or field(s).
I strongly believe that there are readers of this write-up that would manifest greater grace of positive impacts all across the world all to the glory of God Almighty, if they would be willing to pay greater prices than many great men have paid in the past in order to be the "moves" and "waves" of the "movements and trends" and affluence in their generation(s). Until you pay the greater price(s), you cannot generate greater value(s). For whatsoever a man sows, he shall reap!  What is only waiting for you in the future is simply your investment in today! We need to be prepared to at least start aspiring to do a few things we can do, then the grace will flow in on us to do more/greater! It is then we would be able to soar higher than the Eagles because the skies would have simply been transformed into our starting point!
Ultimately, you must discover your area of calling(s) or field(s), so as to be sure that you are no investing in the wrong direction. Your vision must be clearly defined so as to fully understand your mission and then empower yourself for possibilities in that field. According to 2Timothy 2:15 (KJV): "Study to shew thyself approved unto God, a workman that needeth not to be ashamed, rightly dividing the word of truth." Acquire relevant skills, apply the spiritual knowledge and understand the needs of your environment in relation to your "Empowered Zero."
Your field is the "green pastures" where your flocks feeds through your properly "Empowered Zero" which is harnessed/directed as solutions towards meeting demands, needs of peoples, corporates and nations. Harnessing your "Empowered Zero" is the full-scale methodological applications in a bid to impart your world with the treasures that lies in your earthen vessel!
To empower in this context means to positively influence affect or fuel something or someone or a place to become useful or better towards emerging/fulfilling or serving the real and full purpose of which it was originally created! Having thoroughly studied my Zero to Hero series, a majority across the world have come to understand that no one is indispensable, nothing last forever, change is constant and there is always room for improvement to be able to transit from Zero to Hero. Zero to Hero, in this context, is not limited or restricted to individuals or peoples alone but it touches as well the Corporate world and Nations; illuminating us that we can always be better, come what may!
Empowerment is both a value orientation for working in the community (practical) and a theoretical model for understanding the process and consequences of efforts to exert control and influence over the decision(s) that affect one's life, organizational functioning, and the quality of Community life; so said Perkins and Zimmerman, 1995; Rappaport,1981; Zimmerman and Warschausky 1998.
The value of the orientation of empowerment suggests goals, aims and strategies for implementing change. Empowerment provides principles and a framework for organizing our knowledge and lifestyle. Robert Adams points to the limitations of any single definition of empowerment "empowerment" and the danger that academic or specialist definitions might take away the wood the connected practices from the very person they are supposed to belong to. Still, he offers a minimal definition of the term: Empowerment as the capacity of individuals, groups and/or communities to take control of their circumstances exercise power and achieve their own goal, and the process by which, individually and collectively, they are able to help themselves and others to maximize the quality of their lives. According to Cornell, Empowerment Group, "it is an intentional, ongoing process centred in the local community involving mutual respect, critical reflection, caring and group participation, through which people lacking an equal share of resources gain greater access to and control over those resources."
Learn, Apply & Share.
Thank You!
Watch out for the Book titled: "The Power of an Empowered Zero" (From Zero to HERO) by Tolulope A. Adegoke. Foreword by Dr Yomi Garnett (CEO/Chancellor, Royal Biographical Institute, Philadelphia, Pennsylvania U.S.A., U.K., Abuja, Nigeria.) Edited by Ola Aboderin.