Food for Living: Don't Live a Life of Mediocrity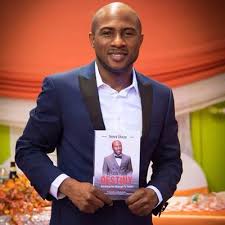 By Henry Ukazu
Greetings Destiny Friends,
"A life of mediocrity is a waste of life" -Colleen Hoover
We are not created to live small. We are not created to have small dreams. We are not created to have small beliefs or small ideas; we are created to live big. It's worthy to note that at creation, we were given all we need to survive on earth. You have hands for artistic duties or handiwork; you have legs to play soccer and you have a brain to process information. According to George S. Patton, "Anyone, in any walk of life who, is content with mediocrity is untrue to himself.
You have eyes to see and vision the unimaginable. Every single part of your body has a unique role. So why play low? Henry Ford was right when he said: "Mediocrity is the worst enemy of prosperity."
You can't go through life living small. One of the biggest battles we face is contentment. Sometimes, we are too comfortable in our comfort zones. It is worthy of note that we all have seeds and potentials of greatness waiting to be tapped. Kindly permit me to say that a mediocre is blessed with limited thinking; this limited thinking gives him a myopic vision which limits his ability to succeed.  Per Maureen Dowd said "The minute you settle for less than you deserve, you get even less than you settled for.
It may be normal to experience disappointments, failures, setbacks, etc. However, each time you feel this way, stand up and stir up your faith to unleash your potential, new dreams, opportunities and talents. Don't settle for less.
In the race of life, don't settle for less than you deserve. You deserve more. If you accept mediocrity it can be seen as normal. Don't let mediocrity be the norm. Don't be limited by your environment or circumstances. If you live by the standard you see around you, you might just be tempted to accept it as normal. Just imagine putting a whale or shark in an aquarium; it won't reach its potential, because that's not where they belong.
It is easy to give in to excuses, but remember that's one characteristic of a mediocre and mediocrity. You can't live small, believe small, and expect big things to happen in your life. Too often, we allow circumstances and how we are raised to affect our lives. Some people even blame their parents, guardians, spouses, teachers and even friends for their failure. Yes, to some extent, they may have a role to play, but the buck stops with you. It will only have an effect if you give it life. Your parents laid the foundation for you, they expect you to use it as a stepping stone. Even if they are poor, dare to succeed. Don't stay in your comfort zone. There are more opportunities available to you if only you can take the step of faith. If you can think big, and pragmatically put your thoughts to action, you will definitely live big
You are endowed with all the skills you need to succeed. Don't give in to the belief that you don't have anything to offer the world. To show you a practical example of the power of the mind. If you are drug seller, you have to know how to market your products, that's marketing, if you can get the word out there, that's advertising, if you can take care of your customers, that's customers service, if you know when to sell, that's a management and decision-making skill. The truth is if you can sell drugs, you can sell stocks and bonds. Moral: Use your skills for productive ventures. It's worthy to note that Joyce Meyers never went to college but today she's speaking to professors and leaders all over the world.
It's easy to believe that you can't do something because nobody has done it in your family or neighborhood. A story was told about Steve Harvey while he was in middle school, his teacher asked the students to write what they want to be in future, innocent Steve Harvey wrote he wanted to be on TV making people laugh, his teacher called him out and told asked him if anyone in his family has been on the television before, he said no. His teacher told him to write about what is feasible. He cried that fateful and narrated the story to his dad when he got home. His dad told him to put the writings on his bed and advised him to read it every day before going to school and before sleeping. Today, the rest is history, Steven Harvey is making people laugh on television. If you are still wondering if dreams come true, please look at Steve Harvey. Moral: You have to learn to encourage your self, even when people don't believe in you. And have the right people around you.
A prudent reasonable man wants to live a normal life which can be categorized as an above-average lifestyle. No one wants to live a low standard live which can be referred to as below poverty level. We desire to live a comfortable life. However, in order to live a larger life, it is imperative to think beyond your present predicament as opposed to being comfortable. In the journey of life, you cannot solve a problem with the same level of understanding you met it. You have to step up your game. It's quite unfortunate that complacency has remained the cardinal reason a lot of people fail to get to the peak of their potential. This is because they feel their circumstances, family background or even their mental state won't allow them do better, thereby making them feel caged.
Living a life of mediocre is one of the worst things that can happen to anyone. You have a lot to offer the world, therefore, you don't have to limit yourself to what the world offers to you. You have potential in you; you have seeds of greatness waiting to be tapped; you have talents, gifts, skills and ingenious abilities which are lying fallow and begging to utilized.
We can all live a large life and fulfill our desires in life, but before we can do that we have to cast out fear from our minds and give our best by working hard and smart.
Most average people give up as soon as things get tough and then they complain that they never got what they wanted. Of course, things will get hard! You will cry, be frustrated, afraid, angry, and totally beaten to a pulp, but then you have to get up, shake off the dust and move on.
To avoid mediocrity, be bold and be fearful, and confront the risks head-on. You cannot truly get to the peak of your career without taking risk. Risk has a lot of roles to play in shaping the career or success story of anyone. Risk is a necessary part of success. A rule of thumb: Always weigh the risk factor into every decision but be open to taking risks because if you succeed you climb higher and if you fail, you gain experience by learning something new. It's better to take a risk and fail than not taking the risk and still fail. Nothing pains the heart later in life when risk option was not explored.
Most mediocres are scared to think big and take action towards it. They do what society or their surroundings expect them to and rarely ever pursue things on their own. Question: If you had only six months left to live; would you do what you are doing now?
How You Can Live Above Mediocrity
Do you have a dream?
Dreams help to propel us to live an extraordinary life. Many people have the dream of becoming a pilot, outstanding politician/leader, professor, TV host, soccer player, etc. If you have big dreams, you'll definitely want to birth the dream. Birthing the dream entails leaving your comfort zone, having sleepless nights, reading extra books, waking up early, sleeping late, networking with the right group/minds and doing what you have to do to succeed. This is simply how great the mind works. A dream simply sets you above average. Not having a dream means going into mediocrity.
If you have found your dream, the next question is whether or not you have the courage to follow it.
Learn more than anyone else.
Mediocres are normal set of people who just like the status quo. They don't feel like going the extra mile. Extraordinary people do more than going to school, networking, reading wide, etc. They seek ways to improve themselves. You must seek to learn every single day, become knowledgeable more than the average person by going the extra mile. The question now becomes, are you willing to put the effort? "According to Diana Waring, The difference between mediocrity and excellence is often a matter of effort."
In conclusion, avoiding mediocrity is a goal that everyone in the world should strive for. According to Dr. Steve Maraboli "Stop letting your fear condemn you to mediocrity."
I am going to leave you with great words from Brian Cranston: "Don't settle for mediocrity. Take a chance. Take a risk. Find that passion. Rekindle it. Fall in love all over again. It's really worth it."
Thank you!
Henry Ukazu writes from New York. He works with the New York City Department of Correction as the Legal Coordinator. He's the author of the acclaimed book Design Your Destiny – Actualizing Your Birthright To Success. He can be reached via henrous@gmail.com
Police Ask Appeal Court to Affirm Maryam Sanda's Death Sentence for Killing Husband
The police in the Federal Capital Territory have urged the Court of Appeal in Abuja to affirm the death penalty imposed on Maryam Sanda, who was sentenced to death by the FCT High Court in Abuja for the murder of her husband, Bilyaminu Bello.
Justice Yusuf Halilu of the FCT High Court had held his judgment delivered on January 27, 2017 circumstantial evidence proved that Maryam "fatally" stabbed her husband to death in Abuja on November 19, 2017.
Maryam, a mother of two, had on February 19, 2020 filed 20-ground notice of appeal, praying for an order discharging, and acquitting her.
She contended that the judgment convicting her was tainted by bias and prejudices resulting in her being denied her right to fair hearing.
She also noted that her conviction was based on circumstantial evidence despite that there was reasonable doubt arising from the evidence of the witnesses in her favour.
But in their brief of argument filed in opposition to the appeal, the police maintained that contrary to the appellant's contention, the trial judge properly evaluated the evidence in arriving at his judgment.
Police lawyer, Mr. James Idachaba, confirmed the filing of the brief of argument to our correspondent on Sunday.
He argued in the brief that setting aside the judgment would serve as an incentive to angry and unhappy spouses to take the life of their partners.
Idachaba maintained that affirming the judgment imposed by the judge would serve as deterrent to others who wished to commit the crime of culpable homicide.
He contended that Maryam was guilty of taking her husband's life and was therefore deserving of the death penalty imposed on her by the judge.
The Punch
Microsoft Set to Replace 50 journalists with Robots
About 50 journalists working with Microsoft are set to lose their jobs, as the American multinational tech giant reportedly moves to replace them with robots.
According to local media reports, those affected are contract employees working as curators for the company's news website, MSN.
They perform functions such as selection of stories, headlines, pictures and other contents from news organisations for the MSN site.
The Seattle Times quoted unidentified insiders as saying the company has notified the affected workers that their services would no longer be needed beyond June 30.
From then, artificial intelligence would be used to perform the news production tasks in what Microsoft calls "evaluation of its business".
"Like all companies, we evaluate our business on a regular basis.
"This can result in increased investment in some places and, from time to time, re-deployment in others.
"These decisions are not the result of the current pandemic," the company said in a statement, according to the paper.
According to the BBC, Microsoft, like some other tech companies, pays news organisations to use their contents on its website.
"But, it employs journalists to decide which stories to display and how they are presented.
"However, Microsoft will retain its full-time news producers, whose functions are similar to those of the contract employees being disengaged," Seattle Times added.
One of those leaving told the paper that their functions had been semi-automated for a few months now.
"It is demoralising to think machines can replace us but there you go," the unnamed employee said, according to the medium.
(NAN)
Opinion: Thriving in Trying Times (Pt. 1)
By Tolulope A. Adegoke
"Until you are tried (pushed), you will not strive, if you do not strive, you may not thrive!" – Tolulope A. Adegoke
Until you are tried, you can't thrive! In the process of being tried, man must strive not to remain on the floor. This period could feature any of the following processes: from crawling to walking, from walking to running, from running to flapping, from flapping to flying, and from flying to soaring. Trying times are periods of struggles, challenges, lockdowns and knockdowns! It could be terrifying, tempting, difficult and annoying but certainly, it's a period when the challenged person needs to make some life-changing decisions either to be emotionally drawn in the situation (scenario) or get up and fight by maximizing the storm to discover innate potentials and build capacities beyond the ordinary. It is a period of systematically confronting and conquering one's fears. It could really be energy sapping (exhausting), it's a period of fighting hard psychologically, spiritually and morally.
It is a period of aligning your psychological, financial, physical and spiritual strengths to find meaning to your existence. Life is a series of peaks and valleys. Sometimes you are up and sometimes down. But our trying times is when we need more supports, push and guidance. We must understand that it is how we respond and confront our challenges that define how strong we are. This tests of times are revealers of those that are true to us. But we become happier in life as we improve on our abilities to navigate this trying period, and we also grow as a being or an entity.
Your trying times might be a serious health challenge, dealing with patients in your (hospital) wards, marriage, children, relationship, career or customers amongst others; trying times are inevitable. Your Spiritual, Physical, Emotional and Mental (SPEM) strength are usually tested during those trying times. And without adequate 'SPEM' strength, life's inevitable challenges are likely to fill you up with self-doubts and anxiety, uncomfortable feelings lending to negative vibes, thoughts which affect or influence your behavioural pattern, which can turn your catastrophic predictions into a self-fulfilling prophecy.
Life comes with different seasons: good times and bad times as unveiled in the Holy Book [Ecclesiastes 3:1] "there is an appointed time for everything. And there is a time for events under heaven" (NASB). Every purpose, activity and situation simply reveals what time and stages we are in. But the good news is that the Almighty God is unchanging through all the seasons. He says: "I am the Lord that does not change." Not His integrity, His mercy, nor His faithfulness. However, to overcome in every changing seasons of life, we must adapt and engage the shield of FAITH as given us by God; because FAITH is the spiritual, psychological and moral weapon for all season. The Holy Book in 1John 5:4 reveals that: "For whatsoever is born of God overcomes the world: and this is the victory that overcometh the world, even our faith."
Currently, the is an ongoing global crisis against humanity, that is the COVID-19 (Coronavirus). We should understand that what is happening today is not new at all; in 1869, 1919 there were pandemics that ravaged the world. Here is where the hope of our victory lies; if God could put a stop to the plagues in times past, He will solve it again; because He alone is the Almighty.
Among others are what trying times does:
One. Trying times is a REVEALER; it truly reveals who you are. Everyone can fake that he or she is strong before their trying moments, but when trying times emerges; that is when you know who you truly are and where you truly stand. Many people tend to play the blames on God in their trying times- these categories of persons want to get their crowns without going through CROSS; such people want the testimonies without passing through the TESTS.
Trying moments reveals our true identity, our strength, weaknesses among others- that is why the Holy Book reveals in Proverbs 24:10: "…if you faint in the day of adversity your strength is small (AMP)."
Two. Trying moments gives us the opportunity to put to test all that we have learnt over the years. Every word of God that has been deposited your heart are to prepare you for battles. Your works/ strengths would be tested in trying times. There are messages you have heard some two to four years ago, such that if something happen today, those words would act as weapon which God had given you in advance to prepare you to lead and conquer. Some of us do not know the power we possess until we feature in trying moments.
Three. Trying times should not make us run away from The Maker, God Almighty; but should push us to run to Him: Just as the Holy Book, Proverbs 18:10 reveals "the name of the Lord is a Strong Tower; the righteous runneth into it, and it is safe." (KJV).
WAY FORWARD- in Trying Times
The word of God is the solution to every problem; it is the way out of every challenge of life when applied. God uses life events to shake the trees of our lives so that the rotten fruits and withered leaves can drop off. He is shaking the Heavens and the Earth so that the things that cannot be shaken can stand. If we are very observant to current issues around the world, it is vividly clear that the so-called nations that we think are 'up there', the scourge of Covid-19 (Coronavirus) has exposed and humbled virtually all of them, they all now find solace in the power beyond science (Artificial Intelligence), God Almighty. These were the so-called nations that had almost totally rejected the full (gospel of the) existence of God over mankind. In a nutshell, God uses trying times to humble mankind and prove His Supremacy as the Almighty in the affairs of men; in a bid to draw us closer to Him.
The first way forward on your to-do-list is to know what-not-to-do. Many times, we say this is what I will do, it may not be as effective as knowing 'what not to do'. It is not what you should do that matters, it is what not to do in trying times- that is the wisdom we got from the Almighty God in the Holy Book of Exodus 20 when He was giving the Ten Commandment. He didn't at first state to them what He needs them (Israelites) to do, but 'what not to do,' then at the latter end stated what to do. Exodus 20:3 reveals: "you gods before or besides Me" (AMP). God didn't say "you must serve Me," but He is saying: Know what you shouldn't do, that is, "you shall not have any god besides me, you shall not make for yourself an idol, you shall not bow down yourself to them or serve them. God began to give them a list of what they shouldn't do.
In your trying times, you must first of all, know what not to do; that will help you to know what you should do.
Seven Things You Shouldn't Do in Trying Times that Guarantees Our Staying Power to Overcome are:
One. Do not FEAR! The Holy Book in Psalm 91:5 reveals that "thou shall not be afraid…" we could see the covenant of God in that scripture that if God should say do not fear, then why should you be afraid. Put your trust in Him, cast your care unto Him, then follow His full instructions or directions per-time; of what use or need is speed when there is no direction?
Even when everything around us points towards fear, always remember that God has instructed us not to fear, and none of His words would fall to the ground. The word 'fear not' is very instructive and important. It is one of the most important and common phrases in the Bible; but why is it so common and important? 'fear not' is God's 'stability phrase', it is our shock absorber. Why is it so important- Isaiah 41,43, Genesis 15? A researcher or Bible scholar unveiled that the word 'fear not' appears 365 times in the Holy Book which connotes that there is a 'fear not' dosage for each day.
'Fear not' is our God's Spiritual First Aid. God will not start a major thing just anyhow. Firstly, He stabilizes you by saying "fear not."
A classic example was when a man came to Jesus Christ to plead to heal his daughter, as the scripture reveals that Jesus was the only hope the man had. Jesus Christ agreed to follow him to his house to heal the daughter but was later interrupted by the woman with the issue of blood, and Jesus ministered to the woman which slowed down his movement to the man's house; then, someone brought a piece of sad news to the man that he shouldn't bother the Master (Jesus) that his daughter is dead, "don't trouble the master." But when Jesus Christ heard the news, he told the man "fear not; only believe." (Luke 8:50) KJV. That is the word of God will come to us not to fear when everything around us is pointing toward the direction of fear. So, in our trying times, the first what not to do is 'FEAR NOT!' it is a gentle command from our Maker to us (His Children) as a message of HOPE to help trigger our faith for the delivery of our desires.
Two. We must not be SILENT. A closed mouth is a closed destiny. Almost all the covenant of God in the Bible are voice and word activated, and we saw that throughout the scriptures, starting from Genesis 1, every time God wants to activate His covenant, He speaks! When God wanted to revive the dry-bones nothing happened until the word was spoken- Ezekiel 37 "Can these dry bones live again? Ezekiel replied "only God knows, then, God instructed to prophesy and he said "…so I prophesied as I was commanded when I began to speak, then God began to move." God activates His covenants by Spoken words, as seen in Psalm 91:2 'I will say of the Lord…' Hebrews 13:5-6 "…He had said, I will never leave you nor forsake you." "so that we might boldly say, the Lord is my helper and I will not fear what man shall do unto me." In trying times, know that the covenant of God is word activated and you must not shut your mouth, you must speak! The Book of Genesis 1:2-3 reveals that nothing happened, even when the Spirit of God was moving on the surface of the waters until God said: "let there be light." We must speak FAITH; we must speak it consistently and we must be cautious of our utterances. Don't just be silent, and when speaking, avoid negative words- remember what the Holy Book (Ecclesiastes 5:6) says: "say not before an angel that it was an error." We must know what to say and know how to say it. We must be bold (confident); speak with intensity. When situation refuses to change, change it with your spoken words of faith.
Three. Thou Shall Not Disobey or Ignore Natural Wise Instructions and Guidelines for Your Safety. Most of the time, we over-spiritualize things, so much that we ignore wise counsels and other cautions that are natural. Joshua in the Holy Book was fighting the physical battle while the hand of Moses was raised – Exodus 17:9-11. Kindly ask yourself, what are the spiritual and natural things you are consistently doing. For instance, the case of the Covid-19 has compelled a lockdown in virtually all nations, it will, therefore, be wise to follow laid down guidelines issued by the government and the health bodies in order to prevent or avert further spread of the virus.
Four. You must not stop praying. Holy Bible says, pray without ceasing. We must not stop praying- Luke 18:1. Prayer fortifies and purifies us. It aligns us with divinity, so as to intervene in our humanity.
Five. You must not be slack in your confessions of FAITH. Don't stop it.
Six. You must not doubt; you must keep believing. The Holy Book reveals that a double-minded person can never receive anything from the Lord. As you are confessing, it is revealed in the Scripture in 2 Corinthians 4:13 "we, having the same Spirit of faith, according to as it is written, I believed, and therefore have I spoken, we also believe, and therefore speak." If you say it and you do not believe it, it becomes useless and worthless.
Seven. You should not be selfish in trying times. Don't let your prayer only focus on you. We cannot be praying for our country alone and not remember other countries. If our country is safe and others are not safe, then we are not safe. Do not let your prayers be limited or restricted to only you. Jesus Christ, our great exemplar while on the cross in His trying time was still blessing people and giving them the grace of second chance (a case study of the thief on the right-hand side of his cross). Jesus Christ prayed "Lord do not count this against them, forgive them their sins, for they do not know what they are doing. 2 Corinthians 6:9-10 reveals "As unknown and yet well known, as dying, and, behold, we live; as chastened, and not killed, as sorrowful, yet always rejoicing, as poor, yet making many rich, as having nothing, and yet possessing all things.
In your trying times do not shut down. Always do your best to be productive, and positively inclined. As you do all these things, the Lord will turn the situation around. So, what to do is knowing what not to do. As soon as we begin to focus on the things that we should not do, then we will know the right things to do.
The Book of Isaiah 30:15 reveals: "for thus saith the Lord God, the Holy One of Israel; in returning and rest shall ye be saved, in quietness and in confidence shall be your strength: and ye would not." God is saying to you to calm down, be still and know that He is God [Psalm 46:10]. God is still on the throne and He will turn things around. He will turn your trying times into thriving times for you, and your testimonies shall be full. He will strengthen your faith and give you a lasting solution.
Stay Safe,
Stay Sane,
Stay Sanctified!
Thank you all for reading.
(Thriving in Trying Times continues next week…)
Watch out for the Book titled: "The Power of an Empowered Zero" (From Zero to HERO) by Tolulope A. Adegoke. Foreword by Dr Yomi Garnett (CEO/Chancellor, Royal Biographical Institute, Philadelphia, Pennsylvania U.S.A., U.K., Abuja, Nigeria.) Edited by Ola Aboderin.