Food for Living: Don't Settle for Less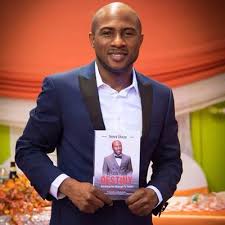 By Henry Ukazu
Greetings Friends,
I will like to start today's article with some positive assertions. The joy of every progressive being is to get to the peak of their career in life. The joy of every young man/woman who wants to go into relationship or tie the marital knots is to get the best love experience ever which is not limited to having a faithful, caring, understanding, peaceful, loyal and loving partner; The joy of every rational person is to get the best out of life no matter what life throws at you. Nobody likes to be disrespected. As a rule of thumb, never you settle for less, especially when you deserve the best. It doesn't matter if you are searching for a job, or a marriage partner, setting up a business, etc. All that matters is for you to give and demand the best.
During the course of this article, we shall be discussing relationship, job/career, personal living and life in general. It is instructive to know that you don't have to agree with what you don't want. A huge part of settling for less is by being a "yes man" or "yes woman". If you agree to things you don't really want, you are building a life that doesn't reflect your own needs and identity.
Marriage/Relationship
This is one of the most interesting journeys every human being must undertake in one way or another. Whether you are dating, or you are already in a relationship or even married, you definitely have a preference for who you are willing to date or spend the rest of your life with. Just like Gary Chapman stated in his book "The Five Love Languages": Words affirmation, physical touch, gift, services, and time as the five love languages. According to him, most human beings respond to one or two of these love languages, so your ability to know what works for a particular being can give you an opportunity to relate closely with the person. It is quite unfortunate that many people don't know what they need in a relationship, and in life, and this singular factor/act makes them settle for less. You must continually demand what you need and desire in life especially when you are ready to act/measure up with the same expectations. Requesting for more is not a crime, in fact, it is a requirement or prerequisite for you to have a blissful and harmonious relationship. When you settle for less than you desire in relationship, you will have to live with regret and unfulfillment.  To make it more practical, if you have a taste for a particular kind of woman or a man with a specific character; particular body feature; academic qualification or career, please don't settle for less, go for it because only you know that which will make you happy. Your desire in life shouldn't be compromised on the altar of sentiments. It is often said that that once a woman knows her worth, she won't settle for less again. As a word of advice, you deserve someone who is intentional and clear about their feelings for you. You should not have to sit around and wonder how they feel about you or where you stay in their life. Also, walk away from a relationship that isn't making you a happier and better person. It is better to be single and alone than to be in a half-assed relationship that leads you to the deception that you are not good enough.
Let's share some practical tips on how not to settle for less in a relationship
1.      Gain self-awareness about your choices in partners and their willingness to meet your emotional and personal needs.
2.       Focus on finding your passions rather than finding a soulmate. Embrace some of the pleasures of being single – take a class, join a book club, watch your favorite movies, etc. A renowned author Holly Riordan writes: "Instead of searching every corner of the earth for someone you love, you should be searching for something you love for your passion."
3.       Set an expectation of mutual respect. Look for friends and partners who admire and respect you for who you are. If they respect you, they'll give you compliments, encourage you to do things that are in your best interest, and enjoy spending time with you.
4.      Don't compromise your values. Figure out your core beliefs and stand by them. Ask for what you need and speak up when something bothers you. Be more assertive (not aggressive) by stating your needs in a positive way.
5.      Extend trust to a partner who is interested in planning a future with you. Does your partner call when they say they're going to and follow through on commitments? When someone is interested in a relationship, they keep their agreements. Look for consistency between someone's words and actions. Don't waste your time on a relationship that doesn't have a future. If he or she says they aren't ready for a commitment, take them seriously!
Know Your Worth:
This is another interesting part of life. You need to know your worth as a human being. Knowing your worth is not limited to your lifestyle, it also transcends to your business. When you know your worth as a human being, you give yourself the due respect to know what you can tolerate and what you can't tolerate. You also give other people the opportunity to know what you stand for in life. As you may know, if you are not willing to stand for something, you'll for anything. Even if you have a business, your ability to define your value is very important for your people to take you serious. For instance, if you want to charge someone a service, it will be thoughtful to include the time you invest in delivery the service as opposed to the actual service you rendered. In concrete terms, you are really charging the person for your value and time as opposed to the price they are paying for the commodity. When you know your worth nobody will take you for a ride especially when you respect yourself. As a matter of fact, nobody will disrespect you without your consent. The better you feel, the easier it becomes for you to reject mistreatment. And when you resist the need to settle, you will be rewarded with opportunities.
Job/Career/Business:
Financial stability is the joy of any prospective employee or career professional. However, before you can get your dream career job you must have prepared yourself by learning the desired skills, have the required knowledge, understanding, information and training necessary to do the job. When you are fully equipped, you stand a better chance of demanding what you think you deserve. There are situations when people ask for a particular amount of money as a salary or even a raise in their pay but they fail to understand that nobody pays for you extra for what you do, except for the extra work or skill or even solution you offer. Furthermore, as a prospective employee, if you know what you truly deserve, don't settle for less out of desperation. Sometimes, we miss greater and better opportunities out desperation when we take a cut and job that is far less than what we deserve. As a word of advice, always stand your ground with diplomacy by negotiating well for what you deserve.
Personal Life and Life in general:
This is similar to knowing your worth but with a slight difference as it relates to personal life and life in general. Life has a way of throwing many blows at us, but how we react to it is what makes the difference. We all have different shock absorbers. Your ability to adapt to different challenges and situations can either make or mar you. In as much as your personal life is different from your reputation or what people think about you, you should be able to define yourself and know what you can settle for. Sometimes, life throws so many bullets at you and makes you accept the appearance as reality forgetting that appearance is not reality. Don't settle for anything life offers you. The only time you can settle for what life has given to you is when you have done your best and even at that never you settle for less until you have done your best and never give you accept anything less than you think you deserve devoid of pride and entitlement mentality. Remember, you need to have a positive mindset to appreciate the challenges life offers to you. Recognize that not getting what you want is not a personal curse.
Henry Ukazu writes from New York. He works with the New York City Department of Correction as the Legal Coordinator. He's the author of the acclaimed book Design Your Destiny – Actualizing Your Birthright To Success. He can be reached via henrous@gmail.com
Opinion: Thriving in Trying Times – Part 2
By Tolulope A. Adegoke
"Until you are tried (pushed), you will not strive, if you do not strive, you may not thrive! To thrive is to lead, to lead is to overcome barriers or win. But our Trying-times may differ." – Tolulope A. Adegoke
The aim of this write-up is to enlighten the reader on how to thrive, lead and conquer in trying times, and as well on how to overcome challenges and to benefit from unexpected changes in your life. This will be one of the very most important hours that you will spend reading. I, therefore, charge you to kindly invest it in yourself and I hope that you will take the contents in here to help deliver others around you too; so as to move them also to the higher levels of their life.
We must understand that living beyond just surviving is the point at which a man starts 'living', not merely existing in this earthly plane.
I have personally decided some years ago in my life that I was not going to be a survival, but a 'thriver'. I wanted to be someone who will not live under any circumstances of life, but I will create my own circumstances. And this is where taking charge of your circumstances comes to play its vital roles through the power of personal leadership (response-ability) for effective and efficient lifestyle. A simple thought about thriving which also connotes leading.
I will be painting two unique animals on the canvass of the word 'thriving', which connotes Personal Responsibility for effective individual or corporate efficiency in trying moments that God Almighty- the Creator identified Himself with, in the Scriptures which are: i. The Lion and the other is ii. The Eagle. These two animals are important to be carefully studied because He identified Himself with them. He calls Himself the Lion of the Tribe of Judah; also He says, "I will bear you up as an Eagle bears her Eaglet". Both of these animals are unique because they are both leaders in their areas of authority. The Lion is a leader in the Animal Kingdom, while the Eagle is the leader in the Bird's Kingdom; so I am not surprised that God identified with them. He created them, and He knows their unique qualities and characteristics. He built into them certain qualities that cause them to continue to thrive come what may happen, rise to the top and become Heads of their own territories.
The Eagle
What makes the Eagle thrive, even in trying times? What makes it the king of Birds?
It is vision and ability (strength) to maximize the storm and gracefully glides peacefully, even to the highest mountains. It is the vision of the Eagle that gives it an advantage over other birds. An Eagle can see in detail what is over five to six miles away. There are several other qualities in an Eagle, but its sight (vision) is the most outstanding; its capacity to see from distance in details.
The Lion
Here is another mystery Dr Myles Monroe (of blessed memory) once said that: 'an army of sheep led by a lion will always defeat an army of lions if they are led by a sheep'. The paradox here is clear enough for our individual, corporate and national comprehension and adoption. In other words, to thrive at any given time is to lead anytime, and to lead every time is to thrive every day. Leadership determines the quality of the followers. The Lion has the capacity to transform a Sheep into Lion-thinkers (that is, having a Lion Mentality) because leadership can transform cowards into warriors. Put in clearer words, followers cannot rise above their leaders. You become just like the people that lead you. So, if you desire to improve your individual lives, there is a need to improve the leadership that you follow; and you cannot lead people to thrive farther than you have gone yourself.
To thrive at all times, it is important to have a re-think on the kind of leader that you are following or yielding to; it could in any ramification of life (religion, finance, politics, friendship among others). Who are you allowing to influence you? this will determine how far you can go in life and how much you well you will surmount the hurdles in your trying moments. That is why if a football team fails, the Management does not sack the players but sacks the coach of the team because he controls the team and the team yield to his tactics and gimmicks. The coach is responsible for the team. This means that the followers or team are either retarded ore released by (who they follow) the quality of leadership. This is why leadership is the key to succeeding life, even in trying moments.
The lion is still a mystery because it is a rare example of leadership. The Lion is not the strongest in the animal kingdom, not even the tallest nor the most powerful, heaviest and most intelligent, yet the leader- which is an indication that there is hope for everyone who is currently termed a zero (nobody) or not-good-enough. I charge to kindly take a good look of those lists which you have been using as excuses not to become an effective leader or not to thrive in your trying times. The Lion cancels all of your excuses for not becoming great and effective. Why then does a Lion thrive as a leader despite its shortcomings? The answer is ATTITUDE!
The power of the right attitude matters in every aspect of our lives. The Lion is the leader of the jungle which comprises of the bigger, faster, tougher and taller animals just it possesses and demonstrates the right attitude. The Lion thinks differently! (the Lion-Mentality). But Attitude comes from something very important which is BELIEF; so, I suffice to say that 'Attitude' is a product of 'Belief', which can be likened to FAITH in the Hebrew language; and I call it the 'Faith-posture'. The Lion believes in itself- this makes it control itself and deploys it towards life. Put in another word, Belief is another word for Self-Awareness (Self Knowledge). When you discover the truths about yourself- that is about who you truly are according to Scriptures, it changes your approach to life and the way you carry yourself.
No one can, therefore, live beyond the limits of their belief. A lot of people have been trapped as a result of their belief system. This is why I have decided to remind you of this principle for overcoming life and its fiery darts; while this is an eye-opener to others who have never seen life in this light. I didn't write this to arouse your individual intellects, but to cause a change for a 'divini-stic' encounter by disrupting your mind to rediscover yourself, not just as ordinary, subordinate and natural man, but a Supernatural-unique being through the lenses of an overcomer. That you can surmount any height, that you can become anything as long as you believe and engage the Faith-posture in your trying moments to thrive and conquer.
Kindly come down from the clouds of excuses of lack of money, time and chances; what you may be truly lacking is the Sight-belief-system. So, the key to life is knowing and having a clear understanding of 'how' to live beyond your present belief. The word Belief as said earlier means FAITH, the word Faith means 'Belief'. According to Dr Myles Monroe (of blessed memory), "Leadership is 20% Skill and 80% Attitude". This is why majority across the world, even nations are followers- they wait for things to happen because they can't make things to happen.
You can go to a university and obtain certain levels of degrees in leadership, yet be unable to decree in the leadership space as a genuine leader. Or obtain international certifications in Management, yet unable to manifest fully and thrive in trying times, because information does not necessarily change the Belief-systems. Beliefs come from your environment, the people you permit into you circle or caucus, those powerful enough to influence your thought-patterns, it could come from your parents, family, religious organization, educational system, movies that you watch and the Books that you refuse to read. Your beliefs come from your environment which you have resolved to settle-in, and have assimilated with the life-patterns or system therein; not until you break out of such system, you may never breakthrough but would remain retarded or restrained by the limitations which come from the system. As individuals, corporate organizations and nations, we all need a release from limiting-systemic patterns and that could be solved through visionary and effective leaders with efficient leadership structures and patterns. This connotes that, one careless error from a leader or head of a family, organization or nation would likely affect and inflict a majority, even across the world or the total structure of an organization or the destroy the family and also the individual in question. To thrive is to lead, to lead is to overcome barriers or win. But our Trying-times may differ.
Currently, humanity (across the world) is going through its Trying-moments and world leaders are coming together to find or proffer solution to a common (global) issue, called the COVID-19 (Coronavirus). Decisions from these leaders could affect the over 7billion of the world population.
 (Thriving in Trying-Times continues next week….)
Thank you all for reading.
Watch out for the Book titled: "The Power of an Empowered Zero" (From Zero to HERO) by Tolulope A. Adegoke. Foreword by Dr Yomi Garnett (CEO/Chancellor, Royal Biographical Institute, Philadelphia, Pennsylvania U.S.A., U.K., Abuja, Nigeria.) Edited by Ola Aboderin.
Twitter: Trump Is Doing the Right Thing for Wrong Reasons
By Joel Popoola
When Donald Trump suggested you could cure COVID-19 by drinking bleach, Nigerians could be forgiven for thinking his public statements should come with a health warning.
But a row has broken out in America after Twitter labelled two of the President's posts with a truth warning, describing them as "potentially misleading".
In response, the president used executive powers to attempt to limit liability protections for social-media companies –making them legally responsible for the content that gets posted on them for the first time.
As a Nigerian tech entrepreneur and digital democracy campaigner, I believe this is an example of the wrong person doing the right thing for the wrong reasons. It is overdue that social media companies take responsibility for the content that is posted on them, but not because one politician resents being shamed for using that platform irresponsibly and inaccurately.
Ironically, the controversial tweets; not even that controversial by this President's standards, accused postal voting of being "substantially fraudulent" with ballot papers "forged & even illegally printed out & fraudulently signed", concerns some Nigerians will probably share!
But Nigerians are all-too familiar with our own fake news crisis. Fake wars, fake terrorist attacks, fake cloned Presidents – we've had the lot. One state governor has even spoken of reading about how at that exact moment he was apparently in a coma, following a magic tortoise attack!
Social media allows these stories to be spread across Nigeria before the truth has even put its shoes on. And part of this problem is social media companies have historically refused to accept that the things that get posted on their platforms are anything to do with them.
To social media companies, their platforms are just blank canvases. If anyone writes something dangerous or misleading on those blank canvases, it's has nothing to do with them – even if what is written is dangerous or misleading.
Social media companies have historically refused to admit that they are not blank billboards. They are media providers. And imagine if any other media providers behaved this way.
Imagine the newspapers were just blank pieces of paper that whoever got to the shop first could write whatever news they wanted on, even if that "news" was politically-motivated misinformation.
Imagine the nightly television news was people taking turns to read out their conspiracy theories, daydreams, and fantasies. Dangerous nonsense, masquerading as credible information.
As Vice President Yemi Osinbajo has himself said, social media platforms must do more to tackle the "fake news or provocative information" he believes "can cause chaos, civil unrest, war, and even death".
On the other hand, whilst social media companies should not be punished for belatedly taking steps to ensure that their users have access to the truth, who decides what the truth is? With three of the largest social media organisations owned by the same people, doesn't that concentrate enormous power in the hands of very few (completely unelected and unaccountable) people?
Politicians need to ask themselves why social media provides such fertile soil for dangerous rumours to take root, and in Nigeria in particular, one of the main reasons is the lack of trust electors have for the elected.
Fighting the fake news which has become all too prevalent in Nigeria in recent years necessitates the public having reliable sources of information they can go to online – and where better than going direct to their local representatives?
It is for these reasons that the Digital Democracy campaign created the free Rate Your Leader app – a direct (and abuse-proof) line straight to elected officials from the people who they serve.
Ask them anything, person to person, direct from your phone. And with that contact comes accountability. If you don't like the answer you get or you don't get an answer at all, Rate Your Leader lets you rate your local politician appropriately for everyone to see.
Voters aren't the only ones to benefit. The app helps politicians understand what matters most to the people who elected them, build relationships of trust with the electorate, and get important messages straight to them.
Nigerian voters need to know what information they can trust, and also that they can trust their local representatives. Digital engagement is the most effective and efficient way of delivering that.
To put it another way, politicians, do you want your local residents to be getting their information from you, or the man telling them to drink bleach?
Joel Popoola is a Nigerian tech entrepreneur and digital democracy campaigner and is the creator of the free Rate Your Leader mobile app. Contact us via Joel@rateyourleader.com
Food for Living: Distance Yourself from Negativity
By Henry Ukazu
Greetings Destiny Friends,
It is a well established fact that in life, there's time for everything. A time to sow, and a time to reap; a time to cry and a time to be joyful; a time to be born and a time to die; and a time to succeed and a time to fail. The list is literally endless. Amongst all these, the gateway of overcoming this challenge is having a positive mindset. When you diffuse your mind from negative thoughts, you give yourself the positive energy to live again.
In the journey of life, sometimes we are too complacent. We sometimes hold onto sentimental attachment with our fellow human beings due to vested interest. Most of us kind of play along or flow when it comes to who we surround ourselves with.
Having a positive mindset is priceless. A positive mindset tells you that despite all the bullets that is thrown at you, it shall fade away if it's definitely not for you. A positive energy tells you that regardless of what is said about you, they don't decide your fate. A positive mindset tells you that when they go low, you go high. A positive attitude empowers you to raise the price so that detractors will find it hard to rent a space from your mind.
You cannot underestimate the power of positive mindset. However, before you are able to appreciate the strength of positivity in your life, you must keep negative people out of your life. The question now becomes, how do I kick off negativity from my life? Kicking out negativity does not only involve distancing yourself from friends and associations, it also entails distancing yourself from negative thoughts. This is because that is where all negative thoughts arise.
Just like how success and failure arise first from the mind, distancing yourself from the world starts from the mind as well. You'll have to conceive the idea first before acting on it. It should be noted that if you don't weed out negative thoughts and people from your mind, they'll hunt you. Let's take a case study of a farmer who plants a crop. He has to constantly weed the farm in order to allow the crop grow and mature very well before he/she can harvest. In the same way, we need to separate our self from the chaff.
As human beings, we all have one form of chaff living in us. It's up to us to weed out all the chaff in our life. This chaff can be friends, family, insecurity, associations, habits or even blind spots which you are not aware of. It's high time you shook off any chaff of disappointments preventing you from possessing your passion. You are in charge of your life. Has it ever occurred to you that you are the landlord of your life? If yes, then it's imperative for you to raise the bar so that cheap people can't rent a spot in your mind. Don't allow people with no value to occupy a space in your brain which you can use to create ideas and solutions.
As human beings, sometimes, we always think human beings are the cause of our failures, but in reality, the reason is simply because we are still hanging out with negativity, free yourself by separating yourself from the crowd.
How to distance yourself from negativity
There are several ways to distance yourself from negativity:  Avoid negative people because they literally have no value except envy and doubt. Set boundaries from strangers and people you are not comfortable with in order to keep your sanity of mind. Look out for solutions and not problems; and finally, don't take things personally and always practice self-love.
When you distance yourself from negative people, your thoughts become positive. When you're surrounded by other people's negativity, you may find it harder to regulate your own positive and negative reactions and emotions. When you are surrounded by negativity, it will hard to find reasons to feel happy or positive. However, once you distance yourself from negativity, your positive emotions will start to show themselves again.
According to a Life coach and author, Tandee A. Victor, "Complaining can completely ruin your life by taking all the happiness out of it. When you constantly complain, you develop a negative mentality about everything. That leads to discontent and inner turmoil." This is simply what negative thought brings to the mind. It's easier to think, feel and stay positive when you're surrounded by such happy, good and positive energy. You'll be surrounded by good people and good things, rather than an endless feedback loop of negative energy.
Sometimes, a lot of people don't notice that they're surrounded by negativity until they start to distance themselves from it.  Therefore, in order to separate or distance yourself, you must detach yourself from the crowd. And finally, ask yourself why? Ask yourself why now? Ask yourself what?  Ask yourself how? Ask yourself when? You can do this by finding the root cause and start looking at how it affects you, the people around you. Look around you, look at yourself. Food for thought: The one thing that happens immediately after distancing yourself from negativity is a shift in the way that you're thinking.
Release
You can distance yourself from the crowd by releasing yourself and your mind from any distraction. You need to let it out whatever has been disturbing you. It would greatly help if you release feelings. The longer you keep it in, the harder it will get.
Forgive
Pride can make you do things you'll regret. Pride will make you say words that can leave wounds deeper than any blade can ever do. Forgive them and forgive yourself. This will help you have peace of mind. And wouldn't it be calming to think that nothing else is holding you back from moving on, from detaching yourself from the things that aren't good for you. Forgive. One word, six letters, and a lifetime worth of work, forgiveness takes time..
Be grateful.
Be grateful for the pain and sorrow. Be grateful for the joy and hope. Be grateful for the memories. Be grateful for the smiles and scars, and the wounds and tears. Be grateful for realizing the reason you're detaching. There are so much other things, and many other people that you can be grateful for.
Amazing things happen when you distance yourself from negativity
The simple question I have for you today is what's your own chaff?
Henry Ukazu writes from New York. He works with the New York City Department of Correction as the Legal Coordinator. He's the author of the acclaimed book Design Your Destiny – Actualizing Your Birthright To Success and President of gloemi.com. He can be reached via henrous@gmail.com