Food for Living: Just Do Your Best!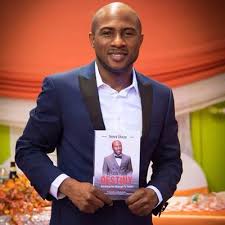 By Henry Ukazu
Greetings Friends,
The desire of every rational and progressive human being is to be successful. Succeeding in life can be very challenging because of the hassles that come with success. It is really hard forging ahead in life when the odds are really against you especially when you have done your best by investing time and resources in your business, project or work. The frustration can be humbling. It takes a man with sound judgmental and positive discretion to continue to forge ahead in life when he/she faces setbacks. Imagine the life of an entrepreneur who wakes up daily and invest his time and resources in his/ her business only to find out, he needs to start all over again due to a mistake or new development.  Whenever you feel this way, one of your strongest arsenal to keep your sanity of mind is to stay strong by having a strong mental positive attitude.
Giving your best in life entails a lot of meanings. Depending on the context in which you are using it for, it can mean giving your best by doing your best in any work/situation you find yourself. It can also mean good luck, you'll be fine. I wish you the best. It is what it is. It's also mean a subtle way of letting you off the hook. It also means being sincere about wanting to do anything you promise to do.
Regardless of which pendulum you belong to, one thing is certain only you can define your "best no one can fully describe what "just do your best" means because it means different things for every person. I belong to the school of thought which believe that he that is in you is greater and stronger than he that is in the world. This is because if the whole world is telling you can't do it and you know you can do it, you'll definitely succeed. But if the whole world is telling you can do it and you know you can't do it, you'll fail. This simply goes to tell you that you are the architect and masterpiece of your life who understands your strength, weakness, and limitations. In a simple and general term, doing your best literally means giving your best in any endeavor you find yourself. When you do your best, you get a lasting impression and peace of mind even when the odds are against you because you have sincerely done your best based on your ability and disposition.
True success is not an overnight victory, it takes several works which can be sleeping late at night, waking up early, going the extra mile, networking, learning a trade, reading, and researching, etc. Sometimes with all these factors at play, we still don't break even. Truly, it can truly be frustrating.
Today, I charge you, give your best in your business, school work, athletic competition, fashion, entertainment and in whatever you are passionate and skillful at. Believe it will work out in due time if it's destined for you, and if it doesn't workout our as planned, just know it's either, it's not for you; your time has not come yet, or you're are not doing the right thing by networking/meeting with the right people, you're not being strategic by learning the rope, etc.
Sometimes in life, it is better to work smart as opposed to working hard. You can achieve more in life if you are very strategic. According to   Abraham Lincoln, "Give me six hours to chop down a tree and I will spend the first four hours sharpening the ax". Abraham Lincoln was merely speaking on how to be smart and strategic as opposed to working hard. However, the best approach will be working both hard and smart. Doing your best entails appreciating the challenges and disappointments that come with the work. These challenges can turn out to be a turning point if you rightly apply the laws of gratitude.
Being consistent is one of the ways of doing your best. When you are consistent in your craft, you'll separate yourself from the regular crowd. I recently watched a short presentation by Olufela Durotoye, a leadership expert, and motivational speaker. According to him, Consistency is what separates winners from champions. He went further to state that if you want to know the best in any industry ask for the champions. For example, if you are asked to name the best talk show, Oprah Winfrey's name might be the first to pop out, in tennis, Serena Williams; in soccer, Ronaldo, Messi, Maradona, Abedi Pele, or even Augustine Jay jay Okocha might come to mind. One thing is certain among this set of creative, talented and industrious individuals- they gave their best and it worked out for them. They became champions by winning consistently and giving their best in what they do every day. It should be noted that winners win matches, while champions win tournaments, competitions, and seasons
A great way of doing or giving your best is by being great at what you do. This is because when you become great at what you do, you will not only attract value, you'll gain respect/expertise, money and authority. You can succeed and be excellent at what you do, but you will be excellent and greater at what you are gifted at.  In order to attain true perfection, you must give your best. As a word of advice, give your best in what you are naturally good at and you'll be celebrated.
In conclusion, don't be the best among your contemporaries, but be your best.
Henry Ukazu writes from New York. He works with the New York City Department of Correction as the Legal Coordinator. He's the author of the acclaimed book Design Your Destiny – Actualizing Your Birthright To Success. He can be reached via henrous@gmail.com
Miracle: 29 Passengers Cheat Death as Commercial Bus Plunges into Lagos Canal
The 29 passengers on a board a commercial bus that plunged into a canal in front of the National Theatre complex, Iganmu, Lagos, on Monday. were all rescued unhurt, the News Agency of Nigeria (NAN) reports.
It was learnt that the vehicle, with registration number MUS 68 XH, suddenly developed technical problem and plunged into the canal opposite National Theatre entrance.
The driver of the bus, Augustine Okorie, who spoke to NAN, described the survival of the passengers as a "miracle''.
"I was bringing in 29 passengers from Shinbiri area in Okokomaiko along the Badagry Expressway and on getting to the front of the National Art Theatre, I lost control and the vehicle plunged into the canal.
"As I was about to change the gear and could not do that immediately, the vehicle started to swerve uncontrollably and before you know what was happening, we found ourselves inside the canal.
"In spite of the situation, I was so worried about my conductor who was hanging by the door, but we thank God none of us sustained injury," Mr Okorie said.
An official of the Federal Road Safety Corps (FRSC), who refused to be identified, told NAN at the scene of the accident that they quickly alerted other emergency and traffic management agencies who assisted in the quick rescue of occupant of the vehicle.
NAN, however, reports that the vehicle was brought out of the canal 30 minutes later by officials of Lagos State Emergency Management Agency (LASEMA).
Premium Times
Police Uncover Another Torture Centre with 300 Inmates in Buhari's Hometown, Daura
The Police in Katsina State on Monday arrested the owner of a rehabilitation centre in Daura where over 300 inmates were being subjected to inhuman and degrading treatment. Some of the teachers were also said to have sexually molested the inmates at the centre owned by Mallam Bello Maialmajri.
The 78-year-old cleric was arrested alongside two other men, whose names were not disclosed.
Last month, the police in Kaduna State rescued over 300 boys from an Islamic school, where they were allegedly chained,   sexually abused and tortured.
The  Katsina State   Commissioner of Police, Sanusi Buba, who led the operation at about  1pm, expressed shock at the new discovery.
The centre is located at Nasarawa Quarters,  in the   Sabongari area of  Daura.
Daura is President Muhammadu Buhari's hometown.
After inspecting the rehabilitation centre, Buba ordered the  Daura Divisional Police Officer, ASP M.O.Wakili,  cordon off the centre.
The CP  said, "We learnt that the inmates here are over 300.  The inmates revolted yesterday (Sunday) because of the inhuman treatment they were being subjected to.
"Some of the inmates escaped while the ones you are seeing, about 60,  stayed back.
"The inmates are from various parts of Nigeria, including Katsina,  as well as from  Niger Republic. I will meet with the Emir of Daura and Governor Aminu Masari on the issue. We will do the profiling of the remaining inmates  to determine where they are from and we will thereafter appeal to their parents and their  guardians to come and collect them."
He added, "As you heard from the inmates, apart from being subjected to inhuman treatment, some of their so-called teachers practised homosexual acts with them. Although the teachers escaped when my men came here after  the inmates revolted, we shall get all of them and they would face the full wrath of the law.
"From what I have seen here, the old man, who is the owner of this place and who is over 78 years old, does not have  the capacity  and facilities to run this place again."
One of the inmates,  Abubakar Saminu,16, from Yobe State said his parents brought him to the centre because he was always stealing.
He said,"My parents brought me here because they believed I  would be cured of my stealing problem.  But they would beat us, starve us and subject us to inhuman treatment here."
It was learnt that Maialmajri had already  handed  the running of the centre  to his son, Umar, who reportedly escaped when  police arrived.
The Emir of Daura,  Dr . Umar Farouq,  who spoke in Hausa,   said, "We in Daura will not support any act of lawlessness. We want the law to take its  course."
The Punch
Flood Sweeps 11-Year-Old Boy, Rescuer to Death in Lagos
Tragedy struck residents of Aboru and Iyana-Ipaja in Alimosho area of Lagos on Saturday as flood swept away an 11-year-old boy and his rescuer, one Wasiu at a canal linking Aburo and Iyana-Ipaja on Ige Road.
The News Agency of Nigeria correspondent, who visited the scene of the accident observed huge crowd wearing sad faces due to the unfortunate incident that occurred following the overflow of water from the canal.
It was gathered that two young boys sent by their parents to buy cooking gas at a gas station fell into a drainage that serves as a channel to the canal.
Three young men attempted rescuing the boys and succeeded in rescuing the older one, but one of the rescuers popularly known as Wasiu Stubborn was swept away while trying to rescue the other victim.
Speaking to NAN at the scene, Mr Solomon Agboghoroma, a Community Development Association leader in Oki Town, regretted the development, saying that the government had failed to construct a bridge to prevent such incidents.
Agboghoroma, who recounted the ordeal of landlords and residents of the area anytime it rained, said that there was the need to expand Aboru road and build a bridge at Cement Bus Stop to forestall recurrence of such tragedy.
"This rain started almost four or five days ago but the one of last night was one of the heaviest and it started at about 2:15 a.m. and by 3:15 a.m., it came with full force and everywhere was flooded.
NAN