Food for Living: Just Do Your Best!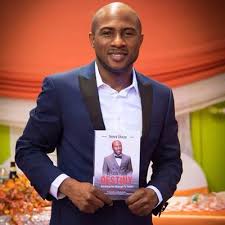 By Henry Ukazu
Greetings Friends,
The desire of every rational and progressive human being is to be successful. Succeeding in life can be very challenging because of the hassles that come with success. It is really hard forging ahead in life when the odds are really against you especially when you have done your best by investing time and resources in your business, project or work. The frustration can be humbling. It takes a man with sound judgmental and positive discretion to continue to forge ahead in life when he/she faces setbacks. Imagine the life of an entrepreneur who wakes up daily and invest his time and resources in his/ her business only to find out, he needs to start all over again due to a mistake or new development.  Whenever you feel this way, one of your strongest arsenal to keep your sanity of mind is to stay strong by having a strong mental positive attitude.
Giving your best in life entails a lot of meanings. Depending on the context in which you are using it for, it can mean giving your best by doing your best in any work/situation you find yourself. It can also mean good luck, you'll be fine. I wish you the best. It is what it is. It's also mean a subtle way of letting you off the hook. It also means being sincere about wanting to do anything you promise to do.
Regardless of which pendulum you belong to, one thing is certain only you can define your "best no one can fully describe what "just do your best" means because it means different things for every person. I belong to the school of thought which believe that he that is in you is greater and stronger than he that is in the world. This is because if the whole world is telling you can't do it and you know you can do it, you'll definitely succeed. But if the whole world is telling you can do it and you know you can't do it, you'll fail. This simply goes to tell you that you are the architect and masterpiece of your life who understands your strength, weakness, and limitations. In a simple and general term, doing your best literally means giving your best in any endeavor you find yourself. When you do your best, you get a lasting impression and peace of mind even when the odds are against you because you have sincerely done your best based on your ability and disposition.
True success is not an overnight victory, it takes several works which can be sleeping late at night, waking up early, going the extra mile, networking, learning a trade, reading, and researching, etc. Sometimes with all these factors at play, we still don't break even. Truly, it can truly be frustrating.
Today, I charge you, give your best in your business, school work, athletic competition, fashion, entertainment and in whatever you are passionate and skillful at. Believe it will work out in due time if it's destined for you, and if it doesn't workout our as planned, just know it's either, it's not for you; your time has not come yet, or you're are not doing the right thing by networking/meeting with the right people, you're not being strategic by learning the rope, etc.
Sometimes in life, it is better to work smart as opposed to working hard. You can achieve more in life if you are very strategic. According to   Abraham Lincoln, "Give me six hours to chop down a tree and I will spend the first four hours sharpening the ax". Abraham Lincoln was merely speaking on how to be smart and strategic as opposed to working hard. However, the best approach will be working both hard and smart. Doing your best entails appreciating the challenges and disappointments that come with the work. These challenges can turn out to be a turning point if you rightly apply the laws of gratitude.
Being consistent is one of the ways of doing your best. When you are consistent in your craft, you'll separate yourself from the regular crowd. I recently watched a short presentation by Olufela Durotoye, a leadership expert, and motivational speaker. According to him, Consistency is what separates winners from champions. He went further to state that if you want to know the best in any industry ask for the champions. For example, if you are asked to name the best talk show, Oprah Winfrey's name might be the first to pop out, in tennis, Serena Williams; in soccer, Ronaldo, Messi, Maradona, Abedi Pele, or even Augustine Jay jay Okocha might come to mind. One thing is certain among this set of creative, talented and industrious individuals- they gave their best and it worked out for them. They became champions by winning consistently and giving their best in what they do every day. It should be noted that winners win matches, while champions win tournaments, competitions, and seasons
A great way of doing or giving your best is by being great at what you do. This is because when you become great at what you do, you will not only attract value, you'll gain respect/expertise, money and authority. You can succeed and be excellent at what you do, but you will be excellent and greater at what you are gifted at.  In order to attain true perfection, you must give your best. As a word of advice, give your best in what you are naturally good at and you'll be celebrated.
In conclusion, don't be the best among your contemporaries, but be your best.
Henry Ukazu writes from New York. He works with the New York City Department of Correction as the Legal Coordinator. He's the author of the acclaimed book Design Your Destiny – Actualizing Your Birthright To Success. He can be reached via henrous@gmail.com
Another Student Allegedly Raped, Murdered in Ibadan
A post graduate student of the University of Ibadan, Azeezat Shomuyiwa, has been reportedly raped and murdered in Ibadan, Oyo State capital.
The police confirmed the murder but denied that the victim was raped.
She was attacked on Thursday at her house in Aba Ijefun, Akinyele Local Government Area of Ibadan.
The case is currently trending on Twitter.
Residents of the area told our correspondent that a stone used to kill Ms Shomuyiwa was found beside her bed with blood covering her body.
"The girl was raped and killed. As of this morning, police came to the place to arrest some people they suspected," one resident said asking not to be named.
Another resident of the community, Aduwo Ayodele, told PREMIUM TIMES that "A bad incident happened in my community today. The lady was raped and Nigerian police force came to the place."
When contacted, the Oyo Stats police spokesperson, Olugbenga Fadeyi, said the victim was murdered but there was no evidence of rape.
"Truly, the matter happened but it was not rape. She was attacked with stone on her head and left to die", he said. "The police commiserated with the family"
Mr Fadeyi told PREMIUM TIMES that the commissioner of police was there with top officials of the security force.
"The commissioner already asked the deputy commissioner of police to take up the matter for proper investigation."
Ms Shomuyiwa's case happened barely 48 hours after 18-year-old Barakat Bello was gang-raped and murdered by unknown assailants in the same Ibadan.
Ms Bello was a student of Department of Science Laboratory Technology (SLT), Federal College of Animal Health and Production in Ibadan, the Oyo State capital.
It also occurs days after a female undergraduate of the University of Benin, Vera Omozuwa, died in a hospital after she was allegedly raped and assaulted in a church premises in Benin, the Edo State capital.
Activists have been calling on Nigeria authorities to deal more effectively with rapists through the strict enforcement of existing laws and promulgation of tougher sanctions.
On Friday, a coalition of civil society organisations and human rights activists held peaceful protests in the Federal Capital Territory and Lagos demanding a state of emergency to be declared on Gender-Based Violence (GBV) in Nigeria.
The protest which took place at the police headquarters in both cities followed a perceived rise in the number of rape cases in Nigeria including the recent deaths of two rape victims.
Cops, Passers-by Feared Killed As Robbers Invade Police Station, Bank in Kogi
A yet-to-be ascertained number of police personnel and passers-by were feared killed when suspected armed robbers invaded the Isanlu branch of the First Bank of Nigeria Limited in Kogi State on Thursday.
A source told our correspondent that the robbers, numbering about seven, came in two vehicles, broke into the bank and shot dead several persons.
The Police Public Relations Officer in the state, William Ayah, who confirmed the attack, said there were casualties, but the command had yet to ascertain the number.
He said the state Commissioner of Police, Ede Ayuba, had detailed his deputy, Akeem Yusuf, to liaise with the Divisional Police Officer in Isanlu to get details of the incident and report back to him within 24 hours.
It was gathered that about seven security personnel on duty at the bank and some passers-by were killed by the robbers, who were angered by their inability to gain access into the banking hall.
The gunmen were also said to have invaded the Divisional Police Headquarters, Isanlu, and killed some policemen on duty.
The Punch
Another Student Raped, Murdered in Ibadan
An 18-year-old student of the Federal College of Animal and Production Technology Moore Plantation, Apata, Ibadan, has been raped and killed in Ibadan.
The teenager, Barakat Bello, who was undertaking the National Diploma programme in Science Laboratory Technology, was reportedly attacked on June 1, 2020.
The development comes days after a first-year student of the University of Benin, Uwa Omozuwa, was raped and killed in a parish of the Redeemed Christian Church of God in Edo State.
According to reports, the latest attack on 18-year-old Barakat took place at her home in Akinyele, Ibadan.
Initial reports stated that the corpse was found near the house.
The father of the deceased, Kasimu Elepo, told Sahara Reporters that he was not at home when the incident occurred.
He disclosed that the deceased's sister was also out of the house at the time the tragic incident occurred.
According to him, the victim's sister found Barakat's body at the back of the house in a pool of blood when she returned from Qur'anic lessons.
He said, "I was not at home when the incident happened. The younger sister was not at home too, she went for Qur'anic lessons but when she returned home, she saw her at the back of the house with deep cuts all over her body. She had been raped and killed.
"Somebody called me on the telephone that I should come home but he refused to tell me what happened. When I got home, I saw that my daughter had been raped and stabbed to death."
Meanwhile, the National Association of Nigerian Students, Zone D, has demanded justice for the victim, saying that the raping of women must stop.
The deceased, who was a member of the Muslim Students' Society of Nigeria, was buried on Tuesday according to Islamic rites.
The murder of the teenager has sparked protests on Twitter with the #JusticeforBarakat.
UK-based medical doctor, Harvey Olufunmilayo, said the rape 'epidemic' must be brought to an end.
He tweeted, "Barakat Bello was alone at home when some men attacked her. She was raped and killed. This was in Ibadan yesterday. She was only 18. Barakat was at home. She is a Muslim hijabi sister. You mad people that come up with excuses for rape, what is the excuse this time?"
Another tweet by @mideglow read, "This is becoming too much!!! We are tired of burying our sisters and friends. We are tired of molestation and rape! Capital punishment should be meted to the perpetrators."
The Police Public Relations Officer, Oyo State Police Command, Olugbenga Fadeyi, said in a telephone interview with The PUNCH that although the report is trending online, the police could not confirm it at the moment, noting that the incident had not been reported.
He expressed dissatisfaction with the failure of the family of the deceased to report the case for an investigation to be carried out by the police.
"Effort is being intensified to confirm the credibility of the report. At present, the Divisional Police Officers, Oluyole, and Apata divisions were contacted but we found out that the address that was quoted is not correct. When I got the DPOs and I inquired, the two of them said at present, there is no such report in their record.
"It is very funny when some people are too much in a haste to post such things even if it happened truly. I am not saying it happened because our records have not shown that. But, let's assume it happened, the family is supposed to make an official report; that is another problem."
The Punch