Food for Living: Life with a Purpose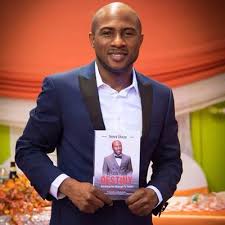 By Henry Ukazu
Dear Destiny Friends,
This is one topic I am most passionate about. I can write about purpose a thousand and one times without blinking an eye. Even while I am in deep sleep, I can speak about purpose. This is because I have come to the sublime realization of who I am. The centerline of purpose, without equivocation, is self-discovery, and self-discovery is one of the biggest challenges facing the world today. Many people; students, parents, politicians, leaders, and businesses fail in life because they don't understand the concept of purpose. Many of them are victims of defective success. Many people don't know themselves. Many of them are just existing as opposed to living. Therefore, the topic of purpose is very important.
Purpose determines how we live our life. It is the reason you get up in the morning. Purpose influences the decisions we make; it determines how we behave, and it gives us a sense of direction.
As a human capacity coach, one of my strengths is centered on purpose and self self-discovery. Every being on earth has a purpose. Every animal, innovation, business, food, cloth, bag, remote, box, game, etc. have a purpose. Without purpose, it won't be in existence. For instance, if you are thirsty, depending on how you feel, you might decide to take warm water or cold water. If you are traveling, you can decide to either go by road, water, rail or air. The choice is utterly yours to decide, and your decision will depend on the need-factor that will best suit your journey.
It should be noted that your life was given to you to accomplish a purpose, and a breath was give to you to accomplish that purpose. Everything you do outside purpose defeats purpose. When you work on your purpose, you will receive grace to accomplish the assignment. You can't receive glory outside the place of your assignment Glory is what happens when people see your good work and appreciate your God/creator who made it possible. We are all global citizens, and as such, we are expected to shine.
Living a life of purpose is the most important thing. Any life without purpose is life in futility. Without purpose, there's no value, and when there's no value, there's no life. Purpose determines function.
When you live your purpose on purpose, you'll be intentional in whatever you are doing. When you're living your life on purpose, the universe will align with you, and you won't need to struggle to survive. In fact, you'll find joy and peace of mind.
Purpose seems to be misunderstood and misinterpreted by so many people. It has been defined in many ways a particular author deems fit for his/her mission. To a student in college, purpose means something else; to an entrepreneur, purpose means something else; to a medical doctor, academic, writer, athlete, comedian, or Minster of God, it means also means something else. It basically means different things depending on the mission and goa they need to accomplish.
It might not seem rosy most times, when you work on purpose. There is a tendency that people will laugh at you if you don't have anything to show for it and if you are not able to monetize the business part of your purpose. Every productive venture we engage in has a productive side, it is up to you to decipher by looking deep in addition to exploring other options, systems, structures, funnels, and strategies on how you can monetize your purpose.
It's instructive to note that everyone you meet on the street is a potential client, because the challenge most people have is how to find a solution to the problem they have. Once you can create value for them, you will be handsomely rewarded. To that extent, you need guidance on how to apply this knowledge, and so I will strongly recommend you ask a coach or if you feel comfortable, you can reach out to me to assist you.
Purpose is very dynamic; many people have been wondering how can they discover their purpose. I will share some insight on how you can discover your purpose. To know your purpose, if you are spiritually inclined like me, you'll believe in God or the creator, you'll look up to him via prayers, or meditation to reveal your purpose on earth.
It should be noted that everyone has an assignment and purpose. Your purpose was ordained in heaven while your assignment is on earth. So, if you decide to detour, you might still attain success, but then, you might be a victim of defective success. You may be wondering what is defective success? Imagine leaning your ladder on the wrong wall to get to the peak of the ladder only to discover that it is leaning on the wrong ladder. Let's put it in perspective, imagine having the interest to be an accountant, but the vicissitudes of life or your parents influence you to study law, yes, you might get to the pinnacle of the legal profession, but since your passion is to be an accountant, you will be regarded as a defective success.
Another way to discover what your purpose is, is by looking at what makes you happy vis a vis your talents, skills and gifts. You can determine purpose by looking at how you invest your time, what you do with your money, what interests you, the feedback you receive from your work, how you find fun, the people you surround yourself with, and what interests you. You can even discover your pulse due to the causes you pursue like injustices, domestic violence, sexual abuse, etc.
Furthermore, if you are asked what you would do or how you would want to be remembered if you knew you were going to die in a year from today, your response can tell one what you are passionate about. The same goes for if you are asked what you would do $100million dollars to enjoy. Note that the money is not for investment purposes though.
Henry Ukazu writes from New York. He's a Human Capacity & mindset coach. He's also a  public speaker. He works with the New York City Department of Correction as the Legal Coordinator. He's the author of the acclaimed book Design Your Destiny – Actualizing Your Birthright To Success and President of gloemi.com. He can be reached via info@gloemi.com
Army Chief Commissions Multiple Projects in Janguza Barracks, Commends Troops of 3 Brigade
The Chief of Army Staff (COAS), Lt Gen Faruk Yahaya, has commissioned multiple projects in Janguza Barracks, Kano.
The newly completed projects, according to a statement signed by the Director Army Public, Major General Onyema Nwachukwu, which include 72 units of Corporals and Below Quarters (CBQ), 30 units of Single Officers' Quarters (SOQ) and 5 blocks of Company Offices and training shades were officially inaugurated today 26 January 2022 during COAS' maiden working tour of 3 Brigade area of responsibility.
Speaking during the commissioning ceremony, General Yahaya stated that the visit is in tandem with his command philosophy, to enable him interact with troops and obtain first hand information that will enhance his command and administration of the Nigerian Army (NA).
Gen Yahaya disclosed that the dearth of personnel accommodation in the NA is receiving adequate and prompt attention with the construction of befitting accomodations across formations and units of the NA, adding that the welfare of personnel is paramount to his command.
During the working tour, the Commander 3 Brigade, Brigadier General Sinyinah Nicodemus gave the COAS a brief on the Operational engagements and security situation in the Brigade's <a href="https://metrotimesng.com" rel="noopener" target="_blank">area</a> of responsibility.
The COAS in his appraisal, commended troops of the Brigade for discharging their duties with diligence.
The COAS was accompanied during the visit by principal staff officers from Army Headquarters and the General Officer Commanding 1 Division Nigerian Army, Major General Kabiru Muhktar.
NIWA Poised to Change Safety Narratives on Waterways – Moghalu
The Managing Director, National Inland waterways Authority (NIWA), Dr George Moghalu, has said the apex regulatory agency on brown water economy will leave no stone unturned in the quest to ensure accident free water transportation in the country.
He also informed that safety on waterways as a major mandate of NIWA will be pursued with vigour under his watch as a process to engender confidence among water transportation operators and users, and also to attract local and foreign investment.
Speaking after inspecting navigational buoys facilitated by NIWA on Lagos waterways from Marina to Ikorodu, with an ongoing phase two from same Marina, navigating iworo to Badagry,. Dr Moghalu noted that the Lagos template, geared towards activating a national water transportation safety architecture, will further help in emergency rescue operations and provide distressed boats an anchor before help arrives, thus eliminating incidences of crafts drifting on mid waters.
Accompanied by Lagos Area Manager of NIWA, Engineer Sarat Lara Braimah and President, Association of Tourist Boat Operators and Water Transporters of Nigeria (ATBOWATON), Ganiyu Tarzan Balogun, Dr Moghalu assured that NIWA will not fail in its responsibilities to enthrone enduring accident free water transportation signature across littoral states in Nigeria.
Mr Gani Balogun thumped up the niwa initiative, saying that Dr moghalu is a man of his words and should be trusted to make water transportation safe and attractive for all end users.
"At the last stakeholders meeting last year in Lagos, Dr moghalu promised to ensure a navigable Lagos waterways through provision of buoys which would not only serve as an anchor point for distressed boat operators but will help provide access and geographical location to rescue efforts and today, we have seen that promised fulfilled and we say more grease to his elbows," an excited Mr Balogun stated.
Lagos Govt Suspends Activities of NURTW
The Lagos State Government has placed indefinite suspension on activities of the National Union of Road Transport Workers (NURTW) at Eyin Eyo, Church Street and Idumota Bridge on Lagos Island.
This was as a result of the mayhem that engulfed the areas last week where union members freely used dangerous weapons to attack themselves and commercial paralysed activities in the areas.
At a stakeholders meeting comprising the National Union of Road Transport Workers (NURTW), Central Business District (CBD) and Lagos State Market Women Association (Iya Oloja General and Iya Oloja of Lagos Island) at the Bagauda Kaltho Press center to tackle crisis often caused by the activities of the union, the Special Adviser to the Governor on Transportation, Oluwatoyin Fayinka meted out the ban to prevent further acts of violence at idumota, adding that the Lagos State Parks Monitoring Authority will resume at Eyin Eyo.
Fayinka stated that the Rapid Response Squad (RRS) would station an Armoured Personnel Carrier (APC) on Idumota Bridge to deter motorists from driving against traffic in compliance with traffic rules and regulations and to enforce the suspension of the NURTW within the axis and simultaneously flush out the Oju Opake boys lurking along Plaza around Church Street axis.
Also suspended are the activities of the transport union at Church Street and John Street, particularly Keke Marwa and Mini Buses (Korope).
The Transport Special Adviser added that the Rapid Response Squad (RRS) in collaboration with the State Police Command would ensure safety of lives in the area.