Food for Living: Take That Bold Step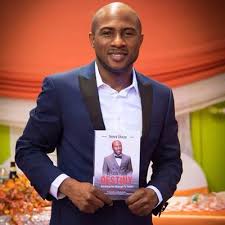 By Henry Ukazu
Dear Destiny Friends,
"Whatever you do, or dream you can, begin it. Boldness has genius and power and magic in it." ~ Johann Wolfgang von Goethe
If you will agree with me, the beginning of any task is usually the hardest step, but if you can take the bull by the horn and begin, you will be happy you took the decision to start.
There's a popular Chinese proverb that says: "The best time to plant a tree was 20 years ago. The second-best time is now." Basically, this means that if you want success and growth in the future, the best time to act is now.
Every day we look for opportunities, but we fail to see the opportunities around us. If we can look inward, we will see that we are the opportunities we are looking for. This is because we can create opportunities for others. It is instructive to know that any opportunity we have today was created by somebody. Facebook was created by Mark Zuckerberg, Microsoft was created by Bill Gate. iPhone was created by the late Steve Jobs. The question you should be asking yourself is, what opportunity are you creating for the next generation?
It is interesting to note that Mark Zuckerberg, Bill Gate, Jeff Bezos all dreamt of whatever they have today; they didn't just dream, they took bold steps to actualise their vision. You are not different. Your academic background, environment, or finance is not an issue when you have an idea. Just begin, the universe has a way of meeting you halfway, provided you are solving a problem.
It should be noted that each of these individuals are not different from you. They have the same capabilities as you, with slight modification which is the enabling environment, but the difference is that they acted.  Do you know that you are carrying a billion formula? You have a million-dollar idea waiting to be tapped.
You have a voice; you have a message the world needs to hear. You are sent for a reason. You are resourced for a purpose. You are a problem solver. You have a purpose and an assignment to fulfill. Don't allow your vision and dream to go with you to the graveyard. No wonder they say that the graveyard is the richest place on planet earth.
For you to create an opportunity you must  Dare to succeed, and you cannot dare to succeed without taking a bold step. Taking a bold step involves risk. This is because it can go either way. When you succeed it becomes an opportunity and success story, but when you fail, it becomes an experience which you will have to learn from. However, for you to take a risk, you need to study the risk involved, and ask yourself hard questions like, what will I gain if I pull it through? What will I lose? Calculate the risk by looking at the indices namely the advantages and disadvantages, and which one has a heavier weight.
As human beings, we all have dreams and ambitions, but one of the greatest challenges facing us is execution. Nothing is easy to attain in life. If you don't take the bold step, you will remain where you are. One of the greatest pains and regret we don't want to have later in life is having a feeling of disappointment. so why not take that bold step.
In every sphere of life, you need to take the bold step. There's an African proverb that says, "you can't be at home to know the cost of a product". This literally means that if you need something you must go to the market. It's like a young man who sees a lady she likes, if you don't take the bold step of asking her out, you'll never know what's in her mind.
I can vividly remember when I began writing my first book, I didn't really know how to begin. Even when I begun, I wasn't sure of what I was writing, but guess what, I didn't bother to know if I was making sense or not, I kept on putting my thoughts down as it flows. At the end of the day, I had friends, mentors, and angels who came in handy to provide materials, proofread and edit the contents.
I also remember when I began my company, Gloemi. I didn't  have all the right structures in place, but as I look back after a year on the global recognition, opportunities and partnership I have gained over time, I do know that if I have not taken the bold step, my business wouldn't have been where it is today. Of a particular interest to mention here was the interview I had with New12 and New York Times because of my book and business. Now imagine if I had not taken the bold step to begin, would I have such global opportunities? Your guess is as good as mine.
Trust me, taking the bold step is not easy, it comes with its own challenges which is not limited to the fear of the unknown, failures, and negative vibes from friends, family, or strangers. This is because nobody might believe in your vision or understand what you are going through. But then, you don't really have to care about what others are saying if you have a strong feeling about the journey you are about to embark upon. You may consider their thoughts, but the ultimate decision is yours to take.
You may be wondering how to take the bold step? The first step entails having self-confidence. Self-confidence is different from arrogance and pride. When you know yourself and your capability, you wouldn't make noise about it. Isn't it true that an empty vessel makes the loudest voice?
Furthermore, wealthy people don't make noise about their money neither do they seek validation, but average and poor people always are mostly seen flaunting their wealth.  According to a philosopher, "Wealth is quiet, rich is loud, poor is flashy".
Most times we allow criticism and what people will say to hold us back. It is instructive to note that, the only way to avoid criticism is to say nothing, do nothing and be nothing. As human beings, it's hard to avoid criticism. People will definitely say something about you whether you like it not.
Criticism comes in many ways and sometimes is disguised as good advice.  For example, if you want to buy a house, start a new business or even marry, you get a thousand and one advice and warnings. This suggestion(s) may be good, but what's the relative value you will gain if you decide to listen to them?
Now, tell me this; what's preventing you from taking that bold step?
Henry Ukazu writes from New York. He's a Human Capacity & mindset coach. He's also a  public speaker. He works with the New York City Department of Correction as the Legal Coordinator. He's the author of the acclaimed book Design Your Destiny – Actualizing Your Birthright To Success and President of gloemi.com. He can be reached via info@gloemi.com
NSCDC Partners NECO for Hitch Free Exams
The Nigeria Security and Civil Defence Corps (NSCDC) has signed a Memorandum Of Understanding (MOU) with the National Examination Council (NECO) to ensure a peaceful and hitch-free examination.
The process of the memorandum signing was contained in a statement signed by the Corps' Director of Public Relations, DCC Olusola Odumosu, and made available to the National Association of Online Security News Publishers (NAOSNP).
The noted that the Commandant General of NSCDC, Ahmed Abubakar Audi, while receiving NECO Registrar, Professor Dantani Ibrahim Wushishi at the Corps National Headquarters, said that the visit was prompt, timely and very germaine to schools' security which encompasses that all measures be taken to combat threats in our educational environment.
He congratulated the Commandant General for his well deserved appointment and commended the Corps for its partnership over the years which he hopes to sustain in his own tenure.
The Registrar solicited for more support and cooperation in ensuring that the NECO examination is conducted in a peaceful, secured and serene atmosphere, reiterating that, NECO is like a threshold for children's progress and national development.
According to him, the examination conducted at secondary schools terminal level helps students to become professionals that will have the opportunity to contribute their quota to the development of the nation.
He craved the support of the Corps to safeguard materials for the examination and to also assist in conducting the test in a very secure and safe manner.
Prof Wushishi commended officers and men of the Corps for contributing to safety and smooth conduct of previous examinations and expressed hope that this year's exercise will not be different.
"We take our activities seriously, ensure students during examinations are protected jealously more than legal tender which is the currency.
"We are here to seek your assistance and sign a Memorandum Of Understanding (MOU) for you to participate fully as you used to for a peaceful and hitch free examination.
"We felt it is important to come to you as our partner over the years to safeguard materials and also assist us to conduct examination in a very secure atmosphere across the country," Prof Wushishi said.
The Commandant General on his part welcomed the delegates and assured them of the Corps' readiness to ensure a safe examination environment for students.
He said that, in an attempt to ensure schools are adequately protected, NSCDC special female squad was established to ensure security across schools in the country.
He stated that the Corps had always ensured safety and protection of examination materials, staff and students and will not hesitate in ensuring that this year's exercise is a huge success.
Audi appreciated NECO for it's educational standards in ensuring that adequate knowledge is being impacted into Nigerian students to meet up with international education best practices.
PDP Chairman Not Suspended, Says Ayu's Aide
The Special Adviser on Communication and Strategy to the National Chairman of the Peoples Democratic Party, Iyorchia Ayu, Simon Imobo-Tswam, has described as false a report stating that his principal had been suspended from the position.
According to the report, the suspension followed an emergency meeting of the PDP National Working Committee.
The report claimed the Deputy National Chairman (North), Amb. Umar Damagun, had been appointed as National Chairman of the PDP, in an acting capacity.
Reacting, Imobo-Tswam said, "Even though we do not wish to dignify falsehood with a response, an official reaction is necessary in order to stem the tide of misinformation."
This was contained in a statement, titled, 'Ayu still PDP National Chairman,' made available to newsmen on Wednesday.
It read in part, "Dr Iyorchia Ayu, the PDP National Chairman remains the PDP National Chairman.
"Dr Ayu took a well-deserved, two-week leave on 21st June 2022. He will be back next week to resume duties, specifically on July 6, 2022.
"A stickler for due process, Dr Ayu formally handed over to the Deputy National Chairman (North), Amb. Umar Damagun, and the Deputy National Chairman has held forth admirably since that day.
"It was in that acting capacity that he (Damagun) today, presided over the inauguration of the Osun State Gubernatorial Campaign Council, headed by the Executive Governor of Bayelsa State, H.E. Douye Diri
"If not that the authors of the mischievous and baseless Facebook posts were out to serve nefarious interests, they would have heard when the acting national chairman, Amb. Damagun, said during the ceremony today: "On behalf of my able National Chairman, Dr Iyorchia Ayu, I hereby inaugurate you."
"The general public is, therefore, advised to ignore the mischievous social media publications as they are purely the work of mischief makers and idle minds."
The Punch
Corruption Allegations: Senate Orders Fresh Probe of Ex-CJN
The Senate Committee on Judiciary, Human Rights and Legal Matters, on Tuesday, received a fresh order to probe the erstwhile Chief Justice, Tanko Muhammed over the allegations of corruption raised against him by some justices of the Supreme Court.
14 Justices of the Supreme Court had recently leveled allegations of corruption against Tanko Mohammed, which the ex-CJN denied.
The President of the Senate, Ahmad Lawan, has then mandated the Committee led by Senator Opeyemi Bamidele to probe the allegations leveled against the ex-CJN and the crisis presently rocking the judiciary.
Lawan said, " The chamber mandates the Senate Committee on Judiciary, Human Rights and Legal Matters to go ahead with its assignment in the quest to find a lasting solution to the matter by interacting with relevant stakeholders to address the complaints raised in the petition by the Justices of the Supreme Court.
The Senate "Mandate the Senate Committee on Judiciary, Human Rights and Legal Matters to interface with the relevant stakeholders in the three Arms of Government as well as at the Bar and on the Bench to collate aggregate views and positions on the short term, medium term and long term measures needed to decisively address the crisis facing the Judiciary, including the immediate fiscal intervention as well as long term and sustainable budgetary allocations, required for the optimal performance of the Judiciary, in line with global best practices; and urge the Senate to wish the Hon. Chief Justice well, following many years of meritorious service to the nation and to pray for his good health."
The Senate noted that on Tuesday, June 21, 2022,  Lawan drew the attention of the Senate to the media reports on the state of affairs in the Supreme Court of Nigeria, whereby Justices of the Court, through a petition signed by majority of them, raised issues bothering on deplorable welfare conditions and difficult working environment for the Justices, which was addressed to the Hon. Chief Justice of Nigeria and Chairman, National Judicial Council.
He also noted that the President of the Senate emphasised the need for the Senate to urgently step into the matter as any issue that concerns the Judiciary is an issue of urgent national importance that the Senate could not afford to sit idly by and allow to spiral out of control.
Accordingly, the President of the Senate directed the Senate Committee on Judiciary, Human Rights and Legal Matters to get involved in the matter with a view to unravelling the root cause of the recent development in the Judiciary and how best the Senate can intervene in order to address the concerns raised by the Justices
Lawan noted that Justices were taciturn and reticent in handling issues outside their judicial domain but resorting to such measures in order to protect the Judiciary, required the Senate to rise up to the occasion to ensure that their demands were addressed.
The committee chairman, Senator Bamidele said his team was taking steps to look into the matter as directed by the President of the Senate by making arrangements to interface with relevant stakeholders both at the Bar and on the Bench.
Bamidele said, "The poor welfare of Judicial Officers would affect the delivery of the judiciary in respect of their output and will prevent them from performing optimally.
"The sacred image of the Judiciary, which is the epicentre of the temple of justice should be preserved by the Senate through appropriate legislative measures in order to safeguard this highly revered institution and prevent it from being ridiculed."
Bamidele added that it is a regret that the Hon. Chief Justice of Nigeria, Hon. Justice Ibrahim Tanko Muhammed on Sunday,  June 27, 2022, voluntarily resigned his appointment on grounds of ill-health, leaving the most senior Justice to act as the acting Chief Justice of Nigeria. However, this development would not prevent the Committee from going ahead with its assignment in the quest to find a probable lasting solution to the matter.
He stated, "Though Hon. Justice Ibrahim Tanko Muhammed has stepped down as CJN, most of the issues raised by the Justices of the Supreme Court and other stakeholders within the Judiciary, still remain and need to be addressed urgently to prevent an eventual shutdown of the Judiciary."
The Punch