How Reverend Mother Esther Ajayi Paid N4.850m to Rescue 20 Years-Old Tosin Ojelabi from Killer Disease
By Eric Elezuo
For Tosin Ojelabi, the true meaning of joy has been made manifest. For her, joy is God sent; joy is a woman; joy is Reverend Mother Esther Abimbola Ajayi, who kindheartedly doled out a whopping Four Million, Eight hundred and Fifty Thousand Naira (N4.850m) to cure and rescue her from a a disease that was at the verge of snuffing out her life. A disease diagnosed as acute Budd-chiari syndrome
In February 2019, the never tired of doing good and coming to the rescue of the sick and the needy in the society, and Founder, Esther Ajayi Foundation and General Overseer, Love of Christ (Generation) Cherubim and Seraphim Church, Clapham, England, Reverend Mother Esther Abimbola Ajayi, heard the cries of the Ojelabi family, whose 20 year-old daughter, Tosin, was being ravaged by the Budd-chiari syndome, which is associated with the liver failure and bloating of major body organs including the legs and stomach.
Promptly, the woman, better known as Iya Adura by well wishers and faithful, dispatched her spokesperson, Mr. Abiodun Paseda, the CEO, Focus on Disability Foundation, to Ibadan, where Tosin and her family live, for a preliminary assessment of her situation.
Tosin was discovered to have suffered from the ailment since 2015.
Reviewing her case when he visited her in her Ibadan abode, Mr Paseda disclosed that she needs to undergo Transjugalar Intrahepatic Portosystemic (TIPS) shunt Surgery, which will gulp about N4.7 million, and through to type, the ever kind Reverend Mother promptly released the money, even in excess, and the surgery was billed to take place at Eurapharma Care Services in Victoria Island, Lagos, Nigeria.
Today, Tosin is on her feet again, looking robust and set to grab life again.
Tosin's ordeal started when she was in 15 years old and in SS1. She'd noted that her legs were unusually swelling up; a situation she dismissed as normal, as according to her, she was always sitting in the class without moving around. Even a visit to the doctor when the situation persists informed her that nothing was amiss, but her sufferings intensified.
It was reported that "Tosin was having a lot of fluid accumulating in her distended abdomen. About 33 litres of fluid was being drained from her protruding belly monthly. She carried the protruding belly around for the next couple of years. Her life was anything but normal during this period and could best be described as a living hell." That was when God through Reverend Ajayi took over her case, paid her bills directly to the hospital and brought succour to her life and her family's.
Mr. Paseda also revealed that medical experts were brought in from the United States, who gave thorough diagnoses of Tosin's case in preparation to her operation. Consequently, on March 9, 2019, the EuraPharma Care services successfully performed the operation, the first of its type in Nigeria. The surgery which lasted five and half hours was led by a US trained Vascular and Interventional Radiologist, Dr. Hammed Ninalowo.
Expressing her joy after the surgery, a highly elated Tosin heaped encomiums on the person of Reverend Mother Ajayi through whom God came to her rescue. She intoned "there's a huge difference in quality of life for me now…school is the next thing for me definitely. Now I'm fully recovered, I plan to write JAMB exam next year, and hopefully, I'll gain admission.
In his remarks, Paseda reminded all the Reverend Mother Ajayi, whose stock in trade is putting smiles on the faces of the needy is not done yet, as she continually goes about doing good in cash and kind.
"Mama is one of a kind. Her heart for goodness is unrivaled," Paseda submitted.
Nnamdi Kanu Still Our Leader, Not Replaced – IPOB
The Indigenous People of Biafra has said that it has not replaced the currently detained Nnamdi Kanu as its leader.
The Biafra group asked its followers to ignore the reports making the rounds that IPOB has replaced Kanu, describing it as "fabricated media propaganda".
These were made known in a statement by the group's Media and Publicity Secretary, Emma Powerful, on Tuesday.
According to Powerful, Mazi Chika Edoziem is the head of the IPOB Directorate of State and not IPOB Acting Leader.
The statement read in part, "We, the global movement and family of IPOB under the command and leadership of Mazi Nnamdi Kanu, condemn the useless and fabricated media propaganda and blackmail from some media houses that IPOB has another or acting leader replacing our indefatigable liberator and prophet Mazi Nnamdi Kanu.
"Those peddling this kind of lies are those criminals who zoo gutter media are publishing this to confuse the weak-minded people.
"We want everybody to bear in mind that Mazi Chika Edoziem is the head of IPOB Directorate of State and not IPOB Acting Leader.
"There was never a time that Emma Powerful, the Publicity Secretary of IPOB issued any statement purporting that our Leader had been replaced by Mazi Chika Edoziem as IPOB Acting Leader.
"The said statement was the handiwork of mischievous elements bent on causing confusion in IPOB.
"It is unfortunate that some mischievous elements twisted an unambiguous statement by IPOB where we clarified that in the meantime that our Leader is in detention, the Head of DOS, Mazi Edoziem, will be providing direction on the day-to-day activities of IPOB. We never said that Edoziem had become the Acting Leader of IPOB.
"For the avoidance of doubts, Mazi Nnamdi Kanu remains the leader of IPOB. The entire IPOB family all over the world is loyal to him. IPOB has no Acting Leader. Chika Edoziem is only the Head of DOS of IPOB not the Leader.
"We, therefore, urge our family members, supporters, friends, and members of the public to ignore the misleading and mischievous media report."
Terrorists Responsible for Owo Church Massacre in Our Custody – General Irabor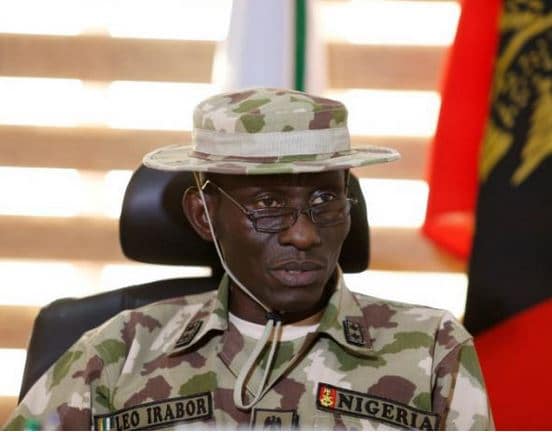 Eric Elezuo
The Chief of Defence Staff, General Lucky Irabor, has said that the military has arrested the terrorists behind the attack on St. Francis Catholic Church, Owo, Ondo State.
General Lucky Irabor according to news monitored on SolaceBase, made the revelation on Tuesday, during a parley with media executives at the Defence Headquarters, Abuja.
Appreciating the collaboration with sister security agencies, which helped in the arrests of the criminals, Irabor recalled that about 40 person's were brutally murdered when heavily armed men invaded their worship centre on June 5, 2022.
My Invitation to Rivers to Commission Projects Demonstration of Politics Without Bitterness – Sanwo-Olu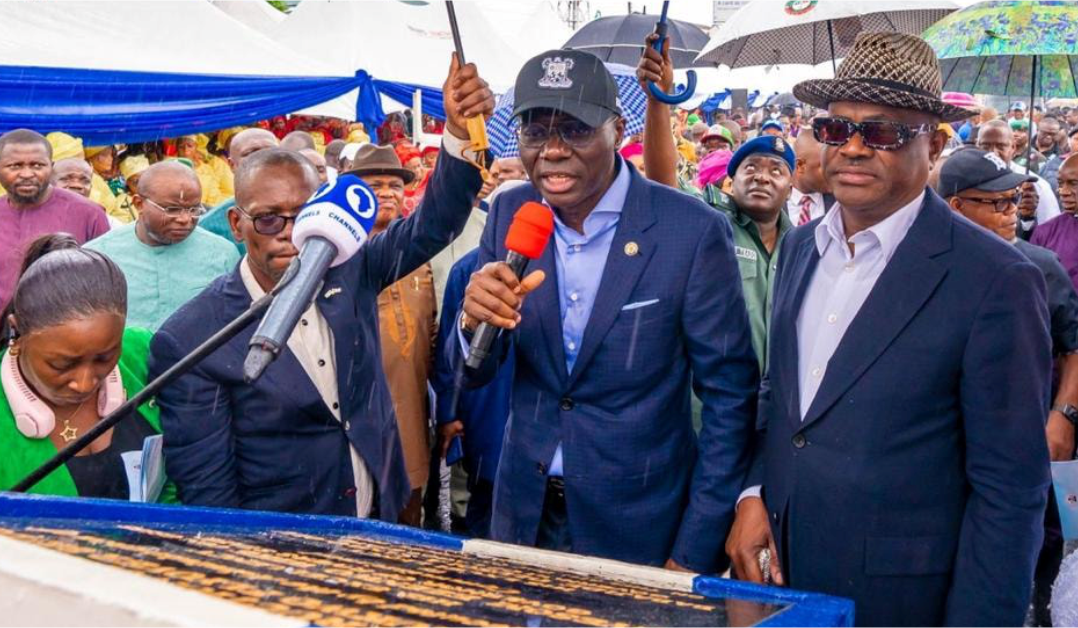 By Eric Elezuo
The Lagos State governor, Mr. Babajide Sanwo-Olu, has said that his invitation by the Rivers State governor, Mr Nyesom Wike, to commission a project in Rivers State, is a clear demonstration of politics without bitterness. This is noting that the Lagos State governor is a member of the All Progressives Congress (APC) while Wike is a member of the Peoples Democratic Party (APC).
On Monday, Sanwo-Olu was a guest of the Rives governor to commission the Orochiri-Worokwu (Waterlines) Flyover delivered by the state government.
In his remarks, Sanwo-Olu commended Governor Wike for his strong commitment to the delivery of physical infrastructure in Rivers State.
"I would like to specially commend my brother, Governor Wike, for his strong commitment to the delivery of physical infrastructure in Rivers State.
"A commitment that has been recognized by all and sundry, and which has earned him the appellation of "Mr. Projects" within and outside Rivers State," he said.
Sanwo-Olu said though himself and governor Wike belong to different political persuasions, the invitation extended to him sends a very strong message that politicians and political leaders, can come together across political and ideological divides, for the good of the people.
"There is also a strong message being made today about expanding our capacity to play politics without bitterness. This symbolic gesture by my friend and brother is one that should become standard practice across Nigeria.
"There is also a lot that we can learn from one another, and experience that we can translate from one part of the country to the other," Sanwo-Olu stated.
It will recalled that Wike is in the habit of inviting notable politicians across parties as guests of honour during the unveiling of any of his projects. The likes of governor of Ekiti State, who is also an APC member and Sports Minister, Mr. Sunday Dare were once invited to commission projects in the state.
Governor Wike had explained that the invitation of the Lagos State governor was not the first time persons of other political parties were invited to inaugurate projects in Rivers State, pointing to the overall benefits such invitations have on governance because it served as peer review for them.