How Title Deed is Responding to Stolen African Art
By Jane Efagwu                                                              Photos: Olaseni Okedairo
It is no longer a secret. 2020 has proven to be the year of something bigger than anything else: The black revolution. Africans everywhere are taking a stand against systemic oppression, discrimination and objectification of the African culture and her people. While this major cultural reset now dominates public spheres and has initiated major social discourse everywhere around the world, it is important to look back at where it all started. Africa. Before the now popular violence and commodification of Africans themselves, there was the very unpopular violence and commodification of African art.
Stolen. Shipped. Sold. Copied. Displayed. And now, owned by major museums around the world, the journey to the world stage for African art has been a painful one. However, if it's one thing about art, it's that it will always turn pain to power. This power is what Title Deed, a collective of seven young Nigerian contemporary artists-Wasiu Eshinlokun, Maureen Uzoh, Ken Nwadiogbu, Lekan Abatan, Emma Odumade, Margaret Otoikhine and Yussuff Aina have employed in correcting the narrative and telling their own stories through their own art and in their own spaces.
Re: Mediation. An exhibition which was held at the African Artists' Foundation (AAF) at Victoria Island, Lagos featuring works that boundlessly explore the theme of restitution. In these works, these artists demonstrate the importance of understanding the past and appreciating the present as a means of predicting and owning the future.
Eshinlokun's display features masking tapes dangling in an unending W motion, flooding the ceiling and connecting to the three art pieces on the wall which are also connected to themselves and each other. The artist goes a step further to pull the art out of the frame by featuring a live remake in a painted and taped human form. This one step produces several painted and muddled footsteps and the artist explains that this represents the movements of Africans and their culture such that we no longer know where it starts or where it stops. Wasiu also explains that the tape represents bondage as well as continuity of life for Africans, African art and of course, African artists.
For Ken Nwadiogbu the renowned hyperrealist, the eyes will always have it. This is how he represents consciousness in an unconscious world. He depicts the sale and commodification of consciousness by putting eyes on a coin. Nwadiogbu's clever irony stings again when he puts open eyes on bodies and cages them with something made to cool us down – a fan.
To execute the theme, Maureen Uzoh employs a brilliant fuse of new media and old culture. Her works also feature heavy themes of sisterhood, African feminity and family. In one frame, Uzoh attempts to ridicule the idea of the West renting, selling or discounting African art to its rightful owners despite being aware and even wearing the countless headlines of stolen African art being reported in the media.
Abatan's Our Ancestors Wear Prada shows the aftermath of a cross-fire meeting between Africans, their art and the West thus birthing popular phrases like 'African American'. His works feature portraits of historical Benin, Ife and Nok art pieces dressed up in Calvin Klein, Adidas and Lacoste with African fabrics as the background. The mix up is almost comical yet thought provoking.
Restitution is literal for Yussuff Aina as he presents three dimensional versions of a recreation of Eniyan, his signature mask style. Eniyan, meaning person in Yoruba, takes on the form of newly excavated art pieces whose facial/body features have been damaged due to the gruesome unearthing process. One piece features Eniyan with palms pressed together and a marked cross on one palm. He explains that this is a way of using Western religion to beg/pray that the Westerners return the stolen pieces back to Africa.
Choosing a dramatic yet creative approach to the topic, Margaret Otoikhine casts African art and its stories in movie posters that attract you with their colors and captivate you with their details. The only photographer in the group, her use of black and white imagery on one of her pieces, Queen Idia, sees the filmmaker and photographer attempt to tell the Queen's actual story before the tragedy. It is Margaret's way of telling her own story as an Edo born Nigerian. She explains that the poster was actually for a short film that was supposed to be shot but was put on hold because of the pandemic.
What better way to change the narrative than to educate? But how do you educate people on what they can't even see or understand despite how much it affects them today? Emma Odumade captures this glitch in the system by depicting the after effects of the looting on education and African children, who he says he used to represent dreams. His works are set against the heavy backdrop of the past while projecting the uncertainty of the future especially for the younger, upcoming generation.
The 'Re: Mediation' exhibition is a very refreshing take on the conversation surrounding African art and it's movements because it offers a contemporary yet genuine view on the topic. The works serve as an intermediary between a distant past and an uncertain yet inspiring future. 'Re: Mediation' commenced on the 26th of September, 2020 and showed at the African Artists' Foundation until the 12th of October, 2020.
The Task Ahead Acting IGP Usman Alkali Baba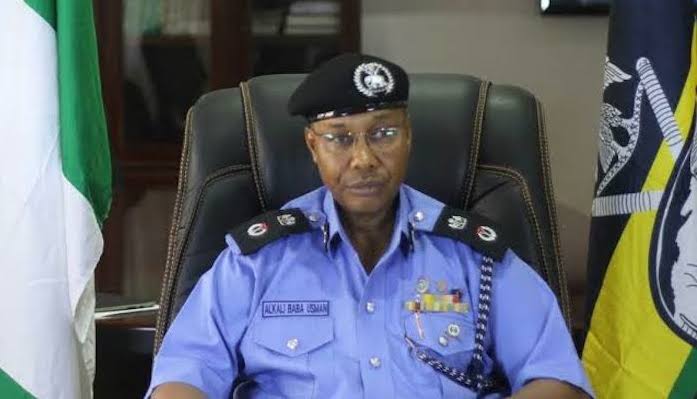 By Eric Elezuo
During the week, the Minister of Police Affairs, Maigari Dingyadi, sold Nigerians a dummy while explaining the rationale behind the sacking of former Inspector of Police, Mihammed Adamu, whose tenure was extended to three months just one month after, and replacing him with Deputy Inspector General of Police, Usman Baba, with immediate effect.
Asking Nigerians to cut President Muhammadu Buhari a slack in his decision to terminate the former's appointment and appointing Buba, Dingyadi said that "After a thorough check of a shortlist of suitably qualified police officers from the rank of DIGs and AIGs, who are eligible police officers, eligible for appointment as I-G, in line with Section 7, Sub-section 2 of the Nigeria Police Act (2020); and having regards to seniority, professionalism, a record of service and competence, the president has approved the appointment of an acting I-G, in the person of Usman Alkali Baba, with immediate effect.
"These changes are in line with the determination of the president to rejig the security architecture and to ensure that the security challenges bedevilling the nation are brought to an end.
"The president has, therefore, charged the new appointee to rise to the challenge to ensure policing reform policy of this administration are fully prioritised and implemented to enable the police to perform most effectively for the peace and security of lives and property of all Nigerians."
Setting aside the politics of Baba's appointment in terms of eligibility and more, it is worthy of note that the task ahead of the new police boss is enormous, and requires undaunted fear, professionalism and clout to undertake. The new IGP must be willing to call a spade a spade to reunify a country that has so factionalised along ethnic and religious lines even in the area of security.
In recent times, Imo State and the entire South East region have become a hotspot of unbridled hooliganism and unchecked vandalism. The unprovoked attacks on security facilities and personnel has become rampant, and needed urgent attention. Perhaps that explains the reason behind the sacking of Adamu. He appeared helpless in the face of bloody activities of the unknown gunmen in the area. His speedy heaping of blame on the Indigenous Peoples of Biafra (IPOB) as the perpetrators of the act without due diligence may have suggested that the former police boss had already ran out of ideas, and was just occupying space waiting for the supposed three months to elapse.
Baba is therefore, saddled with the responsibility of unmasking the forces behind the incessant killings, kidnappings, looting and jailbreaks among a whole lot of vices prevalent in the country presently.
While tongues are already wagging from many quarters concerning the rationale behind his appointment, Baba has to prove that he is equal to the task, and jettison the ethnic coloration in the discharge of his duties.
Taking into cognisance that Nigerians have lost fate in what is generally referred to as Buhari's Fulanisation of the country, Baba must prove that he is not another instrument of bigotry and ethnic cleansing.
He will do well to be the Inspector General of the Nigeria Police, and not for a section of the country as so many are wont to believe.
The Boss Newspaper
Prominent Politician, Cleric's Son, Odumbaku Declares for Ojodu LCDA Chair
By Eric Elezuo
The prestigious Excellence Hotel, located on Ogba, Ikeja, was a beehive of activity over the weekend as David Oluwasegun Odunmbaku, the secretary of Ikeja Local Government Area and the 'warrior' son of prolific Lagos politician and accomplished cleric, Cardinal James Odumbaku, declared his intention to contest the chairmanship of Ojudu Local council Development Area in the forthcoming grassroots election.
David Odumbaku is a Harvard trained professional, who had learnt the ropes of administration, berthing at a prestigious office of the secretary of one of the influential local government areas in Lagos State.
Making his declaration, Odumbaku said his mission to Ojudu LCDA is nothing but to serve and continue to serve.
"My passion for the people is what is driving my intention to contest the election. I just want to serve, and deliver the best of the dividend of democracy to the people of Ojudu," he said.
Speaking however, on his son's aspirations, Cardinal James Odumbaku, popularly known as Baba Eto, who is a revered politician in Lagos and preacher of the word, said David is endowed with the can-do-attitude to deliver good governance to the people of the council and beyond.  he said that David has passed through time and tutelage, and is very fit to handle the dictates of the office of the chairman, according to party rules.
"David Olusegun Odumbaku has been council secretary in Ikeja Local Government for four years under Honourable Wale Ogunlami without blemish. He was supposed to be chairman in the first instance, but Asiwaju Bola Ahmed Tinubu said no he has to learn.
"Again in the second leg, Asiwaju said he should not go for the chairmanship, but go for the secretary position, which is the power house of any local government administration so that he can learn more. Now, another four years is gone, or about to expire. So it behoves on me to encourage him after having a very excellent education in Europe. He is a Harvard alumnus. His academic achievements are voluminous that I can't run it offhand, but his resume is a clear indication of what I'm saying," Odumbaku said as a matter of fact.
He added that David Odumbaku is a power house of experience and knowledge, having learnt from his father, who himself was taught by the prolific Bola Ahmed Tinubu. He further praised Tinubu for his democratic principles and  as the brain behind the establishment of the Ojudu LCDA among others, saying he supervised the establishment on behalf of Tinubu.
"What David has in stock as a son of a politician, who himself was trained by Tinubu, is a testimony of the fact that he can't fail, and that is because he has never failed.
"We are proving to the world that David Odumbaku is capable of running the administration of Ojudu LCDA, which of course I am the founding father, acting on instruction by Asiwaju that we should go and make some adjustment from the existing 20 local governments to 57 with additional 37 LGAs.
"So today, we are showing the world today through Ojudu LCDA what Odumbaku David is all about. Because we believe in democracy of which Tinubu is the bedrock, we are confidence that he will win the next election as Ojudu LCDA chairman, and even beyond. It may interest you to know that everyone is ably represented at this declaration exercise; leaders, community representatives, artisans and many more. The youths must grow…that's the slogan of Asiwaju," Odumbaku added.
"On why he chose to use his son at this time, having been instrumental to establishing many Lagosians politically and otherwise, Odumbaku said:
"I chose my son at the very last. You know I have been sponsoring other people with my money and personality, with the permission and blessing of Asiwaju Tinubu, putting people in respective positions in politics, ministry, local government administration, but I decided to sponsor my own child in the final analysis, and not without the blessing of Asiwaju.
"Now, I reasoned that with God-given opportunity and permission of Asiwaju Tinubu, I should try my own biological son, who is knowledgeable and has the capacity to handle things according to the dictates of our great party, All Progressives Congress (APC). Note that everyone is my son, however," Odumbaku further revealed.
He remarked that time has come for Tinubu to run the affairs of the country, Nigeria, having paid his dues in raising men and women of substance to man various political arms of the nation.
"And for the avoidance of doubt, I am not only desirous of David Odumbaku becoming the Chaiman of Ojudu LCDA, also that Asiwaju becomes the President of Nigeria – QED," he concluded.
The Lagos State LGA polls is expected to hold in June.
Our Decision to Rid Lagos of Indiscipline, Traffic Offences, Miscreants, Irreversible – Jejeloye, Chairman, Task Force
The Chairman, Lagos State Environmental and Special Offences Unit (Taskforce), CSP Shola Jejeloye, has said that there is no going back in his administration's decision to free Lagos State from the shackles of indiscipline, traffic offences and other attendant delinquencies that have limited its move to the smart city status.
CSP Jejeloye made the remarks in Lagos when the executive members of the National Association of Online Security News Publishers (NAOSNP) led by its President, Mr. Samson Oki, paid him a courtesy visit in his office.
In his address, he lauded the efforts of the association for expressing interest in and identifying with the agency, adding that they are trying to do their best to ensure that laws and orders are obeyed in Lagos State.
Jejeloye expressed satisfaction with the visit, especially at such a time to share ideas and talk about the issues that bother on the wellbeing of Lagosians in particular, and Nigerians in general.
"Apart from the fact that law and order must be obeyed; the protection of lives and property is equally one of our primary responsibilities. And in a situation whereby law and order are not obeyed, then lives and properties cannot be protected. That's why we decided to make our decision irreversible to ensure that the state is free from crimes, hoodlums and other kind of social menace," he said.
The Chairman used the opportunity to call on celebrities to be advocates of discipline and positive role models to the youths, who will be trained as Medical Doctors, Engineers among others instead of wasting money going abroad hire expatriates to come and do our jobs for us.
"Who will do that work when all of them want to turn to Naira Marley? What is the meaning of celebrity? I don't know the meaning? In those days, celebrities were like role models and those that make sacrifices for the society. They instill morals into the society. Not anymore. The only morals we enjoy now is just naked life, very naked life," Jejeloye lamented.
"The responsibilities of our office is multifaceted, therefore, our decision is not to rest on our oars. Our task is not limited to traffic offenders hence we want to take it to the market places where these people will feel the impact.
"Don't be tired of us. Continue to give us the needed support. Use the little knowledge and experience you have acquired to be a vehicle of change. Money is not only corruption; the abuse of power is also corruption.
"Let us continue to work together because without you, there is no us. We try to toil the part of the law and not suffer backlash. Posterity is a time keeper and time is a great healer."
On the use of drugs by commercial drivers, Jejeloye explained that almost 80% of the drivers take drugs. Therefore, we have had meetings with their leaders, educated and enlightened them on the dangers of use of drugs.
"I implore passengers and commercial drivers to make effective use of officially recognised bus stops to minimise attacks by miscreants as most of them stay at odd places outside officially approved bus stops.
While congratulating the Chairman for his recent appointment and promotion, NAOSNP President, Mr Oki said since the coming on board of Jejeloye, significant changes have been experienced, especially in the mode of operation that has brought tremendous calmness to driving within the metropolis.