I Set my Girlfriend's Family Ablaze because they were Extorting Me, Says Jilted Lover
The Ondo State Police Command on Tuesday paraded a murder suspect, Deji Adenuga, for allegedly setting eight members of his girlfriend's family ablaze at Igbodigo, in the Okitipupa Local Government Area of Ondo State.
The 45-year-old suspect allegedly carried out the act following a disagreement between him and his lover, Titi Sanumi, who was said to be a member of the family.
PUNCH Metro learnt that Titi ended the relationship with Adenuga after discovering that he was an ex-convict.
While being paraded before journalists at the headquarters of the police command in Akure, the state capital, Adenuga explained that his estranged girlfriend and her sister, Jumoke, who was among the deceased, had been extorting money from him for a long time.
He noted that Titi had been living with him since last year.
The suspect said their disagreement began when his girlfriend collected money from him for a business, but squandered it.
Adenuga also claimed that she aborted a four-month-old pregnancy she had for him.
He added that they had dragged each other to a police station for settlement on many occasions.
Adenuga said, "What happened was that she (Titi) aborted the four-month-old pregnancy that she had for me while we were dating. We had been having issues in recent times and I spent a lot of money on her. I gave her N30,000 for trading because she sells sachet water.
"Later, I gave her N25,000 to keep for me, making a total of N55,000. But she squandered all the money. While she was staying with me, her elder sister, Jumoke, used to collect money from me. I later discovered that they were only extorting money from me.
"Jumoke always taught her to do things against me and the issue became open that we had to drag one another to a police station. We later resolved all the issues. Surprisingly, Titi packed her luggage out of my house, saying her sister said I should pay N20,000 for her bride price before she would return.
"I begged them to give me time to look for money to do the needful, but they refused and started pulling pranks on me, after I had spent a lot of money on her. I went back to the station to report what she and her elder sister did to me, but the police saw it as a minor issue which could be resolved amicably.
"After we left the station, they began to abuse me and make jest of me. They said I was a failure and not even a man for dragging them to the police station. In fact, they threatened me. They said they would deal with me and kill me if I did not desist from reporting them on the street. I saw those words as big threats. So, I believe I had to act fast before they carried out their threats.
"That same day, I took action. I went to a petrol station at night to buy fuel. I went to their house, poured petrol inside their room and fled. My intention was to kill Titi and her sister; I did not mean to kill the entire family."
The state Commissioner of Police, Mr Undie Adie, described Adenuga as a notorious criminal who was once jailed for murder.
He said, "It is unfortunate to note that the same suspect is notorious for heinous crimes. He killed his former wife, Abiye, sometime in 2000, which led to his being remanded in Olokuta Prison.
"He, however, escaped with other inmates during a jailbreak in 2013. The earlier murder case is also going to be revisited with a view to having him face the full weight of the law," the commissioner added.
He said Titi was undergoing treatment in an undisclosed hospital in the state.
The Punch
Four Children Who Died After Eating Suya Buried in Umuahia
Tears flowed on Saturday as four of the seven children who died after allegedly eating Suya were buried in Umuahia, the Abia State capital.
The four victims are Kelechi Chibuzor, 12; Sunday Chibuzor, 10; Oluomachi Chibuzor, 8; and Kingsley Chibuzor, 3.
The children died on August 25.
PUNCH Metro learnt that the actual cause of the death was still being investigated.
Speaking at their funeral on Saturday, the Bishop of Goodnews Pentecostal Church, Umuahia, Ugochukwu Ogbonna, urged their parents to take heart.
While speaking on the topic, 'The journey of this life and the call of eternity,' Ogbonna maintained that everyone is a sojourner on earth and no one knows when he will die.
The cleric lauded the victims' father, Ikwunze Chibuzor, and his wife, for showing the kids the way of the Lord, as he prayed God to grant their souls peaceful rest.
In his remarks, the President General of Ohuhu, Chief Obi Aguocha, urged the parents and relatives of the kids to be strong at their difficult time.
He said, "It is painful to wake up one day and lose your entire family. People lose one or two, but not four. It should not happen again.
"Children are supposed to bury their parents; but their father is giving back to God what He gave to him."
He disclosed that the clan gave the family the sum of N4.8m "and something else for the children that would come afterwards."
While appealing to the bereaved couple to see their fate as the beginning of a new life, he called on members of the community not to forget the family.
At the funeral, a member representing the Ikwuano/Umuahia Federal Constituency at the National Assembly, Ifeanyi Onuigbo, who was represented by Henry Eleogu, promised to stand by the family, just as he prayed God to grant them the fortitude to bear the loss.
Speaking, the bereaved father, Ikwunze, thanked all those who supported his family through financial means and words of encouragement.
He revealed that amid speculations that his kids died after eating Suya or inhaling generator fumes, autopsy results on the deaths would be out in the next two weeks.
The Punch
Police Arrest Killers of Na'Allah's Son, Greenfield University, Bethel Baptist Students' Abductors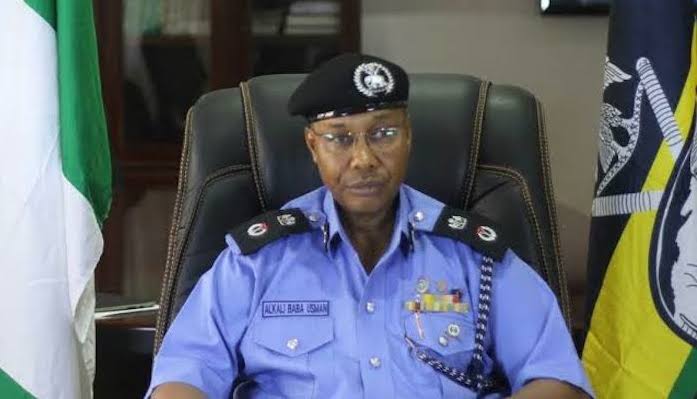 The Kaduna State Police Command on Thursday said it arrested kidnappers of students of Greenfield University and students of the Bethel Baptist High School, all in the state.
Also in the police net are kidnappers of the 37 students of the Federal College of Forestry Mechanisation, Afaka, in Igabi LGA of Kaduna State.
Both the Greenfield University and the Baptist Bethel High School are located in Chikun LGA of the state.
While parading suspects on Thursday at the Command's Headquarters along Bida Road in the state capital, the Command's spokesman, Mohammed Jalige, also announced the arrest of the suspected killers of 36-year-old Captain Abdulkareem Na'Allah, a pilot and son of Senator Bala Na'Allah.
Jalige said one Usman Mohammed from Bukuyum in Zamfara State was apprehended by operatives of the command in connection with the kidnap of the students of Greenfield University, Federal College of Forestry Mechanisation, Afaka, as well as Bethel Baptist High School, all in the state.
He said, "On the 29th August, 2021 at about 0900hrs, based on credible information, Operation Yaki Surveillance team with FIB STS Force Headquarter, Abuja, jointly raided a house along Ring Road, Asikolaye area of Kaduna, where one Usman Abubakar, 'm' 41 years old, a native of Adakpa village, Bukkuyum LGA of Zamfara State, a notorious kidnapper terrorising Chikun, Igabi and Giwa LGAs of Kaduna State, was arrested.
"He confessed to have kidnapped many people and collected several ransoms; he also has links with recent attacks on Greenfield University, Bethel Baptist Academy and School of Forestry Mechanisation, Mando, Kaduna."
Speaking on the killers of Na'Allah's son, the police spokesman noted that two of the three members of the gang that killed the pilot were in the custody of the command while one was at large.
He named one Bashir Mohammed, a neighbour of the slain pilot as principal suspect, while identifying another suspect as Nasir Salisu, also known as Uban Dana, adding that the third suspect, one Usman Kano, was at large.
Jalige explained that the three suspects conspired, broke into the house of Captain Abdulkarim and killed him before taking away his SUV vehicle and other valuables.
He added that the suspects sold the late pilot's SUV vehicle in Republic of Niger at the cost of N1m.
The Punch
Benin Woman Who Had Three Children with Her Son, Deported
There are indications that the Benin Republic woman, who allegedly had three children for her son and has been sexually involved with another, has been deported.
Fati Sime was deported along with her first son, Adamu, with whom she allegedly had three children.
However, the second son, who reportedly caught his brother in a sex act with their mother in their farm in the Kiama area of Kwara State and out of jealousy provoked a fight that blew opened the scandal, has been on the run.
Operatives of the Nigeria Security and Civil Defence Corps (NSCDC), Kwara State Command, had arrested Fati and her son on the allegation of incest.
The arrest followed a complaint lodged by the district head of Mose community in Kaima Local Government Area.
Spokesman for Kwara State Command of the NSCDC, Babawale Afolabi, confirmed that the incestuous relationship between Fati and her son, Adamu had resulted in the birth of three children.
That is besides the 11 children she had for her husband, Adamu's father.
Afolabi, while confirming the deportation of the incestuous duo, said: "Fati and her first son, Adamu, were deported on the directive of the Commandant after the investigation, and handed over to the Benin Republic operatives at the border.
"But during investigation, Adamu confessed that he has been having carnal knowledge of his mother for seven years."
Meanwhile, he second son, had in a fit of jealousy provoked a fight when he discovered his mother and brother engaged in a sex romp in their farm.