Infectious Disease Bill Controversy, Consequence of Mistrust
By Joel Popoola
Nigeria has fallen among the category of nations which find itself with a government unable to pass vital health protection laws during a deadly worldwide health crisis because its people believe that government was too powerful.
And that's exactly where we find ourselves today with the stalling of the Infectious Disease Act.
This is a bill designed to make it easier for organisations like Nigerian Centre for Disease Control (NCDC) to take rapid action to prevent the spread of infectious diseases across Nigeria, and respond effectively to emerging public health emergencies.
And right now this couldn't be more important.
The number of people around our world to have lost their lives to the Coronavirus has passed 250,000 while a good number of others who have now caught the deadly disease is enough to fill a city the size of Kano. And that number increases every minute.
Public health officials are our frontline soldiers in this battle, and it should be obvious to every Nigerian how vital it is that they have weapons they need to fight. The only way to stop COVID-19 is by quarantining and effective public hygiene.
And the only way to defeat it will be vaccination. So our health protection agencies need right resources to enforce effective quarantining, effectual hygiene, and to successfully vaccinate our people whenever a vaccine arrives.
It's not just about the fight against COVID-19, but also the fight against the next outbreak, whether it's Typhoid, Cholera, Dengue Fever or something as destructive, unknown and terrifying as the current coronavirus.
This should not be controversial. I cannot think of anyone – whatever their political leaning – who would not agree that the primary purpose of any government is to keep the people safe.
And yet the government stands accused by some of intending to use the law to carry out sinister medical experiments on its people or to bring back military rule through the back door.
As the Speaker of the House of Representatives, Femi Gbajabiamila, has said:
"Suffice it to say that none of these allegations are true. Unfortunately, we now live in a time when conspiracy theories have gained such currency that genuine endeavours in the public interest can quickly become mischaracterised and misconstrued to raise the spectre of sinister intent and ominous possibility".
The fact we have found ourselves in this position tells us a lot about Nigerian politics – and what needs to change.
People get their information from social media. And that information cannot always be trusted
More and more Nigerians get most of their news from social media. And as we have seen, if your only source of news is social media, you might end up believing that President Muhammadu Buhari died some time ago, and was replaced with an alien clone.
Fake news of the kind we've seen in Nigeria in recent years necessitates the public having reliable sources of information they can go to online – and where better than going direct to their local representatives?
That is the thought behind Rate Your Leader, a free app which connects registered voters to the elected officials who serve them – giving them the power to get credible information from credible sources at the touch of a button.
People do not trust the intentions of their leaders
In times like ours, who can blame a government for trying to get public protection bills into law as rapidly as possible?
But the government did itself no favours by trying to force the bill through parliament so quickly.
But with this Bill giving the police the power to detain infectious individuals and officials, the power – with a court order – to destroy buildings, it was bound to be controversial.
If you already think that your government has the worst of intentions, such provisions are bound to alarm.
A politician Nigerians trust is worth more than an oilfield. That's why Tobias Chukwuemeka Okwuru was recently appointed to the Federal Character Commission despite having passed away.
Nigerian voters need to know what information they can trust, and also that they can trust their representatives. The Rate Your Leader app is designed to battle this democratic deficit by helping politicians engage with voters they serve, helping them understand what matters most to the people who elect them, and build relationships of trust with the electorate. And in return, voters can even rate their responses, convincing their neighbours that this is a politician who listens.
The people of Nigeria are desperate to get involved in the political process
Speaker Gbajabiamila has announced that public hearings will address public concerns relating to the Infectious Diseases Act.
People are more likely to accept something if they feel like their fears have been considered and addressed, and even more likely to support something if they are able to help shape it.
But this should not be something which only happens in times of crisis and controversy. This should be built into all our politics.
We designed Rate Your Leader to give the people of Nigeria a direct channel to their leaders. This is something they expect. And it is something our democracy depends on. Everyone should come on board now to have a voice.
Joel Popoola is a digital democracy campaigner, tech entrepreneur and creator of the free Rate Your Leader app.
Zamfara Schoolgirls: We've Commenced Joint Search, Rescue Operations – Police
The Zamfara State Police Command in Collaboration with the military have commenced a joint search and rescue operations with a view to rescuing the 317 students kidnapped by the armed bandits in Government Girls Science Secondary School, Jangebe in Talata Mafara LGA on 26th February 2021 at about 0100 hours.
In a statement signed by Command's PPRO, SP Mohammed Shehu ANIPR, the Commissioner of Police, CP Abutu Yaro fdc, the Force Commander Operations Hadarin Daji, Major General Aminu Bande, Brigade Commander 1 Brigade, Nigeria Army Gusau and other state government officials led a heavily armed Re – enforcement team to Jangebe to complement the ongoing rescue operation in the locations where the students were believed to have been taken to.
The CP, while interfacing with the Principal of the school and the parents, appealed to them to be calm as joint efforts of the Police and other security agencies will assurely led to the successful rescue of the students.
OAU Postpones Post-UTME Screening, Changes Mode
The management of the Obafemi Awolowo University, Ile Ife, has postponed its post-UTME screening exercise expected to hold Friday, February 27, 2021.
This was contained in a press statement by the Public Relations Officer of the University, Abiodun Olarewaju, titled, 'change of date and mode of conducting the post-UTME exercise,' on Thursday.
The statement read in part, "OAU after a careful review of recent happenings within and outside the campus, has decided to change the mode of conduct of this year's POST-UTME screening to ONLINE VERSION. Consequently, the exercise will no longer commence on Saturday, 27th, February 2021 as earlier scheduled.
"Information on the new commencement date and other relevant issues will be available on https://admissions. oauife.edu.ng from Friday, February 26.
"Candidates who have registered for the screening are to please note these changes. We wish all candidates the best of luck."
The Punch
Defence Miniater Seeks US Support for Establishment of Nigeria Army Aviation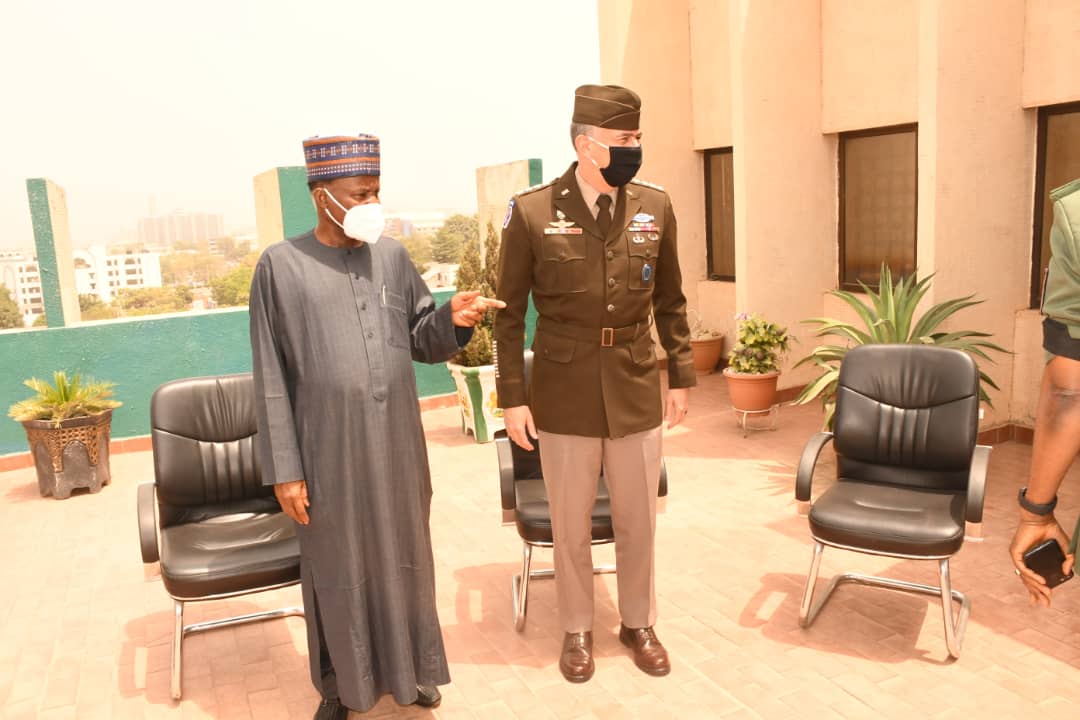 The Minister of Defence, Maj Gen Bashir Salihi Magashi (rtd) says a full fledged Nigerian Army Aviation is a critical component in the counter- terrorism and counter- insurgency campaigns in the country.
According to a statement signed by the Special Assistant to the Minister of Defence on Media and Publicity, Mohammad Abdulkadri, General Magashi stated this when the Commander US Africa Command, General Stephen Townsend and his team paid a courtesy call on him at the Ministry of Defence Headquarters, Abuja.
He said Nigeria will appreciate the US intervention to fully establish the Aviation Unit of the Nigerian Army as a force Multiplier in the on-going fight against ISWAP/terrorists in the country.
The Minister, on behalf of the Commander-in-Chief of the Nigerian Armed Forces, President Muhammadu Buhari thanked the United States of America for its technical and manpower training supports towards enhancing the nation's capacity and capabilities to end insecurity bedeveling the country.
While recalling specific instances of US strategic supports to the Nigerian Military, he mentioned progress recorded in the supply of Super Tulcano aircraft, Thunder Boat for Maritime Operations and logistics to the Multinational Joint Task Force, MNJTF for enhanced combat efficiency and effectiveness.
On human rights issues he told the delegation of the US Africom which include US Ambassador to Nigeria, Mary Beth Leonard, Foreign Policy Adviser, Russell Schiebbel and US defence Adviser to Nigeria, Colonel Andrew Clerk that the Nigerian Military is adopting international best practices to reduce collateral damages in the fight against terrorism
For instance, he said the Fighting Forces are leveraging low kinetic modus operandi in the theatres of combats, which he said is in compliance with the Rules of Engagements.
On his path the Commander US AFRICOM, General Stephen Townsend eulogised the leading role Nigeria is playing in Africa Sub regional security matters and assured the government of support at all times.
General Townsend commiserated with Nigeria over the aircraft misharp that claimed the lives of seven crew members onboard the plane.
The courtesy call earlier began with a closed door session between the Defence Minister, Major General Bashir Salihi Magashi( rtd) and the Commander US AFRICOM, General Stephen Townsend.