Jeff Bezos Now the Richest Man in the World
After the markets closed Friday, Forbes says Jeff is now worth $109.9 billion, moving him back ahead of Bill and his $105.8 billion net worth.
Briefly, before his Amazon stock increased, he was at number 2, looking up to Bill Gates. His drop in rank previously could be as a result of this year's costly divorce with ex-wife MacKenzie, who took a huge chunk of his fortune.
MacKenzie's net worth now stands at $32.7 billion, placing her among the top 20 in the world.
Jeff and MacKenzie split following what they called a trial separation, and Jeff is now seriously dating Lauren Sanchez.
Gates held the title for 24 years before losing to Bezos in 2018. He reclaimed it briefly this year and it is now back to Bezos when his Amazon stock bounced back.
Oshiomhole Takes Edo Election As 'Do-or-Die' Matter, Says Wike
The Chairman of the National Campaign Council of the Peoples Democratic Party, Governor Nyesom Wike, has said for the sacked national chairman of the All Progressives Congress, Adams Oshiomhole, the upcoming Edo State governorship election was a matter of life and death.
Wike, who is also the governor of Rivers State, said this at a media briefing in Port Harcourt, on Monday.
Wike said, "The best he (Oshiomhole) could do is to lay low and let Ize-Iyamu campaign. You can see that if Ize-Iyamu talks for two minutes, Oshiomhole will talk for 20 minutes because he knows this election will determine whether he will remain in politics or not.
"So, he takes it as a do-or-die matter. He knows that losing this election, he is completely out. He has been decimated in the APC national leadership. So, the only thing now is to hold Edo to see that anyhow they treat him in Abuja, he has where to fall back to.
"Now Obaseki is winning, Abuja does not want him, Edo does not want him. So, he has nowhere to go to. This third term agenda is trying to run and Edo people must resist him."
Buruji Kashamu Bows to COVID-19 @ 62
Former Senator Buruji Kashamu was reported dead on Saturday.
He died due to complications of COVID-19, his former colleague, Senator Ben Murray-Bruce said in a tweet.
"I have just lost my good friend of forever to #COVID19," Murray-Bruce said. "Until his death, Sen. Buruji Kashamu and I were inseparable.
"He died today at First Cardiology Consultants, in Lagos. May his gentle soul rest in peace. I pray his family and loved ones the fortitude to bear this heavy loss."
Kashamu served as a Senator representing Ogun-East in the eighth National Assembly under the Peoples Democratic Party (PDP).
He was 62.
He joins a list of prominent Nigerians who have succumbed to the novel coronavirus.
Former Chief of Staff to President Muhammadu Buhari, Abba Kyari and former Governor of Oyo state, Abiola Ajimobi, have also passed on from COVID-19 complications.
FG Announces Resumption of International Flights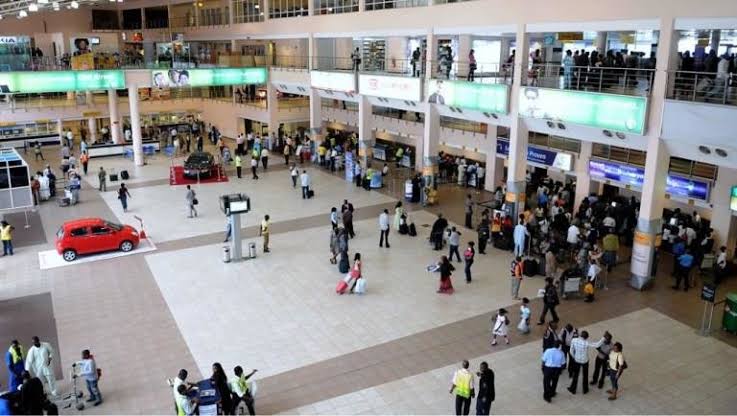 The Federal Government on Thursday said the airports would be reopened to international flights in weeks and not in months.
When international flights eventually resume, passengers are expected to arrive the airport three hours before their flights.
The government said the prolonged ban on international travels was not punitive but mainly to keep Nigerians across the country safe from the spread of COVID-19.
The Minister of Aviation, Hadi Sirika, disclosed this in Abuja while answering questions at the briefing of the Presidential Task Force on COVID-19.
He said, "On the question about the reopening of the airports, I will like to use this medium to reiterate and to be consistent with what we've been saying. I want people to understand that this is not purely an aviation function.
"It also has to do with our health and is so huge that it made Mr President in his wisdom to set up the Presidential Task Force on COVID-19. This is in the interest of the nation."
The minister said operators in the civil aviation sector had wanted to open the airports a long time ago in order to return to business and halt the loss of revenue.
Sirika said the ban on international flights had warranted the mass sacking of workers in the aviation sector and non-payment of salaries by airlines.
He said, "So we really want to open. But we can't open alone, for within the space where we operate we've got all kinds of people there in the airports.
"We've got immigration, police, Customs, civil defense, port health, etc, and so the PTF has set up a technical committee to come up with a date when everybody will be happy to start."
The minister added, "So we will open as soon as all of us are happy to open. And I want to adopt what the coordinator has said; it will be in weeks rather than in months."
Sirika urged Nigerians not to blame any government official for the ban on international flights. Rather the blame should be on COVID-19, he said.
"We feel your pain. We know that this closure of airports has separated families and friends, denied people access to hospitals abroad, schools, businesses, etc. We feel this pain," he said.
He insisted that the prolonged ban on international flights was not on purpose but was to ensure that Nigerians remained safe and healthy.
The PTF National Coordinator said the Nigerian Civil Aviation Authority, the Federal Airports Authority of Nigeria, and other agencies, as well as airlines, should commence the process for the resumption of international flights.
According to Aliyu, passengers would arrive three hours before flights when the country's airspace finally reopens for international operations.
"We have modified the protocol for passenger arrivals at the airports. Domestic passengers arriving at the airports are advised to arrive one hour before their flights and three hours before international flights – when this restarts."
He said there may be additional infrastructure for some of the airports.
"Hopefully in weeks but not months," he added.
The Punch