Just In: Akufo-Addo Declared Winner of Ghana's Presidential Election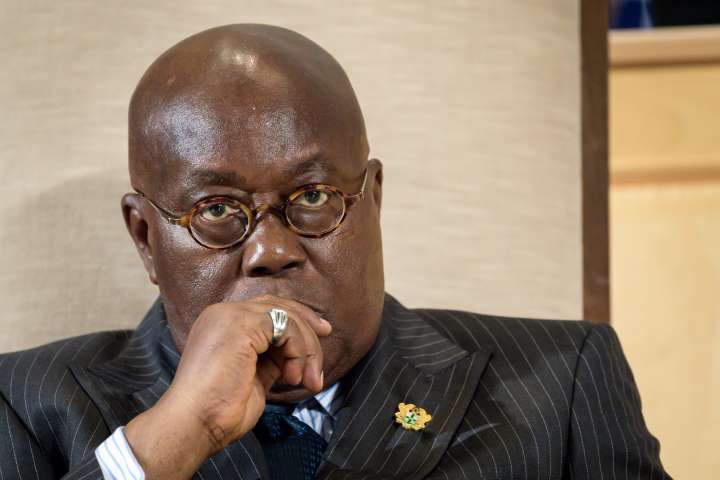 Ghana's President Nana Akufo-Addo has won a second term after a tightly contested presidential election, the Electoral Commission of Ghana announced on Wednesday, beating his long-time opponent John Mahama.
Akufo-Addo of the New Patriotic Party received 6,730,413 or 51.59 per cent of total votes while Mahama of the National Democratic Congress received 6,214,889 or 47.36 per cent of total votes, the commission's chairperson Jean Adukwei Mensa said at a press briefing on Wednesday.
"On the basis of the foregoing election results and by the powers vested in me as the chairperson of the Electoral Commission of Ghana and the interim officer of the election, it is my duty and honour to declare Nana Akufo-Addo as president-elect of the Republic of Ghana," Mensa said at the press briefing.
Monday's presidential and parliamentary vote has been viewed by observers as generally free and fair.
But Mahama on Tuesday accused Akufo-Addo of showing "credentials that are very undemocratic" and harnessing the military to sway the outcome.
"You cannot use the military to try and overturn some of the results in constituencies that we have won. We will resist any attempts to subvert the sovereign will of the Ghanaian people," the 62-year-old former president said.
He made the accusations after rumours circulated on social media that he had conceded defeat but he refuted the claim, saying he has not congratulated anyone.
Mahama and Akufo-Addo, 76, are old rivals who have faced off at the ballot box twice before.
Mahama was president for four years until 2016, before being succeeded by Akufo-Addo. Both of those elections were determined by small margins.
Despite the sharp words, Ghana has a history of electoral stability and grievances are typically pursued through the courts.
The Punch
384 Stranded Nigerians Stranded in UAE, Saudi Arabia Return
A total of 384 Nigerians stranded in Saudi Arabia on Thursday arrived at Nnamdi Azikiwe International Airport, Abuja.
The returnees arrived via Air flight B773 at about 1:10 pm local time.
They include 300 males, 80 females, and one infant.
A representative of the minister of Foreign Affairs, Ambassador Bolaji received the returnees at the Hajj Terminal where he charged them not to despair.
He however, said the Nigerian government does not support illegal migration.
Lekki Shooting: FG Full of Denials, Cover-ups, Says Amnesty International
Nigerian authorities have failed to bring to justice those suspected to be responsible for the brutal crackdown by security forces on peaceful #EndSARS protesters at Lekki toll gate and Alausa in Lagos in October 2020 and have brazenly attempted to cover up the violence, said Amnesty International Nigeria today, 100 days on from the attacks.
Since the assault by security forces, which killed at least 12 people, Nigerian authorities have targeted supporters of the protests against police brutality by the disbanded Special Anti-Robbery Squad (SARS) Some of the movement's supporters have had their bank accounts frozen.
"The bloody events of 20 October 2020, when Nigerian security forces killed at least 12 people during the violent dispersal of peaceful #EndSARS protesters at Lekki and Alausa, have cast a shadow over Nigerian society that lingers to this day," said Osai Ojigho, Director of Amnesty International Nigeria.
"Instead of bringing suspected perpetrators to justice and prioritizing genuine police reforms, Nigerian authorities have been abusing their powers by subjecting those who supported the protests to intimidation, harassment and smear campaigns."
Reports from across Nigeria indicate that police violence is still widespread despite government promises of change.
Amnesty International is concerned that the Nigerian authorities will continue their current ban on protests and reminds the government of its obligations under the Nigerian Constitution of 1999 (as amended) and international human rights treaties to – which the country is a state party – to allow those who gather peacefully to express their views without fear of arrest or intimidation.
International human rights law also requires the Nigerian authorities to carry out prompt, thorough, independent, impartial and effective investigations into violations of human rights of the protesters including the right to life, such as those committed at Lekki and Alausa, as well as in other parts of the country, and to identify and bring suspected perpetrators to justice in fair trials.
"Those suspected to be responsible for the killings should be brought to justice in accordance with international fair trial standards," said Osai Ojigho.
Amnesty International is calling on the Nigerian government to suspend accused officials, pending investigations, and to ensure that victims access justice and effective remedies.
The Nigerian government has set up a panel of inquiry in Lagos State to investigate complaints against SARS and the incidents at Lekki and Alausa on 20 October 2020. However, government officials and the military continue to deny that anybody was killed during the protests while restating their resolve to punish leaders of the #EndSARS movement against police violence.
Investigations by Amnesty International indicate that since the #EndSARS protests were violently dispersed several of the movement's leaders have been arrested, tortured and their bank accounts frozen. Many others have fled into exile.
Premium Times
22 More Deaths, 1,861 New Infections As COVID-19 Worsens in Nigeria
Nigeria recorded its second highest daily death toll from COVID-19, on Wednesday, suggesting the country has yet to reach the peak of the second wave, as infections continue to spread rapidly.
A total of 22 people died from COVID-19 on Wednesday to bring to 1,544, the total number of people who have now died from the disease in the country.
Nigeria also recorded its second highest daily infection tally with 1,861 new cases reported on Wednesday, according to the Nigerian Centre for Disease Control (NCDC).
The 1,861 new cases, a sharp increase from the 1,303 infections recorded on Tuesday, raised the total number of infections in the country to 126,160.
Exactly a week ago, Nigeria recorded 1,964 new cases, the county's highest daily figure ever.
Last week was one of the worst in Nigeria's COVID-19 pandemic era.
A review of data provided by the NCDC, 11,659 persons tested positive for the virus last week (January 17- 23), which is 18 per cent higher than the previous week's record of 9,880.
The direct adverse effect of the spike in infections has been more deaths.
In the previous 24 hours, before the latest update 15 people died from the disease.
Nigeria, about two weeks ago, recorded the deadliest day thus far in the global coronavirus pandemic, with 23 deaths under 24 hours.
Last week, Nigeria reported 82 deaths, which represents a 14 per cent increase from the previous week's record.
Health authorities attributed the rising death toll to late referrals of COVID-19 patients to treatment centres.
Of the over 126,000 new cases, a total of 100,365 patients have recovered across the country.
Meanwhile, there are over 20,000 patients still receiving treatments in isolation centres.
The 1,861 new cases were reported from 22 states – Lagos (773), FCT (285), Oyo (138), Rivers (111), Plateau (92), Nasarawa (83), Kaduna (59), Enugu (57), Imo (57), Edo (43), Kano (27), Kwara (20), Ebonyi (19), Abia (17), Ogun (12), Osun (12), Katsina (8), Bayelsa (6), Bauchi (5), Delta (5), Borno (4), Jigawa (4), and Zamfara (1).
Lagos, Nigeria's COVID-19 epicentre, led with 773 new cases followed by Abuja, the second most impacted city, with 285 new infections.
Nigerian authorities a few days ago said the COVID-19 vaccines expected this month will no longer arrive until February.
Premium Times