Malabu Scandal: EFCC Working with Interpol to Arrest Adoke, Etete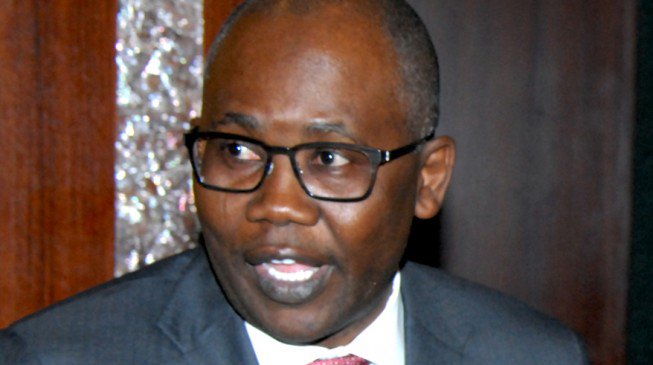 The High Court of the Federal Capital Territory in Jabi, Abuja on Wednesday, ordered the arrest of the immediate-past Attorney-General of the Federation, Mr. Mohammed Adoke, a former Minister of Petroleum Resources, Dan Etete, and four others.
The six are named in the charges filed by the Economic and Financial Crimes Commission in relation to the $2.1bn Malabu Oil scam.
Others affected by the court's arrest warrant issued on Wednesday are: Raph Wezels, Casula Roberto, Pujato Stefeno, Burrato Sebastino and Aliyu Abubakar.
Justice Danladi Senchi issued the arrest warrant against the suspects following an ex parte application by the EFCC.
Moving the application on Wednesday, the commission through its lawyer, Mr Aliyu Yusuf, informed the judge that it needed the arrest warrant to enable it to apprehend the suspects and bring them before the court for arraignment on the charges instituted against them since 2016.
Yusuf noted that apart from the charges pending in court, there were other two sets pending against them before the Federal High Court in Abuja.
According to the EFCC, the charges bordered on fraudulent allocation of the Oil Prospecting Licence 245 and money laundering involving the sum of about $1.2bn, forgery of bank documents, bribery and corruption.
The alleged $1.2bn scam involved the transfer of the OPL 245 purportedly from Malabu Oil and Gas Limited to Shell Nigeria Exploration Production Co. Limited and Nigeria Agip Exploration Limited.
The three companies are defendants in the charges pending before the Federal High Court in Abuja.
An operative of the EFCC, Mr. Ahmed Ibrahim, stated in an affidavit filed along with the anti-graft agency's ex parte application had stated that the issuance of an arrest warrant against the defendants would enable them to liaise with International Police Organisation to ensure their arrest.
The affidavit stated, "That arraignment of the defendants in this case couldn't take place because the 4th, 5th, 6th, 7th, 8th, and 9th defendants/respondents are at large and have refused to make themselves available.
"That all efforts to apprehend the fleeing defendants/respondents proved abortive.
"That in furtherance of efforts to apprehend the 4th, 5th, 6th, 7th, 8th, and 9th defendants/respondents, the EFCC contacted the Nigeria Police to assist in watch-listing them and facilitating their arrest.
"That the Nigeria Police in response requested detailed particulars and necessary process to enable them to liaise with INTERPOL, and other relevant sister organisations have insisted that in addition to having a pending charge before a competent court, there must be warrant of arrest to enable the organisations to apprehend the defendants.
"That granting this application will facilitate the required liaison with INTERPOL and ensure that the defendants/respondents are apprehended and produced before the court for their arraignment on the charges filed against them."
The Punch
Food for Living: You're Work in Progress
By Henry Ukazu
Greetings Destiny Friends,
Man, by nature, is insatiable. He is endowed with the tendency to always crave for more, especially the good things of life. And when he gets one, he immediately desires another, and the circle continues. That's simply human nature for you. Progressive minds always set a target for themselves, and once they meet the target, they move to another target. Entrepreneurs are not left out in this struggle, in fact, they top the list in this category.
Entrepreneurs work day and night to develop a product, and in the process they experience challenges which makes some of them give up. According to Aditya Roy Kapur, "what we normally see is the finished product, someone's performance on screen, but behind the scenes, a lot goes into it'. This is just the lifestyle of any entrepreneur or great mind who has been able to succeed. However, it is our human nature to always feel downcast whenever our demands are not met.
With the innovation of social media and technology, a lot of people have given up on life. The internet is awash with stories of people who have committed suicide just by watching other people's lifestyles on social media. They had come to the conclusion that other people are living their best lives and exploring opportunities while they are merely existing. Some people have been pressurized to be what they are not; please relax, you're on a different path and lane, everybody has their own race to run. According to Jesse Eisenberg "I don't concern myself with thinking ahead to the finished product. I focus more specifically on what the character is experiencing. Once you relieve yourself of the very arbitrary and always punishing pressure of what an audience is expecting you to do, acting becomes a lot more fun and pure". Moral:  You're a product in the making, so maintain your lane.
Nobody, country, business, etc has it all figured out completely; they are all work in progress. Most people think some have figured it out completely either because they are rich or have life working smoothly for them. A typical example is the United States of America. Most people think USA has no problem. But that's not the case, the USA has its own challenges. In the words of one of the most cerebral US Presidents, Franklin D. Roosevelt, 'I do not look upon these United States as a finished product. We are still in the making". That goes to tell you, daily, the USA seeks for better ways to improve their technology, health sector, business, and political environment.
It's a well-established fact; nobody has overnight success, real success takes time and effort, just like the saying, Rome was not built in a day. As humans, we like finished projects because it looks attractive. When a product, car, food, cloth, or even education is not completed, it always appears unattractive and no one likes to be associated with such persons or product.
Even as humans, sometimes we feel the whole world has left us behind. If we are honest with ourselves, we have one secret frustration which the world wouldn't even notice. We are the ones secretly having the pain. The pain/feeling can be not being married, not having money despite having a huge fan base on social media. It can also relate to medical challenges. Despite these challenges, I have good news for you; it's not over until it's over. You're a work in progress.
Succeeding in life entails a lot of sacrifice, hard and smart work, a bit of luck, great networking, knowledge, wisdom and understanding amongst other skills. It may seem so painful when we do what we are supposed to do and still don't get the desired result. If you have an ambition or desire to create a product, you may want to ask yourself, what's your why? What's your vision; and most importantly, what's your passion? I say this because most people engage in business, academic endeavors, and even marital engagement without having a good foundation or understanding of what is required, and when they experience misfortune or have challenges, they begin to give up.
A practical way to succeed in an endeavor is by knowing yourself. Self-discovery is one of the hardest things we can do in life. When you know yourself, it will be easy to figure your path. When you figure out your path, the next thing you want to do is to maintain your lane. Focusing on your lane helps to build expertise in a particular field or industry. You may be wondering how to create a path and build expertise on a particular lane. A medical or law student may after graduation from college decide to specialize in a particular area of his profession. It can be surgery or internal medicine for a medical professional or civil right or criminal law for a law graduate.
What most people fail to understand is the difference between profession, vocation and ministry. Your profession is what you are trained to do, your vocation is what you are paid to do, your ministry is your calling and what you should be living for. Understanding these concepts will go a long way to figure out how you live your life because they'll help you to finish your race and finish well.
As you forge ahead in your craft, try as much as possible to be at peace with yourself, trust the process, appreciate the mistakes, disappointments, failures and betrayals if any, because they are all parts of the success story. When you reach a crossroad, listen to your inner still voice and trust your gut/intuition. Don't force or try to change what you cannot control or change. Let nature take its course because you are work in progress.
Henry Ukazu writes from New York. He works with the New York City Department of Correction as the Legal Coordinator. He's the author of the acclaimed book Design Your Destiny – Actualizing Your Birthright To Success and President of gloemi.com. He can be reached via info@gloemi.com
FirstBank Hosts FinTech Summit, Edition Four, Calls for Activation of Vibrant Ecosystem
By Eric Elezuo
Nigeria's leading financial institution and financial inclusion services provider, FirstBank of Nigeria Limited, has successfully held the 2020 edition of its annual FinTech Summit, which is also the fourth in the series.
The summit, which held via virtual, had about 12, 000 participants in attendance, and featured prominent innovator and Chief Executive Officer, Love and Magic, Chinedu Echeruo as keynote speaker with other professionals including the Director, Payments System Management Department, Musa Itopa Jimoh; the Executive Director, Technology & Operations, Nigeria Inter-Bank Settlement System Plc (NIBSS), forming a high profile panel of discussants.
Also on the panel were the duo of the Group Executive, Technology & Services, Callistus Obetta, and Group Executive, e-Business & Retail Products,  Chuma Ezirim, who represented FirstBank.
In his opening speech, the Chief Executive Officer, FirstBank Nigeria Limited, Dr. Adesola Adeduntan, reiterated that FinTech industry is currently the fastest growing sector within Nigeria, and is mostly run by a sizable number of young entrepreneurs, stressing that FirstBank has been positioned as the FinTech partner of choice having established relationships with companies like PiggyVest, Terragon, VoguePay and PayStack.
He noted that the bank's rating has soared with its digital payment channels and has remained in the forefront of providing financial inclusion solutions across board and round the clock with it's  FirstMobile app, USSD (*894#) and FirstMonie, with the popular Firstmonie Agent Banking Network.
"FirstBank has become the foremost financial inclusion solutions provider with over 9 million USSD users, processing over 200 million transactions to date. Also, with more than 60,000 Firstmonie Agent Banking locations we have to date processed over 320 million customer transactions worth over NGN6 Trillion on the FirstMonie Agent Network as at July 2020, further cementing our leadership in the Agency Banking space," Adeduntan said.
He recollected that the bank has picked awards after awards with the FirstMobile App, which was "awarded the Best Mobile Banking App in Nigeria in 2019 by the UK-based Global Business Outlook."
Rather than mourning the outbreak of the Coronavirus pandemic, Adeduntan remarked that the bank has leveraged on the scourge to become more innovative in providing services for the benefit of the customers
"The sudden emergence of the Covid-19 pandemic era has provided a ready canvas for stretching our Fintech readiness and exploits, and I am happy to note that, once again, FirstBank has been demonstrating outstanding preparedness in this all-important space.
"Indeed, the Covid-19 pandemic has become a catalyst for the accelerated technology and digital transformation that we are witnessing across so many industries and areas of human endeavour," he said.
Speaking on the theme "How Blockchain and Artificial Intelligence will Disrupt FinTech in Nigeria" the keynote speaker, Echeruo, who is a product of Kings College, Lagos and Harvard Business School, with virtual descriptions, informed that one can solve any problem if he puts his mind to it. He noted that the "use of artificial intelligence to personalise and deepen customer experience, grow new market opportunities with lower cost blockchain model" will greatly improve the culture of innovation.
He pointed out that building and activating vibrant ecosystem are basically the outcome of inculcating blockchain and artificial intelligence in FinTech. He advised corporate bodies to open organisation's ecosystem and recreate from the outside to the inside.
Responding, FirstBank's Group Executive, e-Business & Retail Products, Chuma Ezirim, who represented FirstBank in the panel, and spoke on the sub-theme, "How Current Trends in Artificial Intelligence Are Impacting Business Product Development in FirstBank", noted that the bank is a technology company offering financial services, but not in any way usurping another's duties.
Ezirim was also quick to point out that FirstBank processes over 90 customer initiated transactions per second only on digital channels while acknowledging that the bank is poised re-architect its system and attract the right skills from within and outside.
Concluding his presentation, he invited stakeholders to partner with the bank, noting that "we believe big data and AI will bring upward the revenue of this country…"
In his remarks, Aminu Maida, who spoke on Industry Infrastructure to Support New Development in the Financial Industry, acknowledged the need for synergy while advising that the way out is "leveraging on artificial intelligence, leveraging on dynamic machine learning that can go into the environment and adapt in relation to human capacity."
Other speakers who lent their voices to the viability of artificial intelligence towards creating and activating a vibrant ecosystem included Callistus Obetta, who was of the view that there is the need to build people who will in turn build technologies.
"Our realisation that the effectiveness of Artificial Intelligence is determined by data quality available on the platform and this is beyond the structured data in the bank," he said.
Representing Okra, Fara Ashiri Jituboh, who spoke on the theme Unlock the Power of AI, and Musa Jimoh, agreed that blockchain and artificial intelligence are souls of FinTech.
In his closing remarks, the Deputy Managing Director, FirstBank, Mr. Francis Shobo, appreciated everyone that turned up for the educative webinar, and reiterated that "FirstBank will continue to embrace emerging FinTech opportunity".
The 4.0 edition was anchored by Aruoture Oddiri, with assistance from Taiwo Shonekan.
COVID-19: Nigeria Reports 64 New Cases, Total 1,337
Nigeria's tally of confirmed COVID-19 cases rose to 1,337 on Monday, from 1, 273 reported on Sunday evening by the Nigeria Centre for Disease Control (NCDC).
The agency in a tweet Monday night said 64 new cases were reported in five states. These are Lagos, Federal Capital Territory (FCT), Borno, Taraba and Gombe.
It is the second day the number of confirmed cases would fall in the country.
Also, additional 16 people recovered from the disease were discharged on Monday.
The figure was released hours after President Muhammadu Buhari addressed the country on the new measures the government intends to adopt in containing the spread of the virus.
A breakdown of the latest update shows that 34 of the new cases were reported in Lagos, 15 in FCT, Borno – 11, while Taraba and Gombe have two apiece.
Lagos remains the epicentre for the outbreak in Nigeria.
NCDC said one case previously reported as a Lagos State case, is now reported as an FCT case. The total number of confirmed cases in Lagos is now at 764 and there are 157 in Abuja, the FCT.
Kano State has not reported any case in the past five days as testing was was discontinued there last week.
On Thursday, the health minister, Osagie Ehanire, said the Kano centre was temporarily closed because some staff of the laboratory were infected with COVID-19. He also comfirmed the centre ran short of some testing reagents.
The NCDC said as of 11:30 pm. April 27, there were 1,337 confirmed cases of COVID-19 reported in Nigeria. Of these, 255 infected people have recovered and have been discharged and 40 deaths have been recorded in 32 states and the FCT.
A breakdown of all the cases shows that Lagos State has so far reported 764 cases, followed by FCT – 157, Kano – 77, Borno – 41, Gombe – 37, Ogun – 35, Osun – 34, Katsina – 30, Edo – 25, Oyo -21, Kaduna – 15, Akwa Ibom – 12, Bauchi – 14, Kwara – 11, Sokoto – 10, Ekiti, Taraba and Ondo – 8, Delta – 6, Rivers – 6, Jigawa – 2, Enugu – 2, Niger – 2, Abia – 2, Zamfara – 2,. Benue, Anambra, Adamawa, Plateau, Bayelsa, Ebonyi, Kebbi and Imo have one case each.