Meet Bolaji Oreagba: The New Helmsman at LASTMA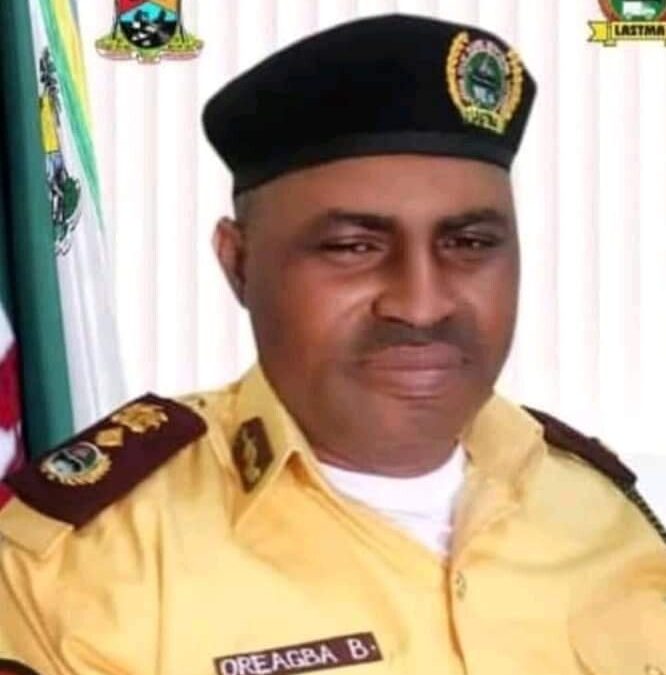 Lagos State Governor, Mr. Babajide Olusola Sanwo-Olu has approved the appointment of Mr. Bolaji Oreagba as new General Manager of the Lagos State Traffic Management Authority (LASTMA).
A statement signed by the Lagos State Head of Service, Mr. Hakeem Muri-Okunola, noted that the appointment of Mr. Oreagba is geared towards the continued efficient and effective traffic management on Lagos roads and takes immediate effect.
Mr. Bolaji Oreagba, a Deputy Controller (Traffic), joined the State Public Service on the 8th December 1993 and rose through the ranks over the years to the post of the Director of Operations, LASTMA, before his present appointment as General Manager.
He holds a Master's Degree in Transport Planning & Management and has attended several capacity-building programmes on inter-modal traffic management systems locally and internationally.
Congratulating the newly appointed General Manager, Muri-Okunola urged him to justify Governor Sanwo-Olu's confidence in his appointment by rising up to the occasion, while bringing his wealth of experience to take the Agency to greater heights.
The Head of Service also conveyed the appreciation and gratitude of Mr. Governor to the outgoing General Manager, Engr. Olajide Oduyoye, for his commitment, dedication and meritorious service to the State.
Adeduntan Sustains Winning Streak, Pioneers Leadership Excellence in Banking
Since his appointment as MD/CEO of First Bank of Nigeria Limited in 2016, Dr. Adesola Adeduntan has completely transformed the financial institution and has made it attractive to every strata of the society. From an institution that used to be perceived as an old-generation bank, FirstBank is now a darling to all as it leverages latest digital tools to meet its customers' needs. Also, under Adeduntan's leadership, the 128-year old bank has made huge contributions to national development, thereby stimulating development, setting standards and motivating excellent output across sectors. Clearly, these contributions to national development were what endeared Adeduntan to President Muhammadu Buhari who recently saluted him on his recognition by Cranfield University, UK, one of the most prestigious citadels of learning in Europe. Adeduntan will on Wednesday, June 22, be conferred with Doctor of Science, Honoris Causa and he would be delivering an address to the graduating class of the university. This feat, the president in a statement by his Special Adviser (Media and Publicity), Femi Adesina, described as, "another testament to the fact that Nigeria is blessed with the brightest and the best in all areas of human endeavor." Buhari lauded Adeduntan for being a role model to the younger generation, showing that hard work pays, and with resourcefulness and doggedness, great heights are achievable.
Adeduntan holds a Doctor of Veterinary Medicine from the University of Ibadan, Master's in Business Administration from Cranfield University, and is Fellow of Institute of Chartered Accountants of Nigeria (ICAN), as well as Chartered Institute of Bankers of Nigeria (CIBN).
The president sent best wishes to Adeduntan and family as he hoisted Nigeria's flag proudly to receive an honor Cranfield University said was in recognition of his outstanding contribution to business. Incidentally, Buhari's commendation came on the day the bank successfully held its AGM which showed a stellar performance in its financials, a transformational result that put the bank on course to reclaiming its leadership position of the financial sector.
Adeduntan has a distinguished career in finance having held senior positions at Citibank Nigeria, KPMG and Arthur Andersen Nigeria. He studied at Cranfield University as a British Chevening Scholar, achieving an MBA in 2005.
Commenting on the honour by Cranfield University, the FirstBank boss said: "I am extremely humbled and most grateful to the university for this recognition. My time at Cranfield served as a catalyst for my professional and personal development propelling me to the leadership position I occupy today.
"I am a firm believer in talent management, being vital to further accelerate Africa's growth to enable it to benefit from its demographic dividend and the opportunities therein. I look forward to sharing my experiences with the students on the universal applicability of the skills the Cranfield MBA provides to positively impact the world."
On his part, the Chief Executive and Vice-Chancellor of Cranfield University, Professor Karen Holford CBE FREng also congratulated Adeduntan, saying: "It is an honour to welcome Dr Adeduntan back to Cranfield to recognise all his professional achievements in this way. His own experience at Cranfield University has propelled his career forward and this serves as a true inspiration for our graduates both this year and in the future."
Indeed, Adeduntan is an accomplished professional with distinctive international and domestic experience in commercial and investment banking, development finance, audit, and consulting; a philanthropist and leader with keen interest in providing platforms for the development of other young leaders.
The FirstBank Group, the commercial banking arm of FBN Holdings Plc, which he heads is made up of First Bank of Nigeria and subsidiaries including FBNBank UK, FBNBank DRC, FBNBank Ghana, FBNBank Senegal, FBNBank Guinea, FBNBank Gambia, FBNBank Sierra Leone and First Pension Custodian as well as Representative Offices in France and China.
Adeduntan is overseeing one of the most extensive transformation programmes in sub-Saharan African financial services industry, with the goal to reposition FirstBank Group to market pre-eminence.
He is leading FirstBank Group on the journey to win the most significant emerging business opportunities in the financial services industry through the development and execution of a digital-led strategy that has established FirstBank as the dominant player in digital banking.
FirstBank Group's transformation programme, under the leadership of Adeduntan has enabled the bank to grow customer accounts from about 10 million in 2015 to over 36 million (including digital wallets), become the second largest issuer of cards in Africa with over 11.8 million issued cards, onboard over 18.6 million active customers on FirstBank's digital banking platforms, and initiate and grow the most expansive bank-led Agent Banking Network in Africa with over 170,000 agents.
His career in banking and finance, spanning almost three decades, has earned him various recognitions and awards including Forbes Best of Africa – Outstanding Leader in Africa, Distinguished Alumnus Award by both the Cranfield University's  School of Management and the University of Ibadan, African Banking Personality of the Year,  African Banker of the Year Award; Banking Icon of the Decade by the Sun Newspapers and induction into the African Leadership Magazine (ALM) Hall of Fame, Honorary Citizenship of the State of Georgia and Congressional Commendation Award from the Georgia Senate – USA, Bank CEO of the Year by the AES Excellence Club and several other awards.
He has attended various executive and leadership programmes at Harvard Business School (USA), Wharton School (USA), London Business School (UK), IESE (Spain), University of Oxford (UK), University of Cambridge (UK), CEIBS (China) and INSEAD (France). He is a fellow of both the Institute of Chartered Accountants of Nigeria (ICAN) and the Chartered Institute of Bankers of Nigeria (CIBN).
Adeduntan's leadership drive also reflected in First Bank Nigeria Limited's recently released full year 2021 financial statement. The results clearly showed the strength and resilience of the iconic African elephant as well as the financial institution's leadership in the industry. The impressive results were a reflection of the robust strength and growth of the iconic African elephant, showing that the bank has taken its rightful position among the industry leaders.
In addition, it showed the level of work the current board, management and staff of the bank have put in to turn the tide in the 128 years old institution with entrenched corporate governance.
The full year 2021 performance by the bank represented a shift in the financial institution's performance trajectory and was made possible through its undeterred commitment in pursuing its transformational agenda; cutting across customer-led innovation, building a digitalised bank, culture change, reinventing the bank's workplace and safeguarding its assets for the digital age.
For the first time, FirstBank Group posted the best result in more than a decade history of the bank by crossing the N100 billion profit line. Specifically, in the full year 2021 financial statement, the FirstBank Group reported a 73.9 per cent growth in its profit after tax to N117.8 billion, as against the N67.8 billion recorded as of December 2020, just as its profit before tax stood at N130.9 billion, which was a significant rise by 77.9 per cent year-on-year, as against the N73.6 billion it was as of December 2020.
FirstBank's gross earnings also increased by 30.3 per cent to N716.8 billion in 2021, up from N550.3 billion it was as of December 2020. Also, it recorded non-interest income of N342.2 billion in the year under review, which was 106.4 per cent higher than the N165.8 billion recorded as of December 2020. As a result of years of strategic restructuring of its balance sheet and operations, its gross earnings also moved northwards by 30.3 per cent, its total assets was up 15.9 per cent to N8.5 trillion as of the end of 2021, as against the N7.4 trillion recorded the previous year, just as its customer deposits also climbed by 19.5 per cent to N5.6 trillion, up from the N4.7 trillion recorded the previous year. The bank's customer loans and advances also improved by 28 per cent to N2.8 trillion in the year under review, up from N2.2 trillion the previous year.
FirstBank has shown innovation, resilience and commitment to growth by significantly reducing its non-performing loans (NPL) from 25% in 2016 to an acceptable level of 6.1% in 2021.
To demonstrate that the bank's performance in 2021 was not a fluke, the Bank equally performed excellently well in Q1 2022. FirstBank recorded 32% increase in gross earnings to N180bn in Q1'22 from N136.6bn in Q1'21. Profit after tax was up 108% to N32.4 billion (Q1'22) relative to N15.6 billion (Q1'21). This impressive performance is hinged on robust loan portfolio, effective cost structure and increased digital services.FirstBank recorded the highest decline in its cost-to-income ratio in Q1 2022, dropping from 79.5% recorded in Q1 2021 to 67.03% amongst tier-1 Banks in the review period.
With FirstBank under Adeduntan, the safety of customers and the security of their transactions come first. This has ensured the bank keeps the trust of Nigerians gained over the many years of its enduring legacy of safety and security.
The bank also delivers unique and bespoke financial services solutions across all customer segments underpinned by its commitment to innovation and the customer experience. It also leverages its strong investment banking capabilities to support clients in defining and executing innovative debt solutions as well as offer strategic advice at the highest level, arrange tailor-made financing structures, manage risk and ultimately help clients to realise their aspirations
Since its establishment in 1894, FirstBank has consistently built relationships with customers focusing on the fundamentals of good corporate governance, strong liquidity, optimised risk management and leadership.
Over the years, the bank has led the financing of private investment in infrastructure development in the Nigerian economy by playing key roles in the federal government's privatisation and commercialisation schemes. With its global reach, FirstBank provides prospective investors wishing to explore the vast business opportunities that are available in Nigeria, an internationally competitive world-class brand and a credible financial partner. It is expected that the leadership excellence and recognitions accorded to Adeduntan would continue to reflect positively on the FirstBank brand and fundamentals of the bank so that the elephant will continue to stand 'gidigba.'
Culled from ThisDay
Abdullahi Bala Assumes Office As Executive Secretary, Nigeria Police Trust Fund
Following the resignation of Hon Ahmed Aliyu to pursue a career in politics, President Muhammadu Buhari GCFR, has approved the appointment of Mr. Abdullahi Bala as the new Executive Secretary for the Nigeria Police Trust Fund (NPTF).
A press statement signed by the Press Secretary to the Hon. Minister of Police Affairs, Osaigbovo Ehisienmen, and released to the National Association of Online Security News Publishers (NAOSNP), revealed that the appointment takes immediate effect.
The new Executive Secretary who holds a Masters Degree in Political Science from Usmanu Danfodiyo University Sokoto, was born on August 18, 1967 in Sokoto North Local Government Area.
His work career began in December 1992, when he was appointed as Personal Officer II, Admin and Political Affairs Department, Cabinet Office, Sokoto.  His career trajectory got to its apex in May, 2009, when he was appointed as Permanent Secretary in Sokoto State Civil Service.
A highly cerebral and resourceful Administrator, Bala worked as Permanent Secretary in several states Ministries, Departments and Agencies, including Ministries of Finance, Health, and Education. He also held several other appointments such as, Secretary Sokoto State Government Committee on Audit Inspection Report, Chairman Health Financing Technical Group, Secretary Sokoto State Government Policy Council on the state of Emergency on Education amongst others.
2023: Why Tambuwal May Spring Surprise, Clinch PDP's Presidential Ticket
As Nigeria's main opposition party, Peoples Democratic Party (PDP) makes final preparation for its highly anticipated presidential primaries scheduled for this weekend in Abuja, the aspirants are also in final race to politick their way to pick the party's coveted ticket.
For over three months now, aspirants have transversed the length and breadth of the country meeting party delegates to sell their ambition of being the party's flag bearer ahead of the 2023 presidential elections.
One of the aspirants and a former governor of Anambra State, Peter Obi on Wednesday resigned his membership of the party and also pulled out of the race for the party's ticket reducing the contenders to 14.
The 14 presidential aspirants as of Thursday include; former Vice President, Abubakar Atiku, two former Senate Presidents, Bukola Saraki and Anyim Pius Anyim as well as Governors Aminu Tambuwa, Nyesom Wike, Bala Mohammed, Emmanuel Udom, of Sokoto, Rivers, Bauchi and Akwa Ibom states respectively.
Others are businessman, Mohammed Hayatu-Deen, former Governors Peter Obi and Ayo Fayose of Anambra and Ekiti States, Chief Sam Ohunabunwa, Dele Momodu, Charles Okwudili, Chikwendu Kalu, Cosmos Ndukwe and Olivia Tarela, who is the only female among the PDP presidential aspirants.
However, while the race appears tight and competitive, the odds seem to be in favour of the incumbent governor of Sokoto State, Aminu Tambuwal.
Tambuwal controls largest share of delegates by region
In search of the best candidate to take PDP to victory come 2023, several speculations have been made in favour of Atiku with citation of his political record in 2018, during which he polled 1,532 votes at the PDP's primaries to secure the party's ticket and marched to keenly contest with President Muhammadu Buhari – he (Atiku) garnered 11,262,978 (41%) while Buhari Buhari of claimed 15,191,847 (56%).
For those on this lane, there are two points that have been gravely ignored, one of which is that the dynamics of politics in Nigeria today are unfavourable for Atiku and the second factor is that Tambuwal's feat at the same 2018, where he trailed Atiku after securing 693 votes is highly underrated – not everyone is aware that the Sokoto State Governor continued to nurture his strength and political structure while Atiku on his side abandoned his political house after losing out in the last presidential election.
With President Muhammadu Buhari withholding assent on the Amended Electoral Act 2022, Tambuwal's call to a new political glory was made more pronounced. This is because the Northwest Zone where he hails from would be presenting the highest number of delegates to the convention given the region's superior number of local governments. The zone comprises of Jigawa, Kaduna, Kano, Katsina, Kebbi, Sokoto, and Zamfara States – and most of these states are in his pocket (Tambuwal).
Only 811 voting delegates are expected at the PDP convention, they include 774 national delegates (1 Per LGA and 37 special delegates (People with disability from each of the 36 states and FCT).
There is an aggregate of 186 national delegates in the Northwest and Tambuwal is the only candidate presented by the region. Firstly, there is no gainsaying that he (Tambuwal) will clear all the delegates' votes in Sokoto. In Kano, Tambuwal has also become a favourite leader following the exit of a former governor of the state, Rabiu Kwankwaso in PDP. Jigawa, is controlled by Tambuwal's ally, former governor, Sule Lamido who has seized the territory for his friend.
Tambuwal is also a force to reckon with in Katsina, although Wike's man, Senator Garba Lado is also doing his best to get some votes. Tambuwal's train is also strongly stationed in Kaduna and Kebbi but Atiku and Saraki will give him a fight here. In Zamafara, General Aliyu Gusau is supporting Saraki, however, Tambuwal and can't be written off in the state.
A PDP chieftain in the region muted that power brokers are open to supporting a northern consensus candidate and Tambuwal, it was said stands a higher chance than Atiku as he is seen as very accessible and also enjoys the home advantage factor in this zone.
More impressively, Tambuwal isn't that far from taking a win as other contenders will only jostle for leftover votes in other regions and he (Tambuwal) is still part of the party. Wike will be struggling at his own home front in South-South, and might not be able to pick more than Rivers and Cross Rivers. In North-East, Atiku has Tambuwal, Saraki and Wike to fiercely contend with. In North-Central, Saraki though will win his state may have to still battle for survival as Tambuwal, Wike, Atiku also take their own share. In the South-East, Wike will have an edge since he is working with some governors but besides the fact that votes here is not as sizeable as in other regions, Tambuwal still stands strong with the support he is getting from the former governor of Imo State Emeka Ihedioha.
Power brokers, stakeholders in the North are backing Tambuwal
With the defeat of the southern presidency agenda which paved way for an open contest for the PDP's ticket, most power brokers in the northern part of Nigeria are settling for a candidate who is reasonable and not so difficult to relate with – Tambwual mien puts him miles above a high-and-mighty Atiku in this stance.
Only recently, when the gruesome murder of a defenceless student, Deborah of Shehu Shagari College of Education, Sokoto by her irate schoolmates had troubled Sokoto State and many had feared the tension escalate and spread to other states, however, it was Tambuwal's responsiveness, liberality and willingness to work with others that saved the day and by a large extension doused the wake of a likely religious tension in the country.
From his days as Speaker of the House of Representatives between 2011 to 2015, he has continued to build bridges. Close and confidential sources around the Sokoto Governor describe him as one of the most down-to-earth politicians, meeting people on their own terms and engaging with them in a manner like never before. He takes his politics personal and is keen on maintaining quality conversations with people around him, never taking decisions on his own, which is why he had a balanced House of Representatives as Speaker, giving key positions to members of the House in an equitable manner. He also carried everyone along and made sure that consultation was the theme of the day before taking any critical decision.
Still, it's worth emphasizing that it might be just a few days away from the d-day but in politics, there's an incredibly wide range of results that are within the margin of error.