Naira Bounces Back, Exchanges for 420 Per Dollar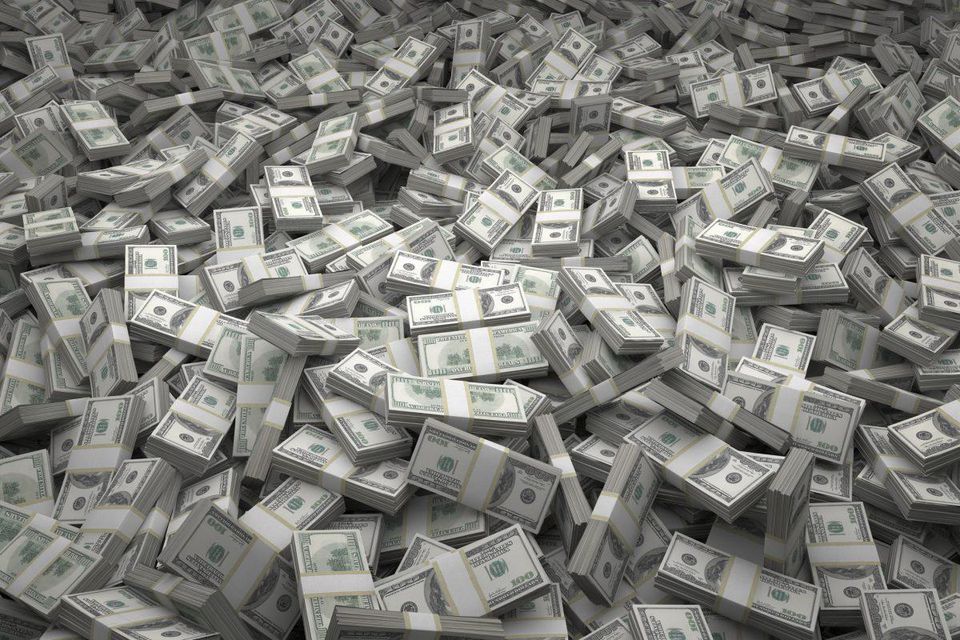 The naira exchanged to the dollar at the parallel market at N420/$ on Wednesday, following the interventions made by the Central Bank of Nigeria in the Investors and Exporters window.
Prior to CBN's renewed intervention in the I&E window on Monday, the naira exchanged for as high as N480 to the dollar.
Speculators in Nigeria's foreign exchange market would count huge losses as the naira continued to surge against the dollar, experts have said.
The CBN had said that it would also resume the sale of foreign exchange to operators of Bureau de Change from September 7.
Speaking on the issue in a statement entitled, "Forex: Speculators set to count losses," the Director, Corporate Communications Department at the CBN, Isaac Okorafor, said the bank had concluded plans to inject liquidity into the foreign exchange market by selling forex to licensed BDC operators.
He said the sale to BDCs would be gradual and be done twice a week, Mondays and Wednesdays, and that the BDCs had been directed to ensure that their accounts with their banks were adequately funded to ensure seamless transactions.
While warning speculators to desist from what he termed unpatriotic tendencies, Okorafor urged registered BDCs to comply with the CBN guidelines as the bank would not hesitate in sanctioning any erring dealer.
He also assured that those requiring foreign exchange for purposes of travel, educational fees and other invisibles could obtain such over the counter from their respective banks.
The Punch
FBN Insurance Brokers Hosts Webinar to Sensitise SMEs on Risk Management, Cyber Security
FBN Insurance Brokers Limited, a subsidiary of Nigeria's leading financial services group, FBN Holdings Plc, has announced a webinar to sensitise SMEs on risk management and cyber security. Spearheading discussions at the webinar are seasoned experts on insurance brokerage, cyber security and risk management.
The event is themed Risk Management and Business Continuity amidst COVID19 and scheduled for 10:00am on Thursday, 17 September, 2020.  To participate in the event, click here to register.
Olumide Ibidapo, MD/CEO FBN Insurance Brokers will speak on Risk Management; Harrison Nnaji, Chief Information Security Officer (CISO), FirstBank will drive conversation on Cyber security and Jamie Eaton, Regional Director, Financial Lines and Client Management, Howden One Insurance Brokers will focus on Cyber Insurance as a risk transfer option for cyber risks.
Speaking on the event, Olumide Ibidapo, MD/CEO FBN Insurance Brokers said; "SMEs remain the engine of growth of any economy, especially developing ones like ours and we recognise the indelible roles they play at creating jobs and meeting the economic and social needs of individuals.
We are excited with this webinar and implore every business owner to participate, as they will be exposed to very vital information to keep their business afloat and overcome various risks as well as operational challenges, including cyber security threats that have been heightened by the COVID-19 pandemic."
FirstBank Promotes Career Development of Staff, Graduates Third Set of SMDP Participants
First Bank of Nigeria Limited, Nigeria's leading financial inclusion services provider,  has graduated 12 successful candidates in the third edition of its Senior Management Development Programme (SMDP). The graduation ceremony held virtually, via the Zoom video conferencing platform on Wednesday, 2 September, 2020.
The Senior Management Development Programme (SMDP) is FirstBank's intensive modular programme for a select group of senior managers to principal managers who are proven leaders in their respective functions and have been identified as central to the Bank's succession plan.
Prior to the 2020 programme, 40 exemplary staff had successfully participated in the SMDP. 23 staff graduated in the inaugural edition that held in 2017 and the 2018 programme had 17 graduands.
According to Dr. Adesola Adeduntan, CEO, First Bank of Nigeria Limited; "I am delighted with the performance of the third set of the Senior Management Development Program (SMDP) graduands. The set's performance and response to the various trainings and initiatives have been very impressive and exemplary. The set has demonstrated the gold standard of value and excellence in banking services which FirstBank stands for. The SMDP has been an insightful and impactful journey for the Bank and the participants."
"I encourage each graduand to maximise the experience and knowledge garnered from the program as they build on their individual and collective contribution to the Bank's continued growth as well as its efforts in enabling and impacting Nigeria, and the Africa continent at large," he concluded.
To Enhance Ease of Doing Business, Banks in Ghana Commence Use of GH QR Code
Six banks in Ghana have initiated services to allow the public pay for goods and services through the universal Gh QR code.
The banks are Ecobank, GCB Bank, Zenith Bank, Bank of Africa, Fidelity Bank and Agriculture Development Bank. Other banks are still in the process to enable them begin the rollout.
The Ghana Vice President, Alhaji Dr. Mahamudu Bawumia, launched the universal QR code in March this year. The service adds on to the plethora of electronic payment solutions that the Ghana Interbank Payment and Settlement Systems (GhIPSS) has rolled out over the years.
With the QR code, customers only need to scan the codes displayed at various shops and other outlets with their smartphones to make payment. Those who do not have smart phones can pay with their feature phones by dialling a code that will also be displayed at the merchant's location. QR code is cheap and easy to set up. It is also a quick and secure way to make payment.
It takes away the direct contact associated with cash transactions, which makes it safer to use during the Covid-19 pandemic.
Ecobank had earlier deplored QR codes but could only be used by their customers. However with the introduction of the Gh QR code, Ecobank has converted most of their existing QR codes of clients, to make them acceptable to all customers regardless of their banks. The other five banks have begun deploying their Gh QR codes at various outlets.
Chief Executive of GhIPSS Mr. Archie Hesse commended the banks that have started deployment and encouraged businesses to liaise with banks to have the Gh QR code installed to increase their payment options to customers. Mr. Hesse also challenged the remaining banks to quicken up the processes, as they risk losing their clients to other banks.
The QR code for payment is simple to set up as it only involves generating unique QR codes which can be a mere sticker posted on the wall of the shops or on a small stand.
"Once you find the QR Code displayed, you just have to scan and you pay or dial the USSD code and pay, it is that convenient. Gh QR is universal so anyone can use any of them, regardless of your bank", Mr. Hesse stressed.
A wide range of businesses including taxi drivers, small shops, super markets, pharmacies, chop bars, restaurants as well as major service providers can all use QR codes to accept payments, the GhIPSS Boss noted.
Ghana's payment system has been modernised with the introduction of many electronic payment solutions that have made payment a lot more convenient, secure and faster.
The addition of the Gh QR code has increased the choice that customers have to pay for goods and services. This will eliminate the several instances where businesses lose out, because the customer has run out of cash.
Currently customers can pay from either their bank account or mobile money wallet through different channels such as MoMo pay, POS and now Gh QR code among others.