Naira Depreciates Further, Sells N517 to Dollar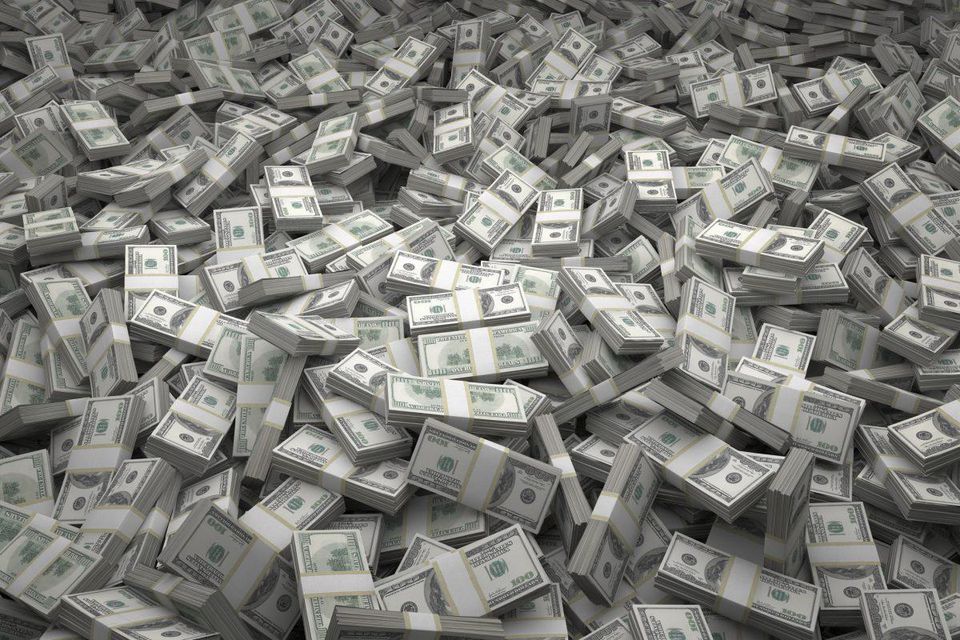 The naira fell further against the dollar at the parallel market on Wednesday after staying steady at 515/$ in recent days.
The local currency fell to 517 against the US currency at the parallel market on Wednesday.
At the Investors and Exporters' window, the naira weakened by 0.06 per cent to close at 411.75/$ on Wednesday, according to FMDQ Group.
The naira had strengthened to 506/$ on August 4 after plunging to 525/$ at the parallel market on July 28, a day after the Central Bank of Nigeria stopped foreign exchange sales to Bureaux de Change. It had been hovering around 508/$ and 510/$ in recent days.
The CBN Governor, Mr Godwin Emefiele, had on July 27, at the end of the Monetary Policy Committee meeting, announced the stoppage of forex sale to the BDCs, saying they had turned themselves into 'agents that facilitate graft and corrupt activities of people who seek illicit fund flow and money laundering in Nigeria'.
He said the CBN would channel a significant portion of its weekly allocation currently meant for BDCs to commercial banks to meet legitimate forex demand for ordinary Nigerians and businesses.
The PUNCH had reported on Monday that the total forex transactions on FMDQ Securities Exchange rose by about 2.24 per cent last week.
The Exchange said in the forex spot and derivatives markets, the total turnover for the week ended August 13, 2021 was $692.60m, up from $677.44m reported for the previous week.
It said the week-on-week increase in turnover was driven by the 12.31 per cent increase in the forex spot, despite the 24.06 per cent decrease in forex derivatives turnover.
The total value of transactions in the Investors' & Exporters' window was $550.14m, representing an increase of 12.31 per cent from $489.85m in the previous week.
According to the Exchange, the average Nigerian Autonomous Foreign Exchange Fixing rate was N411.17/$, compared to N411.16/$ recorded in the previous week, representing a depreciation of the naira against the dollar by 0.003 per cent.
The naira, however, appreciated against the dollar by 0.04 per cent at the parallel market as it averaged 510.60/$, compared to 510.80/$ in the previous week.
Nestlé Professional Takes Business of Food to Port Harcourt
The importance of canteens and 'bukas' who serve those with limited disposable income in Nigeria cannot be overemphasized.  Yet, these food vendors and caterers who help to meet the nutrition needs of busy urban communities every day, do not always get the support they need to build successful businesses.
The business of food goes beyond just cooking. Nutrition, pricing, styling, taste, hygiene, are essential to the growth of the business and the safety of the consumer.
To help bridge this gap, Nestlé Professional's food and product education workshop which held for the first time with over 200 Canteen and food Vendors in Ibadan, Oyo State in August 2022, was packaged to equip food vendors and caterers with the knowledge needed to optimize their food business while using MAGGI powders effectively.
Nestlé Professional Business, Nestlé Nigeria's Out of Home business arm, took its Business of Food roadshow to Port-Harcourt, Rivers State, to deliver food education to over 300 canteen and food vendors in collaboration with the Association of Caterers and Food Vendors.
Participants in the workshop received tips on how to grow their food service businesses. The caterers and food vendors were shown how to cook tasty meals that will delight their customers as experts shared knowledge and techniques for managing the complexities of food systems. Topics included Food-Preneur, Food Styling and Food Plating.
"The women of Port-Harcourt are amazing, and we are super-excited to be here," said Funmi Osineye, Manager, Nestlé Professional Nigeria.  "The Business of Food workshop is an initiative we developed in response to the need to provide the support micro, small and medium scale food vendors need to scale their businesses.  We are also conscious of our responsibility as the Good Food Good Life Company, to contribute towards increasing knowledge of the role food plays in improving Nutrition, Health, and Wellness. We have brought these two objectives together in the Business of Food which we are hosting in Port-Harcourt today.  Our customers and other stakeholders can count on us to consolidate this partnership with caterers and food vendors to ensure better services in the industry."
In the words of Chef Oroma, a member of the Association of Caterers and Food Vendors and CEO of Oromski Kitchen, "We have been looking for a platform like this for a long time and are excited that Nestlé Professional Business of Food has come to Port-Harcourt today. We would like this workshop to continue so we can encourage and train the upcoming chefs from the rural areas. This will help us create more employment to take our youth off the streets."
The workshop combined knowledge sharing with a lot of fun, engaging activities to make it memorable for the participants.  It kicked off with a masterclass, followed by a cooking demo where Chef Lilian demonstrated how to prepare native jollof rice.
Then came the exciting, cooking competition! The meals presented by the groups were judged based on Tasty Meal, Meal Presentation and Plating.
Union Bank Unveils Brand New Sonic Identity – The Sound of Union
Union Bank of Nigeria has launched a brand-new sonic identity tagged 'The Sound of Union. At 105 years, the Bank is now leveraging the universality of music to engage with new and existing audiences through this unique sound identity.
The Bank tapped prolific and award-winning music producer Tee-Y Mix, to create a timeless sound and interpret it across multiple genres for today's and tomorrow's generations.
Speaking about The Sound of Union during the official Twitter Space unveiling, Ogochukwu Ekezie-Ekaidem, Chief Brand and Marketing Officer, Union Bank, spoke about why the Bank is unveiling the sound identity at this time. She said:
"Over the past couple of years, Union Bank has gone through significant evolution and as a team, we are constantly thinking of ways to connect with our audiences – new and existing. At 105 years, we are entering into a new era of identity and the Sound of Union represents a milestone for us. We have produced a distinct tone and instrumental melody spanning five music genres drawing on our local culture to connect with audiences across different geographical zones. We believe we are the first Nigerian bank to create an identity using sound, and not just a one-off jingle or payoff. This launch underscores our commitment to providing the simplest and smartest solutions while offering the best experience for our customers."
To launch the sound identity, Union Bank has partnered with Boomplay to release an EP which will include the five genres of the melody which will make the EP available exclusively to Boomplay subscribers for a period before it is available on other other platforms.
Also commenting during the Twitter Space, about the audio distribution partnership between Union Bank and Boomplay, James Afuwape, Marketing Manager at Boomplay said:
"Boomplay is the largest and fastest growing streaming platform in Africa, and we are passionate about building and sustaining the music culture and consumption in Africa. We do this by leveraging partnerships and collaborations and this one with Union Bank was one we couldn't pass up on. The Sound of Union is a unique project, and we are honoured to use our platform to help amplify the sound."
The Sound of Union EP is now streaming exclusively on Boomplay. Click here to listen
Visa Rewards Ecobank Cardholder with All-Expense Paid Trip To Qatar
A customer of Ecobank Nigeria, Eziuche Ejike Michael, has emerged one of the winners of the FIFA World Cup Qatar 2022 Spend & Win Campaign and has been rewarded with an all-expense paid trip to Qatar courtesy of Visa.
The FIFA World Cup tournament is a truly global sporting event, bringing together different countries and diverse cultures on and off the field of play. As the Official Payments Sponsor of the World Cup, Visa conceived the campaign to reward customers and football lovers who were active users of their Visa cards with cardholders only needing to spend a minimum of N50,000 in at least 5 transactions to qualify. The winners will have the opportunity of a first-class experience to the tournament, all expenses covered.
Head, Consumer Banking, Ecobank Nigeria, Korede Demola-Adeniyi in her comments said, "Mr Eziuche's emergence as a winner is a reflection of the hassle-free payments experience our customers enjoy with their Ecobank Visa Cards. At Ecobank, we are always innovating our services to suit our customers' lifestyle, especially when it comes to how they can effortlessly access our products. I am truly delighted for him and wish him a memorable time in Qatar."
She further stated that 'We understand our role as a leading payments provider, pioneering seamless payments experiences across Africa, this is why we partner with critical stakeholders like Visa to ensure that our customers can have cards that allow them to enjoy financial services from anywhere in the world.  Our promise to our customers has always been the same; to provide them with access to affordable and reliable financial services. We will continue to do so through our digital platforms including Ecobank Mobile App and USSD *326#, Ecobank Online, Ecobank OmniPlus, Ecobank Omnilite, EcobankPay, Ecobank RapidTransfer, ATMs, POSs and an extensive distribution network of over 250 branches and over 50,000 agency banking locations.