NCDC Denies Funke Akindele As Brand Ambassador
The Nigeria Centre for Disease Control (NCDC) has denied claims that Nollywood actress, Funke Akindele, is its brand ambassador.
This is coming on the heels of Akindele's arrest for violating the government-ordered lockdown and ban on large gatherings after she hosted a celebrity-studded house party in honour of her husband, JJC Skills, on Saturday.
Though the actress on Sunday apologised for the action, she was arrested at her residence in Amen Estate off the Lekki-Epe Expressway and taken to the State Criminal Investigation Department, Panti, Yaba.
The police have also summoned her husband and Naira Marley who were at the party.
Until her arrest, the actress had been the 'face' of the DettolNigeria/NCDC campaigns for personal hygiene and social distancing sensitisation against the pandemic.
In reaction, the NCDC said on its verified Twitter account on Sunday that the agency had no connection with the actress as a 'brand ambassador'.
"As an agency of the Federal Government of Nigeria, NCDC has not engaged brand ambassadors as part of our response to COVID-19. We continue to emphasise that all Nigerians maintain social distancing to prevent the spread of COVID," it wrote
Meanwhile, DettolNigeria, which contracted Funkẹ as their brand ambassador, has condemned the actress' misconduct.
"We have been made aware through social media that Funke Akindele recently, acting in her personal capacity, had a celebration which is against the caution to the public on social distancing during the COVID-19 pandemic," it said.
"The NCDC partnered with Dettol on a public service message to educate our communities about preventive measures against COVID-19. Funke is not a brand ambassador of the NCDC.
The company frowned at the breach of order regarding COVID-19 pandemic.
"As a responsible organisation and brand, Dettol does not condone any breach of the guidelines on COVID-19."
The company did not, however, state if it would take any action on its partnership with the actress.
Risk of fine, jail term With the violation of the government-ordered lockdown and ban on large gatherings, the couple risks a fine or jail term as comeuppance for the violation.
The Lagos Infection Diseases Regulations 2020 (the Regulations) prescribes a jail term of one month or N100,000 fine or both for persons found guilty of hosting gatherings or flouting the lockdown order.
"Where there is a violation of a close down or stay at home order, security agencies shall have power to arrest without warrant and may detain any person who violates the close down or stay at home order for at least forty-eight (48) hours.
"Where the arrested person is found guilty, the person is liable to a fine of one Hundred Thousand Nara fine (N100,000.00) or one (1) month imprisonment or three (3) months Community service," it reads in part.
Premium Times
Nigeria Records 348 New Cases of COVID-19, Total Now 11, 166
Nigeria recorded 348 new cases of COVID-19 on Wednesday.
The Nigeria Centre for Disease Control, which made this known, noted that a total of 11,166 cases of COVID-19 has been recorded in the country.
NCDC said, "On the 3rd of June 2020, 348 new confirmed cases and 1 death were recorded in Nigeria.
No fewer than 315 patients have died of coronavirus-related complications in Nigeria.
This is as the country recorded 348 new cases of COVID-19 on Wednesday.
The Nigeria Centre for Disease Control, which made this known, noted that a total of 11,166 cases of COVID-19 has been recorded in the country.
NCDC said, "On the 3rd of June 2020, 348 new confirmed cases and 1 death were recorded in Nigeria.
Nigeria currently has 7,522 active cases of COVID-19.
Globally, the novel coronavirus has killed at least 382,016 people since the outbreak first emerged in China last December.
At least 6,440,940 cases of coronavirus have been registered in 196 countries and territories. Of these, at least 2,768,700 are now considered recovered, according to a tally by AFP as of 07pm on Wednesday.
The country with the highest number of deaths compared to its population is Belgium with 82 fatalities per 100,000 inhabitants, followed by Britain with 59, Spain 58, Italy 56, and Sweden 45.
Europe overall has 180,875 deaths from 2,201,170 cases, the United States and Canada have 114,154 deaths from 1,933,881 infections, Latin America and the Caribbean 55,010 deaths from 1,104,571 cases, Asia 17,391 deaths from 598,331 cases, the Middle East 9,900 deaths from 434,110 cases, Africa 4,555 deaths from 160,282 cases, and Oceania 131 deaths from 8,599 cases.
The Punch
I'll Make Nigeria African Champions Again – Rohr
Super Eagles Coach, Gernot Rohr, has explained that he made sacrifices in his new contract with Nigeria in order to guide the country to a fourth Africa Cup of Nations triumph, reports AFP.
Rohr, 66, has extended his stay in Nigeria till 2022 after he agreed to a pay cut in the local currency and reside in the country. Officials said the German-born coach will earn $49,000 a month, instead of the $55,000 stipulated in his previous contract, and he will live in Nigeria for at least 10 months a year.
According to goal.com, Rohr said he has a free hand to select his players, insisting nobody can dictate to him on who to pick for national duty. He, however, revealed that he selects players in consultation with his assistants, which is strictly based on merit, explaining the best will always have a chance for the Super Eagles.
"This is a special job, because this is my team, I built it with my staff," the former Niger and Gabon coach said yesterday, on local television.
"It is not a part of my contract to take players who are not so good. I can choose my players myself. It is the most important [thing]. So, nobody can tell me 'you have to pick this one or that one," Rohr said.
"I can take the best players and I don't do it alone. We have a team and our staff. I have my assistant… I have my analyser.
"Each Monday, we have our meetings and we speak about the games played at the weekend and what our players did. We have to take the best ones no matter where they are coming from."
"It's a very young team, but the mission is not finished yet, so we want to continue.
"We all have to make sacrifices and I will be the first." Rohr said the target is to be champions of Africa again. The Super Eagles have won the Africa Cup of Nations three times — in 1980, 1994 and 2013.
"Let's qualify for (the Nations Cup) and then we want to win it," he said.
"We have a good team, we're now number three in Africa. When I arrived (in 2016), we were number 13.
"We have worked together for the past four years and I hope we can progress."
Rohr led Nigeria to a third place at last year's Africa Cup of Nations Finals in Egypt, where they lost 2-1 to eventual champions Algeria, in the semi-finals after conceding a stoppage-time goal.
His team top their qualifying group for the 2021 Africa Cup of Nations slated for Cameroun with six points after winning their first two games against second-placed Benin and Lesotho, who are third. Sierra Leone are the other team in the group and are bottom, on a point.
The top two teams in the group will advance to the final tournament.In his four years in charge of the Super Eagles, Rohr has faced criticism for overlooking players based in Nigeria for those in Europe.
His employers have ordered him to now pick players from the domestic league, but Rohr has insisted only the best will make his squad. Before the outbreak of the coronavirus, Rohr handed an invitation to 23 players for the Super Eagles' AFCON qualifying game against Sierra Leone, which was scheduled for March, before it was postponed.
The Guardian
Only Lagos, Abuja, Three Other Airports Will Reopen June 21 – FG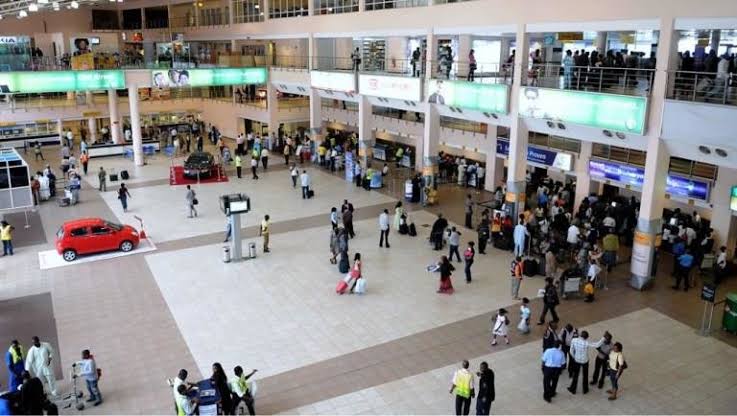 Ahead of the June 21 date for the resumption of domestic flights in the country, the Federal Government has said only five airports will be operational while others are to remain closed for further assessment.
This was contained in a circular to airlines signed by the Director-General of the Nigerian Civil Aviation Authority, Capt. Musa Nuhu.
In the circular dated June 1, the regulator stressed that the country's airspace was still closed to international flights while domestic flights could start from June 21, as announced on Monday by the Presidential Task Force on COVID-19.
Nuhu said, "The closure of Nigerian airports to domestic flights has been extended to 2300hrs on 20th June 2020.
"The gradual start of domestic flight operations will commence on 21st June 2020 with Nnamdi Azikwe International Airport Abuja, Murtala Muhammed International Airport Lagos, Mallam Aminu Kano International Airport Kano, Omagwa International Airport Port Harcourt, and Sam Mbakwe Airport Owerri.
"Other airports will be gradually added to the network after a review and assessment."
The country's airports and airspace were shut in March by the President, Major General Muhammadu Buhari (retd.), as part of efforts to contain the COVID-19 pandemic.
Commercial flight operations, both local and international, had stopped forthwith but the President's directive allowed the operation of essential flights, including those for medical and evacuation purposes.
However, during its briefing in Abuja on June 1, the PTF asked the aviation sector to begin to develop protocols that would lead to the resumption of domestic flights any time from June 21.
PTF National Coordinator, Sani Aliyu, said, "The aviation industry is requested to start developing protocols to allow for domestic flights to resume anytime from the 21st of June onwards.
The Punch