Non-Travellers Won't Be Allowed at Airports on Resumption of Services – FAAN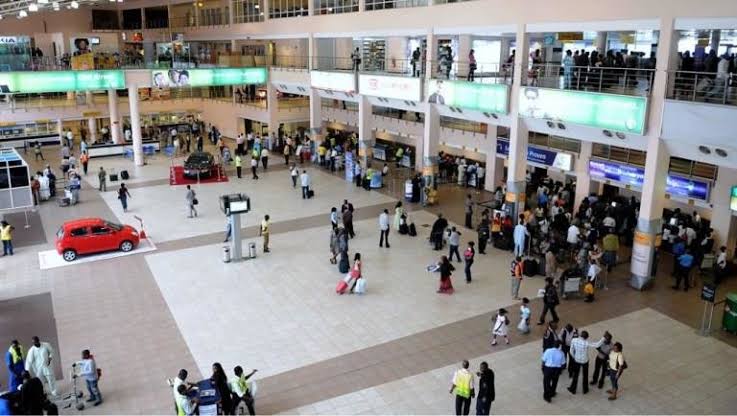 Ahead of the resumption of commercial flights in the country, the Federal Airports Authority of Nigeria has advised non-travellers to stay away from airports in the country.
It also enjoined persons coming to pick up arriving passengers to remain in their cars until passengers exit airports' entrances.
The Authority made this known on Wednesday as part of the new protocols for the restart of flights amid the coronavirus pandemic.
Announcing via Twitter, it wrote, "Non-travelling passengers will not be allowed into the Airport Terminal Buildings. People coming to pick up arriving passengers are advised to remain in their cars until passengers exit the gate. Stay safe."
FAAN also urged travellers to wear face masks, maintain two metres distance from each other while also advising them to arrive at airports at least three hours before flights to ensure proper checks.
See Full List of 14 Countries Lagos Placed on COVID Watch List
The Lagos government has placed 14 countries on its COVID-19 watchlist as a measure to prevent a third wave of infections in the state.
Akin Abayomi, Lagos commissioner for health, said this on Wednesday at a media briefing to highlight the state's COVID-19 third wave mitigation strategy.
He noted that the Lagos state government is outlining measures that will guide the management of inbound passengers of interest (POIs) from other countries.
The commissioner explained that travellers coming from other countries into Lagos have been classified into three groups — the red countries, the amber countries, and the green countries.
According to him, India, Brazil and Turkey where new variants of COVID are causing an increase in infection rate are as the 'red countries'.
"From the Lagos perspective, we're also looking at what we describe as Amber Colour countries, where we know that mutants are circulating. And this is important for us to be able to define how strict our monitoring of your isolation at home and how your testing is performed. We are monitoring countries where we know the mutants are circulating, but the situation is still severe," he said.
According to him, the 'amber countries' are Canada, US, France, Germany, Netherlands, Togo, Ghana, Cameroun, Angola, South Africa, Kenya, Uganda, Tanzania, and Rwanda.
He listed the 'green countries' as countries with no records of variants from red countries and no clear increase in the number of daily confirmed cases.
"Our protocol for management of inbound passengers from the Red Countries will include: a mandatory PCR test 72 hours before departure, PCR test post arrival and a 14-day isolation in a government approved facility paid for by the passenger," he said.
"Passengers of interests from the Amber Countries are also required to do PCR test 72 hours before departure, PCR test post arrival and a mandatory seven days isolation at home which will be monitored by our logistics, surveillance and EkoTELEMED teams."
TheCable
Former Defence Chief, General Joshua Dogonyaro Dies at 80
Lt. General Joshua Nimyel Dogonyaro (Rtd) is dead.
The officer, who heralded and read the coup speech that ended the regime of Nigeria's current President, General Muhammadu Buhari (Rtd) and brought General Ibrahim Babangida (Rtd) to power on August 27 1985 died in Jos, Thursday morning after a brief illness.
He turned 80 on 12 September 2020. General Dogonyaro was a former Chief of Defence Staff and is survived by his wife Zainab Esther Dogonyaro and seven children.
Let's Pray Against Kidnapping, Banditry – Buhari Urges Nigerians
President Muhammadu Buhari has urged Nigerians, irrespective of religious affiliation, to pray against kidnapping and banditry.
In recent times, there has been a spate of killings, kidnapping and banditry in different parts of the country.
The president, in a statement to celebrate the Eid festival, noted that the country can overcome its problems if Nigerians come together.
Buhari urged Nigerians to ignore those using religion as a tool of division for their own "selfish advantages".
"On this blessed occasion, I wish that the Eid festival brings with it peace, safety, security, brotherhood and love amongst all," Buhari said in a statement released by Garba Shehu, presidential aide, on Wednesday.
"Unity and solidarity among all citizens, Muslims and Christians are imperative especially at a time when our country is faced with multiple challenges which are surmountable only when we come together as one.
"It is important that we remember how we share, through our faiths, common bonds that should serve to unite us and not allow ourselves to succumb to those who seek to divide us, using our two great religions, for their own selfish advantages.
"We should jointly pray against the tragic incidents of kidnapping and banditry and the desperate quest for political power expressed through blackmail against the existence of our country as a united entity.
"We must resist the temptation to retreat into our communities. I urge our political and religious leaders as well as traditional rulers to encourage our citizens to turn towards one another in love and compassion."
The president advised Nigerians to continue to observe the COVID-19 measures, amid the celebration.