Reactions Trail Tiwa Savage's Alleged Sex Video
Iconic Nigerian singer, Tiwa Savage, revealed during an interview with American OAP, Angie Martinez of Power 105.1, that she was being blackmailed by an unknown person who threatened to release a sex tape that featured her and her current lover.
The Koroba singer revealed that the blackmailer demanded money from her so as not to release the sex tape but she has decided not to pay the money.
A few hours ago, a sex tape leaked online. While the face of the man involved in it did not show, the lady in the video bears a close resemblance with Tiwa Savage.
As the video has gone viral, social media users on several platforms have taken to their accounts to air their opinion on the situation. Most of the comments have emanated from Twitter as the sonorous singer currently trends at the number one spot. So far, the issue has garnered over 61,000 tweets.
A user of the microblogging platform, Elder Seun, with the handle @iamseunalaofin, noted that despite the leaked video, the singer is an amazing person.
He said, "Because Tiwa Savage personal activities is exposed in public doesn't make her different or less human than most of us. Tiwa is amazing as always and she should be celebrated for all she has done for African music!! Tiwa is not an angel so mistakes like this should be overlooked." (sic).
Another Twitter user and influencer, @DrOlufunmilayo, in a thread, opined that the sex tape was leaked on purpose.
He said, "Let's not be fooled: That sex tape leaking was no mistake. And no, I'm NOT saying Tiwa (or the woman) leaked it herself. Conveniently, the man's face is not showing. But the woman's face shows.
"That man who recorded it knew exactly what he was doing and exactly why he leaked it. I really hope Tiwa doesn't honestly believe this leak was a 'mistake', because it wasn't. Anyone who knows how Snapchat works will find it extremely hard to believe this 'mistake' narrative.
"You don't 'mistakenly' upload things on Snapchat, except you recorded it there first. And if you recorded the live sex on Snapchat, what exactly is your motivation and drive for that? What's the motivation actually? If not to possibly leak it 'mistakenly' on your Snap, maybe as a form of bragging rights to your friends/followers that you are bedding a celebrity."
The medical doctor continued, "I find it hilarious seeing that it is mostly women who should know better and who should learn from this situation are the ones that are desperately telling themselves naively that this is a 'mistake'.
"Anyway, every mallam to his kettle. It's not my job to convince you otherwise. But to everyone, pls kindly be careful in this kind of situation. I know some of you call it "love" but love doesn't have to be reckless or foolish." (sic)
Moreso, some have said that they believe that the singer is using the situation as a publicity stunt; a claim Savage has since debunked when she revealed that she was a victim of blackmail.
A Twitter user, @hardmike01 believes that the singer simply wants to stay relevant with his tweet, "Tiwa just showed us how desperate she is to stay relevant."
Another tweep, @Ayokasz, said, "Tiwa claimed someone screen recorded it after it was allegedly posted 'mistakenly' lmfaooo Snapchat will tell you who screen-recorded… cheap Pr." (sic)
The Punch
Entertainment Meets Finance: Wema Bank's CEO Parleys Davido on Collaboration
In what will be recorded as a historic occasion in the worlds of entertainment and finance, globally acclaimed Nigerian music artist, Davido met with Wema Bank's Managing Director and Chief Executive Officer, Moruf Oseni, to explore opportunities for collaboration and transformation between the finance and entertainment industries.
The momentous meeting of minds took place at the bank's headquarters in Marina, Lagos and according to Oseni, signifies the convergence of visionary leadership, creative brilliance, and a shared commitment to innovation. Wema Bank Plc, a leading financial institution in Nigeria, recently welcomed a new Managing Director, injecting fresh perspectives and a dynamic vision into the organization.
"Wema Bank and Davido are both innovative brands that recognize the immense potential that arises from the fusion of finance and entertainment, setting the stage for groundbreaking initiatives that will captivate audiences and revolutionize customer experiences", Oseni said in his welcome address to the global music sensation and trendsetter who has captured the hearts of millions worldwide. Oseni further acknowledged Davido's entrepreneurial prowess and influential persona which have propelled him beyond the music industry, making him a force to be reckoned with in various business sectors. "Davido is well known for his unwavering dedication to excellence and having a finger on the pulse of the ever-evolving entertainment landscape."
The meeting with Davido serves as a catalyst for transformative change and positions Wema Bank as a pacesetter in the intersection of finance and entertainment. The bank's commitment to customer-centric innovation and providing accessible banking solutions aligns seamlessly with Davido's mission to empower and uplift his fan base.
Oseni insisted "We are fusing finance and entertainment with the aim of delivering innovative solutions that resonate with our customers. Together, we will drive positive change and create extraordinary experiences."
In celebration of the sixth anniversary of ALAT, Wema Bank's digital banking platform, Davido also Wema Bank's brand ambassador, has been brought on board to curate a series of exciting giveaways. It is an opportunity to showcase the strength and growth of the ALAT brand, offering customers and fans a chance to win exclusive prizes and experiences. The giveaways are tokens of appreciation for the continuous support and loyalty shown by customers over the years.
By leveraging their combined strengths, Davido and Wema Bank aim to further set new benchmarks in their respective industries while driving social impact and financial inclusion.
It promises to be a remarkable collaboration that will reshape the landscape of finance and entertainment, creating lasting experiences and opportunities that transcend traditional boundaries.
K1 De Ultimate Endorses Imprxx, a Live Streaming Application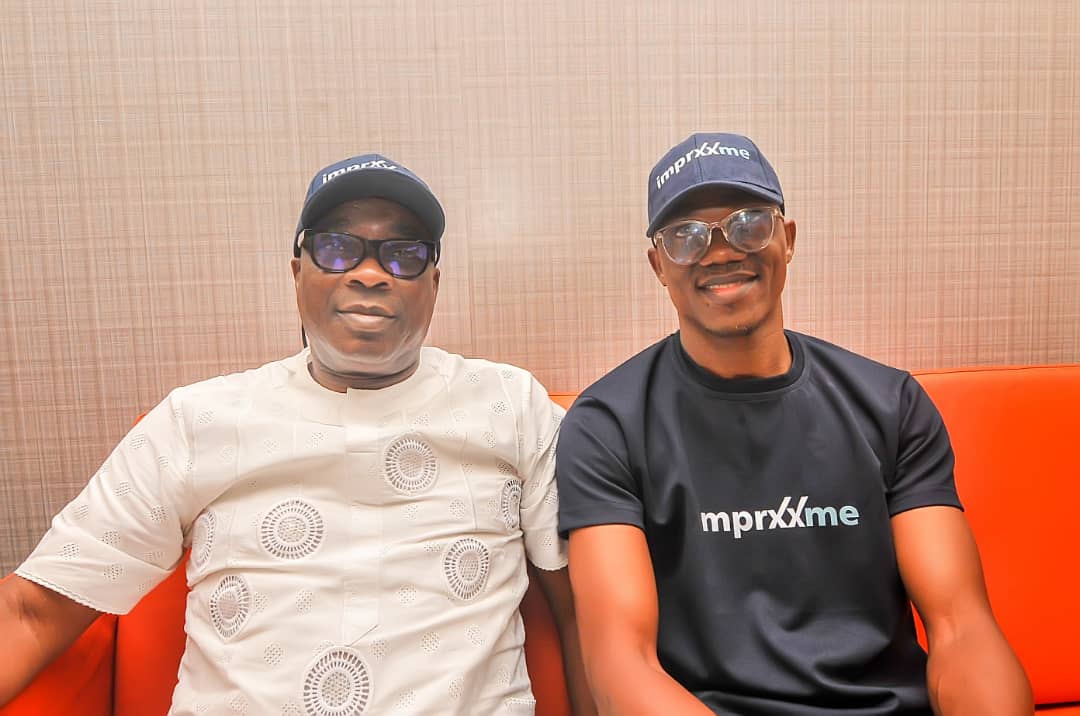 King of Fuji Music, Olasunkanmi Ayinde Marshal, popularly known as K1 De Ultimate, has endorsed a live-streaming application developed by a Nigerian startup, Imprxx, created by Ayo Ileesemi.
The music maestro, in a press briefing at his Mayegum Royal Resort in Ijebu-Ode, Ogun State, said Imprxx will open a lot of eyes to what most people probably believe will be too hard and impossible to get done.
His words: "I volunteer myself, and I know that within a short period of time, a lot of people will follow suit. We have the grace of having a transition, and when we witness the benefit of it plus what we have done together with imprxx, we want to showcase the whole thing to the world, to let the world know you have the word next to you right in your sitting room, wherever you are in Australia, China or America, wherever you are. You can have the feeling like everything is happening next to you. That's the essence of it—to be able to beam the May 29 presidential inauguration in Abuja live, and let everybody know that all these things they've been keeping away from us from afar can be truly brought nearer to us.
"Imprxx will define how we will receive live shows in music or live theatre. It makes us understand that we should be thankful for the innovations that are available to us now. When they used to say the world 'global village,' one might not quickly recognise what we're trying to talk about. I can be here in my office, passing music to the rest of the world, and everybody will enjoy it. You don't necessarily need to be at every venue before you get things done.
"This innovative idea is to tell us that the world is moving. The world is not static; it's moving, and we should move. If you don't move, then you've lost it. I don't want to be one of the losers. I want to be in the moment and enjoy the benefits."
In appreciation of the partnership to be the brand ambassador for Imprxx, K1 enthused: "I give glory to God Almighty. I've always been a supporter of every good initiative that comes the way of entertainment so that every entertainer and the people will see the very best of what everybody expected. I am also grateful to Imprxx for considering me worthy of such a partnership. And it will help others take a cue from me to better their lives too. It is not going to be only me; before you know it, within the first month, I believe the whole world will be feeling good about the initiative we're talking about."
In his remarks, the soft-spoken creator of Imprxx, Mr Ayo Ileesemi, explained that Imprxx is a digital platform that's going to handle content from a very broad angle, and one of those angles is keeping a playlist of whatever content we have.
"Be rest assured that K1's content, the old schools, and the new ones —everything — will be accessible on Imprxx. In content creation, there's something they call reel on Facebook, and I think in Tik Tok, we are disrupting that by adding a broad thing to reel in Imprxx. So new things are coming to the field of the reel in Imprxx, and every content of K1.
"Imprxx is going to serve all content creators. So once you create your content, the rest comes from live streaming. From wherever you live stream on Imprxx, it will automatically be on Imprxx. So it opens you up to anybody in the world to have that on Imprxx, which is also a platform where once you live stream from there, you have your content, and you can still bring old content, put it on a waitlist. And that content is what they used to do on the reel. Reel means that if I want to do a live video, I have a playlist of songs that I can put in an interface with the live video, and two of them come out together as live content.
On generation of employment by Imprxx, which is going to interest so many people, Ayo noted: "What we are bringing to the entertainment industry is the creation of almost 500,000 jobs from the angle. Content creators should be ready. Videographers should be ready. Musicians should be ready; the Central Bank of Nigeria should be ready, Nigeria and the world should be ready for this disruption and new innovations that are going to create so many opportunities for the world."
Talking of live streaming, how possible will it be for K1 to interact with people who are not physically at an event? Ileseeni said:
"It's possible because Imprxx is creating a dedicated interface in the space of live streaming. If he's onstage doing his music, what we've seen before is people consuming what he's doing from any part of the world that has existed. But he has not created a chance for an engrossing entertainer to also interact with people in the digital space. Imprxx is bridging that space right now.
"We are bringing a dedicated interface whereby no matter how engrossed he is on the stage he can still briskly interact with people in the space. What that means is that if you are having a birthday elsewhere in Nigeria and KI is here in Ijebu-Ode, he will be playing from the studio. We are interfacing you with him because there's going to be a dedicated interface in your house and his studio. As you're in your house, you will interface with him, and he will sing for you, and everyone will see it.
"Then you also have the chance to live-spray K1. Because, normally, these are the things we know as our own lifestyle in this part of the world. So we are turning that into another means of monetization; so that comes in as digital monetisation for entertainers. This is one of the unique factors of Imprxx to the world. Every spray is digital, which means we are helping the Central Bank of Nigeria solve the problem of abuse of the naira, because they've been looking for a solution.
The Imprxx founder thanked K1 for his support for the innovation given his fatherly figure and inspiration, even as he promised that in a short while, "we are going to approach CBN in solving a problem. In a short while, we're also going to approach job creation that's going to come in the next two weeks, because we are planning collaborations with the National Institute of Film Technology in Abuja.
"We're also partnering with PEFTI, another film institute and a leading brand in the production of LED screens, Excel LED. And in the next two weeks, we should be talking about creating 120 jobs for anchors; we call them Imprxx Anchors. These are the guys that will bring the dedicated interface to your house to interface you with K1. From June, people can book for K1, bringing affordability to his services. You can have the best of K1 for five minutes or 30 minutes in the comfort of your home."
Renowned Singer, Tina Turner Dies at 83
Legendary singer, Tina Turner, has passed away at the age of 83 after a long illness in her home in Küsnacht near Zurich, Switzerland, Daily Mail reports.
She was known as the 'Queen of Rock'n Roll'. 'With her, the world loses a music legend and a role model,' her representatives said in a statement.
Tina Turner was born in 1939 in Brownsville, Tennessee. She became famous as part of the Ike and Tina Turner duo in the 70s before embarking on a successful solo career, which is one of the most successful of any female performer in history.
She was known as the Queen of Rock 'N' Roll and is survived by three children.