Release Gloria Okolie or Charge Her to Court, Ubani Tells IGP
"Our attention has been drawn to the long and  illegal detention of one Gloria Okolie  by the Nigerian Police Authorities for over 67 days for her friendship with an alleged IPOB member.
"It is further alleged that while she is  under the police  detention in Owerri,  she has been used as a slave(beast of burden) and terribly abused, tortured by the officers in charge of her detention. While these allegations are yet to be verified as no lawyer or relation had had access to her, we are of the candid opinion that there are many things wrong with this detention which we consider patently illegal, wickedly and appalling.
"What makes this matter more shocking is the latest press release of the current Inspector General of Police after over 67 days conceding to the  arrest and illegal long detention  on the ground that she was providing information, drugs and weapons to the said IPOB members. According to the IGP "further investigations by the police team revealed that Gloria Okolie takes advantage of her gender and seemingly innocuous looks as camouflage to carry out espionage against military and police targets on behalf of IPOB/ESN." The truth of the matter is that if the IGP thinks that this explanation will justify this long and illegal detention of this young lady, it has further exposed the incompetence and illegality with which the  security agencies carry out investigations in Nigeria.
"Assuming but not conceding that these "grave allegations" are true, does this by any stretch of imagination empower any security agency any right to detain a citizen for such lenght of  time, thereby depriving her the constitutionally guaranteed  rights of freedom of movement,  rights of dignity of person and right of  fair trial within a reasonable time as provided under 1999 constitution? Nay, her guaranteed rights of presumption of innocence until proven guilty has been destroyed permanently by this lengthy detention without any charge or arraignment.
"We have consistently advise our security agencies to discard this primitive and outrightly unscientific mode of investigation of crimes in this modern times  to avoid this unnecessary embarrassment they bring to themselves most times they effect arrest of suspected criminals. We have counselled that scientific and modern mode of investigation of crime is the best global standard that is applicable all over the world even in small African countries with lesser economic viability as Nigeria. Our security agencies have become a big embarrassment to us as a nation, especially when we claim to be giant of Africa.
"It is absolutely wrong to arrest an individual and start sourcing for evidence for prosecution. It is not  only achaic but patently criminal  for police officers to indulge in this manner of primitive investigation of crime in this modern time.
We are therefore giving the police authorities 14 days from today to charge Gloria Okolie to court if she has committed any known offence or release her unconditionally.  We shall commence the enforcement of her fundamental rights which has been criminally violated if this request is not adhered to as usual by the police authorities. They are deemed adequately advised."
Barrister Monday Ubani
Four Children Who Died After Eating Suya Buried in Umuahia
Tears flowed on Saturday as four of the seven children who died after allegedly eating Suya were buried in Umuahia, the Abia State capital.
The four victims are Kelechi Chibuzor, 12; Sunday Chibuzor, 10; Oluomachi Chibuzor, 8; and Kingsley Chibuzor, 3.
The children died on August 25.
PUNCH Metro learnt that the actual cause of the death was still being investigated.
Speaking at their funeral on Saturday, the Bishop of Goodnews Pentecostal Church, Umuahia, Ugochukwu Ogbonna, urged their parents to take heart.
While speaking on the topic, 'The journey of this life and the call of eternity,' Ogbonna maintained that everyone is a sojourner on earth and no one knows when he will die.
The cleric lauded the victims' father, Ikwunze Chibuzor, and his wife, for showing the kids the way of the Lord, as he prayed God to grant their souls peaceful rest.
In his remarks, the President General of Ohuhu, Chief Obi Aguocha, urged the parents and relatives of the kids to be strong at their difficult time.
He said, "It is painful to wake up one day and lose your entire family. People lose one or two, but not four. It should not happen again.
"Children are supposed to bury their parents; but their father is giving back to God what He gave to him."
He disclosed that the clan gave the family the sum of N4.8m "and something else for the children that would come afterwards."
While appealing to the bereaved couple to see their fate as the beginning of a new life, he called on members of the community not to forget the family.
At the funeral, a member representing the Ikwuano/Umuahia Federal Constituency at the National Assembly, Ifeanyi Onuigbo, who was represented by Henry Eleogu, promised to stand by the family, just as he prayed God to grant them the fortitude to bear the loss.
Speaking, the bereaved father, Ikwunze, thanked all those who supported his family through financial means and words of encouragement.
He revealed that amid speculations that his kids died after eating Suya or inhaling generator fumes, autopsy results on the deaths would be out in the next two weeks.
The Punch
Police Arrest Killers of Na'Allah's Son, Greenfield University, Bethel Baptist Students' Abductors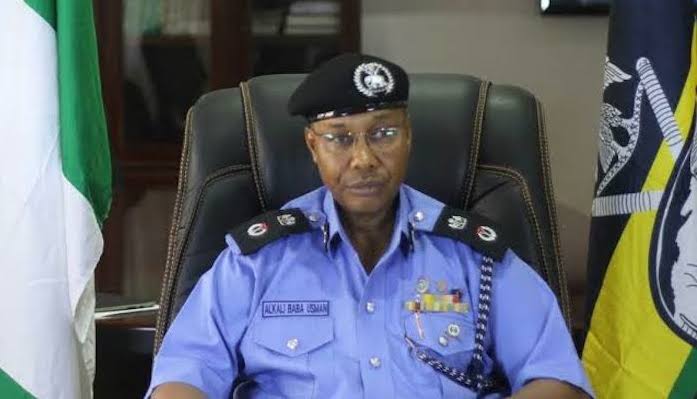 The Kaduna State Police Command on Thursday said it arrested kidnappers of students of Greenfield University and students of the Bethel Baptist High School, all in the state.
Also in the police net are kidnappers of the 37 students of the Federal College of Forestry Mechanisation, Afaka, in Igabi LGA of Kaduna State.
Both the Greenfield University and the Baptist Bethel High School are located in Chikun LGA of the state.
While parading suspects on Thursday at the Command's Headquarters along Bida Road in the state capital, the Command's spokesman, Mohammed Jalige, also announced the arrest of the suspected killers of 36-year-old Captain Abdulkareem Na'Allah, a pilot and son of Senator Bala Na'Allah.
Jalige said one Usman Mohammed from Bukuyum in Zamfara State was apprehended by operatives of the command in connection with the kidnap of the students of Greenfield University, Federal College of Forestry Mechanisation, Afaka, as well as Bethel Baptist High School, all in the state.
He said, "On the 29th August, 2021 at about 0900hrs, based on credible information, Operation Yaki Surveillance team with FIB STS Force Headquarter, Abuja, jointly raided a house along Ring Road, Asikolaye area of Kaduna, where one Usman Abubakar, 'm' 41 years old, a native of Adakpa village, Bukkuyum LGA of Zamfara State, a notorious kidnapper terrorising Chikun, Igabi and Giwa LGAs of Kaduna State, was arrested.
"He confessed to have kidnapped many people and collected several ransoms; he also has links with recent attacks on Greenfield University, Bethel Baptist Academy and School of Forestry Mechanisation, Mando, Kaduna."
Speaking on the killers of Na'Allah's son, the police spokesman noted that two of the three members of the gang that killed the pilot were in the custody of the command while one was at large.
He named one Bashir Mohammed, a neighbour of the slain pilot as principal suspect, while identifying another suspect as Nasir Salisu, also known as Uban Dana, adding that the third suspect, one Usman Kano, was at large.
Jalige explained that the three suspects conspired, broke into the house of Captain Abdulkarim and killed him before taking away his SUV vehicle and other valuables.
He added that the suspects sold the late pilot's SUV vehicle in Republic of Niger at the cost of N1m.
The Punch
Benin Woman Who Had Three Children with Her Son, Deported
There are indications that the Benin Republic woman, who allegedly had three children for her son and has been sexually involved with another, has been deported.
Fati Sime was deported along with her first son, Adamu, with whom she allegedly had three children.
However, the second son, who reportedly caught his brother in a sex act with their mother in their farm in the Kiama area of Kwara State and out of jealousy provoked a fight that blew opened the scandal, has been on the run.
Operatives of the Nigeria Security and Civil Defence Corps (NSCDC), Kwara State Command, had arrested Fati and her son on the allegation of incest.
The arrest followed a complaint lodged by the district head of Mose community in Kaima Local Government Area.
Spokesman for Kwara State Command of the NSCDC, Babawale Afolabi, confirmed that the incestuous relationship between Fati and her son, Adamu had resulted in the birth of three children.
That is besides the 11 children she had for her husband, Adamu's father.
Afolabi, while confirming the deportation of the incestuous duo, said: "Fati and her first son, Adamu, were deported on the directive of the Commandant after the investigation, and handed over to the Benin Republic operatives at the border.
"But during investigation, Adamu confessed that he has been having carnal knowledge of his mother for seven years."
Meanwhile, he second son, had in a fit of jealousy provoked a fight when he discovered his mother and brother engaged in a sex romp in their farm.