Same Mouth She Kissed Boma is Same Mouth She's Kissing Her Husband: Knocks As Tega, Husband Reunite
Knocks and subtle kudos have trailed the reunion of Ajeboh Krislawrence, the husband of recently evicted Big Brother Naija contestant, Tega, after a video surfaced showing him hugging her for the first time since she left the reality TV show. Tega is a 29-year-old married woman who has a kid for her husband.
Shortly after her public apology, a video went viral which shows Tega and Krislawrence hugging each other in their first meeting since she left the BBNaija House.
This melted hearts on Facebook as many praised her husband while others found his gesture to be strange.
One Joshua Matthew said, "The husband is the most mature man on planet earth."
Valls De Popoya Wayne said, "… bro she needs you more than ever so protect her, God bless you. Nobody is perfect except God."
"Is she not supposed to kneel down?" Jessica Ogedegbe asked.
Greace Nmahosim commended Krislawrence, saying, "It is very hard to forgive such a sin. But her husband has just taken a bold step that most people may call mumu. But he has just saved his marriage."
However, one Estrella Stella expressed doubt about the genuineness of Krislawrence's forgiveness.
According to her, "My mind is telling me that this guy is having something evil against this girl; he's pretending. I fear for Tega's life… No man can take this."
Joe Okoro said in Pidgin English, "This guy na big player, he dey form. I will be waiting for part 2."
Joy Peter said, "This guy get sense sha. She is going nowhere until that money she came back with finishes. Lol, we go still watch part 2."
Kenechukwu Makolu said, "The man wiped her face thinking she would be crying… Ogbeni everywhere dry. I don't want your type as a brother or son biko. Your mumu is overflowing."
John Paul Chigozie said, "The same mouth she used to kiss Boma is the same mouth she's using to kiss her husband! She's a generous woman and her type is rare."
Esther Joseph said, "Fornicators and adulterers condemning and judging Tega. If she genuinely asked for forgiveness and her husband forgave, what's your problem in their marriage? Learn to mind your business."
The Punch
LASTMA Denies Involvement in Burning of Bus, Warns Against Attack on Personnel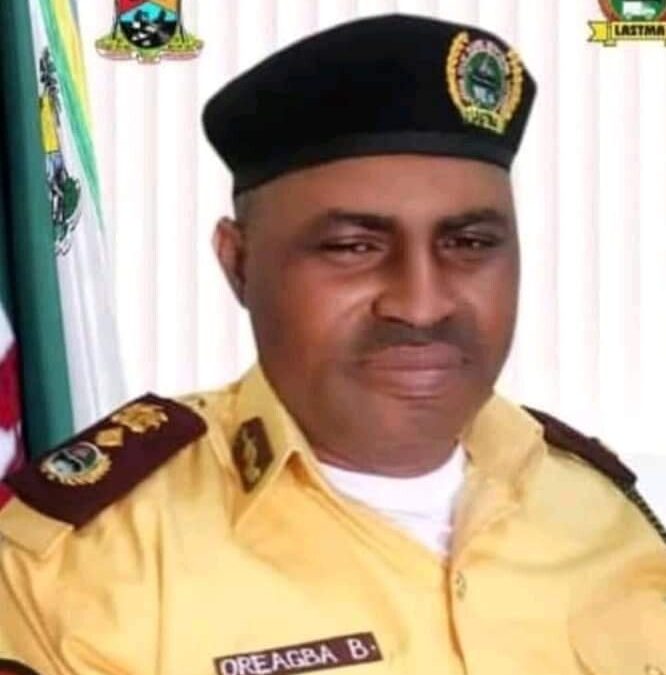 The Lagos State Traffic Management Authority (LASTMA) has denied reports making the rounds that its personnel were involved in the burning of a bus at the Obanikoro bus stop, Ikorodu Road. The Authority, while asking residents to desist from attacking LASTMA officials, stated that the report was the handiwork of an uninformed blogger.
Buttressing the facts of the matter in a statement signed by the Asst. Director, Public Affairs, Filade Olumide, and made available to the National Association of Online Security News Publishers (NAOSNP), the Authority hinted that "LASTMA Management after due diligence on the video, sympathise with the vehicle owner, but categorically deny complicity of any of its officers in the incidence portrayed on the video" while regretting that "…one of the LASTMA patrol officers offering helping hand with the burning vehicle was severely injured by uncalled-for mob action which seems to be occurring nowadays at the slightest alarm."
The statement also condemned the shallow portrayal of the allegation as the picture evidence did not depict the allegation against its officials.
"The video report lacked pictorial evidence of LASTMA officers' complicity; those interviewed were neither eye witnesses nor people directly involved in the incident, rather, they were people living within the inside street, close to the scene of the incidence on Ikorodu Road. Their evidences were hear-says' and limited to after the arrival of security agencies officials to maintain law and order, after attacks on one of the LASTMA officials and also the Fire Fighters that were there to render assistance in putting out the fire in the vehicle," the statement read.
It added that:
"LASTMA officials do not operate within side street and over time, the State Government has announced zero tolerance to attack on its officials while performing their duties as enshrined in the laws or as directed.
"We wish to reiterate that LASTMA personnel must not be attacked/assaulted while performing their duties or rendering service to the public.
"The LASTMA management also use this opportunity to advise reporters/bloggers to endeavour to conduct proper investigation and present facts rather than sentiments in their reportage for a peaceful and orderly society."
Ondo Amotekun Arrests Suspected Masterminds of Owo Church Massacre
The Ondo State Security Network Agency, codenamed "Amotekun Corps" has confirmed that some suspects have been arrested in connection with the terrorist attack on St. Francis Catholic Church, Owo.
The suspected terrorists invaded the church on June 5, killing no fewer than 40 people and injuring many other worshippers.
The state Commander of Amotekun, Adetunji Adeleye, on Thursday said some suspects had been arrested in connection with the killing.
He stated this while parading some 71 men who were arrested for various criminal activities across the state.
He, however, did not give the actual figure of the suspected terrorists arrested, but expressed assurance that all the attackers of the worship centre would be apprehended.
The Amotekun boss said, "As regards the Owo incident, we have recovered the last vehicle they used for that operation and we made some arrests, and we have also recovered some vital things which we are working on.
"A number of people have been arrested concerning the Owo issue as well as a number of equipment. On that day, we pursued them to the point that we recovered the vehicle and we are still pursuing them. We have told you that until we get to the root, I can assure you that the perpetrators and their sponsors will be brought to book."
On the 71 suspected criminals paraded at the headquarters of the command in Akure, the state capital, Adeleye explained that the suspects were arrested within the last one month for various offenses ranging from armed robbery, cattle rustling, kidnapping, raping, fraud and human trafficking.
"The 71 suspects were picked while committing offences and others were tracked to their hideouts in the forests. We have been able to get a cartel that specialises in stealing and dismantling motorbikes which we all know as okada. Also, we were able to recover over 50 bikes during the operation from these criminals.
"We also got reports from some herdsmen that their cattle were stolen. We went after them and brought the cows back to the Fulani herdsmen that owned the cow. We have a group of small boys who are under 18-year old that turned themselves into a cartel of criminals in a particular local government in Ondo State and armed themselves. They actually belong to a cult group called 'Agbado'. We were able to arrest 12 out of the 17 members.
"We have about three to four suspected kidnappers and we intend to take most of these suspects, especially the ones we have concluded their investigations to the DPP and for their onward prosecution in court."
He assured the people of the state that the corps would not rest on its oars until it rids the state of criminal elements, saying, "there is no hiding place for them. They turned the heat on us and we have also turned the heat on them."
The Punch
Immigration Service Collaborates with FRONTEX, Poland on Border Security
An Eight-Man Delegation of the Nigerian Immigration Service (NIS) has paid a two-day working visit to the headquarters of the European Border Agency, the FRONTEX.
The Public Relations Officer of the Service, Mr. Amos Okpu, in a statement released to the National Association of Online Security News Publishers (NAOSNP), said the Service paid the visit last week to hold discussions with the agency officials on border security and migration management matters.
He noted that the delegation, which was led by the Deputy Comptroller General in charge of the Directorate of Border Management, DCG Muhammad Aminu Muhammad mni was received on arrival at the FRONTEX Headquarters in Warsaw, Poland by senior officials of the organization including Mr. Iain Galea of the International Cooperation Division.
In her welcome remarks, the interim Executive Director of FRONTEX, Aija Kalnaja, stated that Nigeria, and indeed the Nigeria Immigration Service (NIS), remains a very dependable partner to her agency in the areas of border security and migration management. She stressed that the relationship between her agency and the NIS dated back to 2012 when both agencies entered into a Working Arrangement on Border Security and Migration Management. She maintained that the relationship has remained very enduring and useful to both agencies particularly in the areas of experience sharing and capacity building. She made a case for enhanced collaboration and partnerships by border agencies for a sustained fight against cross-border crimes, especially migrants smuggling and trafficking.
"I sincerely hope that both agencies will explore the opportunity of this meeting to examine the existing Working Arrangement to see if there are areas of possible review in line with current global migratory reality," she stated.
Responding, the NIS team leader and Head of the Directorate of Border Management, DCG Aminu Muhammad, expressed appreciation for the warm reception accorded his team. He stressed that modern migratory realities are indicating that no unilateral efforts at migration and border security management will endure hence meetings such as this should be encouraged. He reiterated NIS' strong commitment to healthy collaboration with friendly Border security agencies such as FRONTEX, and called for frank discussions during plenary. He further stressed the need for countries in Europe and other developed states to look beyond establishing border barricades to control migration, but make enduring arrangements to sincerely join efforts with authorities in developing countries to frontally address the pull and push factors of modern migration. He reiterated that the quantum of investments in building high-rise border barricades would not yield lasting benefits if the living conditions of people in developing countries remain abysmally poor.
Earlier, the facilitator of the trip and Country Representative of FIIAPP, implementer of the Action Against Trafficking in Persons and Smuggling of Migrants in Nigeria (A-TIPSOM), Mr. Rafael Molina, stated that his organisation decided to facilitate the trip with the aim of building enhanced synergy between FRONTEX and NIS for a more coordinated approach to the fight against irregular and dangerous migration.
The meeting witnessed robust plenary sessions during which presentations on matters such as the role of Migration Information and Data Analysis System (MIDAS) the NIS Regional Migration Academy Fundamental Human Rights as an Essential Component of European Integrated Border Management, FRONTEX Law Enforcement Function and the Fight Against TIPSOM in the EU, Fundamental Human Rights as an Essential Component of European Integrated Border Management, FRONTEX Support in the Entire Return Process among others were made.
Some major highlights of the meeting include expressions of strong commitment to enhanced collaboration and partnership by both agencies in the fight against irregular migration as well as robust assurances for more enriching capacity building engagements between both agencies.
The delegation, before rounding up the trip, visited the Nigerian Embassy, and got treated to a very warm reception by His Excellency, Major General (retd) Christian C. Ugwu, the Nigerian envoy to Poland and his great team. The delegation has since returned to Abuja.