Same Mouth She Kissed Boma is Same Mouth She's Kissing Her Husband: Knocks As Tega, Husband Reunite
Knocks and subtle kudos have trailed the reunion of Ajeboh Krislawrence, the husband of recently evicted Big Brother Naija contestant, Tega, after a video surfaced showing him hugging her for the first time since she left the reality TV show. Tega is a 29-year-old married woman who has a kid for her husband.
Shortly after her public apology, a video went viral which shows Tega and Krislawrence hugging each other in their first meeting since she left the BBNaija House.
This melted hearts on Facebook as many praised her husband while others found his gesture to be strange.
One Joshua Matthew said, "The husband is the most mature man on planet earth."
Valls De Popoya Wayne said, "… bro she needs you more than ever so protect her, God bless you. Nobody is perfect except God."
"Is she not supposed to kneel down?" Jessica Ogedegbe asked.
Greace Nmahosim commended Krislawrence, saying, "It is very hard to forgive such a sin. But her husband has just taken a bold step that most people may call mumu. But he has just saved his marriage."
However, one Estrella Stella expressed doubt about the genuineness of Krislawrence's forgiveness.
According to her, "My mind is telling me that this guy is having something evil against this girl; he's pretending. I fear for Tega's life… No man can take this."
Joe Okoro said in Pidgin English, "This guy na big player, he dey form. I will be waiting for part 2."
Joy Peter said, "This guy get sense sha. She is going nowhere until that money she came back with finishes. Lol, we go still watch part 2."
Kenechukwu Makolu said, "The man wiped her face thinking she would be crying… Ogbeni everywhere dry. I don't want your type as a brother or son biko. Your mumu is overflowing."
John Paul Chigozie said, "The same mouth she used to kiss Boma is the same mouth she's using to kiss her husband! She's a generous woman and her type is rare."
Esther Joseph said, "Fornicators and adulterers condemning and judging Tega. If she genuinely asked for forgiveness and her husband forgave, what's your problem in their marriage? Learn to mind your business."
The Punch
Police Arrest Killers of Na'Allah's Son, Greenfield University, Bethel Baptist Students' Abductors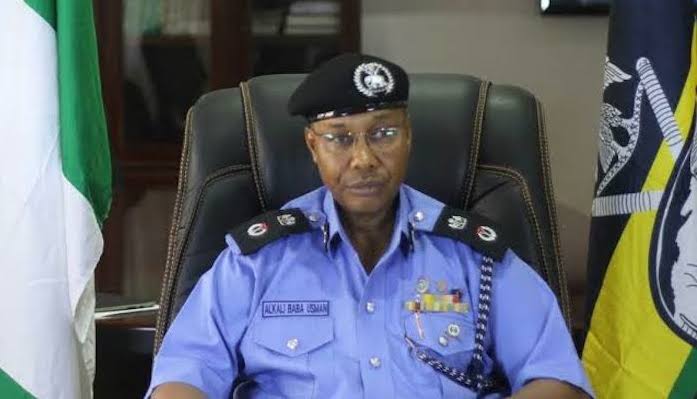 The Kaduna State Police Command on Thursday said it arrested kidnappers of students of Greenfield University and students of the Bethel Baptist High School, all in the state.
Also in the police net are kidnappers of the 37 students of the Federal College of Forestry Mechanisation, Afaka, in Igabi LGA of Kaduna State.
Both the Greenfield University and the Baptist Bethel High School are located in Chikun LGA of the state.
While parading suspects on Thursday at the Command's Headquarters along Bida Road in the state capital, the Command's spokesman, Mohammed Jalige, also announced the arrest of the suspected killers of 36-year-old Captain Abdulkareem Na'Allah, a pilot and son of Senator Bala Na'Allah.
Jalige said one Usman Mohammed from Bukuyum in Zamfara State was apprehended by operatives of the command in connection with the kidnap of the students of Greenfield University, Federal College of Forestry Mechanisation, Afaka, as well as Bethel Baptist High School, all in the state.
He said, "On the 29th August, 2021 at about 0900hrs, based on credible information, Operation Yaki Surveillance team with FIB STS Force Headquarter, Abuja, jointly raided a house along Ring Road, Asikolaye area of Kaduna, where one Usman Abubakar, 'm' 41 years old, a native of Adakpa village, Bukkuyum LGA of Zamfara State, a notorious kidnapper terrorising Chikun, Igabi and Giwa LGAs of Kaduna State, was arrested.
"He confessed to have kidnapped many people and collected several ransoms; he also has links with recent attacks on Greenfield University, Bethel Baptist Academy and School of Forestry Mechanisation, Mando, Kaduna."
Speaking on the killers of Na'Allah's son, the police spokesman noted that two of the three members of the gang that killed the pilot were in the custody of the command while one was at large.
He named one Bashir Mohammed, a neighbour of the slain pilot as principal suspect, while identifying another suspect as Nasir Salisu, also known as Uban Dana, adding that the third suspect, one Usman Kano, was at large.
Jalige explained that the three suspects conspired, broke into the house of Captain Abdulkarim and killed him before taking away his SUV vehicle and other valuables.
He added that the suspects sold the late pilot's SUV vehicle in Republic of Niger at the cost of N1m.
The Punch
Benin Woman Who Had Three Children with Her Son, Deported
There are indications that the Benin Republic woman, who allegedly had three children for her son and has been sexually involved with another, has been deported.
Fati Sime was deported along with her first son, Adamu, with whom she allegedly had three children.
However, the second son, who reportedly caught his brother in a sex act with their mother in their farm in the Kiama area of Kwara State and out of jealousy provoked a fight that blew opened the scandal, has been on the run.
Operatives of the Nigeria Security and Civil Defence Corps (NSCDC), Kwara State Command, had arrested Fati and her son on the allegation of incest.
The arrest followed a complaint lodged by the district head of Mose community in Kaima Local Government Area.
Spokesman for Kwara State Command of the NSCDC, Babawale Afolabi, confirmed that the incestuous relationship between Fati and her son, Adamu had resulted in the birth of three children.
That is besides the 11 children she had for her husband, Adamu's father.
Afolabi, while confirming the deportation of the incestuous duo, said: "Fati and her first son, Adamu, were deported on the directive of the Commandant after the investigation, and handed over to the Benin Republic operatives at the border.
"But during investigation, Adamu confessed that he has been having carnal knowledge of his mother for seven years."
Meanwhile, he second son, had in a fit of jealousy provoked a fight when he discovered his mother and brother engaged in a sex romp in their farm.
Police Officers Reject Cultists' N.5m Bribe – Ajisebutu
The Police Public Relations Officer, Lagos State Command, CSP Adekunle Ajisebutu, has narrated how men of the Command rejected a N500,000 bribe allegedly offered by suspected cultists.
This was contained in a statement on Thursday titled, 'Armed Robbery Suspect, Cultist Nabbed; Arms, Ammunition Recovered'.
The PPRO said an anti-crime patrol team of the Area 'J' Command, Elemoro arrested an armed robbery suspect and a suspected cultist with a locally-made double barrel gun and three cartridges.
"The armed robbery suspect, Alabi Timothy 'm' aged 23, resident of 9, Baale street, Majek, Ajah, was arrested at about 0030hrs of 4/9/2021 at General Paint, Garden area, Lekki during a routine stop and search by the police.
"A locally-made double barrel gun and two live cartridges including an expended cartridge concealed in a bag were recovered from the suspect.
"Similarly, a self-confessed cultist, Badmus Toheed (male), 22, who belongs to the Aye Confraternity was arrested with a live cartridge in the General Paint ghetto area, Ajah at about 0045hrs of 4th September, 2021. The suspect confessed that he was initiated into the Aye Confraternity sometime in June, 2021."
Continuing, Ajisebutu said, "Two suspects have been arrested for offering bribe to the police to secure the release of the two suspects and pervert the course of justice.
"While Adariku Sunday 'm', 34, resident of 66, Henry Smith Close, Abidjan GRA, Ajah offered the sum of N400,000 bribe in cash to secure the release of the robbery suspect, Folorunso Akeem, (m), 43, offered the sum of N100, 000 cash to secure the release of the suspected cultist.
"Determined to ensure justice through thorough investigation, the uncompromising police officers in charge of the case rejected the bribe.
"While commending the professionalism and uncompromising act of the police officers, the Commissioner of Police (Hakeem Odumosu) admonishes other police officers to emulate the incorruptible ones."
Ajisebutu said Odumosu directed that the case should be transferred to the Command's Tactical Team for further investigation and prosecution.