Sexless Marriage will Affect Your Mental Health
By Adeoye Oyewole (adeoyewole2000@yahoo.com)
For most married couples, the bedroom is a place of privacy and sexual intimacy. But many who have been married for a while know that this is often not the case.
Sometimes and for a long period, the bedroom can become a lonely place. To be clear, a sexless marriage is a marital union in which little or no sexual activity occurs between both spouses. A Newsweek magazine survey found that 15 to 20 per cent of couples are in a sexless union.
Studies have even showed that about 10 per cent of couples below the age of 50 have not had sex in a year. The definition is often broadened to include those where sexual intimacy occurs less than 10 times per year.
In addition, less than 20 per cent of them report having sex a few times per year, or even monthly, under the age 40. This definition takes into consideration the fact that partners may have varying sexual drives, but not as bad as having sex only 10 times in a year.
It is difficult to obtain statistics about couples in Nigeria, but sexless marriages may be common among our modern, educated couples. Our religious and socio-cultural values that accommodate polygamy and forbid divorce may mask research findings and inadvertently encourage marriages, even if it is sexless.
If you are in this category, there is no shame. What you need is help before it begins to affect your mental health.
The major causes of sexless marriages are psychological, but a few are understandably due to some biological and clinical situations that could be handled medically, such as vulvae pain syndromes, fragile vagina tissues from low levels of oestrogen, prostate difficulties in men, post-heart attack or stroke states, chronic arthritis, chronic low back pain, side effects of medications and diabetic complications.
There are also clinical psychological states such as depressive illness, chronic fatigue syndrome, hypoactive sexual drive, gender identity problems or body image difficulties. However, more than 90 per cent of the causes of sexless marriages are due to issues in the psychodynamics of the marital relationship.
A partner may have feelings hurt repeatedly, get turned down too many times, get disrespected and erect a wall that does not allow issues to be resolved promptly. These unresolved conflicts can generate a state of permanent hostility that blocks sexual expression.
The partner, who behaves in a passive-aggressive manner, may block sexual intercourse as punishment or protection from hurt inflicted by the mate. The perceived rejection may lead to loss of interest in sexual communication, which may be complicated by loneliness, anger and lowering of self-esteem in the spouse who feels that basic sexual human needs are deliberately frustrated by the rejecting partner.
Other causes of this resentment may be due to perceived imbalance of duties and responsibilities, including moral, religious and financial issues. This may get complicated when extra-marital affairs set in, which may lead to reduced sexual interest in the estranged spouse and, if the affair is discovered, the innocent spouse may cease to want to be intimate with the offending spouse.
This may manifest as restricted, formal and coarse communication as partners treat each other with contempt. Couples in this situation are definitely in mental distress or already mentally ill, hence they require professional help.
Those deeper feelings of resentment must be uncovered and dealt with as they practise active listening and try to communicate creatively in the process of discovery. You may think you have a right to be resentful of the way you have been treated, and while it might seem natural, resentment creeps into everything you do.
Every time you talk to your spouse, every action you take can be so tainted with this resentment that it becomes a psychological burden. The path to recovery is that you make a conscious effort to do everything for the benefit of both of you, and not just yourself. You must be honest and, without hatred or fear or anger, confront the problem of sexual intimacy together.
The bedroom should be a peaceful and relaxing place by keeping it free of clutter. To bring the spark back, you can go on dates, do fun things together, especially things that ignite mutual passion and excitement.
There is a need for the services of a professional marriage counselor, who will help couples to navigate and elicit hidden resentments and resolve. Such a counsellor will also help to identity faculty communication styles that may have shut down sexual intimacy and suggest new patterns and also appropriately refer those with mental health issues.
A successful marriage requires commitment, effort, compromise and forgiveness. Sexless marriage can impair wholesome development of children in the home because of discordance in communication. In addition, less than 20 per cent of them report having sex a few times per year, or even monthly, under the age 40.
The facility of education and financial empowerment of our modern wives may serve as templates for more conflicts leading to ego-stalemates that may injure sexual intimacy. Our relatively lower rates of divorce, even among our educated couples, compared with the western world, may find compensation in sexless marriages as a manifestation of emotional divorce.
Nnamdi Kanu Still Our Leader, Not Replaced – IPOB
The Indigenous People of Biafra has said that it has not replaced the currently detained Nnamdi Kanu as its leader.
The Biafra group asked its followers to ignore the reports making the rounds that IPOB has replaced Kanu, describing it as "fabricated media propaganda".
These were made known in a statement by the group's Media and Publicity Secretary, Emma Powerful, on Tuesday.
According to Powerful, Mazi Chika Edoziem is the head of the IPOB Directorate of State and not IPOB Acting Leader.
The statement read in part, "We, the global movement and family of IPOB under the command and leadership of Mazi Nnamdi Kanu, condemn the useless and fabricated media propaganda and blackmail from some media houses that IPOB has another or acting leader replacing our indefatigable liberator and prophet Mazi Nnamdi Kanu.
"Those peddling this kind of lies are those criminals who zoo gutter media are publishing this to confuse the weak-minded people.
"We want everybody to bear in mind that Mazi Chika Edoziem is the head of IPOB Directorate of State and not IPOB Acting Leader.
"There was never a time that Emma Powerful, the Publicity Secretary of IPOB issued any statement purporting that our Leader had been replaced by Mazi Chika Edoziem as IPOB Acting Leader.
"The said statement was the handiwork of mischievous elements bent on causing confusion in IPOB.
"It is unfortunate that some mischievous elements twisted an unambiguous statement by IPOB where we clarified that in the meantime that our Leader is in detention, the Head of DOS, Mazi Edoziem, will be providing direction on the day-to-day activities of IPOB. We never said that Edoziem had become the Acting Leader of IPOB.
"For the avoidance of doubts, Mazi Nnamdi Kanu remains the leader of IPOB. The entire IPOB family all over the world is loyal to him. IPOB has no Acting Leader. Chika Edoziem is only the Head of DOS of IPOB not the Leader.
"We, therefore, urge our family members, supporters, friends, and members of the public to ignore the misleading and mischievous media report."
Terrorists Responsible for Owo Church Massacre in Our Custody – General Irabor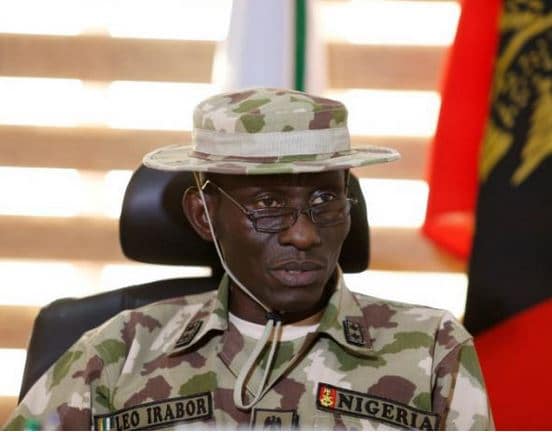 Eric Elezuo
The Chief of Defence Staff, General Lucky Irabor, has said that the military has arrested the terrorists behind the attack on St. Francis Catholic Church, Owo, Ondo State.
General Lucky Irabor according to news monitored on SolaceBase, made the revelation on Tuesday, during a parley with media executives at the Defence Headquarters, Abuja.
Appreciating the collaboration with sister security agencies, which helped in the arrests of the criminals, Irabor recalled that about 40 person's were brutally murdered when heavily armed men invaded their worship centre on June 5, 2022.
My Invitation to Rivers to Commission Projects Demonstration of Politics Without Bitterness – Sanwo-Olu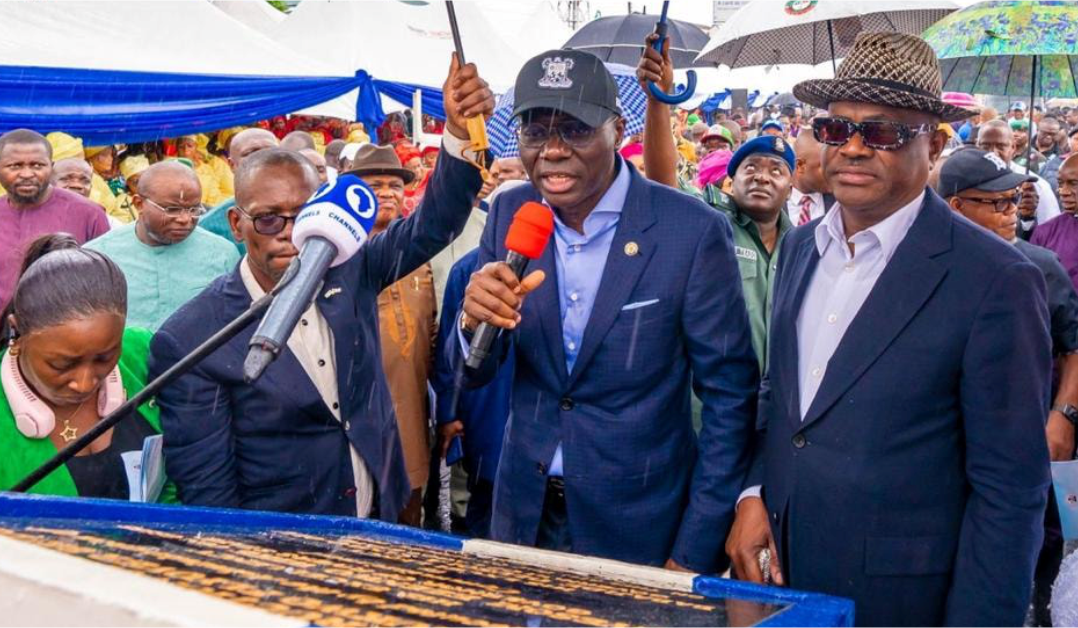 By Eric Elezuo
The Lagos State governor, Mr. Babajide Sanwo-Olu, has said that his invitation by the Rivers State governor, Mr Nyesom Wike, to commission a project in Rivers State, is a clear demonstration of politics without bitterness. This is noting that the Lagos State governor is a member of the All Progressives Congress (APC) while Wike is a member of the Peoples Democratic Party (APC).
On Monday, Sanwo-Olu was a guest of the Rives governor to commission the Orochiri-Worokwu (Waterlines) Flyover delivered by the state government.
In his remarks, Sanwo-Olu commended Governor Wike for his strong commitment to the delivery of physical infrastructure in Rivers State.
"I would like to specially commend my brother, Governor Wike, for his strong commitment to the delivery of physical infrastructure in Rivers State.
"A commitment that has been recognized by all and sundry, and which has earned him the appellation of "Mr. Projects" within and outside Rivers State," he said.
Sanwo-Olu said though himself and governor Wike belong to different political persuasions, the invitation extended to him sends a very strong message that politicians and political leaders, can come together across political and ideological divides, for the good of the people.
"There is also a strong message being made today about expanding our capacity to play politics without bitterness. This symbolic gesture by my friend and brother is one that should become standard practice across Nigeria.
"There is also a lot that we can learn from one another, and experience that we can translate from one part of the country to the other," Sanwo-Olu stated.
It will recalled that Wike is in the habit of inviting notable politicians across parties as guests of honour during the unveiling of any of his projects. The likes of governor of Ekiti State, who is also an APC member and Sports Minister, Mr. Sunday Dare were once invited to commission projects in the state.
Governor Wike had explained that the invitation of the Lagos State governor was not the first time persons of other political parties were invited to inaugurate projects in Rivers State, pointing to the overall benefits such invitations have on governance because it served as peer review for them.