SSS Withholds Sowore Despite Meeting Bail Conditions
Nigeria's State Security Service (SSS) has again refused to release the detained publisher of Sahara Reporters despite him meeting his bail conditions.
On Wednesday, the SSS said it had closed for the day, and would not review a document presented by Mr Sowore's lawyers showing the bail conditions had been met, one of the lawyers, Emmanuel Ogala, told PREMIUM TIMES.
Mr Sowore who was arrested on August 3 met all his bail conditions on Wednesday and the release warrant was signed by the judge, Ijeoma Ojukwu, Mr Ogala said.
The lawyer added that when they arrived at the office of the State Security Service however, the SSS officials told them that the office closed at 3:30 pm.
Mr Sowore, a human rights activist, was arrested and detained on allegations of treasonable felony after he organised a nationwide protest with the hashtag #RevelutionNow.
He was granted bail on October 4 for the second time after an initial bail granted him in September by another judge was not honoured by the SSS.
Mr Sowore said the conditions for the October 4 bail were stringent and approached the court for a variation.
Though the court varied Mr Sowore's second bail on October 21, he could not immediately meet the new conditions. His lead lawyer, Femi Falana, informed the court on Wednesday during Mr Sowore's trial that the activist had met his bail conditions.
According to Mr Ogala, however, Mr Sowore's release could not be effected on Wednesday because of the claim that the secret police had closed for the day.
SSS spokesperson, Peter Afunanya, did not return calls and SMS sent to him on the matter.
Premium Times
OAU Honours Ayodele Adewale with Award of Excellence
By Eric Elezuo
The immediate past Executive Chairman of Amuwo Odofin Local Government Area, Comrade Ayodele Adewale, has once again been honoured with an excellence award for meritorious services. The award, this time is courtesy of the National Association of Public Administration Students of the  prestigious Obafemi Awolowo, University, Ile-Ife, Osun State.
The award, presented on behalf of the students' association and department by Dr. O. O. Popoola, followed a well-defined lecture presented by the seasoned administrator on the topic 21st Century Democratic Governance: The Inevitable Roles of Administrators, as the guest speaker
The event, which was presided over by the Head of Department, Dr. O. O. Popoola, also had in attendance the Deputy Dean, Faculty of Social Sciences, Dr. T. A. Olaiya, who functioned as the Chairman of the occasion and Dr. (Mrs.) P. I. Igbokwe, a senior lecturer, in the department who moderated the proceedings.
Also in attendance were representative of the Osun State Commissioner of Education, Barr. Folorunsho Oladoyin Bamiseayemi; Commissioner for Youths and Sports, Hon. Biyi Odunlade; Chairman, Ife East Local Government Area, Representative of Hon. Babatunde Desmond Ojo, Member representing Oria Ade LGA in the State House of Assembly and Senior Tax Consultant, PWC, Mr. Vincent Adeoba.
In his speech, Comrade Adewale, who exemplified leadership during his six years tenure as local government chairman, buttressed with references from his grassroots administrative and governance experiences to drive home salient points.
The students who were thrilled with his performance followed him up with questions and he was equal to the task with copious answers and verifiable references.
Accepting the award, Comrade Adewale thanked the President of the Association, Mr. Gbadebo Moses Oluwaseun and his team for considering him worthy of the award even as he had no prior relationship with the department or the school.
He recalled that the last time he related with the school was some 20 years in the past as a students' union leader while mobilising against some unacceptable policies of the Federal Government of Nigeria with Dr. Dipo Fashina.
"This award today underscores the importance of leaving good footprints in the sands of time and living a worthy and meaningful life which would always be a beacon of light for others to emulate," Adewale said.
He dedicated the award to God Almighty and to the memory of Comrade George Iwilade aka Afrika, a 400 level law student who was murdered in his sleep by suspected cult members on July 10, 1999 in Awo Hall of the University. Late George Iwilade was the General Secretary of the Students' Union Government of the university at the time he was killed.
The event also provided an opportunity to meet with the Vice Chancellor of the University, Prof. Eyitope O. Ogunbodede as facilitated by the Alumni's Public Relations Officer, Mr. Gbolahan Ogunajo.
After the prolific tete 'a tete, Comrade Adewale resolved to sponsor the award of employment opportunities to the best three overall graduating students of the department as a result of his overwhelming goodwill in both the private and public sectors. The award, after due consultations, was agreed to be called Comrade Ayodele Adewale Employment Opportunity Award, in honour of late Comrade George Iwilade aka Afrika.
The benefiting students will be selected based on character, academic excellence (1st class or 2nd class upper) and a letter of endorsement from the Vice Chancellor.
Expressing his profound joy and acceptance, the Vice Chancellor promised to embed the award as an annual programme worthy of mention at every convocation ceremony of the university.
Food for Living: The Experience of Life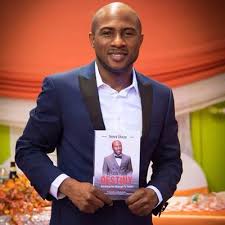 By Henry Ukazu
Greetings Dear Friends,
Life is an experience every one of us must surely pass through. It is often said that our experience shapes/defines who we are. Regardless of how true or false you may feel about life, you'll agree with me that to a reasonable extent, your experience has helped to shape some of your thoughts and actions. Isn't it true that it is only the person who wears the shoe who can tell where the pinches? It is a well-established fact that experience is the best teacher. This is because we all feel pains differently. According to a philosopher, life is about experiences. We all have to dream, strive, and fail before we can achieve success. Maybe we'll discover along the way that the journey is more important than the destination
In one of my articles, published a couple of years ago what is life and how can one live through it? I defined life as a woman because you cannot "really" know her. During the course of this article, we shall be discussing many components of life and how the experience can shape you. We all need experience to survive through life because it helps to shape us in addition to giving us more exposure, opportunity, and respect. For instance, we all sit in the same classroom, but we don't hear and understand the same thing; we all look at a picture but we don't see the same thing; we all might be walking to a location but we all have a different vision; we all have a business but we run it differently based on our experiences, knowledge and even networks. The same theory is applicable to marriage, job, academics, business, sports etc.
Let's share some practical details on how experience can shape us.
Marriage/Relationship
This is one of the most complicated and sensitive part of life any human can relate to. Marriage in simple term is life itself. As fondly opined by many rational minds, it is the school one can never graduate from, because you'll continue to learn until the end of life. In our contemporary society, we have recorded so many divorces and questions flood the mind as what the secret to a successful marriage relationship actually is. Well, in my own humble opinion, there's no clear cut secret to marriage except the presence of true love between both parties. This is because lots of factors contribute to a make a successful marriage. Every marriage is different and only the partners themselves can decide how they can manage their affairs. Where there's a misunderstanding between both partners, it will be in their best interest to settle it themselves, and where they can't settle it, a married or informed counselor can assist. I'm not insinuating that unmarried counselors with insightful positive experience can't advise married couples, but I do know that whenever couples have problems, they are the only ones who can address their concerns better because nobody knows the root and fundamental cause of the problem more than do especially when they are not comfortable letting it out which leaves the counselor with the only option of speaking from his/her own experience.  There have been cases where unmarried couples give advice to married people, in as much I won't kick against that idea, I feel that sometimes, if not most times, experience plays a huge role in solving problems especially a sensitive one like marriage. Moral: somethings are best experienced than imagined. This is because of the practicality that comes with it. It's just like driving, having sex, running a business etc.
Business
Just like the saying, old wine tastes better, the same can be said for business. The more time you spend learning the ropes in addition to equipping yourself with knowledge can play a huge role in shaping your business. Just like every great work takes time to manifest, business takes time to grow. I doubt if there's any overnight successful in business. If at all one ever exist, it's an exceptional circumstance it's quite unfortunate many people jump into a business with the mindset of having a great turn over/profit just because they see it is flourishing or they see their friends/colleagues making great strides in the industry. What they fail to understand is that it is not greener out there and every business has a secret.
It's imperative to note that one of the greatest ways to succeed in business is by having a great network. People find it comfortable to relate with people they know. According to Robin Sharma, "the business of business is relationship, but the business of life human connection". In business, a lot of factors come into consideration before one can have a headway. First and foremost you must know what you are passionate about and what your skills set is composed of. Then, give yourself the necessary time to learn the business/trade. This learning can take several forms such as reading, volunteering, taking a class, networking and gaining exposure in the sector.
Furthermore, to succeed in business, you must learn soft skills in addition to being creative with emotional intelligence. For example, a creative and proactive businessman/woman must meet people where are as opposed to having the clients meet him/her where he/she is. A prudent business-minded fellow must have a great attitude to listen to customers, he/she must take the initiative of providing ideas on what might be beneficial to the business, and he/she must have a great attitude to relate with not only his/her clients but the public at large. According to John Maxell, 'Leaders must be close enough to relate to others, but far enough ahead to motivate them'.
Job
One of the places that experience plays an influential role is the aspect of a job. Most employers always look for candidates with experience during the hiring process. It's only in a few and rare instance they accept a candidate without experience. An experienced candidate tends to do a better job than a new hire. For example, a new hire may do the job in the right way, but an experienced being may do it in an efficient way.
Academic
In our contemporary society, many people seem people to downplay the role of education as it relates to succeeding in life. They opine that you can always "learn from the street", you can also learn in an informal way as opposed to formal education. However,  they fail to realize that education itself is an experience because you need to get theoretical knowledge before applying practical knowledge. It should be noted that academic education gives you an edge over a person who doesn't have any opportunity/exposure to one. It is a well-established fact that no knowledge is a waste and having a basic theoretical knowledge can take the place of experience in certain situations.
Sports
This is another great area where experience plays a role. Sports is one of the great areas where experience is needed. It doesn't matter if you play football, soccer, table tennis, volleyball, basketball, track and felid events and wresting. Your experience will definitely make a difference if you harness it well.
In conclusion, regardless of what you may have experienced through life, having a positive attitude is a guaranteed way of overcoming negative experience. According to Reno Omokri, an author and Pastor, "the secret of love is sacrifice. The secret of happiness is giving; the secret of life is GOD." This nugget may have informed his line of thought. I don't know your experience, but whatever it is continue to learn from it because one day it will add up and when you look back, you'll understand why you have to have to go through the whole experience.
Personal
Just like every taste bud is different, each and every one of us experience different things in life.  According to Eleanor Roosevelt, "The purpose of life is to live it, to taste experience to the utmost, to reach out eagerly and without fear for newer and richer experience." If you ask anyone what's the purpose of life, you'll likely receive different responses. The answer to this question is subjective and deeply personal. Different things are important to us throughout the course of our lives. Yet one thing stays with us no matter where we go: our experiences. With respect to personal experience, definitely it's important to note that your network determines your net worth. Therefore, cultivate your friendships and find companies that fulfill you. It's from those experiences in life that you'll learn and grow. In this process, we can learn valuable lessons about ourselves and the world around us. So, don't be hard on yourself.
Henry Ukazu writes from New York. He works with the New York City Department of Correction as the Legal Coordinator. He's the author of the acclaimed book Design Your Destiny – Actualizing Your Birthright To Success. He can be reached via henrous@gmail.com
Opinion: Understanding Vision and Mission
By Tolulope A. Adegoke
"Your gifts or anointing isn't really a blessing, but responsibility on shoulders to help those hanging others through in their course and causes to fulfilling destiny! When you are anointed or gifted it is not for you, but for your generation. The first rule of IMPACT states that: it has been given, to be given! Success is measured by income, but greatness is measured by IMPACT(S)!"– Tolulope A. Adegoke
God can empower anyone. In fact, God has empowered everyone; but our roles involve activating and engagement of these anointing or gifting. When God empowers you, it is not meant for you to be contained, but to be a channel of distribution to your generation.
To receive anointing or gifting in higher capacity, you must be channelled. When you are anointed or gifted it is not for you, but for your generation. When a man is anointed with knowledge or skills, it is meant for impact, not for selfish interest. To me, the first law of IMPACT says: "it has been given, to be given!"
There are two critical factors that we must consider if must fulfil a purpose:
i.                    TIME
ii.                 SEASON
The book of Ecclesiastes 3:1 reveals that: "To everything, there is a season, and a time to every purpose under the heaven:"
Speed is good, strength is also good (it gives the capacity to do exploits), wisdom is as well the principal thing, but in all our getting, understanding is paramount. Of all the thing that you shouldn't joke with is TIME! It TIME lies CHANCES! If you cannot understand TIME, you will not be able to understand what opportunities mean. Chance is the anointing for capabilities!
The great men that we celebrate and continue to celebrate today are being celebrated because they knew or have the understanding of TIME which encapsulates CHANCES for opportunities!
November 1884 (The Berlin Conference) which featured the Scramble and Partitioning of Africa as a continent was a monument. Twenty (20) determined men changed the lives and destiny of billions across the world. These people sat in a room to discuss the fate races; they discussed and partitioned the world for their making and to take charge and impact their culture on them for their continual generational gains (The Liberation).
TIME & CHANCE happens to every one of us! You do not need to be saved alone to understand these basic truths tagged TIME & CHANCE. There are some factors we must also consider per time, which are:
·        Seed
·        Time
·        Harvest
Some humans are making it big today, even though are not believers, but because they understand the fixed principle which is culled out of the Holy Scriptures: The Power of Time & Season. The Holy Scriptures affirms that Time andSeasons happens to them all.
Preparation is what you do in a season, so as to be able to harvest in the next season!
A generation is a group of people with a common course for common cause(s). The likes of Late Chief Obafemi Awolowo, Sir. Nnamdi Azikwe, Ahmadu Bello and the rest) were able to fulfil the MANDATE of LIBERATION!
The likes of Chief Olusegun Obasanjo, Rt. Ibrahim Babangida, Gowon amongst others were TRANSFORMERS!
But, I must reveal an absolute truism to you today that "this generation of ours, as at today have been charged with the MANDATE of TRANSFORMATION, therefore, you and I are The TRANSFORMERS! This is a noble cause that is worth living and dying for! Of course, it is a course worth squeezing the juice.
The answer to you knowing, understanding and fulfilling your authentic purpose on earth lies on you meditating on this mantra: "Oh God of Creation, show us the TRUTH, why we are here on Earth!" Because there is a saying that when the essence of a thing is not known, abuse is inevitable!
I charge you to aspire for greatness, not mere success! Prominence is attached with greatness!
Success is measured by income, but greatness is measured by IMPACTS!
God does not answer to songs alone, but prayers!
Redemption, Relief, Comfort, Blessing, Blessing and Grace is all you are bound to carry the course of you acting in-line with the above generational mandate.
Guess what? You are not going to be a leader; you are one already! You are not too young to TRANSFORM (influence) the state of your nation and the world at large! Never underrate the grace which you carry as a being!
…. To be continued
Thank you for reading. I trust that you have been activated for IMPACTS!
Tolulope A. Adegoke is an acclaimed "globalpreneur", with the mandate to enrich lives and provide the professional, spiritual, academic and leadership empowerment needed to birth, maximize and sustain possibilities in peoples, corporates and nations. He is a prolific writer, frequent keynote speaker and spoken word poet, among others. He has also written countless articles in diverse reputable fields and honoured many public invitations.
He is also a Senior Administrator.
Tolulope Adegoke can be booked for public events via the contacts below:
E-mail: adegoketolulope1022@gmail.com