Taliban Names Terrorist with $10m Bounty on His Head As Interior Minister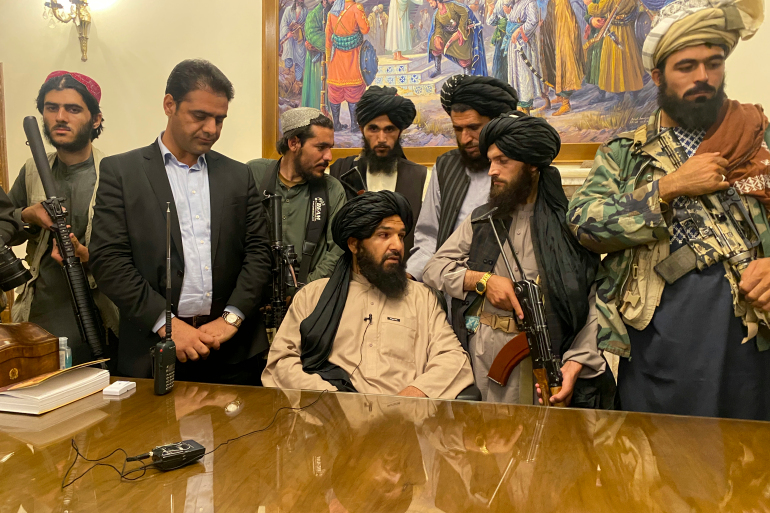 A wanted terrorist with a $10m US bounty on his head has been made Afghanistan's interior minister as the Taliban announced a caretaker government packed with the movement's old guard.
Sirajuddin Haqqani, the movement's deputy leader, is accused of overseeing some of the worst atrocities of the militants' insurgent campaign, but will now take control of a key ministry in the Taliban administration, Yahoo News quotes The Telegraph as having reported.
His position was announced as the Taliban set out a cabinet entirely staffed by the group's members, despite vows to set up a broad-based new government.
The 33-strong line-up contains no women and is dominated by Taliban stalwarts from the Pashtun ethnic group.
But it is the appointment of Mr Haqqani, who carries a $10m State Department reward for information leading to his arrest, that is most likely to cause alarm.
The head of the notorious Haqqani network faction for more than a decade, he is blamed for indiscriminate bombings and attacks that have killed hundreds of civilians. He reportedly oversaw a 2018 suicide bomb attack in Kabul that killed 103 people using an explosives-filled ambulance.
Analysts said it was difficult to see how the cabinet choice would reassure international donors enough to resume frozen foreign aid, which is desperately needed to keep the Afghan government running.
Weeda Mehran, from the University of Exeter, said: "It is not inclusive at all. There are only a few non-Pashtun members and also I shouldn't be surprised but it's still a shock to see Sirajuddin Haqqani there."
AFP
Fani-kayode Did Not Know When I Defected, Umahi Knocks Ex-Minister over Comments
Governor of Ebonyi State, Dave Umahi, has countered Former Minister of Aviation, Mr Femi Fani-Kayode's claim that he contributed to his (Umahi's) defection to the All Progressives Congress (APC).
"I think he needs to withdraw that statement, he's my good friend but, it was an insult on my person and the other governors," Umahi said on Channels Television's Politics Today on Thursday.
"The man did not know when I moved, but incidentally he visited me and we discussed, and he said he was coming to join me with the other governors to declare.
"How will somebody in the PDP be instrumental to my moving?" Umahi asked.
Fani-Kayode: Spirit of God Inspired Me to Join APC, Instrumental to Defection of Three Govs, Working on Three Others
Former Minister of Aviation, Femi Fani-Kayode, on Thursday hinted at the possibility of the governors of Bauchi, Enugu and Oyo States dumping the Peoples Democratic Party and joining him in the All Progressives Congress.
Fani-Kayode gave the hint while speaking to newsmen after he was presented to the President Muhammadu Buhari by the Chairman, Caretaker/Extraordinary National Convention Planning Committee of the APC, Governor Mai Mala Buni, at the Presidential Villa.
In response to another question as to whether he had friends from the PDP following him into the APC, he said, "There are many people. If you ask my friend and brother, Governor Matawalle here, there are many people within the PDP, who do want to come over to the APC. I can tell you that. I was there and very instrumental when Governor Umahi joined the APC.
"I was there and very instrumental when Governor Ayade did the same thing. I was there and very instrumental when my friend and brother governor of Zamfara, Governor Matawale did the same thing.
"Now, if you don't mind me mentioning names, somebody like the governor of Enugu State, the governor of Oyo State, and of course, my good friend, the governor of Bauchi State, great friends of mine, and I sincerely hope that they too may end up coming in this direction.
"But whether they do or not, the most important thing is that we work together as a people, as a country, and move our country together and fight and kill the terrorists and put to shame the foreign elements and I emphasize that word, foreign elements, that want us to end up fighting one another in this country and turning our country into a massive refugee camp.
"I don't want to hurt anybody's feelings, but I've made a choice, I believe I've been led by the Spirit of God and I will fight for what I believe is right within this party as I would anyway. I will never give up on my core values and principles."
Fani-Kayode also claimed that his decision was inspired by God and the positive changes he has noticed in the ruling party.
Asked why he chose the APC, he said, "Why not? The point is that I felt that this was the appropriate time to do the right thing, to put Nigeria first, and to appreciate the efforts that have been made. Particularly in the last couple of years in terms of security, fighting insurgency, fighting terrorism, and most importantly, is the appreciation of the fact that we must remain one as a nation, build bridges, work together to move the country forward.
"The efforts of the governor of Yobe State, the governor of Zamfara State, and several others, including the governor of Kogi and several others in their respective states and in moving this country forward and helping Mr. President move this country forward, cannot be ignored.
"We need to appreciate the fact that when we see that there are good things that are happening, we appreciate those good things. It's not always negative and when the time is right, we change direction to join forces and join hands to move the country forward.
In his remarks, the Caretaker Committee, Chairman of the APC, Mai Mala Buni said, "We just received him and in appreciation and understanding of Mr. President's vision, and magnanimity."
Asked how the President received the new party member, he said, "He received him very well and, you know, Mr. President is a magnanimous leader, who shares his vision with anybody who is looking towards greater Nigeria. So, he's happy and he received him very well, he commended his courage."
When contacted, the National Publicity Secretary of the PDP, Kola Ologbondiyan said, "We wish Chief Fani-Kayode luck in his new political adventure."
The Punch
We'll Reveal Sponsors of Terrorism at the Right Time – EFCC Chair, Bawa
The Chairman of the Economic and Financial Crimes Commission, Abdulrasheed Bawa, on Thursday, said Nigerians will know the identities of terrorism financiers in the country at the right time.
He spoke on as a guest on Channels Television's 'Politics Today' current affairs programme monitored by The PUNCH.
Bawa, who collapsed during an official function at the Aso Rock Villa earlier on Thursday, also said he had seen his doctor and "everything about me is okay, except for the fact that I'm a bit dehydrated and I need to take a lot of water".
The President, Major General Muhammadu Buhari (retd.), had on February 16, 2021, named 41-year-old Bawa as the fourth chairman of EFCC following the corruption allegations levelled against embattled ex-acting EFCC chair, Ibrahim Magu, and his subsequent suspension.
The EFCC was established in the early 2000s during the administration of the then President Olusegun Obasanjo to combat economic and financial crimes like advance fee fraud (419), money laundering, terrorism financing and miscellaneous offences.
On Monday, the United Arab Emirates named and prosecuted six Nigerians and 32 others for allegedly financing terrorism.
Nigerians on the UAE's terrorism list include Abdurrahaman Ado Musa, Salihu Yusuf Adamu, Bashir Ali Yusuf, Muhammed Ibrahim Isa, Ibrahim Ali Alhassan and Surajo Abubakar Muhammad.
The Nigerians were said to have transferred up to $800,000 in favour of Boko Haram between 2015 and 2016.
The six persons were said to have been tried and sentenced to at least 10 years in jail in the UAE.
Also in March 2021, presidential aide, Garba Shehu, had said the Nigerian Government arrested 400 Bureau De Change operators for allegedly funding Boko Haram insurgency in the country.
He had said the Nigerians were transferring money to the sect from the United Arab Emirates.
Asked specifically on the television programme on Thursday to reveal the people financing terror and unleashing mayhem on Nigerians in the last 12 years, the EFCC chairman replied the interviewer, "If you are my adviser, will you advise me to come on national television to tell the whole world regarding matters of sensitive national security issue? Certainly, not. But what I want to assure is the fact that we are working tirelessly with other sister agencies to ensure that this country is free of terrorism."
When further asked whether it was appropriate for the government to conceal the identities of terror financiers whose activities have led to the killing of thousands of innocent lives, Bawa said, "Of course, transparency is one of the bedrock(s) of this administration, of course, I am not a spokesman for this administration, but I believe that at the right time Nigerians will get to know those that are financing terrorism in this country and beyond as well.
"These are issues that are beyond the borders of this country and of course we are working tirelessly with our partners overseas as well as other sister agencies at home. We are working, it is not something we should come out to say that these are the modus operandi that we are adopting."
Terrorism financing has become a concerning issue in Nigeria in the last few years as some unnamed politicians have been fingered of complicity with the marauders.
This newspaper had earlier reported that a former Navy Commodore, Kunle Olawunmi, said that Boko Haram terrorists mentioned names of current governors, senators and Aso Rock officials as sponsors during interrogation but the President has demonstrated an unwillingness to go after the high-profile politicians for reasons best known to him.
Last September, a former deputy governor of the Central Bank of Nigeria, Obadiah Mailafia, also claimed that a serving northern governor was a Boko Haram leader and moneybag.
For over a decade, the Boko Haram terror group had killed thousands of Nigerians in the North-East, especially in Borno, Yobe and Adamawa States. The Nigerian Army and the Presidency had at several times claimed the group had been 'technically defeated' and 'weakened' but the bloodthirsty terrorist faction continues to strike with daring effrontery and crude savagery.
The Punch